Please Note: This post may contain affiliate links, which means that if you make a purchase, I might make a small commission at no extra charge to you. I only recommend products or services I believe will add value to my readers. Please read my full disclosure for more details.
Today's blog post features one of my favorites to the trade vendors Arteriors!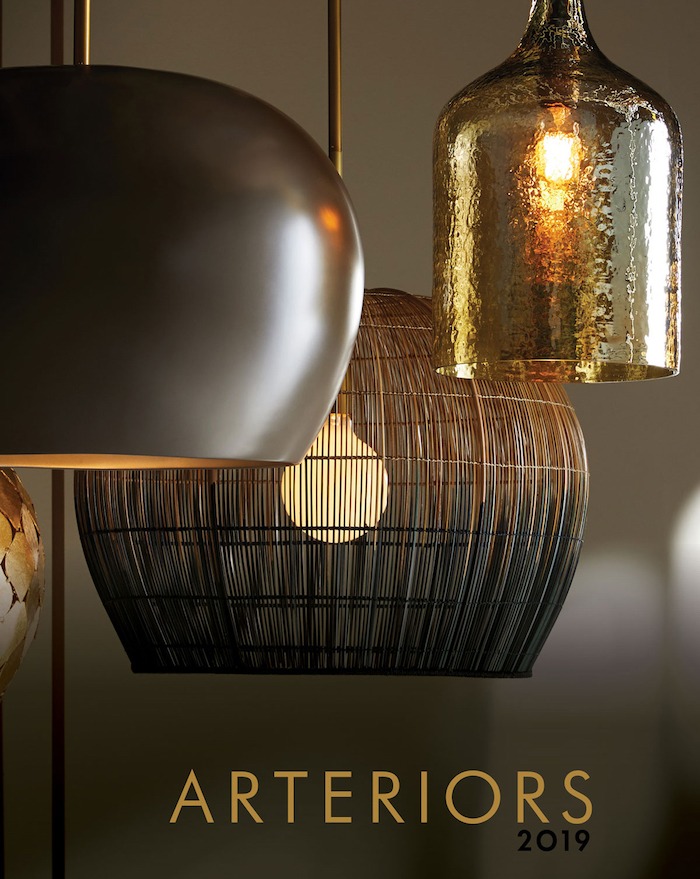 Founded by Mark Moussa in 1987, Arteriors is a leading provider of luxury lighting, wall décor, decorative accessories and furniture to residential and commercial designers worldwide.
Launched with a focus on traditional accessories in classic materials, the company collaborates with experienced artisans and manufacturers around the world.
Working in luxury materials like embossed leather, hair on hide, forged iron, solid brass, mouth blown glass, reclaimed wood, hand glazed ceramics, Arteriors now offers a wide spectrum of styles from traditional to modern. Designed specifically for design lovers with up-to-date sensibilities.

Many of Arteriors' 1,200 designs are made by artisan factories all over the globe that embrace traditional craftsmanship. The assortment is artful, inspired, always on-trend, but never trendy.
Arteriors' hundreds of unique products are created from an assortment of artisan materials that allow for individual creativity to shine through – from cowhide, agate, marble and wood to copper, bronze, granite and porcelain.
Hand-applied, hand-carved, hand-formed, hand-forged; these are all artisan techniques which create a product that is uniquely yours. We view natural materials in the same manner, embracing and celebrating Mother Nature's built-in variances…from the color and pattern differences found on all genuine hide products, to the vein and hue variations in marble, to the variety of grain patterns in natural wood.
There are no exact matches in nature…these deviations are not flaws, rather a guarantee that you have the genuine article.
Learn more about the founder, Mark Moussa, and his commitment to artisan products and high-quality craftsmanship.
TOP 10 PICKS:
---
We are so in love with this channel quilted sofa in that rich peacock hue!
Don't you just LOVE her too?!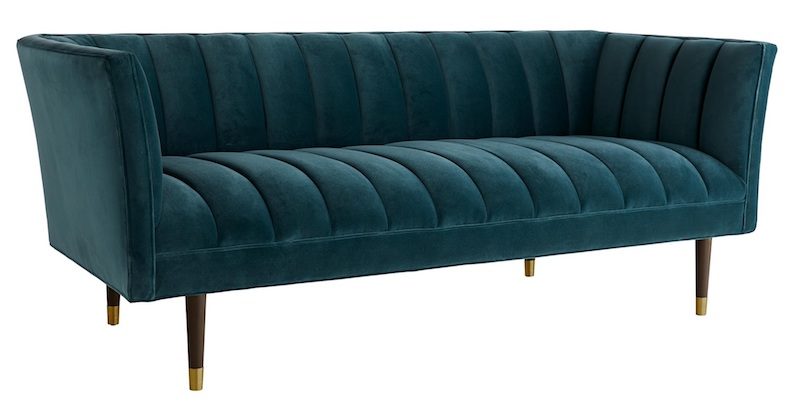 Christophe Sofa Peacock Velvet Dark Walnut- $4,330
DIMENSIONS:H: 30in W: 80in D: 32in
The Christophe Sofa transports you to another era defined by dramatic styling, long lunches and a designated cocktail hour. Mid-Century references such as vertical channeling on the shelter frame and metal ferrules on each leg make a bold and unique statement. Place anywhere you want to create a bit of Mad Men drama.
---
Yes! Velvet is still going strong : )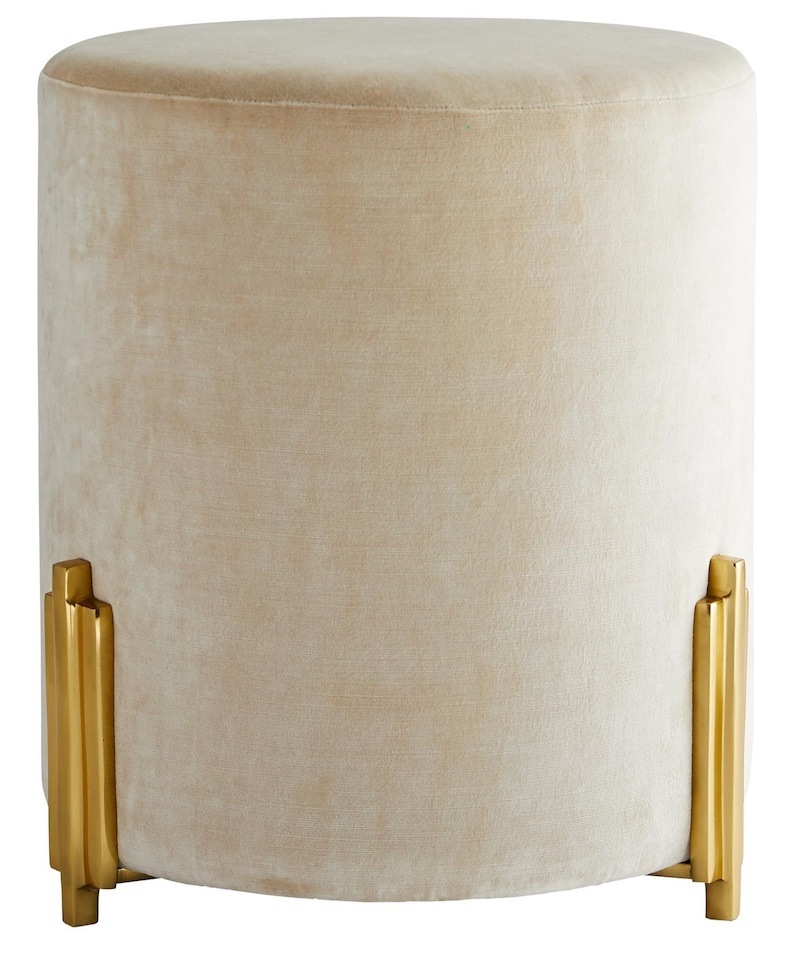 Warby Ottoman Sterling Velvet- $1,210
DIMENSIONS:H: 18.5in Dia: 16in
Brimming with class, this drum-style ottoman, upholstered in velvet, sits atop a polished brass base with details that recall Art Deco style. The contrast of texture is both elegant and inviting. This sophisticated seating solution is a great way to add a dash of drama and a touch of color to a space. Finish may vary.
---
Glamtastic armless chair with a channel quilted back perfect for your Living Room update!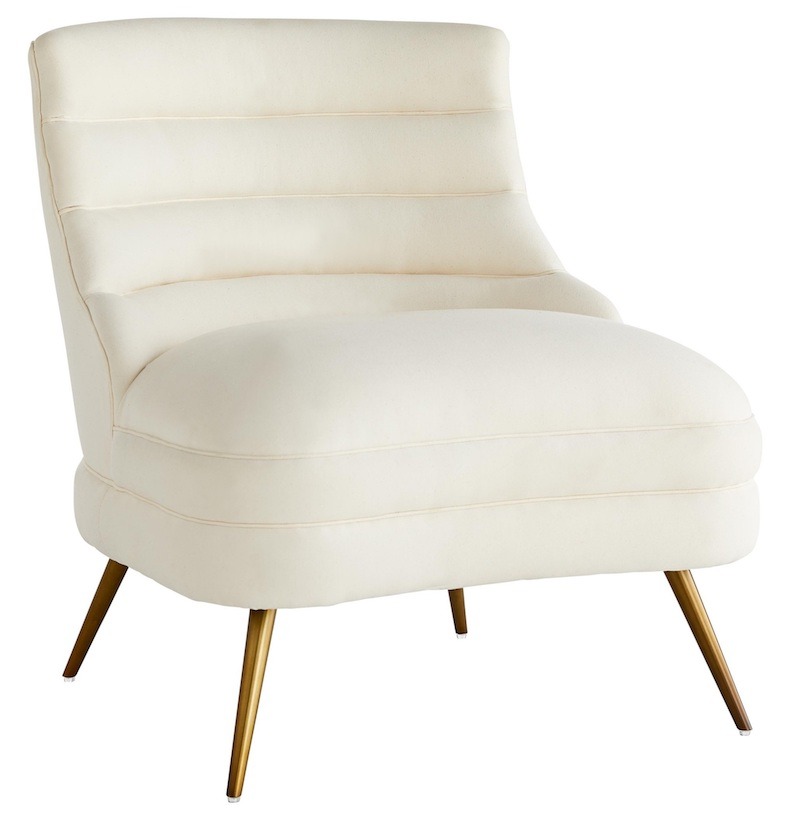 Dune Chair – Muslin- $2,470
DIMENSIONS:H: 31in W: 29in D: 31in
Sink into the rolling landscape of the Dune Chair. A lounger designed for comfort in every way, the sleek channeled form and tapered antique brass legs are elegantly effortless. The seat is covered in muslin, allowing you to slipcover or reupholster in the fabric of your choice. Finish may vary.
---
How stunning is the back on this chair??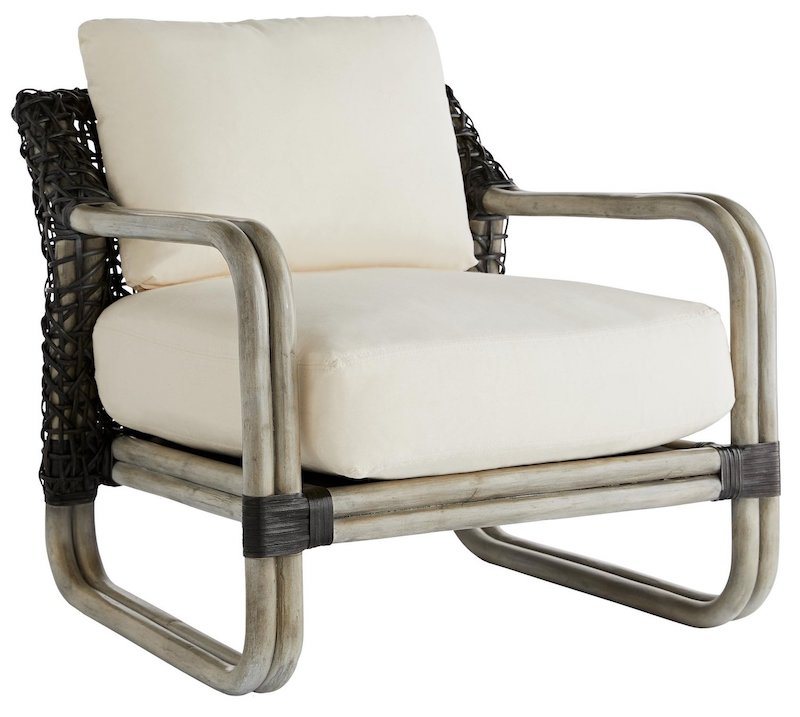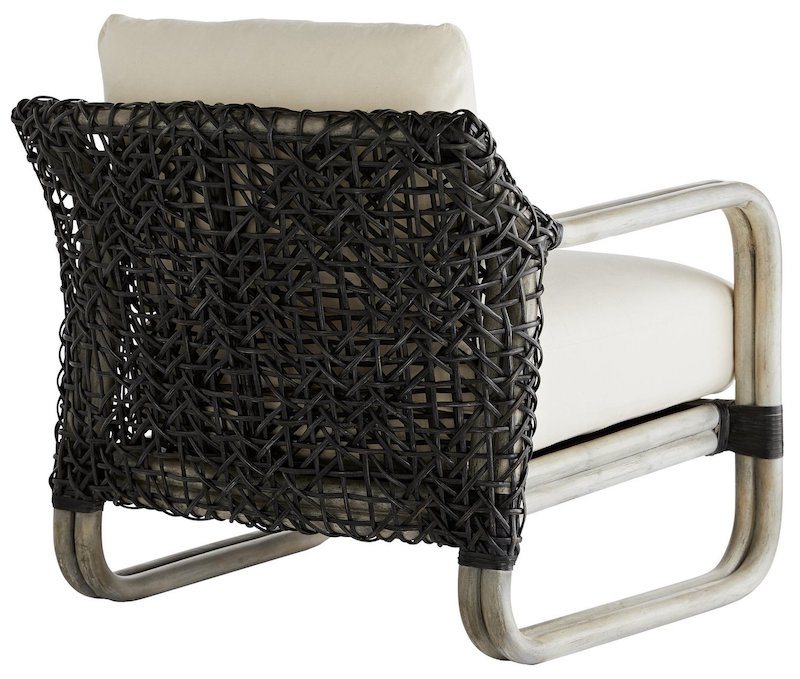 Tara Lounge Chair Muslin- $1,860
DIMENSIONS:H: 27.5in W: 30.5in D: 32.5in
For centuries, craftsman have used rattan to create works of art in the form of furniture. The versatility of the natural material is emphasized in the design of the chair, from the curvature of the frame to the intricate weave backing. Black leather reinforces the joints while accenting the oyster gray finish. This one is covered in muslin, allowing you to reupholster in the fabric of your choice. Finish may vary.
---
How cute is this for a Dining Room update?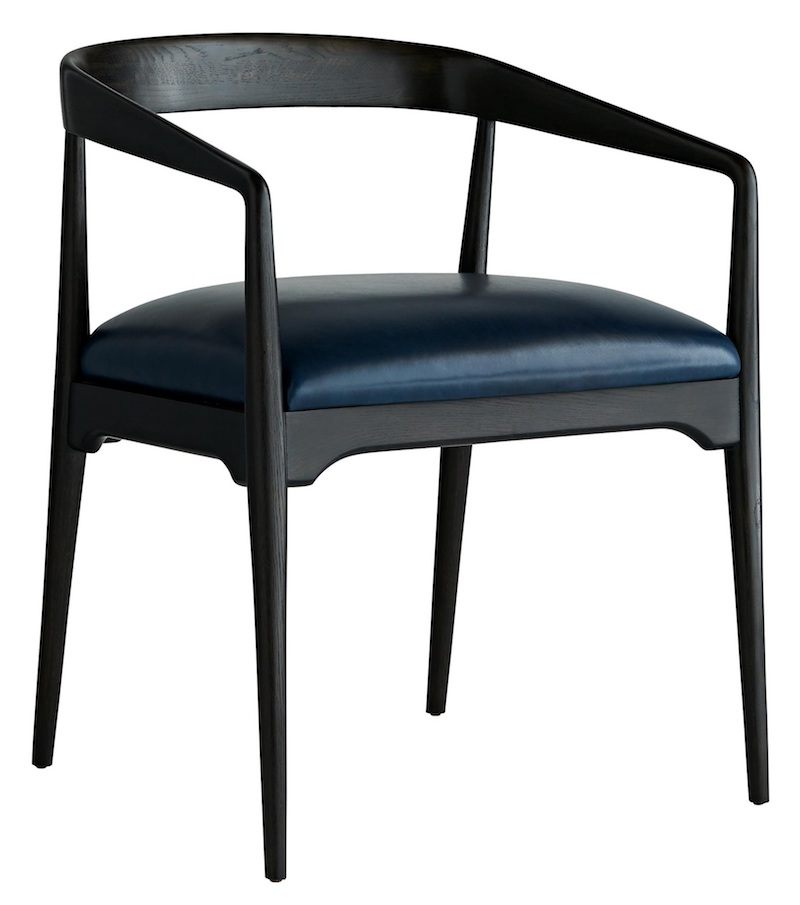 Walton Chair- $1,870
DIMENSIONS:H: 28.5in W: 23in D: 22in
A breathtaking blend of finishes catch the eye with the classic style of our Walton Chair. Solid oak in a sable finish frames a plush indigo leather seat that accentuates its timeless profile. The mix of natural materials and rich hues makes it perfect for a formal setting or a well-styled study. Leather may vary.
---
This mirror is just a thing of beauty!!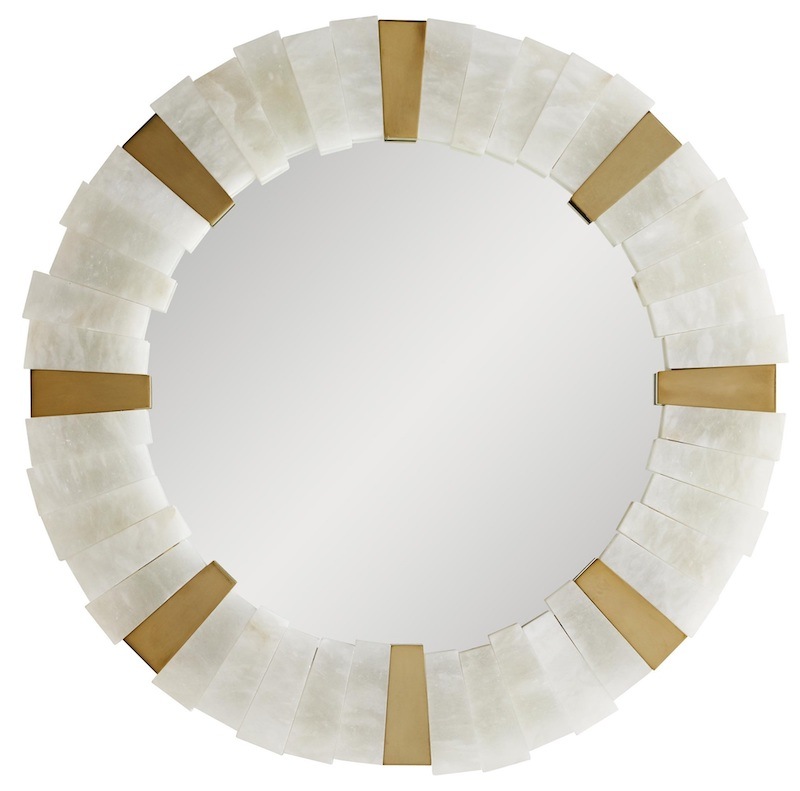 Von-Webber Mirror- $2,955
DIMENSIONS:D: 2in Dia: 32in
Let the austere grandeur of this white snow marble mirror effortlessly elevate a space. Snow marble and antique brass keystones frame a round plain mirror, delivering the right amount of drama to its luxe style. The textural yet polished frame delivers maximum luster when hung over a vanity or console. Hung with a security cleat attachment.
---
Yes we are loving all things white and gold!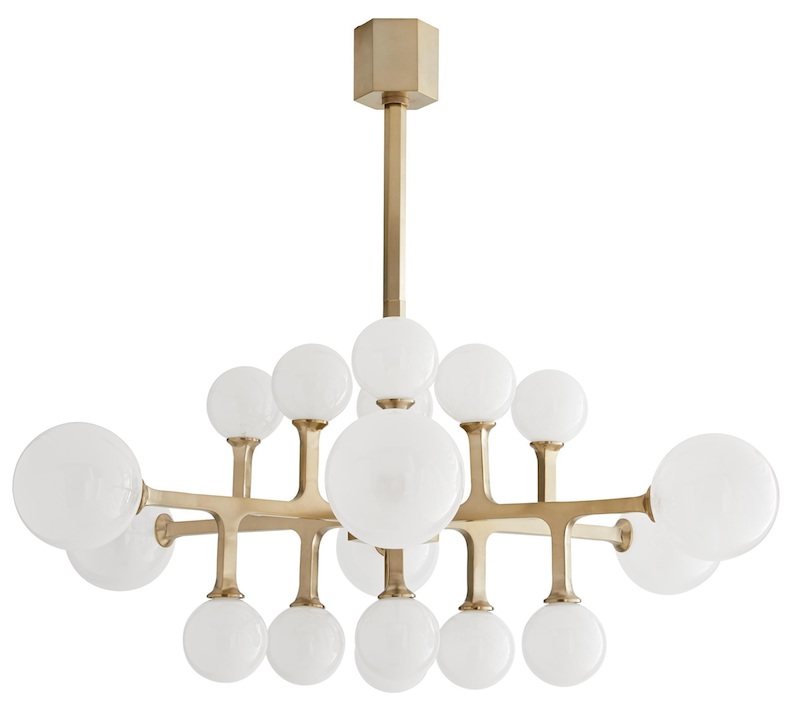 Tricia Chandelier- $5,890
DIMENSIONS:H: 25.5in Dia: 47in
Irregular symmetry meets superlative style to create a classic chandelier in modern form. Pale brass hex pipe arms spider out to showcase 12 large, opal swirl glass globes, allowing light to be amply dispersed across a room. Each G4 LED globe is left almost completely exposed, delivering a low profile for a more streamlined look. Approved for use in covered outdoor areas.
---
So in LOVE with this gorgeous pendant light fixture!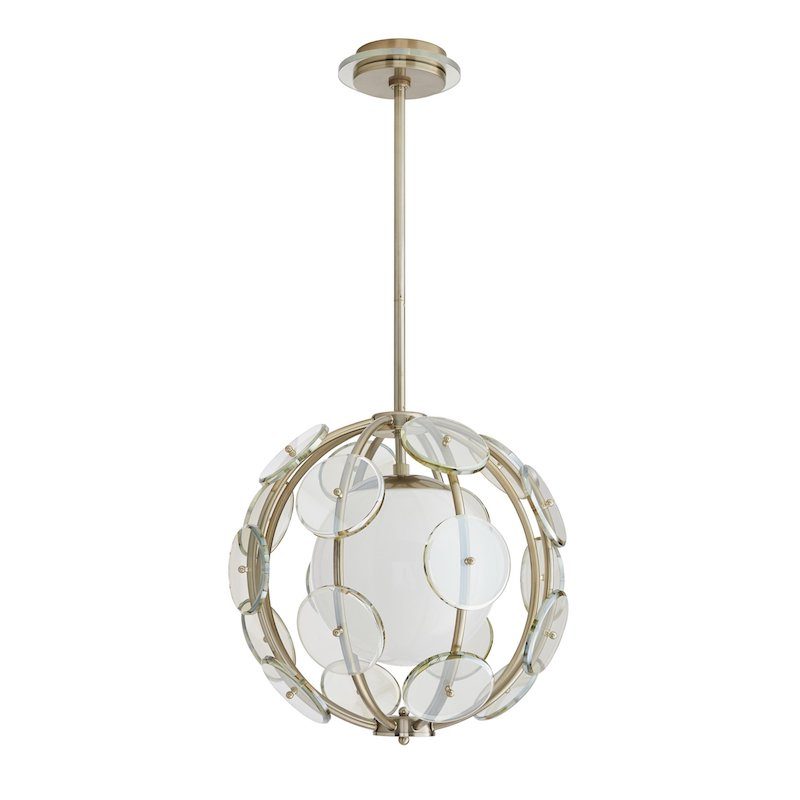 Westport Pendant- $2,145
DIMENSIONS:H: 19.5in Dia: 18in
This pendant breaks the boundaries of geometric design. A large opal glass globe seems to float effortlessly in a steel circular cage that has been embellished with champagne crystal disks. The interplay of circles in different materials and sizes yields an unexpected spatial silhouette. When in use, the manipulation and play of light on the steel and glass creates a warm and inspiring atmosphere.
---
Super COOL lamp!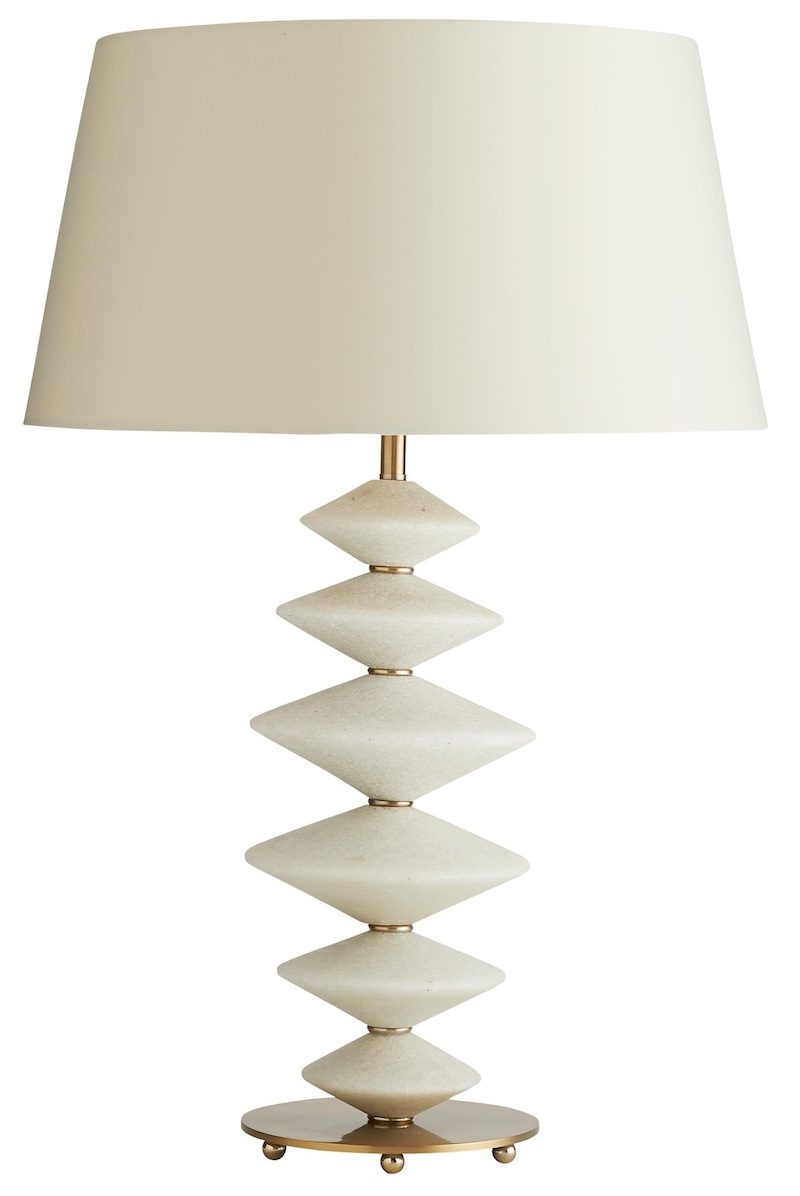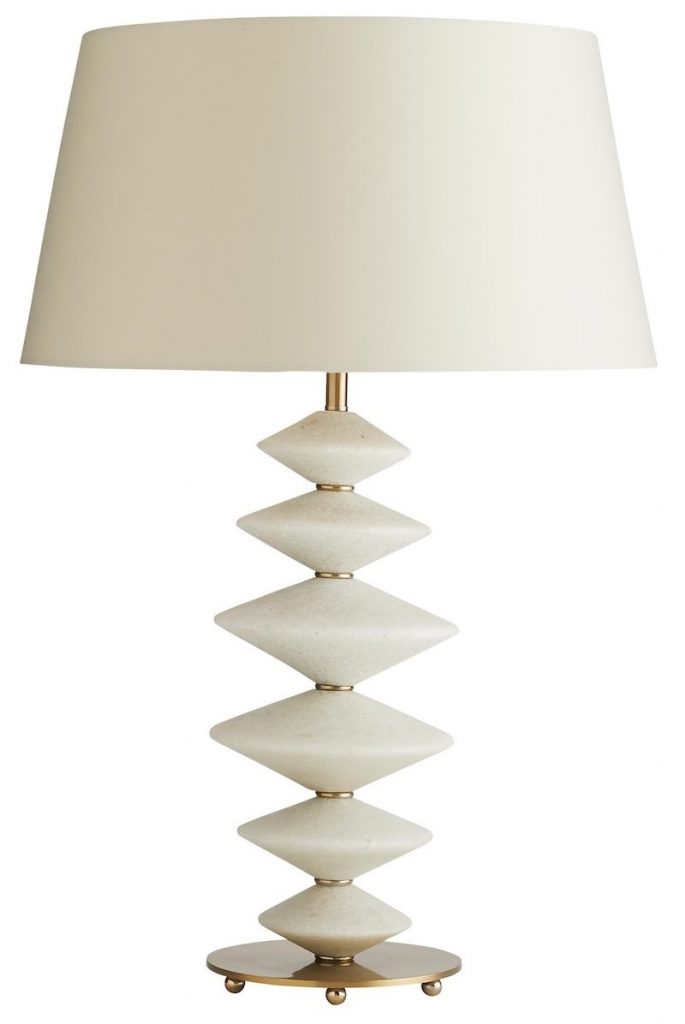 Wabash Lamp- $805
DIMENSIONS:H: 28in Dia: 18in
Evoke the essence of modern sculpture with this arresting table lamp. Six faux marble disks descend an antique brass frame, increasing and then decreasing in size before reaching the circular base. The polished profile exceeds expectations as it showcases as a visual work of art. Elegant and engaging, this structural piece delivers suave sophistication sofa side or bedside. Topped with a putty microfiber drum shade with putty cotton lining and a matching metal finial.
---
Last pick is this classy Bar Cart just because it's Saturday night and I'm writing a blog post so I think I deserve a drink after! Vodka Seltza with lemon and lime is my drink of choice. How about you?!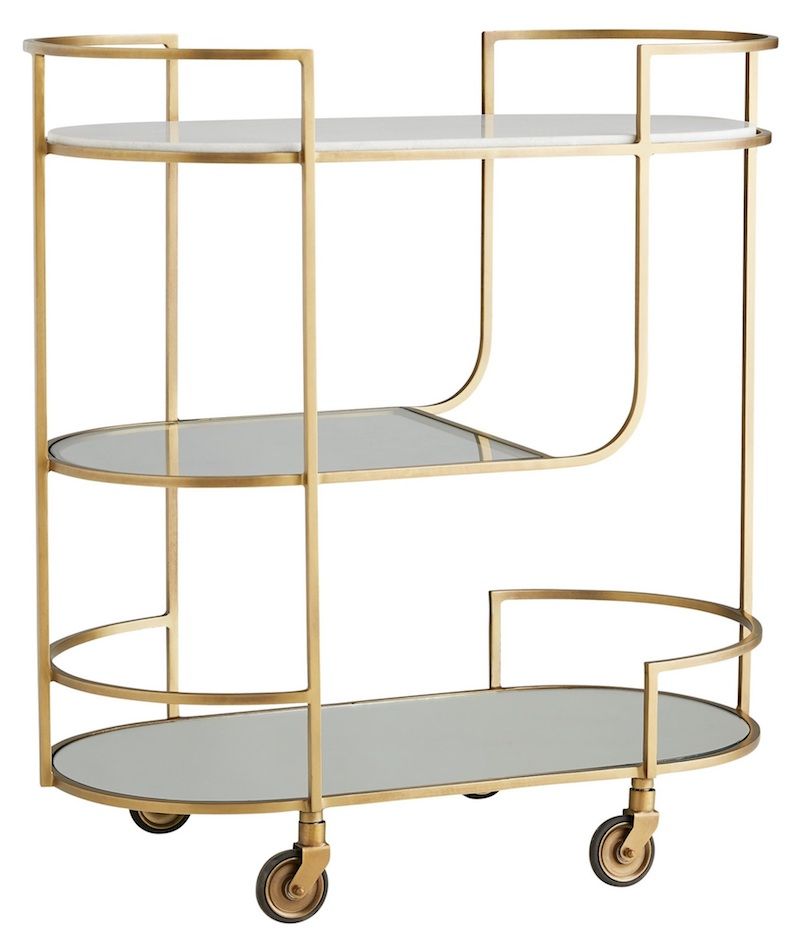 Trainor Bar Cart- $2,420
DIMENSIONS:H: 35in W: 32.5in D: 17.5in
Serve your guests without forfeiting function or style. Crafted with an iron frame in an antique brass finish, each of the three tiers of this capsule-shaped bar cart features a different element. The top tier is inset with solid white marble, the second tier is inset with clear glass and the third tier is inset with mirrored glass. The use of mixed materials delivers a luxe visual appeal.
---
That's a wrap on this week's vendor spotlight!
Now since this is a trade only vendor please reach out if you'd like to purchase any of these cool unique pieces. Or if you'd like your room designed around one of these pieces we can also help with that too! Reach out to us HERE.
---
Our ideal clients are creative, unique, career driven professionals who share our love of art and design. They represent the urban, modern day professional with a cosmopolitan vibe. Our mission is to design original, elevated and livable spaces on time and on budget so that our clients come home refreshed and inspired after a long hard day.

~IQ Design
---
BOOK YOUR 15 MINUTE COMPLIMENTARY CALL TO DISCUSS HOW WE CAN HELP TODAY!
Have a great night all!!
xo Nicole