Please Note: This post may contain affiliate links, which means that if you make a purchase, I might make a small commission at no extra charge to you. I only recommend products or services I believe will add value to my readers. Please read my full disclosure for more details.
This post may contain affiliate links, which means that if you make a purchase, I might make a small commission at no extra charge to you.
This post is all about subway tile options from TileBar that are NOT boring.
---
I had someone who follows me on Instagram reach out to me the other day. She is working on a Kitchen project and mentioned that her husband does NOT want Subway tile. Since I just recommended it for the Artisan House Kitchen I ordered samples from my favorite TileBar.
I told my client there are so many options available in Subway Tile these days and don't knock it till you see the samples. The samples I ordered from TileBar came super quick and I wanted to share with you some of the options I received. I think you will be surprised at how pretty they are. It's definitely more than just your average ceramic subway tile that first made its debut in New York City's subterranean train stations in the early 1900s. 
Along with a clean beautiful look, Subway Tile is also quite timeless as seen here.
---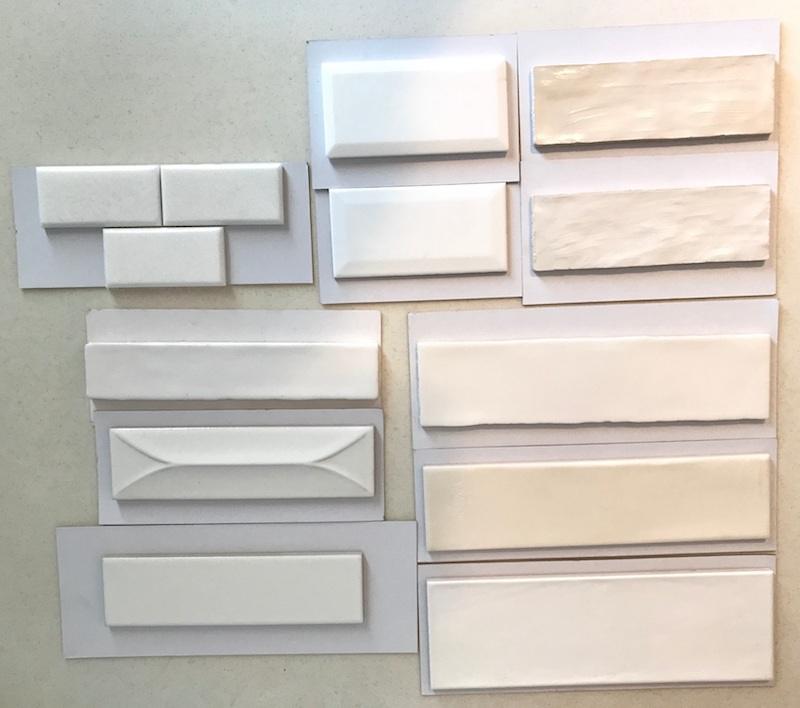 Here are some of the options we sourced for Artisan House. These are ALL Subway Tile! Not what you were thinking was it? There are different sizes, textures, edge finishes, and colors. For this project, we need a white or ivory base but the options in color are endless! Click HERE to see all the options.
---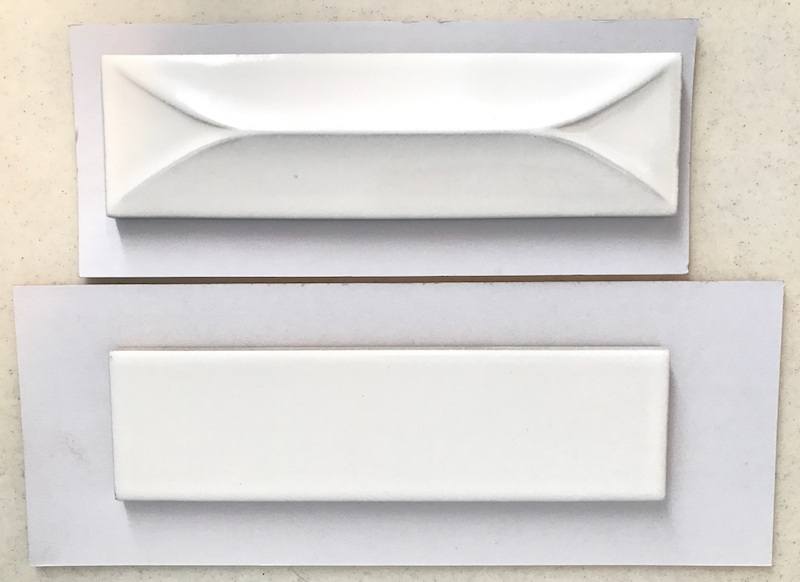 My first choice for this client since they are looking for something a bit unique and raised is the Byzantine Bianco 3D Ceramic Subway Tile paired with the Byzantine Bianco 2×9 Ceramic Subway Tile as shown below.
This is how the two look together but I have also seen the raised tile used alone. I like the look of the flat and raised alternating on the backsplash.
Here is what the Byzantine Bianco 2×9 Ceramic Subway Tile would like like if applied in a herringbone pattern.
---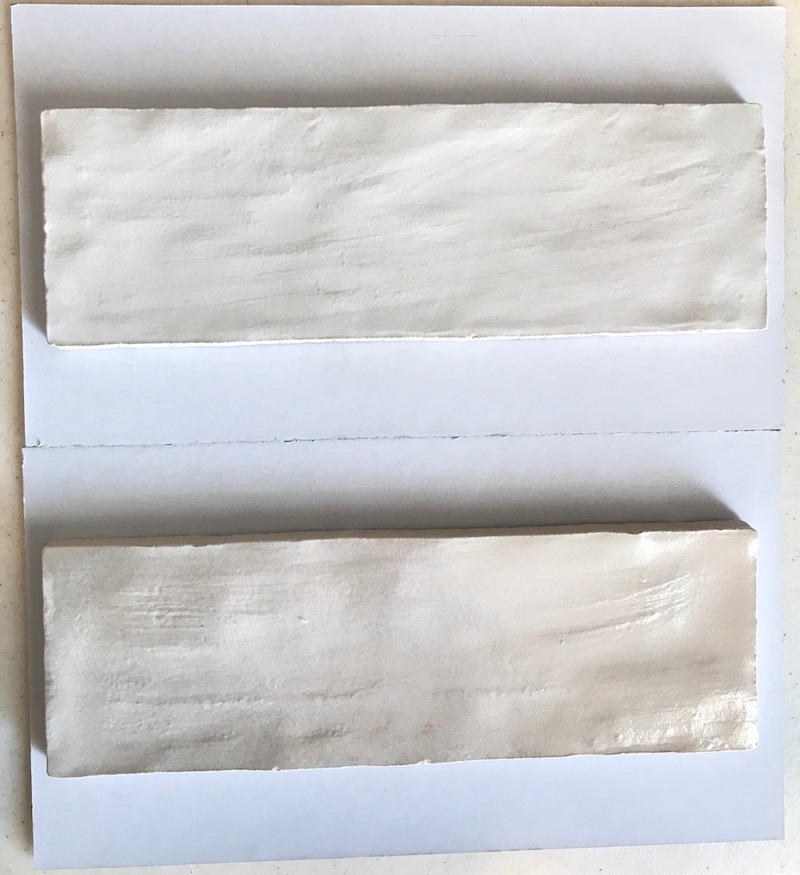 This Montauk Gin 2×8 Ceramic Wall Tile is so beautiful in person. It has a pearlized appearance which adds beauty and warmth. The top color is GIN and the bottom is Sand Dune.
Description from TileBar: Inspired by lazy summer weekends spent down at the shore, the Montauk Collection evokes memories of sand between your toes and the smell of saltwater in the air. Available in 5 neutral colorways, Montauk is the perfect choice to add a serene, coastal feel to your space. Each colorway is offered in a 4×4 and 2×8 format making for a plethora of design options.
*Please note that there are two variations of gloss within a box, causing fluctuation in color. For best results, mix the shades before grouting
---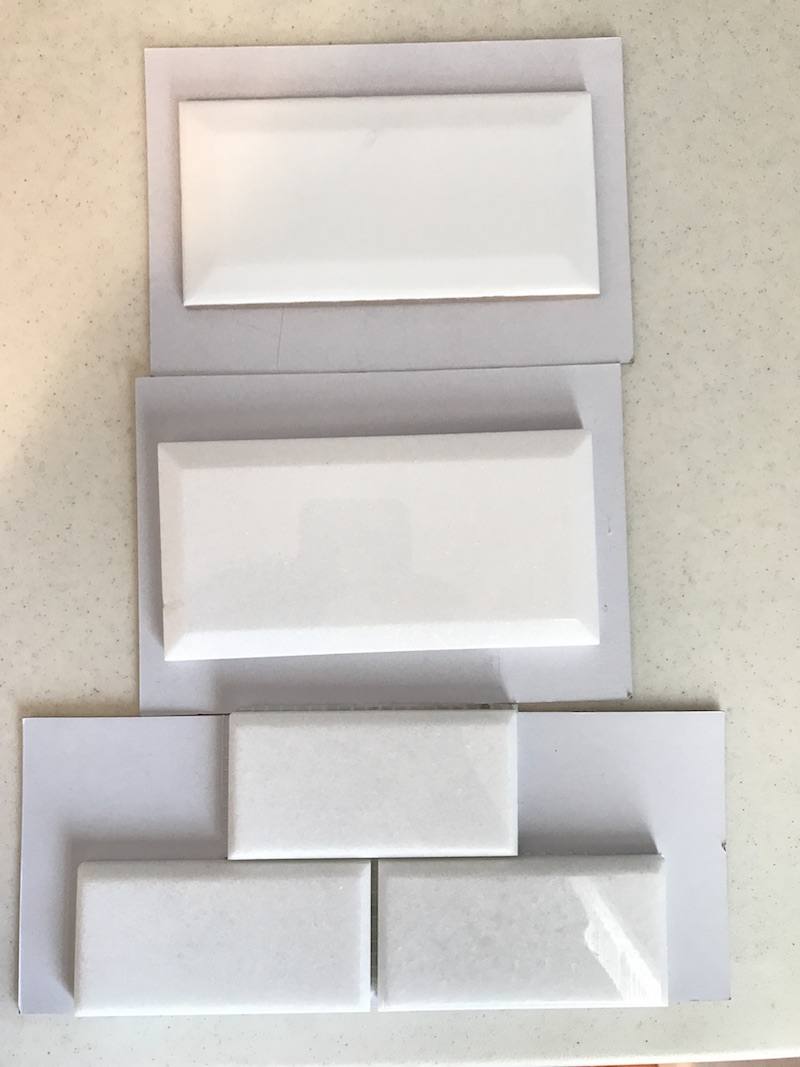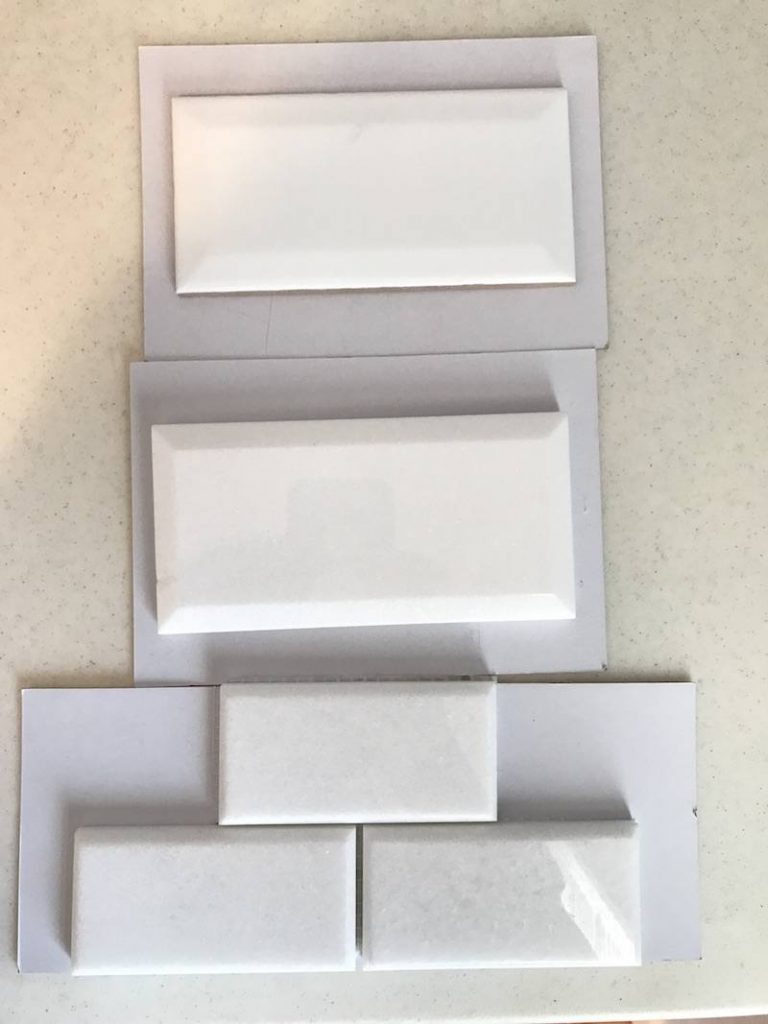 The top tile here is Basic White 3×6 Polished Beveled Ceramic Wall Tile shown below.
---
The middle tile is White Thassos 3×6 Beveled Marble Tile shown below.
---
The bottom White Thassos 2×4 Beveled Marble Tile is shown below.
---
Since I wanted my client to see other size options I ordered these as well.
Seaport Arctic 2×10 Polished Ceramic Tile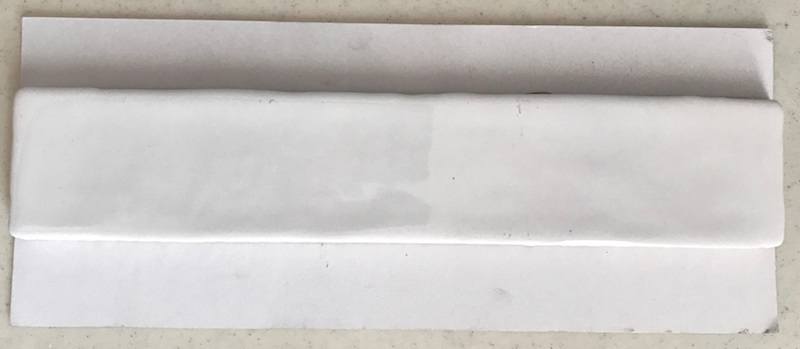 About the Collection:
Easy. Breezy. Those are the two words to describe the new, luminous Seaport Collection. Taking inspiration from the metropolitan seaport of Boston, the brilliant sea-inspired colors come alive on these high-gloss tiles. Available in 6 colorways and has corresponding chair rail, liners, and bullnose trim pieces. 

About The Tile: The Seaport Arctic 2×10 Ceramic Tile encompasses the briskness of a chilly day in New England with its whiteish gray coloring. This polished, high gloss tile has slight textural grooves that are felt to the touch. It's perfect to add as a backsplash in the home wherever you want to create an element of cool. Matching ceramic bullnose, pencil liner, and chair rail available.
---
Here are two options in the 3×12 size.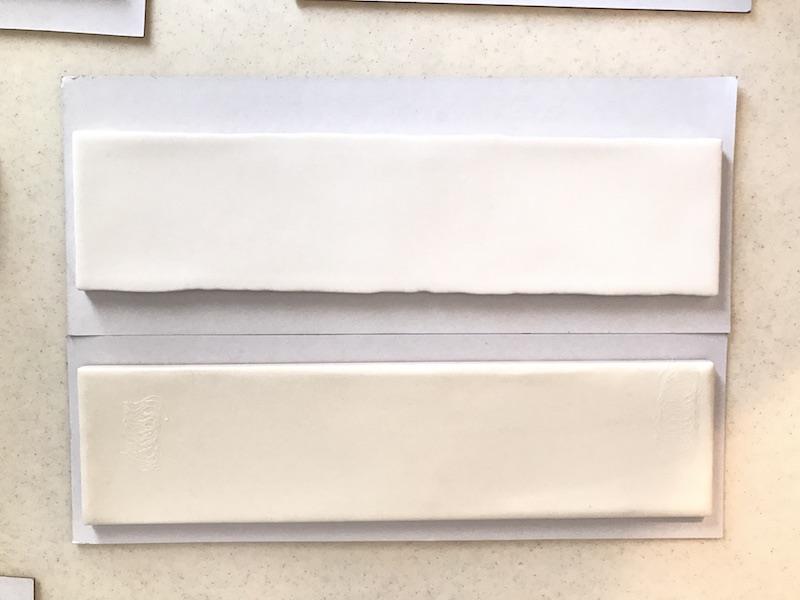 The top is Bayou White 3×12 Matte Ceramic Tile
Bring some cool, coastal vibes into your space with the Bayou Collection. Inspired by the Gulf Coast, Bayou incorporates many of the trademarks of seaside architecture to form a breezy, barefoot-in-the-sand series of ceramic subway tile perfect for your next project. Looking to bring a bit of the beach into your bathroom? Bayou has got you covered. Stagger & stack or mix & match from 4 versatile colorways and a unique weathered-wood format to create the backsplash or accent wall of your dreams.
---
Manchester Vanilla 3×12 Ceramic Tile is shown at the bottom in the picture above.
The Manchester Collection is a series of glazed ceramic tiles that offers a modern approach to traditional subway and geometric tile. This simple selection of handmade ceramic tile is perfectly suited to beautify your backsplash, accent wall, or any space calling for a classic touch. Manchester is available in 7 colorways and 2 formats, along with corresponding chair rail and bullnose trim pieces.
---
Lastly below is the Santa Monica White 4×12 Tile.
Utilizing subway tile for your backsplash will add some dimension and style to your kitchen decor, or any decorated room within your home. These ceramic tiles will also give your room a more distinct look and add a mixture of a traditional and contemporary feel to your surroundings.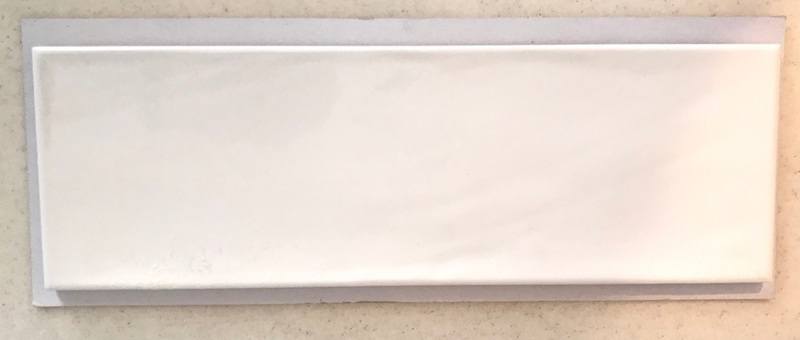 ---
As you can see from the options above Subway Tile should not be thought of as boring or ordinary.
We hope this post helps inspire you to think creative with your next project. As you can see there are so many amazing options out there so DON'T BE ORDINARY or afraid to step outside your comfort zone!
Please comment and share this blog post with anyone you think will enjoy it! #sharingiscaring
As always please continue to follow the journey through our Instagram Stories and Facebook updates where we will continue to share behind the scene videos and findings.
Have an Inspired evening everyone!
xo Nicole
#beinspired