Please Note: This post may contain affiliate links, which means that if you make a purchase, I might make a small commission at no extra charge to you. I only recommend products or services I believe will add value to my readers. Please read my full disclosure for more details.
Are you looking to update your hangout space with a new sectional?
You may not know this but fun fact: I worked at Bassett Furniture after leaving the garment center.
While there I learned a lot about myself, selling, and clients' pain points.
One of my FAVORITE sectional/ sofas was the modular Beckham also known as the "Pit".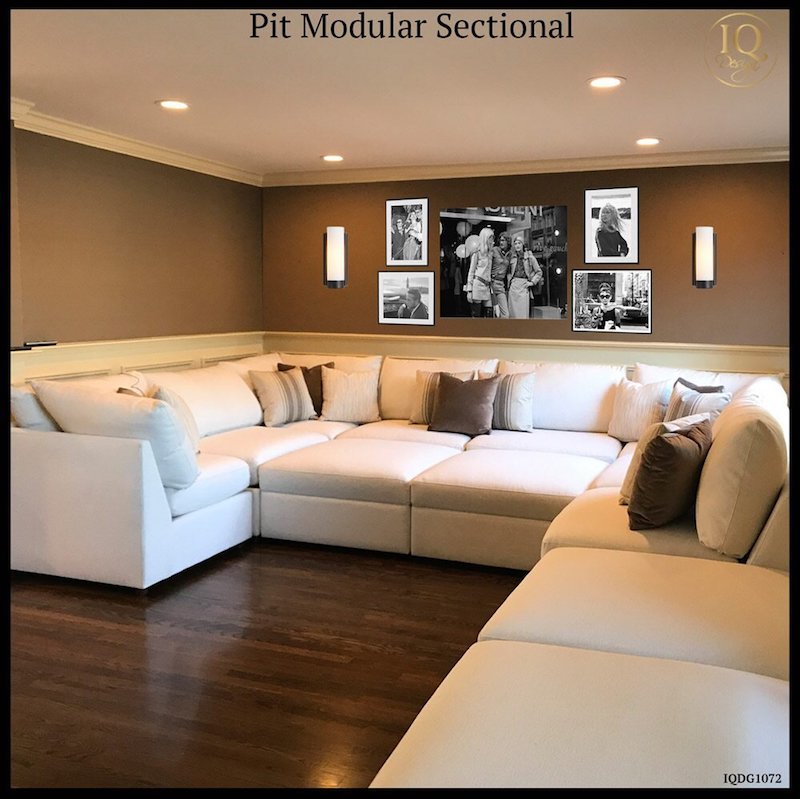 She is just so pretty and available in any fabrics Bassett carries.
Side Note: I photoshopped in that gallery wall… stay tuned for a future post on that topic.
The base fabric options that go on special from time to time at the better price point are in high-performance Revolution fabric in either Straw or Charcoal.
---

100% WOVEN IN THE U.S.A

STAIN RESISTANT AND BLEACH CLEANABLE

Revolution Fabrics are the most stain resistant fabric on the market. Spills like ketchup, mustard, and grease come clean with a little soap and water. For tougher spills like permanent marker , don't worry! Our fabrics are 100% bleach cleanable… even dark colors.

CHEMICAL FREE
---
By far the most popular fabric choice for my clients was the Staw 1495-2 but depending on the lighting of the client's space it can have a yellow cast to it.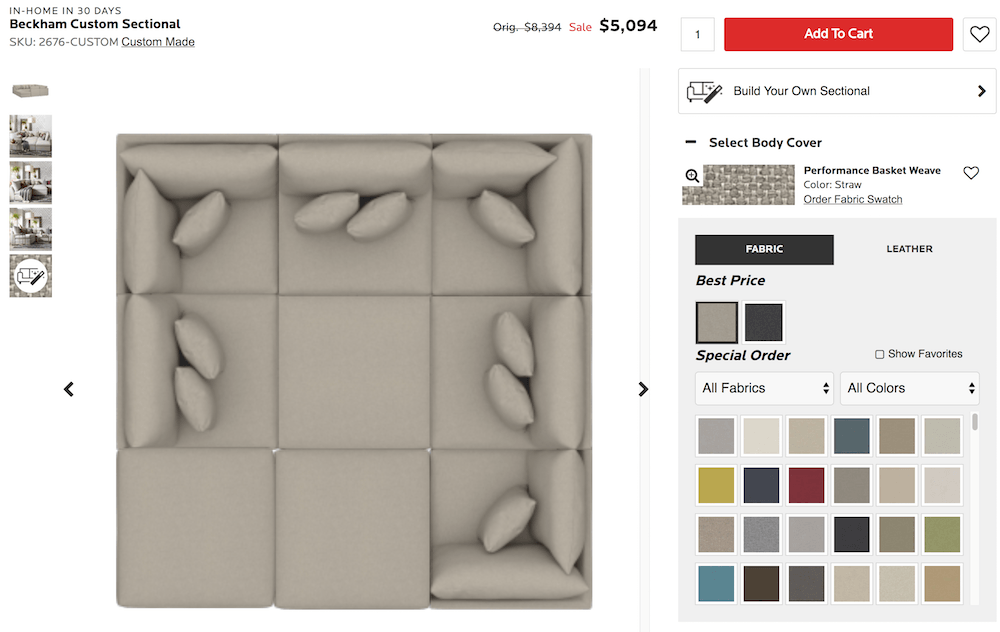 I had one client who was an Interior Designer that actually had her husband change their bulbs to the same led lights the store has so the fabric would look the same in her space.
Crazy I know but having the right color in your room is key!
It will just be a reminder every day if you do not double-check this before placing your order.
Bassett offers FREE Swatches as well which I was OBSESSED with while I worked there.
I literally got an email from the swatch department that I was ordering too many lol.
It's the little things that make me HAPPY but I did cut back after the email.
One of the awesome selling features of Beckham is how many custom 19" pillows she comes with.
Literally, one per corner and two per middle seat which for most people would equal 6-8 pillows in any fabric available (from the store).
The custom pillows are really awesome because you can create the look and feel of your space by the color story you choose with your pillows making it unique to you!
The highest number of pillows was 13 for the pit sectional this client purchased in the bone 1495-0 (Revolution fabric) because again the straw was too yellow in her home.
She wanted the bright white look similar to the Restoration Cloud Pit Sectional they were choosing between.
Funny story they originally picked blues as their color story but came in a few days after to change the pillow fabrics to the neutrals shown below.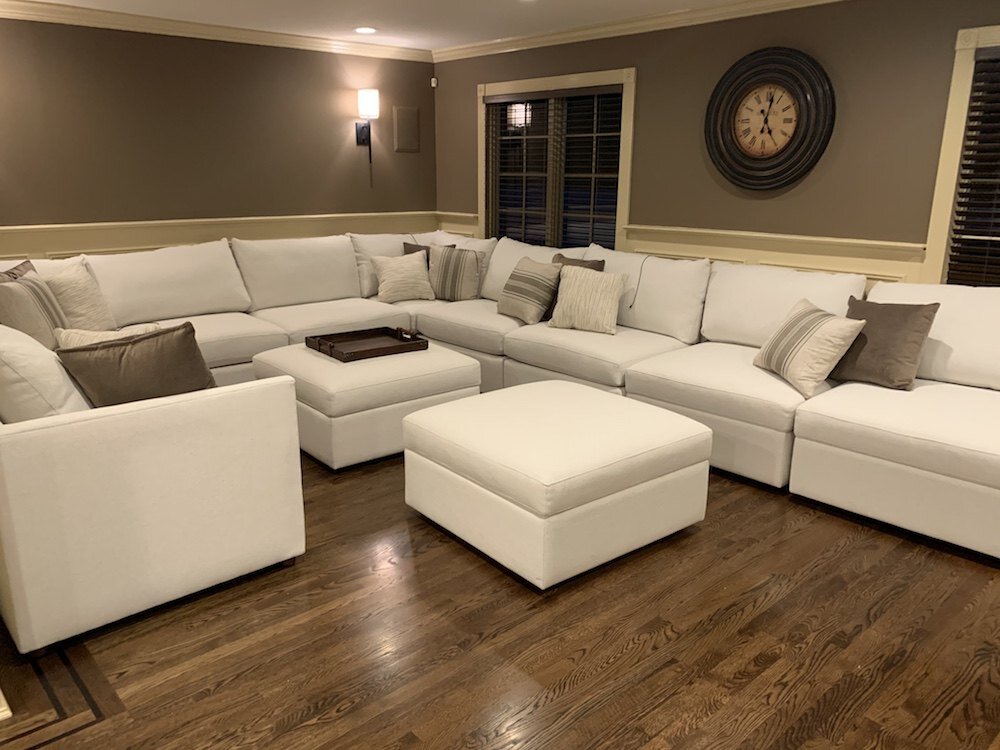 I swear most clients spent way more time choosing the pillows for Beckham than they did for the sofa.
I had my favorites in mind to pull out at this stage in the process to help it move along.
Anytime a client was on the fence about the body fabric I would give them a swatch to check in their home.
You are going to want to do this as well since purchasing a sectional or new sofa is usually a large investment and long-term purchase.
The client of the pit literally designed space exactly to fit the sectional which was 4 pieces across by 3 deep.
The four ottomans open up to have storage and are on casters so they are easy to move. They are great for storing blankets, toys, and games!
When the sectional was delivered they were thrilled and wound up ordering two extra back cushions so they could make this configuration.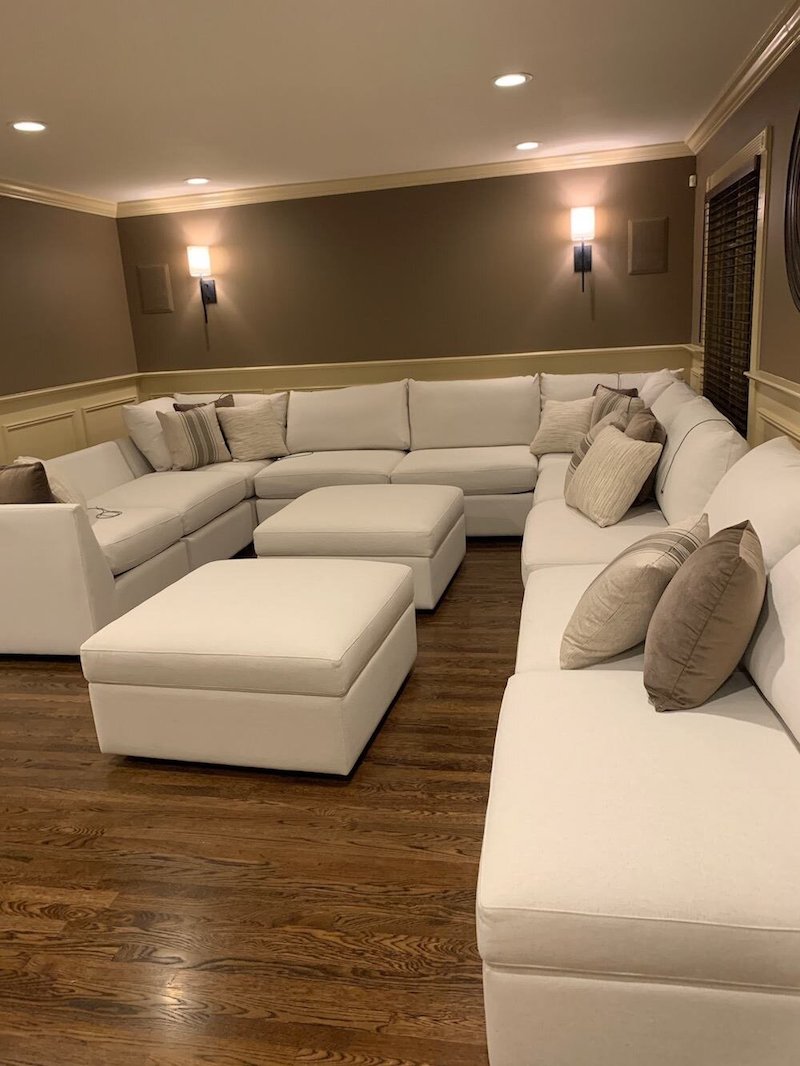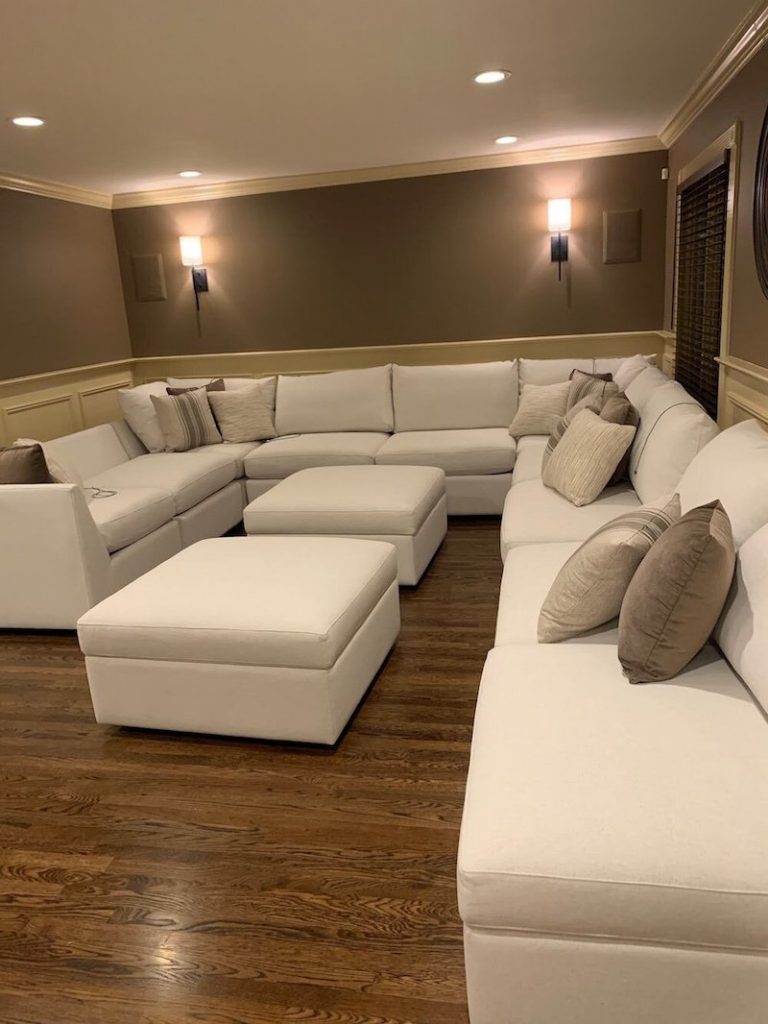 This sectional is perfect for lounging and has a standard cushion fill NOT down.
The options my clients were originally looking at were the Cloud Pit Sectional from Restoration Hardware which is down.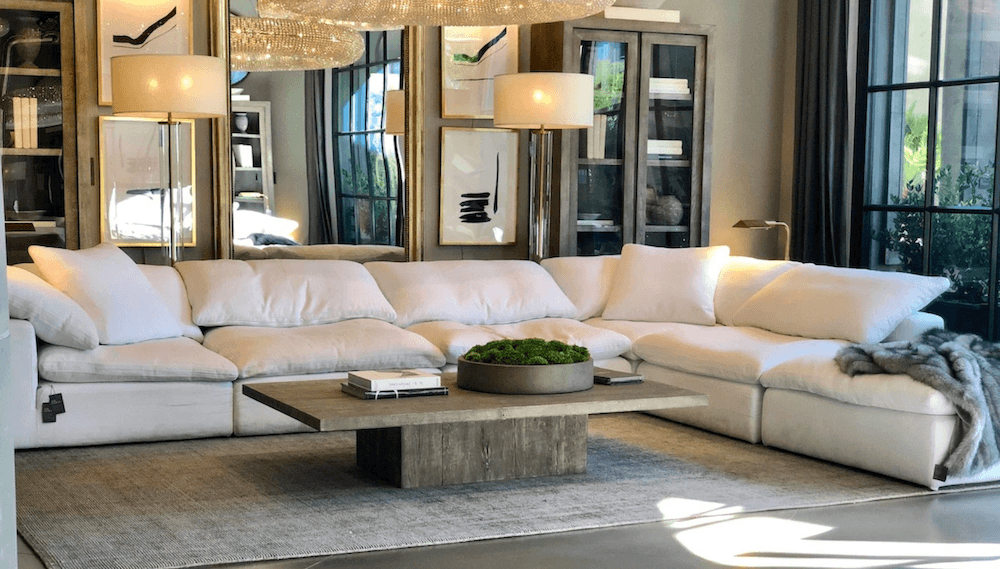 They decided against that one and literally spent $13,000 for Beckham.
Between the fabric upgrade and the protection plan, the cost went up.
Side Note: Bassett offers credit for a future purchase with their protection plan (if you NEVER use it) so it is well worth the extra cost. You do need to set a reminder for the five-year time period to get the credit because no one is going to tell you. Also, it's for a future purchase at 50% off not the full amount of your protection plan.
Another thing I want to mention about Beckham is that each modular piece is 38 1/2" square.
This means for the pit my client purchased the size was 154" x 115.5" so it was BIG.
I had another client purchase the Beckham without a floor plan and thought she could fit the four across with two ottomans.
She was not correct and Beckham was too big in her space.
One important thing to remember when purchasing a sectional is that you MUST have a floor plan done to scale using the measurements of your space.
If not I promise you will be sorry because how a piece looks in a showroom with high ceilings and wide-open space is not how it will look in your home.
That client was not happy but in the end, we came up with a solution that worked.
Custom furniture IS NOT RETURNABLE and most retailers will charge you delivery plus a restocking fee if they do accept returns.
My cousin in law (if that's a thing) asked me just the other day my thoughts on the Restoration Hardware Cloud down modular pit sectional.
He wanted to know if I thought it was worth the money.
I told him he needed to do his research and make sure the down was secured within the cushions.
I had a client that was disappointed when their down sectional had feathers coming out.
After contacting customer service we learned that the down should be encased in muslin casings to avoid this issue.
For the record, I do not have experience with the Cloud Pit Sectional so I do not have an opinion either way.
My thoughts from looking on the website are I personally LOVE the look of comfort and relaxation.
Both Beckham and the Cloud have a deep seat and similar scale but Beckham will hold its shape since the cushions are the standard poly instead of down which tends to become more relaxed over time and requires occasional "fluffing" to restore the down's natural loft.
It is two different looks and a matter of preference.
---
Here are some things to compare when deciding which is best for your space.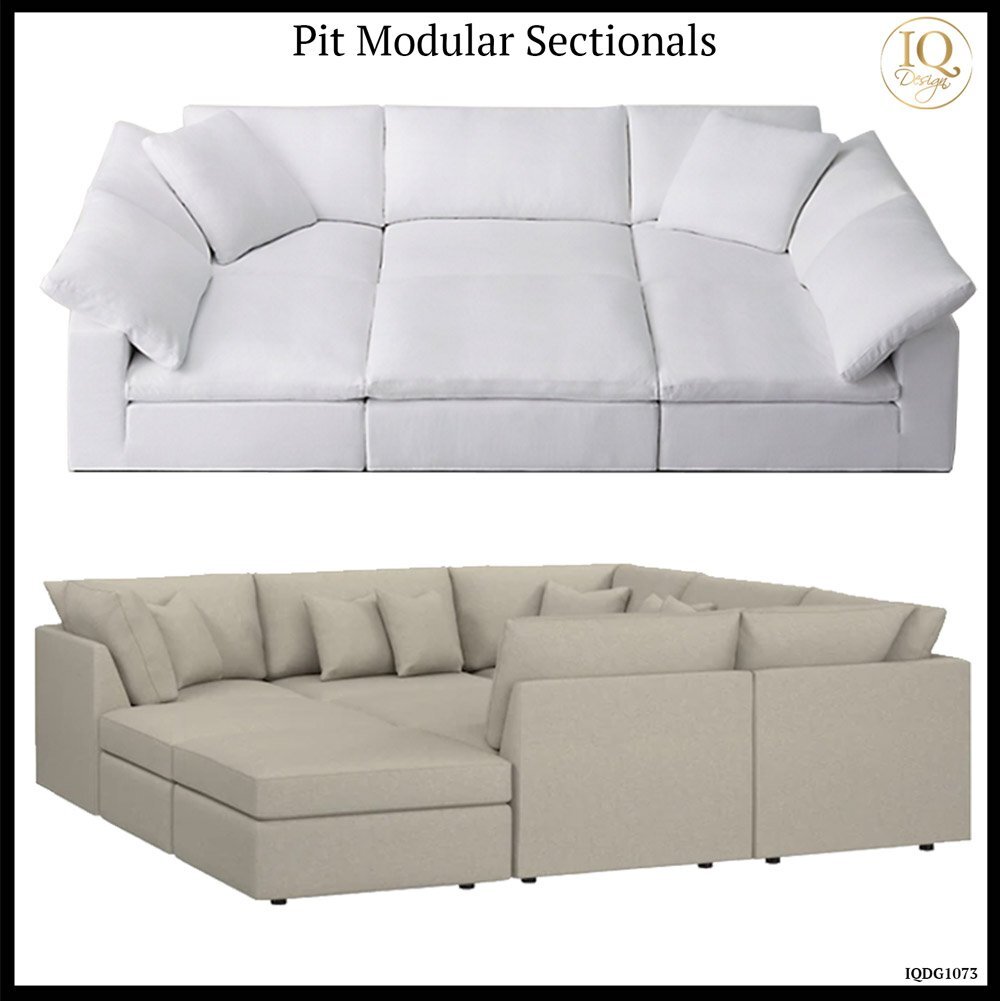 Cloud:
The world's ultimate sofa, Cloud's modular design nods to the relaxed modernism of the mid-20th century, while its comfort is simply unparalleled. Built for laidback lounging, our most relaxed silhouette features a low 24″ back and broad arms for sink-in comfort. Easy to customize, three simple slipcovered cubes – corner, armless and ottoman – available in a choice of three depths allow you to configure the seating that best suits your space. It's a modern marriage of versatility, perfect proportions, and massive comfort.
CHOOSE FROM STOCKED OR SPECIAL ORDER FABRICS OR LEATHER

Cushions and pillows are slipcovered for versatility and available in a range of fabrics and colors

Petite, Classic or Luxe size options available

Petite Armless Chair: 35″W x 36″D x 31½"H

Classic Armless Chair: 39″W x 40″D x 31½"H

Luxe Armless Chair: 43¾"W x 45″D x 31½"H

Petite Corner Chair: 36″W x 36″D x 31½"H

Classic Corner Chair: 40″W x 40″D x 31½"H

Luxe Corner Chair: 45″W x 45″D x 31½"H

Petite End-of-Sectional Ottoman: 35″W x 36″D x 18½"H

Classic End-of-Sectional Ottoman: 39″W x 40″D x 18½"H

Luxe End-of-Sectional Ottoman: 43¾"W x 45″D x 18½"H

Back Filling: Coordinating back cushions are goose feathers wrapped in down for all-feather fill, or 50/50 feather-poly fiber blend for feather-wrapped core fill

Cushion Filling: Seat cushions in a choice of all-feather fill (100% goose feather cushions wrapped in a layer of pure down) or feather-wrapped core fill (feathers wrapped around a soft foam core)

All-down seating, unlike typical foam cushions, requires occasional "fluffing" to restore the down's natural loft.

Professional upholstery cleaning recommended

Pocket spring suspension

Included sectional connectors ensure that modular components are secured tightly together; lift upward to release

STOCKED FABRICS READY FOR DELIVERY IN 3-10 DAYS

Order FREE Swatches
---
Beckham:
Invite extended family. Friends, too. The all-welcoming Beckham Pit Sectional is a modular sectional offering endless possibilities to be as large or small as needed. All 9 pieces are top-stitched for durability, with weltless box seat cushions and loose knife edge back. Back and seat cushions are removable for easy cleaning. Wood legs are finished in walnut tone. Best price fabrics available in Straw or Charcoal performance basketweave fabric; can be special ordered in any of our 800+ fabrics!
Available in Fabric or Leather

Crafted + Tailored in USA

Height overall: 40"

Width/Length: 38 1/2"

Back Filling: Standard Fiber

Cushion Filling: Standard Poly (Upgrades available)

Back and Seat cushions are removable

Cushion Support: Sinuous Wire

Available in 30 Days

Included sectional connectors ensure that modular components are secured tightly together; lift upward to release

Custom Pillows included (multiple)

Order FREE Swatches
---
Side Note: Beckham and the Cloud are not the only options in the pit modular section category.
There are so many more to choose from and at all different price points.
So many that this topic will be spread out over three blog posts!
Be sure to come back for the other two posts which will cover other options in the "pit" category as well as the modular category!
Here is a little teaser of what's to come!
If you need help with your Floor Plan Reach out HERE.
As I mentioned above Beckham often goes on special.
Before I finished this post I received an email and guess what?!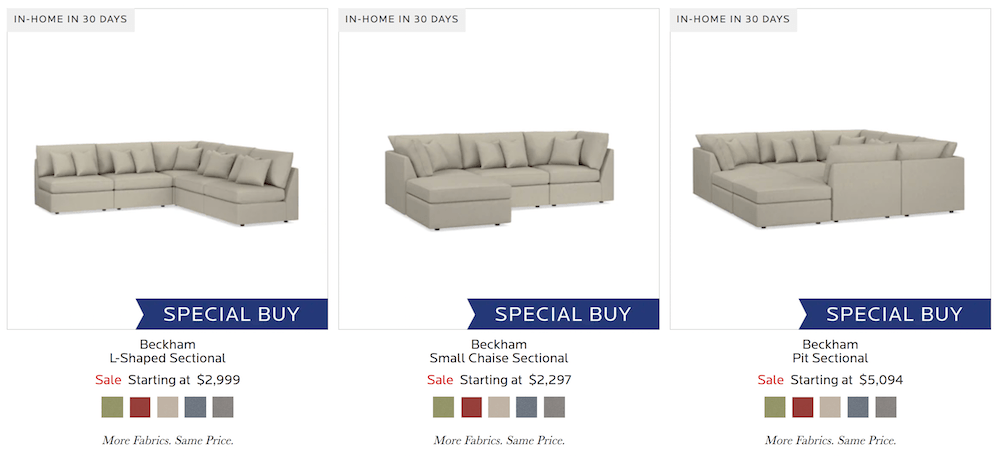 The Beckham Pit Modular Sectional is on SALE for $5094 with 48 Month Finance which is insane!!
The Cloud is not on sale that I can tell and cost quite a bit more.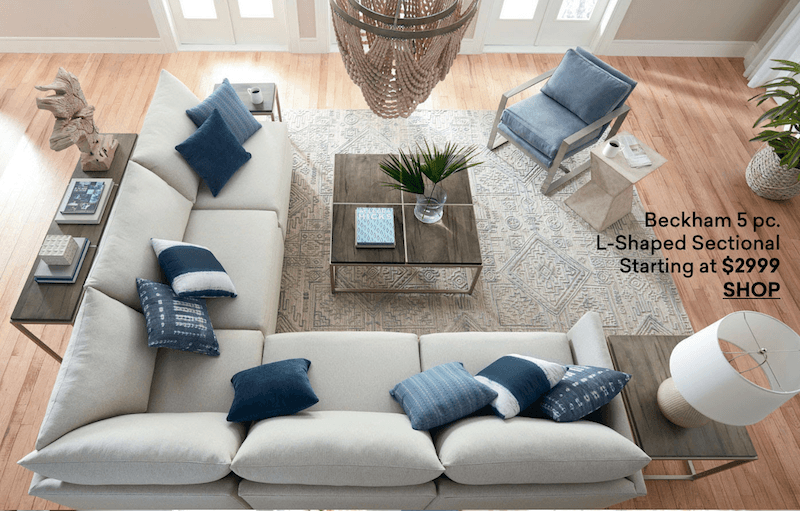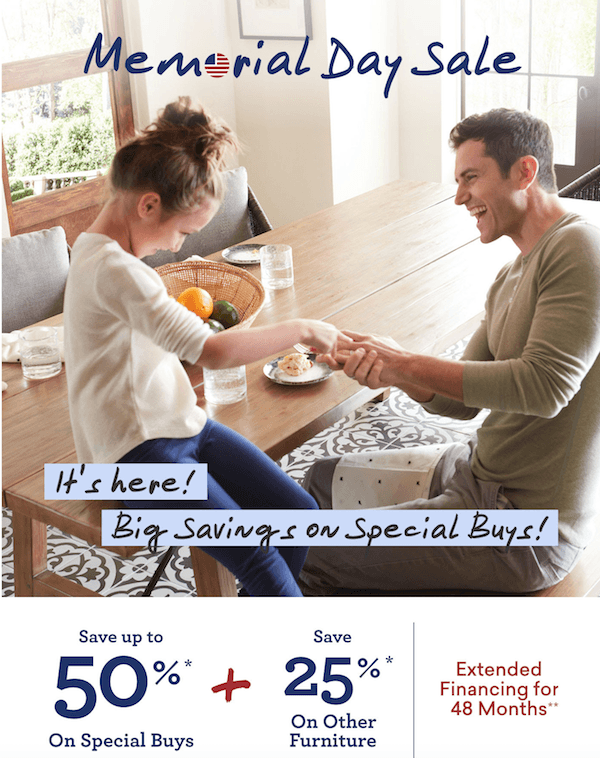 Which do you prefer for your home?
Beckham or the Cloud?
Let me know in the blog comments!
Hoping this post will bring good vibes and customers to my friends still at Bassett as they get ready to open back up for in-person business!
Have an awesome night full of Unicorns and Rainbows!
Stay healthy and well.
xo Nicole
---
Since leaving Bassett I also joined the Designer Program!
Let me know if you need help with your next design project.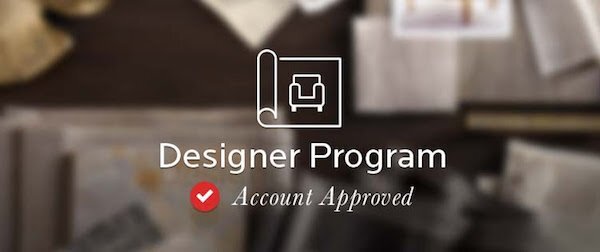 ---
For more shoppable designs check these out from my Like To Know It page.
Note: My blog periodically contains affiliate links meaning that if you make a purchase, I might make a small commission at no extra charge to you. Purchases made through them are greatly appreciated.