Please Note: This post may contain affiliate links, which means that if you make a purchase, I might make a small commission at no extra charge to you. I only recommend products or services I believe will add value to my readers. Please read my full disclosure for more details.
Yesterday was bittersweet for me as I bid farewell to a twenty-three year career as a Children's Wear Designer. Over the years I have learned valuable skills that I will bring into my new Full-Time career as an Interior Designer. Up to this point, it has been a side hustle but I am super excited for what's to come. In honor of bidding farewell here is a Contemporary Glam Nursery with ideas for your Baby Girl!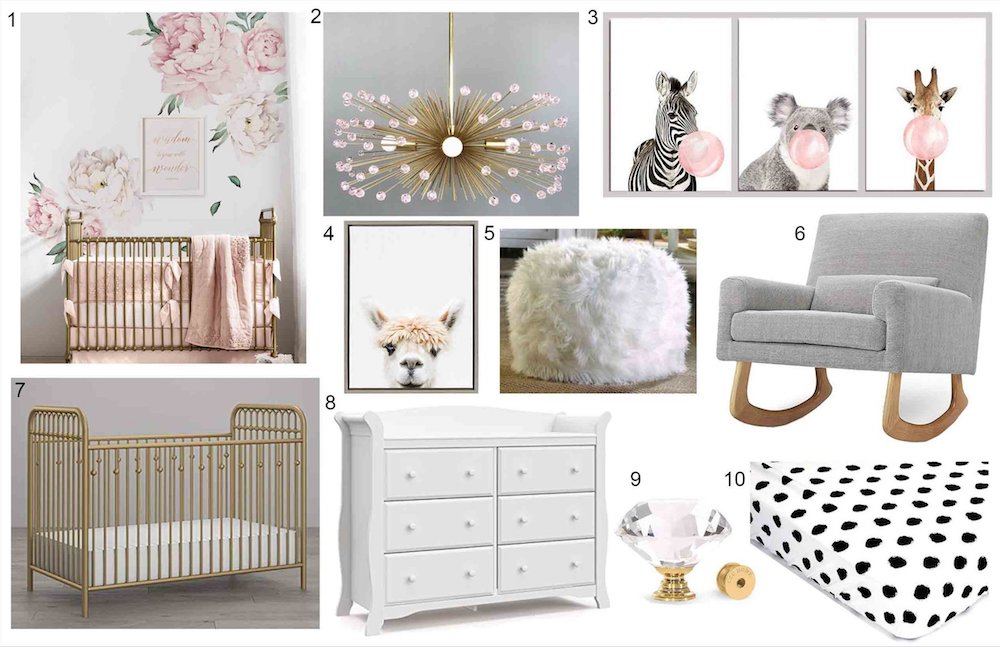 NURSERY PRODUCTS:
#1
So in LOVE with the Simple Shapes Peony Flowers Wall Sticker in Vintage Pink!
---
#2
This Crystal Beaded Urchin Chandelier from Dutton Brown is perfect to add that touch of glamour to your little girls room!
---
#2
Super Cute!!
Canvas Wall Art Baby Animal Nursery Prints with Zebra Giraffe Koala Blowing Bubble Gum
---
#4
Can you even? I can't!!
Kate and Laurel Sylvie Alpaca Bangs Animal Print Portrait Framed Canvas Wall Art
---
#5
Wouldn't you love to put you feet up on this pouf?
WHITE Fuzzy Furry Footstool Floor Pillow cushion Seat Fabric Bean Bag Ottoman POUF
---
#6
How comfy does this rocking chair look?
Rocker with Light Legs, Light Grey Weave
---
#7
Glamtastic Gold Crib!!
Little Seeds Monarch Hill Ivy Metal Crib
---
x
#8
My daughter had this exact changing table and it was great!
Storkcraft Avalon 6 Drawer Universal Dresser, White
---
#9
But I added decorative pulls to add that Glam touch…
Crystal Glass Pull Handle Cupboard Cabinet Knobs
---
#10
Love adding a touch of Black & White and a two pack is even better!!
Premium Black & White Fitted Crib Sheet Set (2 Pack) | 100% Jersey Cotton | Certified No Harmful Chemicals | Trendy Black and White Polka Dot + XO Design
Please comment and share this blog post with anyone you think will enjoy it! #sharingiscaring
As always please continue to follow the journey through our Instagram Stories and Facebook updates where we will continue to share behind the scene videos and findings.
Have an Inspired evening everyone!
xo Nicole
#beinspired
Note: My blog periodically contains affiliate links meaning that if you make a purchase, I might make a small commission at no extra charge to you. Purchases made through them are greatly appreciated.