Please Note: This post may contain affiliate links, which means that if you make a purchase, I might make a small commission at no extra charge to you. I only recommend products or services I believe will add value to my readers. Please read my full disclosure for more details.
Did you know that just updating your pillows and accent color in your bedroom can make a big difference?
Yup, it can!
You may not be able to complete a full room makeover during quarantine but you can make small changes to update your space.
In the case of my friend Susan and her bedroom makeover, she will be updating more than just the pillows.
Today she made progress and primed her walls. She had already spent the time prepping which is key to any good paint job. Most people skip that step but it is so important.
We also had a paint consultation and chose Paper White 1590 from Benjamin Moore in a Matte finish for both her walls and ceiling.

Yesterday I showed you the Room Starter for her space and today I'll share all the products broken out separately.
Here is the Like To Know It Design Board: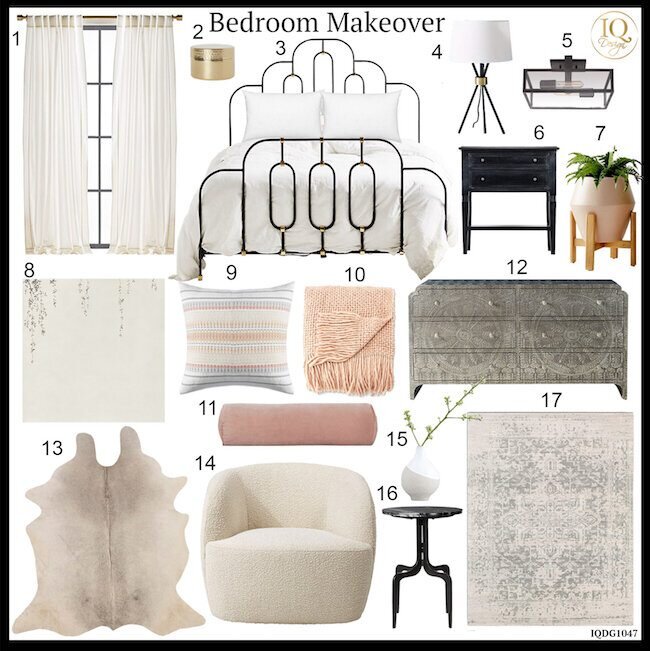 Click the Links below for product details:
If you are not ready for a full room makeover right now you could just change out a few items from this design to change the Look and Feel of your space.
Let me know which is your favorite in the comments below!
Also, please share this post with friends and family who would love it too. Thanks!
Have a happy night full of Unicorns and Rainbows my friends!!
xo Nicole
---
Related Blog Posts:
Note: My blog periodically contains affiliate links meaning that if you make a purchase, I might make a small commission at no extra charge to you. Purchases made through them are greatly appreciated.