Please Note: This post may contain affiliate links, which means that if you make a purchase, I might make a small commission at no extra charge to you. I only recommend products or services I believe will add value to my readers. Please read my full disclosure for more details.
Have you ever been nervous to commit to a look because you are scared of getting tired of the style you chose?
I can totally relate! For a while, I was into a bit of a Spanish Electic style but I'm since very over that. These days there are four styles I gravitate towards as my "Go To's". Two of those are featured in this post today which are Contemporary Glam and California Eclectic. One of the biggest choices and financial investments you will make when redesigning your Living Room is your sofa. Here we show you that if you go neutral on your sofa you can achieve two totally different vibes by changing the supporting pieces. This will give you the confidence to commit to your sofa knowing you can always change the look later!
This Sunpan Sofa in a neutral gray is the investment piece we have chosen as our staple for both concepts.
Without further ado here are the two concept boards: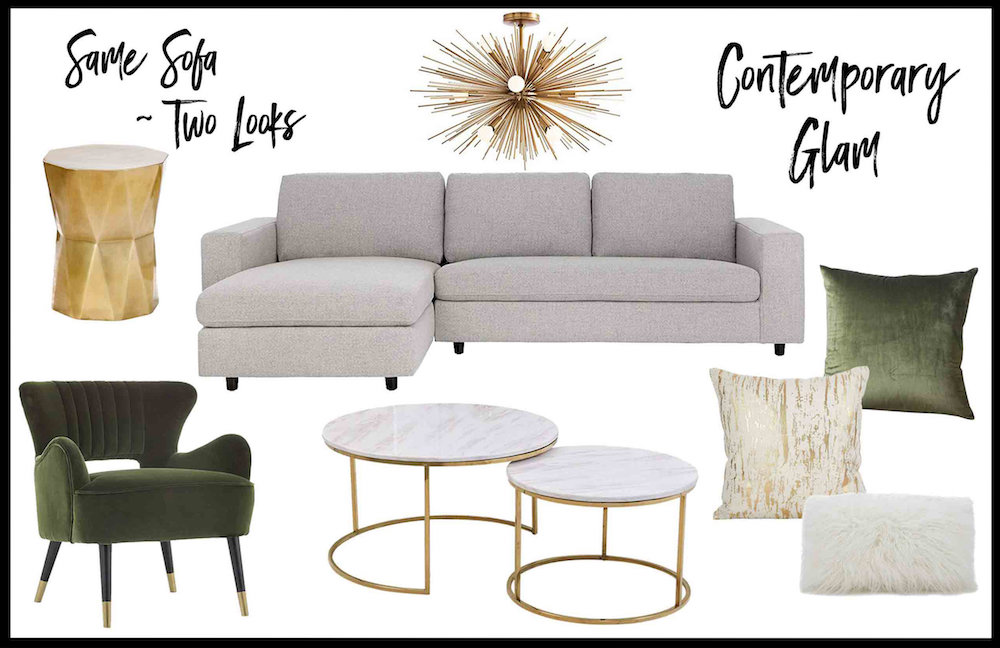 Contemporary Glam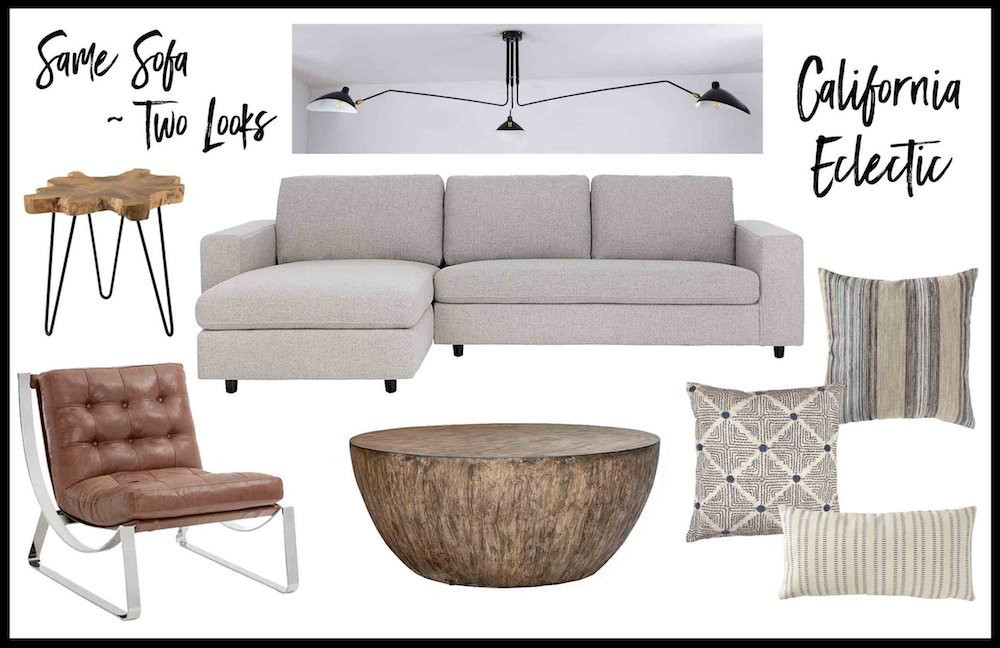 ---
California Eclectic
---
Now lets break out the different looks!
First we will discuss the pieces shown in the Contemporary Glam Style Concept Board.
Two elements you will see repeated in many Contemporary Glam rooms is gold and marble. The Contemporary starburst 12-light fixed chandelier in Antique brass finish is from Arteriors whose products we love! Also shown above is the Marble top with gold base coffee table. This layered look is very much trending right now and a great way to update your space and add interest.
A popular color at this past Spring market was green as shown above. This chair in velvet with the channel back details and gold touches really speaks to the Contemporary Glam trend. As does the gold geometric side table we chose.
One way to carry the eye throughout a space is to repeat elements within the design. Here we repeated the green velvet in the pillow which would look great on the sofa. The cream linen pillow with distressed gold foil adds to the Contemporary Glam vibe as does the fur lumbar pillow.
---
Next up the California Elcletic Style option.
Shown above this Mid-Century Modern Ceiling Lamp, 3-Arms Large Chandeliers with Adjustable Lamp Head on Black is perfect for the California Eclectic style .
As is this Minimalist Large Round Light Wood Coffee Table in Modern Geometric Block.
Another detail in this style is mixing in classic modern pieces like this Sunpan curved metal frame, tufted back chair in leather. There are vegan options available in this style as well so do contact us for that product info. The side table is Hand Crafted using Natural Teakwood with a metal base bringing in the natural element of this style.
The pillows are a mix of patterns and textures with a boho feel a detail seen throughout this style. The first pillow is creme and navy with raised, tufted dots in a printed geometric pattern for a three-dimensional look and texture. Next is the bohemian stripe pillow which helps to pull the color scheme of smoky greys layered over soft aqua yarns to form the stripes on the front of this pillow. Slubs in the fabric provide texture while the back is solid linen. Lastly, the Traditional French Laundry style pillow is refined yet relaxed in grey and ivory. Lines, geometrics, embroideries, pattern mixing, and textures are super important in this design style.
Clearly, we left out the artwork, rug, accessories, and other pieces to complete your room but for this post, we wanted to demonstrate the ability to achieve two totally different looks just from the supporting pieces chosen to compliment your sofa choice.
It is our mission is to change the lives of busy creative professionals through design so they come home to a SANCTUARY that makes them feel INSPIRED and REENERGIZED after a stressful day at work. A HAPPY PLACE that RECHARGES them so they can take on whatever challenges come their way tomorrow.
---
Please comment and share this blog post with anyone you think will enjoy it! #sharingiscaring
As always please continue to follow the journey through my Instagram Stories and Facebook updates where I will continue to share behind the scene videos and findings.
Have an Inspired evening everyone!
xo Nicole