Please Note: This post may contain affiliate links, which means that if you make a purchase, I might make a small commission at no extra charge to you. I only recommend products or services I believe will add value to my readers. Please read my full disclosure for more details.
To continue with the Architectural Digest series this post will cover some of the many Artisans with creative original products we saw at the show. One way to add interest to your next design project is to incorporate that special unique touch that sets you apart from what everyone else is doing. Remember anyone can design a pretty room BUT not everyone can design a Memorable Original Room that gives people an Experience where they leave feeling Inspired. You know you have achieved this when people around you start improving their spaces and asking you for advice as a result of how they felt after seeing yours. I used to think this was annoying BUT again since working on myself I now see this as a form of flattery. Again people baby steps in this self-help journey!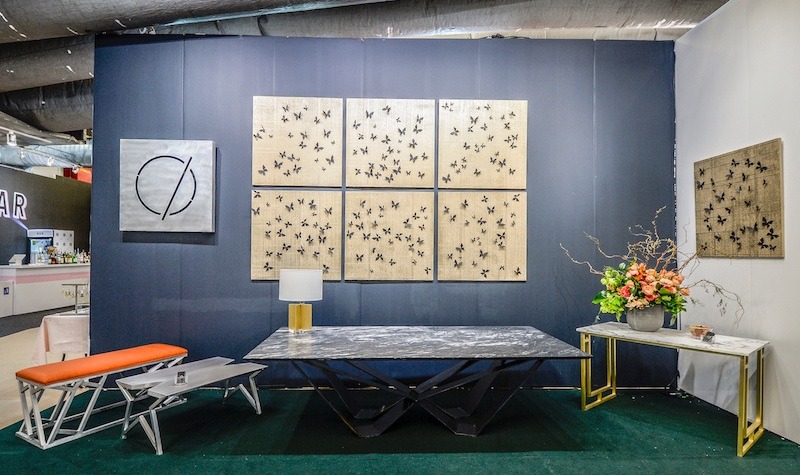 One of the first vendors we saw at the show was Rebecca Michael of xer0 group LLC from Stamford CT. She had panels on display with beautiful butterflies made out of cutting steel. A designer herself Rebecca created this design element which will really add that touch of drama to your space. Image these butterflies on your Dining Room ceiling cascading down your wall. Can you imagine a little girl's room with these butterflies flying in the corner of the room? I can!!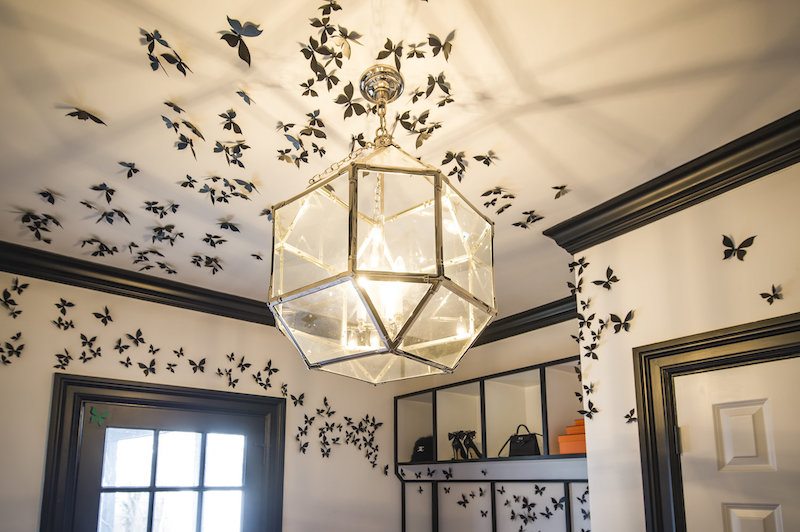 Again universe I need a little girl's room to design so we can add these butterflies into the design!! These butterflies are applied to the wall using a small tack in the corner.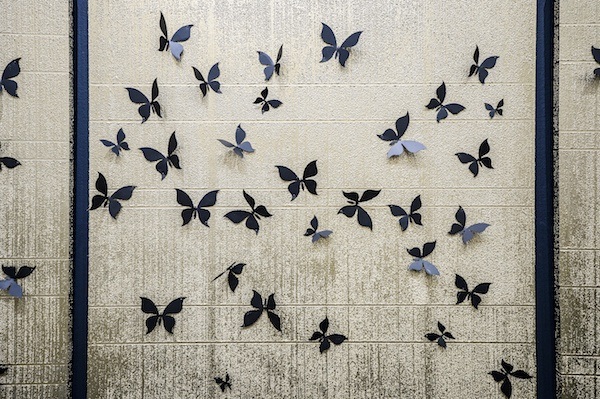 The panels were made for display at the show but don't they look like artwork? We think so! On a side, note flowers are also available which can keep your outdoors beautiful even during the cold barren months.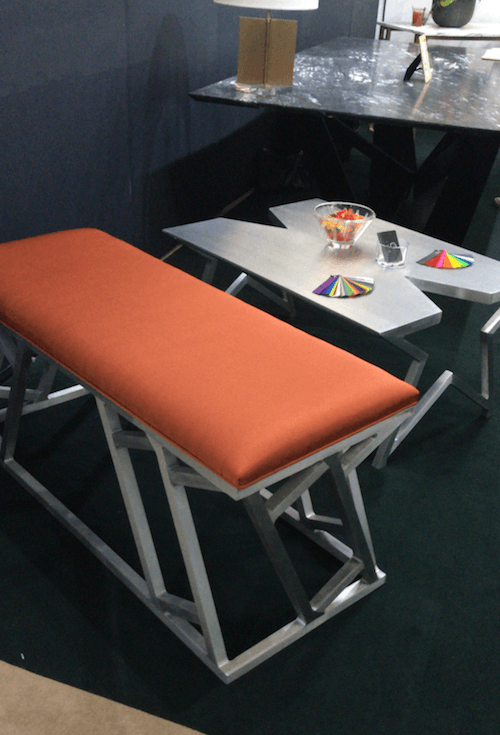 xer0 group also makes furniture out of steel that is lightweight for indoor and outdoor use. This is also available in a variety of colors.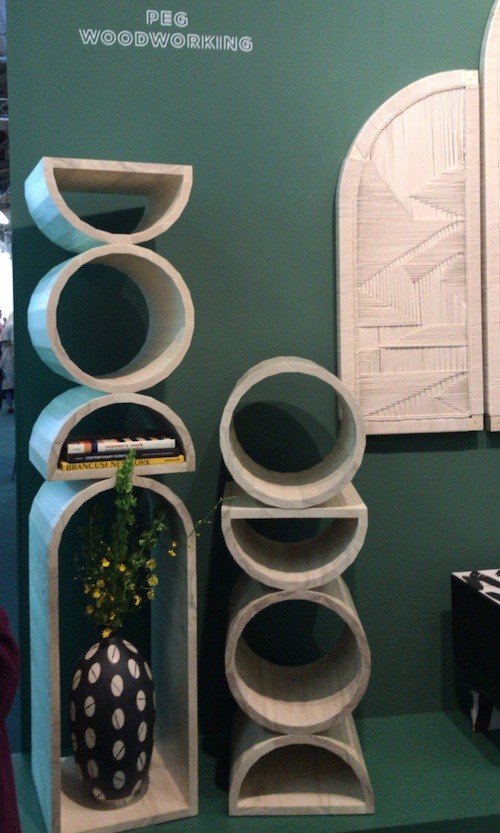 Peg woodworkings Totems are sculptural objects that play with symmetry and balance. Each piece is a unique coopered stack that are both abstract and figural. Check out their website for the other original items they carry.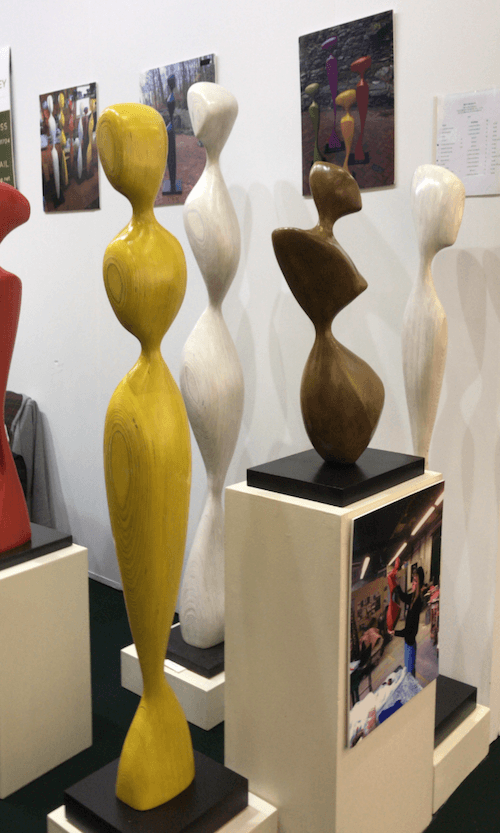 Dick Shanley Sculpture a local artist from Cold Spring Harbor NY had a variety of pieces in natural wood and color on display which would actually work perfectly in the Artisan House project we are working on.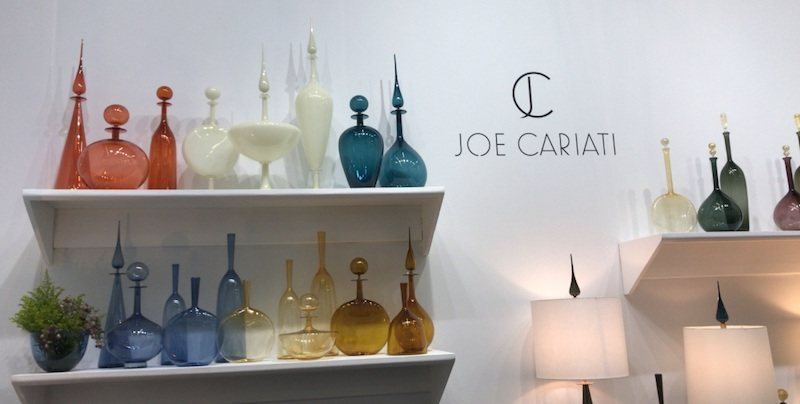 We are on the hunt currently for unique colored glass display pieces for Co-Op 69 and Joe Cariati had these at the shown. Definitely going to check out his website to see if there are options for the 11" shelf we have!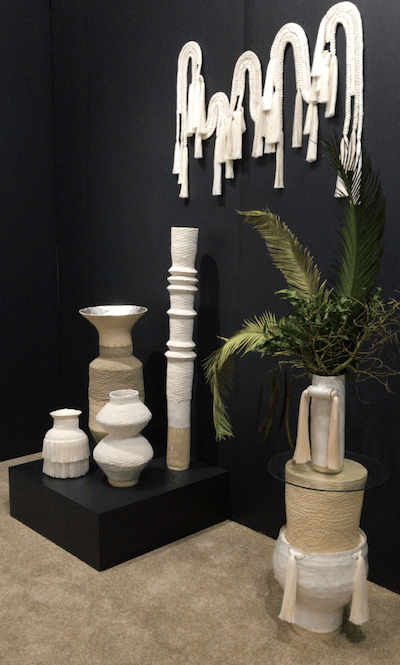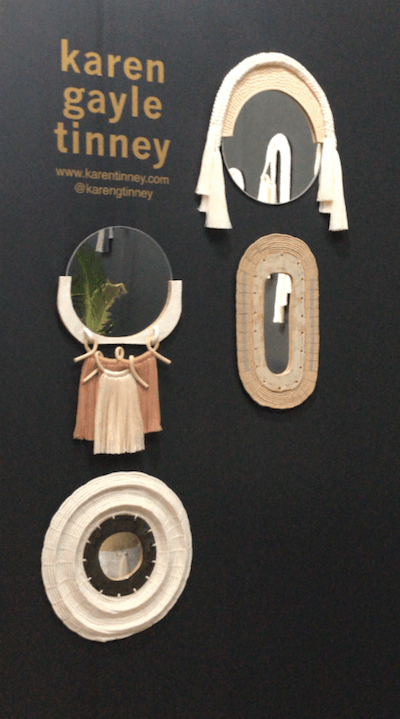 Karen Gayle Tinney showed her beautiful mirrors and vases at the show. Head over to her website to see more of her gorgeous work! Definitely one of our favs!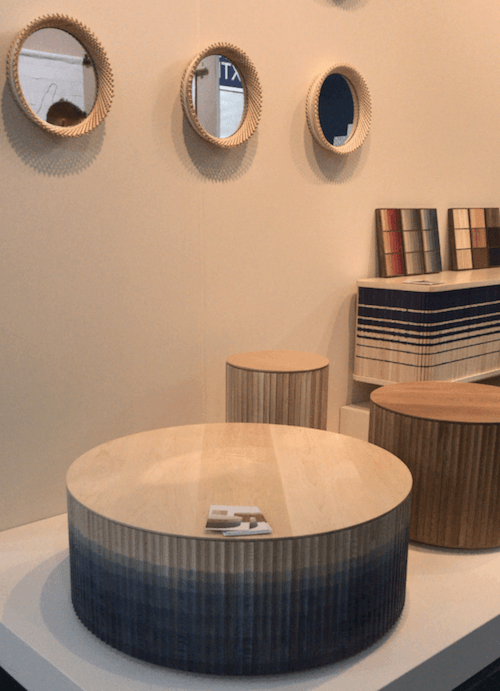 This Pilar fluted coffee table from Indo was stunning! What a great way to add a pop of color in your next project with the ombre base of this piece.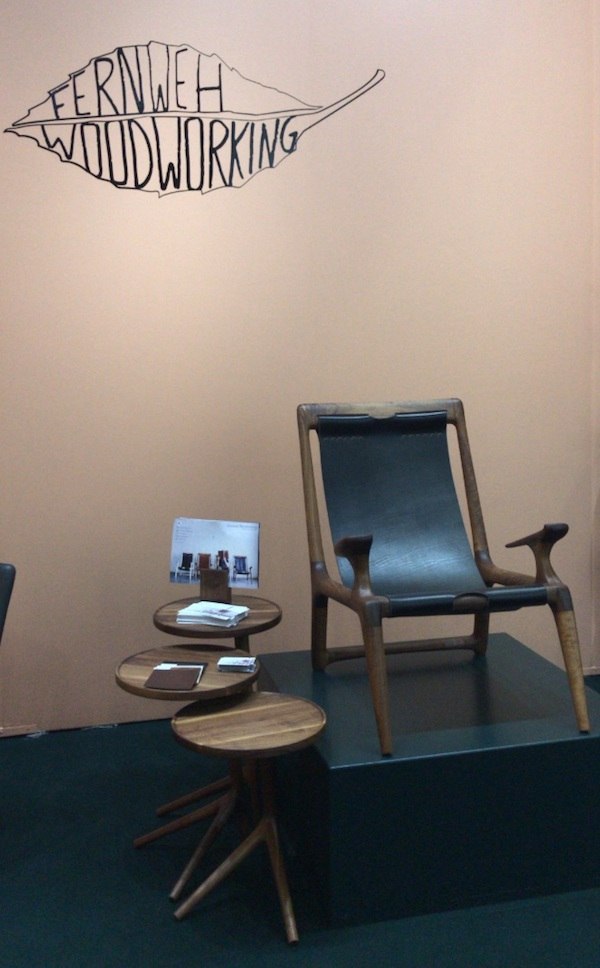 Fernweh Woodworking had this gorgeous chair and cool table on display. Check out their website for more unique pieces.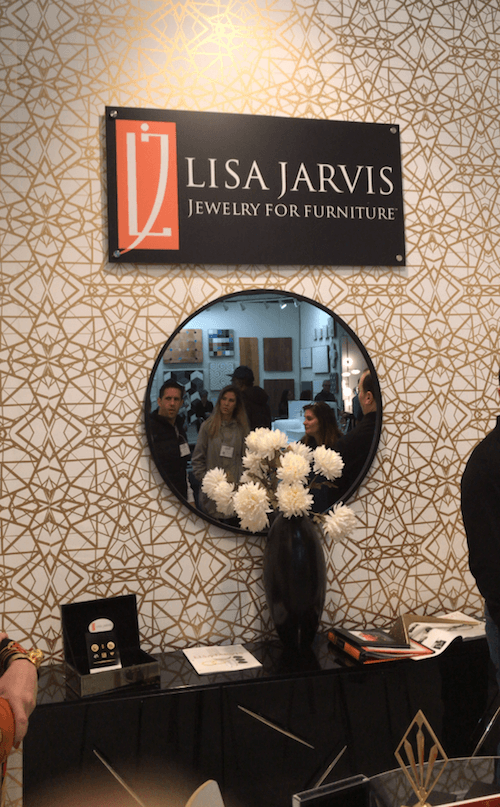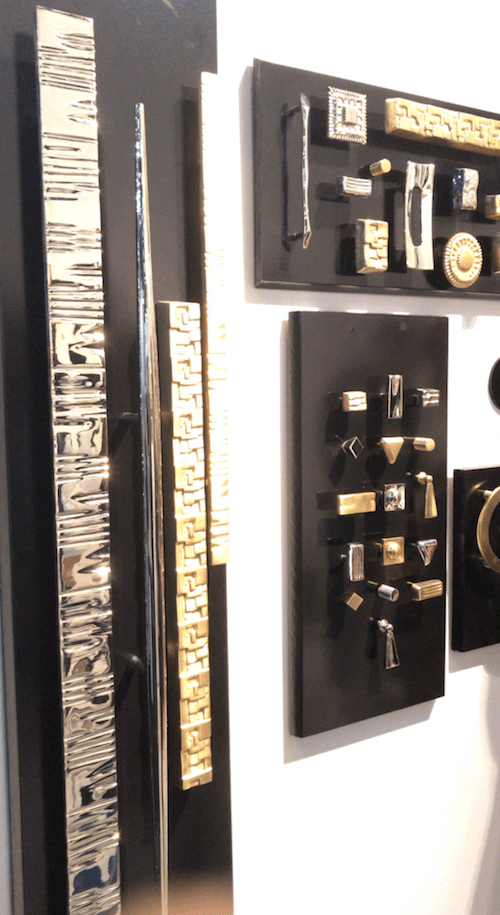 We loved Lisa Jarvis Jewelry For Furniture. How awesome are these?!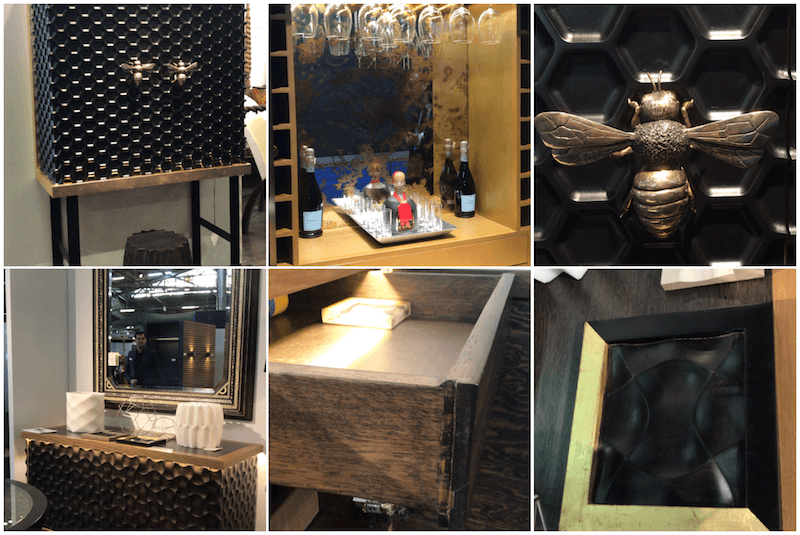 We decided to show Arther Furniture in this post instead of with the furniture because these pieces are truly a work of art. They are all hand-made with antique craftsmanship techniques and use the finest of modern materials to obtain unique and exceptional objects. The owner was so sweet in showing off the finely crafted furniture and you could feel his pride in the 50-year-old company from Mexico as he explained the different options.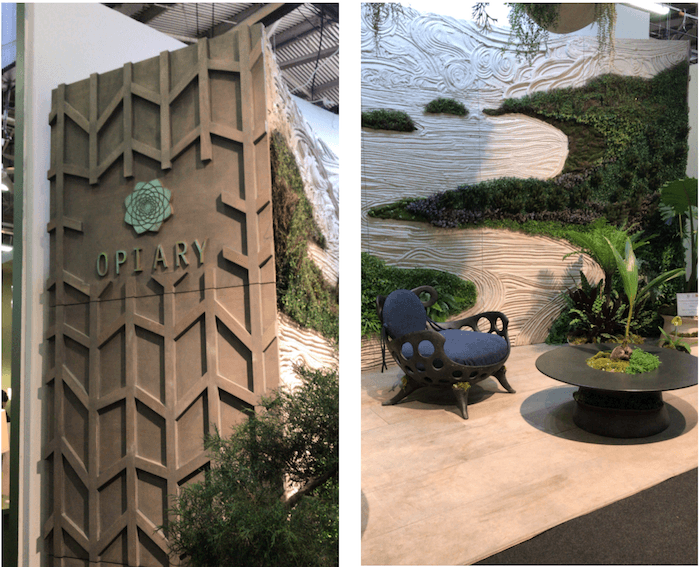 Lastly we LOVED the OPIARY booth! Here is a bit of background from the company website.
In 1996, American sculptor Robert Remer began creating a body of work with the goal of reconnecting physical nature and modern culture, thus the Terraforms are living sculptures that integrate landscapes with manmade forms and systems. In 2012, he incorporated Opiary as his design lab/ production studio in order to expand his sculpture practice and further his passion for quality green design.
We still have more to share so stay tuned for upcoming posts covering the Architectural Digest Design Show 2019!
As always please continue to follow the journey through our Instagram Stories and Facebook updates where we will continue to share behind the scene videos and findings.
Have an Inspired evening everyone!
xo Nicole
#beinspired