Please Note: This post may contain affiliate links, which means that if you make a purchase, I might make a small commission at no extra charge to you. I only recommend products or services I believe will add value to my readers. Please read my full disclosure for more details.
Have you taken the StrengthFinder 2.0 Test and/or read the CliftonStrengths Book?
If you don't know what I'm talking about this is the book.
I took the one for adults but I have added the students one here also.
Since my daughter is heading off to college in the Fall I would love for her to take it but I'm yet to make that happen.
You know I'm her mother what do I know, Right?
Also, I drilled in the child's head from a young age to worry about herself and not what anyone else is doing, and lately, she's just been throwing that line back in my face.
So I'll probably just let her figure out her own journey and let it go.
If you have been following along in the blog you know that I have read an insane amount of books over the past two years.
I have also written blog posts about it and have a shop tab on my page with the full list.
During this time of uncertainty, many people may be looking to Find Their Why or Pivot from what they were previously doing.
This book is perfect for you if you are in that place in your journey right now!
My good friend of over twenty years and one of my "people", Samantha Birtwell, MFA, MA, LMFT told me I should take the test to help me figure out my strengths.
Part of this whole blogger journey has been one big self-awareness and growth journey.
Since Sam is super smart and a forever learner I knew I should buy the book and take the test.
Side note: You will get an access code when you purchase the book to take the test.
Sam is a Licensed Marriage and Family Therapist and the owner of Key Therapy Counseling in Monroe CT.
If anyone is in need of therapy do reach out to her because she is truly awesome!!
If you are wondering what the book is about this is the description from Amazon:
Do you have an opportunity to use your strengths every day?

Chances are, you don't. All too often, our natural talents go untapped. From the cradle to the cubicle, we devote more time to fixing our shortcomings than to developing our strengths.

To help people uncover their talents, Gallup introduced the first version of its online assessment, StrengthsFinder, in the 2001 management book Now, Discover Your Strengths. The book spent more than five years on the bestseller lists and ignited a global conversation, while StrengthsFinder helped millions discover their top five talents.

In StrengthsFinder 2.0, Gallup unveils the new and improved version of its popular assessment, language of 34 themes, and much more. While you can listen to this book in one sitting, you'll use it as a reference for decades.

Loaded with hundreds of strategies for applying your strengths, this new book and accompanying website will change the way you look at yourself – and the world around you – forever.
So I took the test and the access code provided unlocked my five strengths.
Here are mine: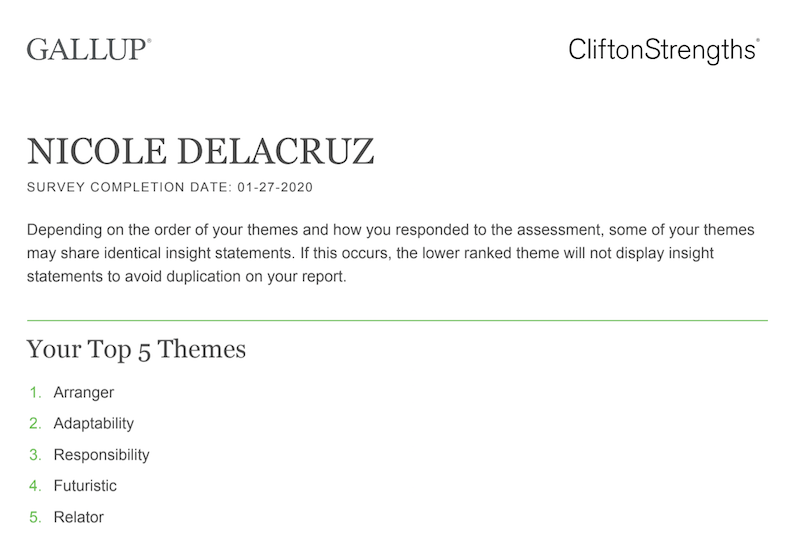 As you can see I took the test at the end of January.
After I received the 5 Themes and their descriptions I then received an offer to unlock all 34 Themes.
I paid a little more because naturally, I needed to know more than just the top 5.
This is the entire list of the CliftonStrengths in no particular order: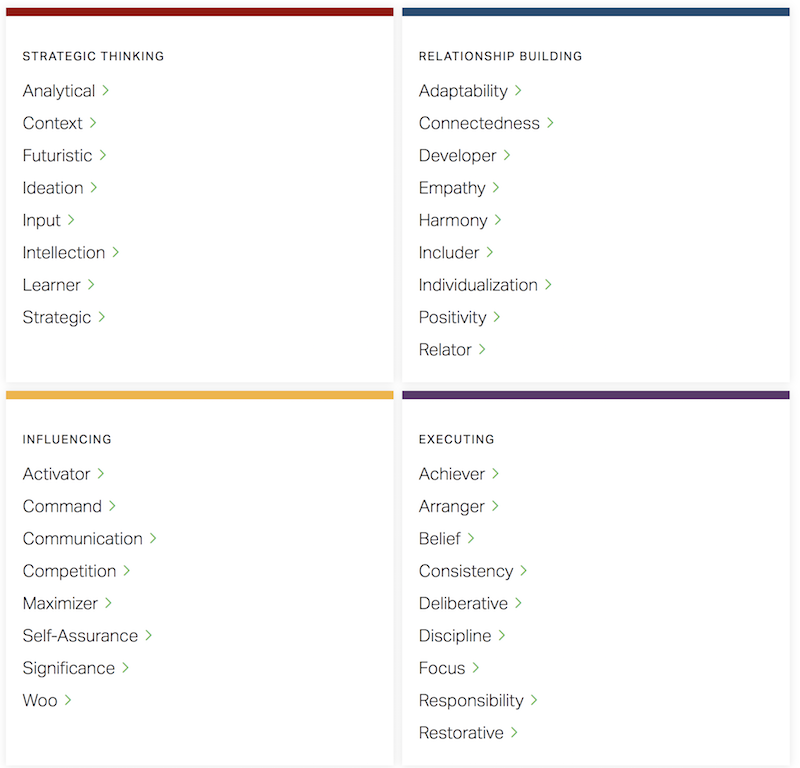 After I took the test I reached out to Sam to discuss my results.
She shared her traits, what they meant and we talked about mine.
After she told me her husband Justin Birtwell was a coach in the CliftonStrengths and I should reach out to learn from him as well.
Since I am ALWAYS late to the party after talking to Sam Monday I finally reached out to Justin and got on his calendar.
At first, I wasn't sure what we were going to discuss because this was new territory for me and I've never worked with a coach before.
I have to say it was a GAME CHANGER!
Justin's insight was amazing and so clear.
One of the first things we did was an exercise where I had to write my full name in script all capital letters with my left hand.
I am right-handed so you can imagine how that went.
It took 1 minute and 33 seconds to complete.
After I had to describe how I felt doing the exercise which was awkward, hard, uncomfortable, sloppy, and silly.
Next, I was told to write with my right hand however I would normally write my full name three times again.
This time it took 11 seconds and I felt empowered, in control, comfortable, good, and like it was easy.
Justin asked me if I even did it unconscious which I said yes.
He then explained that while I could learn to write with my left hand and get better with the time that didn't it feel better to work with my right hand.
I said yes and had an epiphany moment both understanding what he was teaching me that I should work in the areas of my strengths BUT then I also understood that those feelings I had of discomfort and awkwardness are the same way I felt when I switched from Fashion to Interior Design.
I struggled for a while to let myself learn and be ok with doing things wrong or failing which for me felt very awkward and uncomfortable.
When Justin asked me about my strengths I kept referring to what I knew from the garment industry but he kept looping me back to the present moment in the journey of Interior Design.
It is so hard to see what you are really good at that others aren't when you are stuck inside your own head.
He really pulled out of me what I was most proud of in both career journeys and helped me to realize the value I provide.
It is such a process my friends!
This is why they say if we stay in the comfort zone we are not learning or growing but now I have to look at it also from the perspective of knowing my strengths and leaning into those.
When I first took the test I thought I had to work on the things at the bottom of the list which for me was Discipline.
I explained that I had discipline from the perspective of getting up super early and keeping up with my morning routine but that I struggled to time block, keep organized in my work environment, and at times stay focused.
Here are the descriptions of both my first and last themes:
# 1 Adapter: You go with the flow. You tend to be a "now" person who takes things as they come and who discovers the future one day at a time.
#34 Discipline: Your world needs to be predictable. It needs to be ordered and planned. So you instinctively impose structure on your world.
Justin explained that typically an adapter is going to be at the opposite end of discipline because it's hard to both be able to adapt and have structure.
See how this works.
So when I was trying to be disciplined and time chunk and stay on course I was procrastinating because for me it's not comfortable or easy for me.
So knowing this information I have to study my strengths and find the ways to utilize them in my business and then hire for my weaknesses.
So impactful for me!
Justin said we are going to thrive in a fluid environment and working on our strengths is how we create that.
He also said to study my successes and learn what worked from them.
So when I mentioned in a past post that design boards in both the fashion and interior design are one of my superpowers that makes sense because of the Arranger Theme.
So pulling together resources, products, colors, fabrics, textures, ideas from all over the internet, and making it my own is part of the Arranger Theme.
Here are the full sheets from the report of my top two themes so you have an idea of the description you'll get.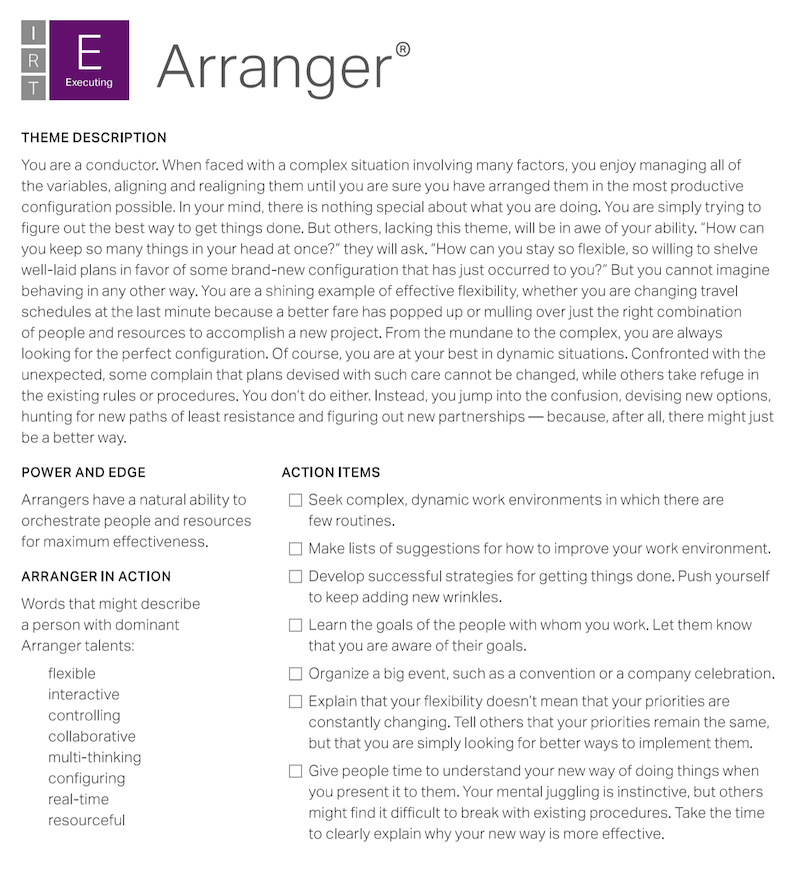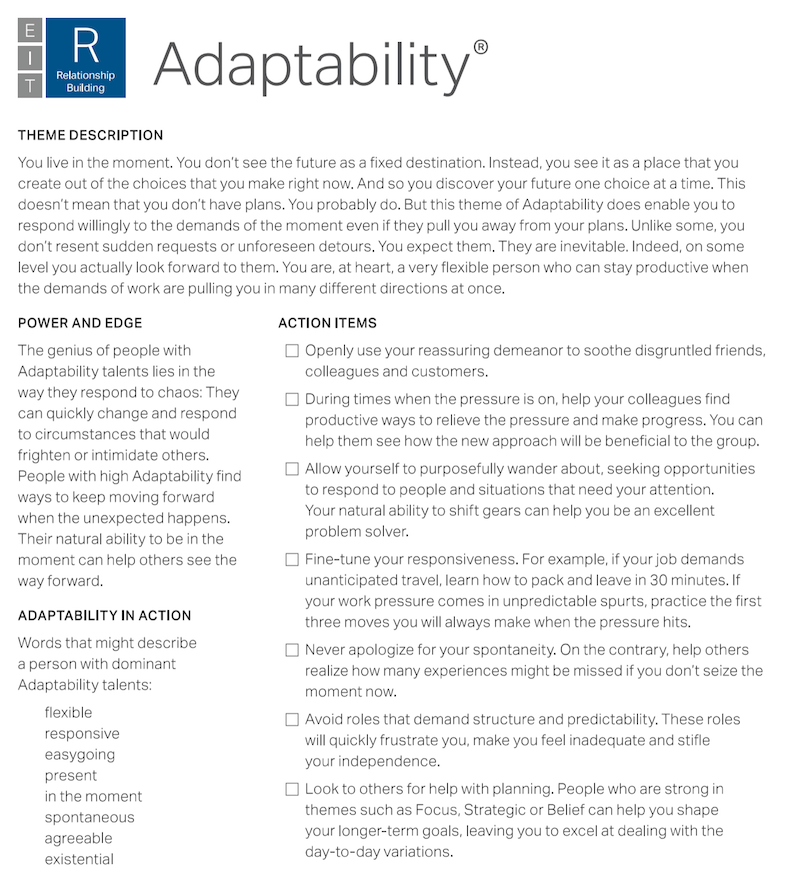 As you can see you really get a breakdown of what each strength means which is huge in the self-awareness journey.
I will leave you now with how Justin left me that the goal is to:
Unlock the Power that is Unique to You.
Learn How to Work in Your Strength.
Figure out what YOU do best so you can Unlock the Power in You!
Now go take the test and then contact Justin to understand it all after!
Just saying : ))
xo Nicole
Please share this post with anyone who it will bring value to and comment below if you found it helpful too! Thanks
---
Sam if you actually read this and get this far….
I totally lost half of this post when I was writing it because it closed and didn't save.
Of course, right away I thought of all the times a file crashed on you and you would tell me "it's ok because it will go faster this time since I know what I did".
It's never OK Sam lol!
It always Sucks : )))
But just like you always did…. I took a deep breath and finished the post while hoping I didn't forget anything.
Love Ya!!
---
Did you come for design Inspiration?
If so check these out these shoppable designs from my Like To Know It page.
Note: My blog periodically contains affiliate links meaning that if you make a purchase, I might make a small commission at no extra charge to you. Purchases made through them are greatly appreciated.