Please Note: This post may contain affiliate links, which means that if you make a purchase, I might make a small commission at no extra charge to you. I only recommend products or services I believe will add value to my readers. Please read my full disclosure for more details.
In this post, we will share with you our favorite Tile and Art vendors from the Architectural Digest Design Show this weekend. There truly was so much to see at the event which is why we are sharing it in chunks rather than in one post. This way you can consume a bit at a time and click on the links to the websites and maybe add a vendor or two to your go-to list!
Let's start off with one of my go-to tile vendors TileBar located in NYC. Their tile is Contemporary, Glam, Sophisticated and Fashionable all rolled into one! I absolutely LOVE that they collaborate with designers to bring newness and a fresh eye to the market.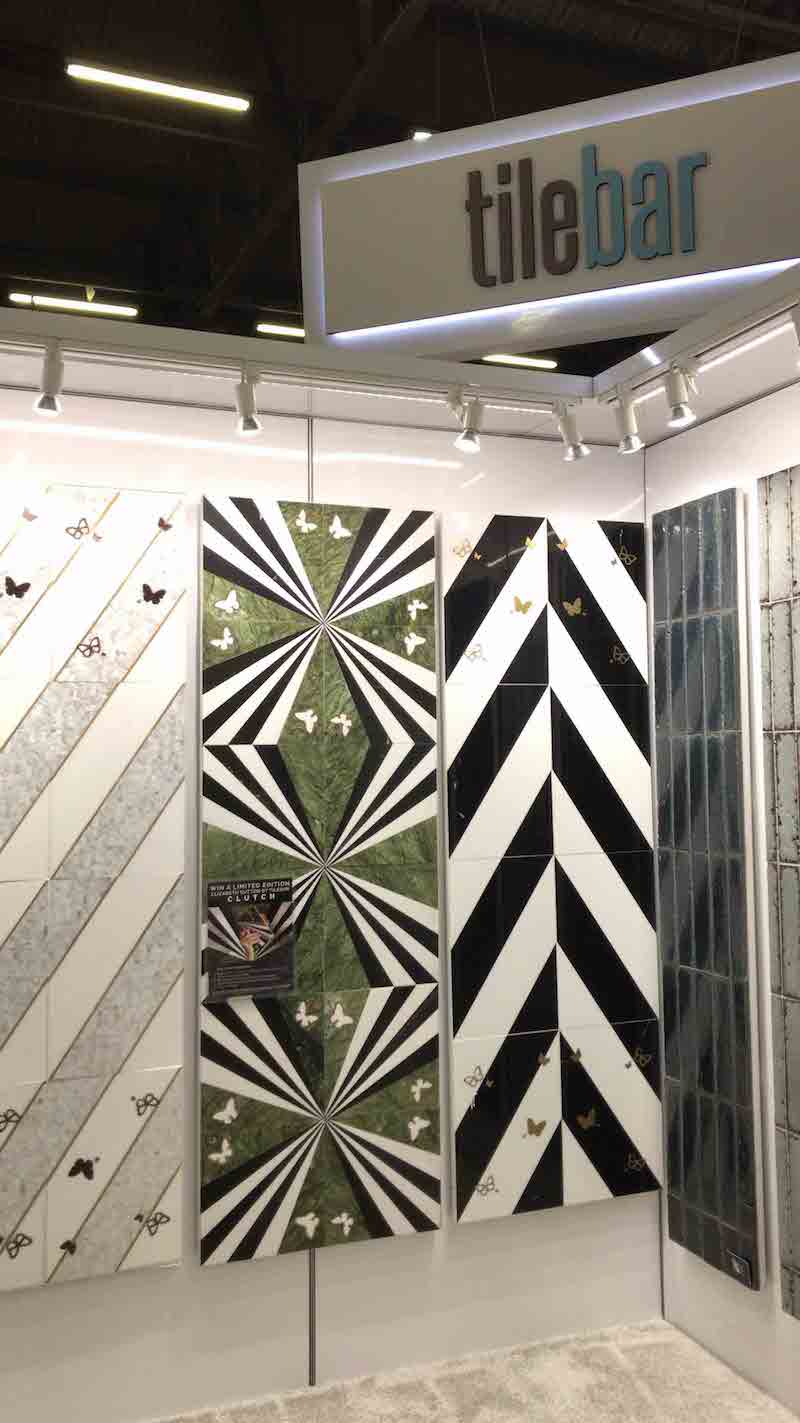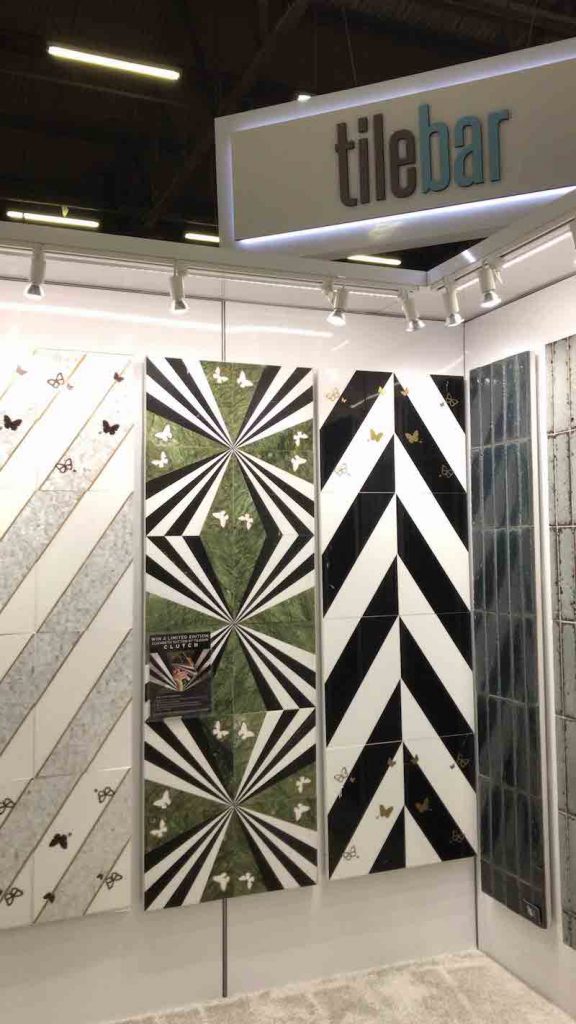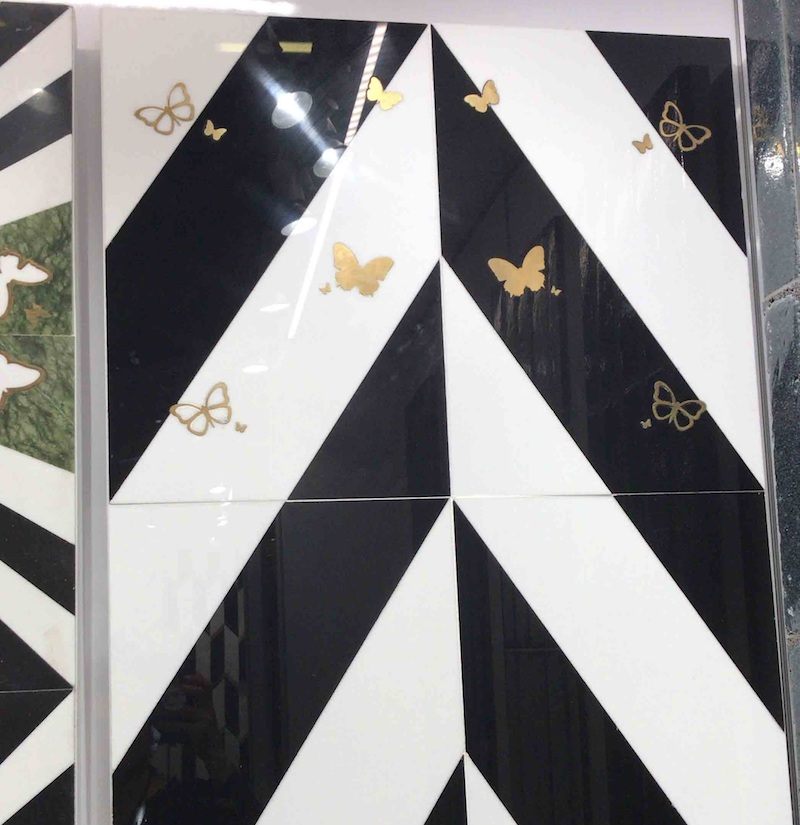 I was really interested in seeing the Elizabeth Sutton Collection which I had seen previews of on Instagram. I must say this designer did not disappoint. I especially loved the butterfly tiles! How original?!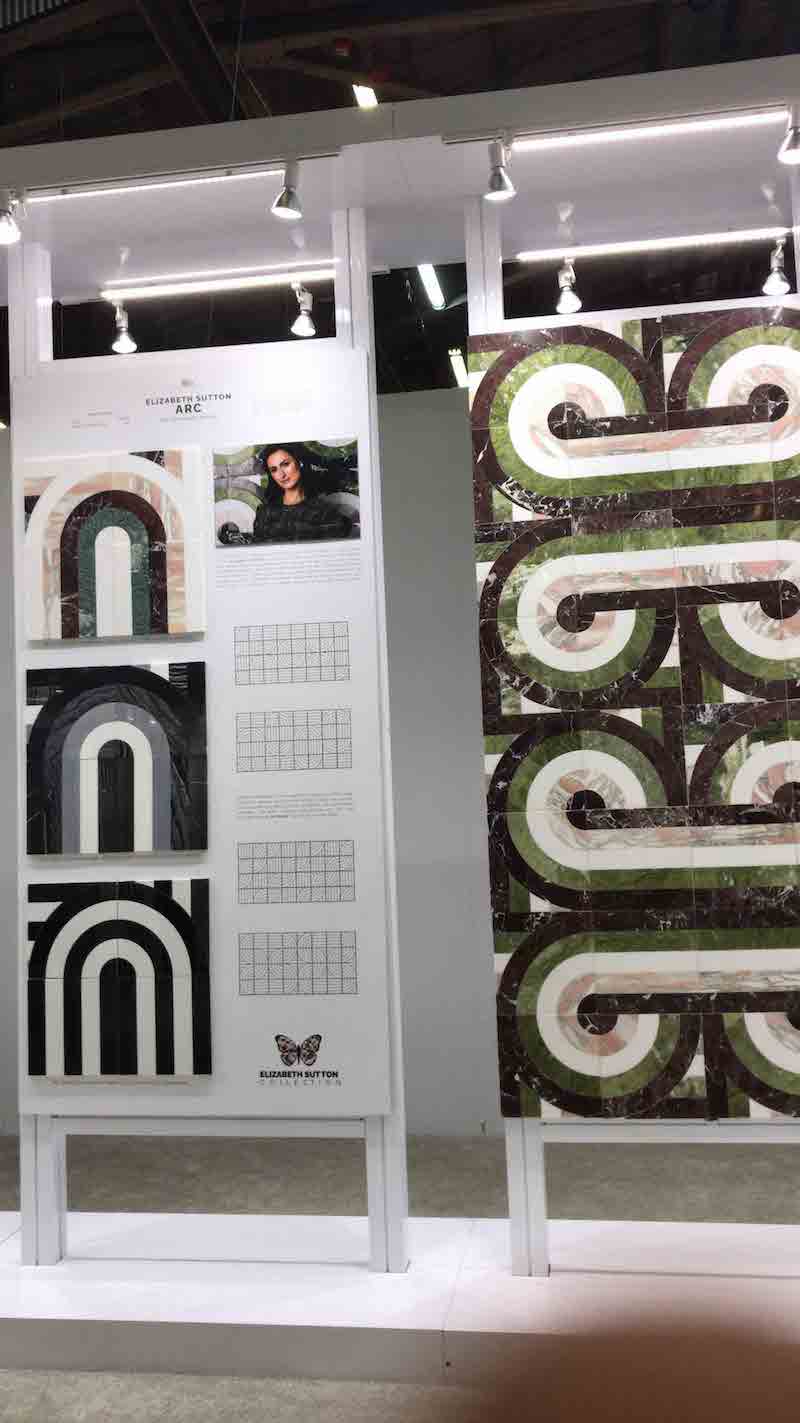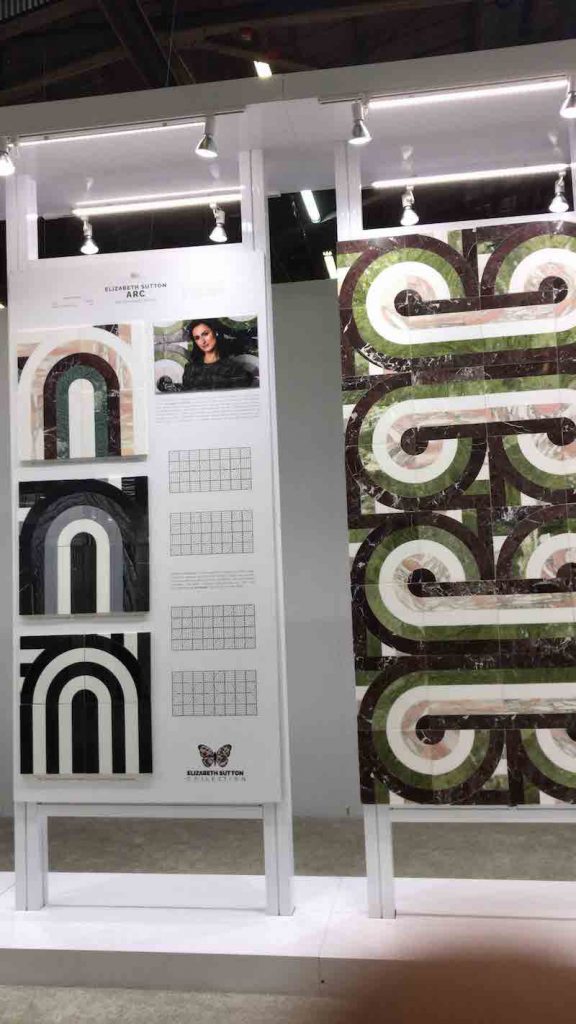 From the TileBar website:
TileBar is a direct importer and retailer of mosaics, tile, and natural stone. Our team curates the finest materials from all over the world to bring our customers an extensive collection of exceptional products. Founded in 2005, TileBar applies 21st-century business practices to provide the most forward-thinking, innovative, and efficient customer experience. Our industry-savvy team provides this experience by recognizing the needs and vision of our clients, identifying elements that complement that vision, and then crafting an environment that turns that vision into reality. This creative collaboration is value-engineered so customers can achieve a high-end look at a fair and competitive price. Our caring team guides customers through every step of the process — from conception to specification, to installation. Our infrastructure and industry buying power is uniquely suited to accommodate any kind of request. For customers who need something in a pinch, we stock thousands of products in our New York and New Jersey warehouses which are available for immediate delivery. For long-term projects, we can custom produce special order items that are the very definition of unique. The TileBar team specializes in servicing the architectural and design community. In turn, they specify our products for high-end hotels, trendy restaurants, corporate offices, as well as other commercial and residential projects.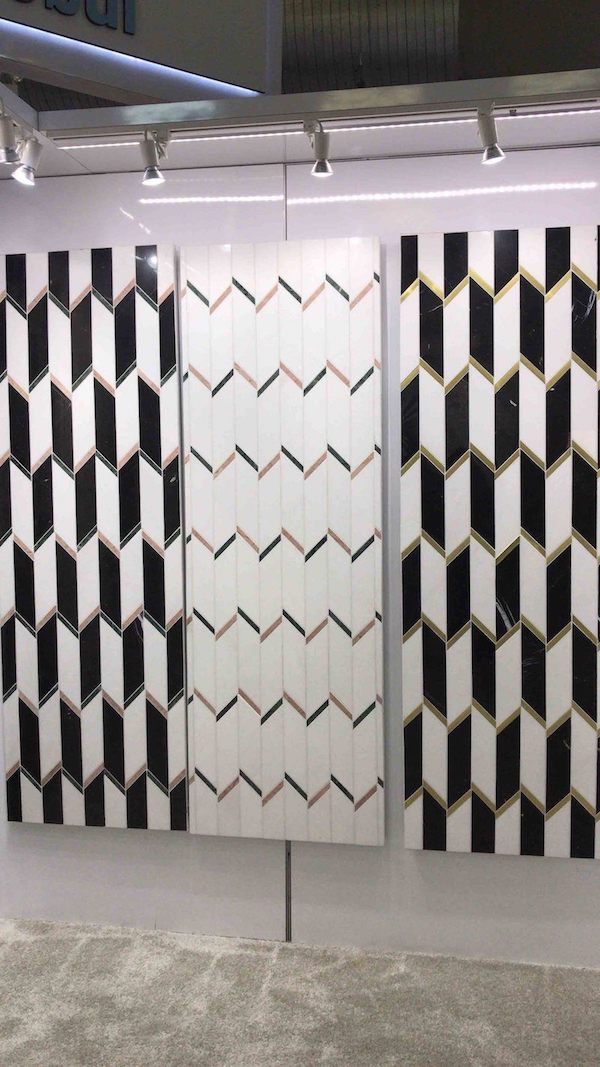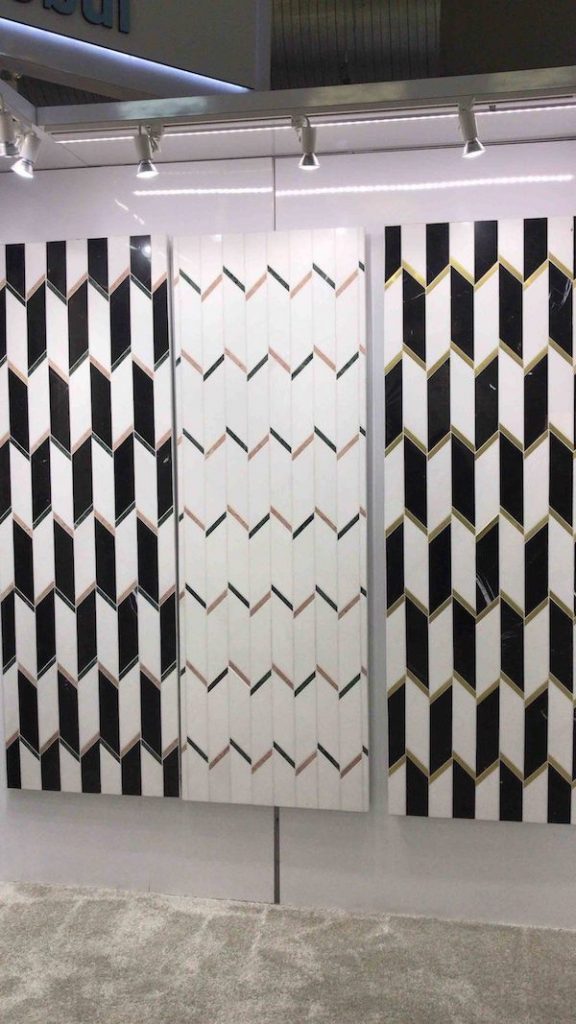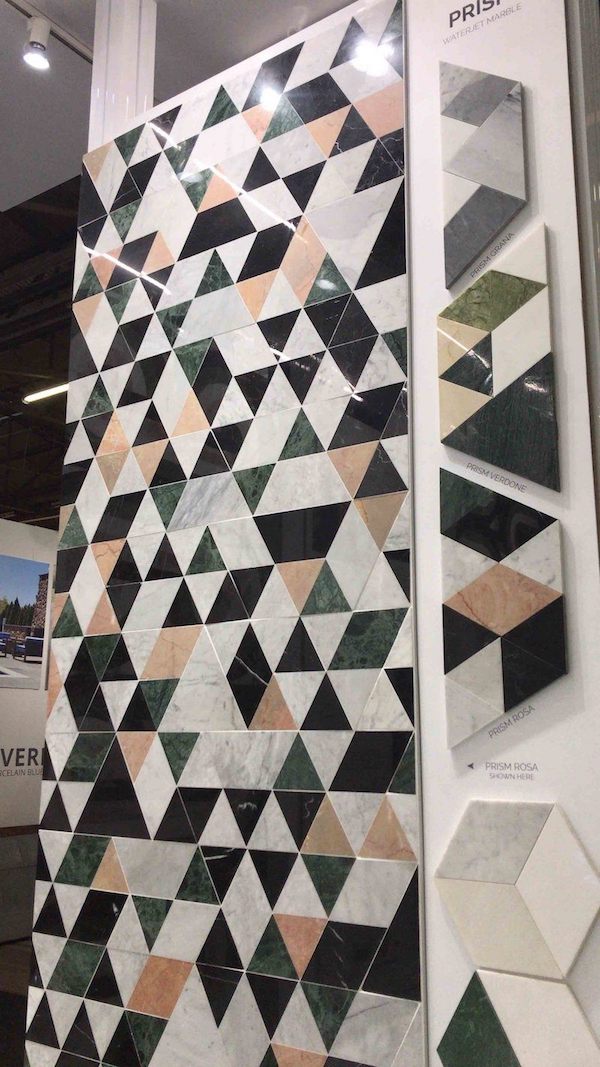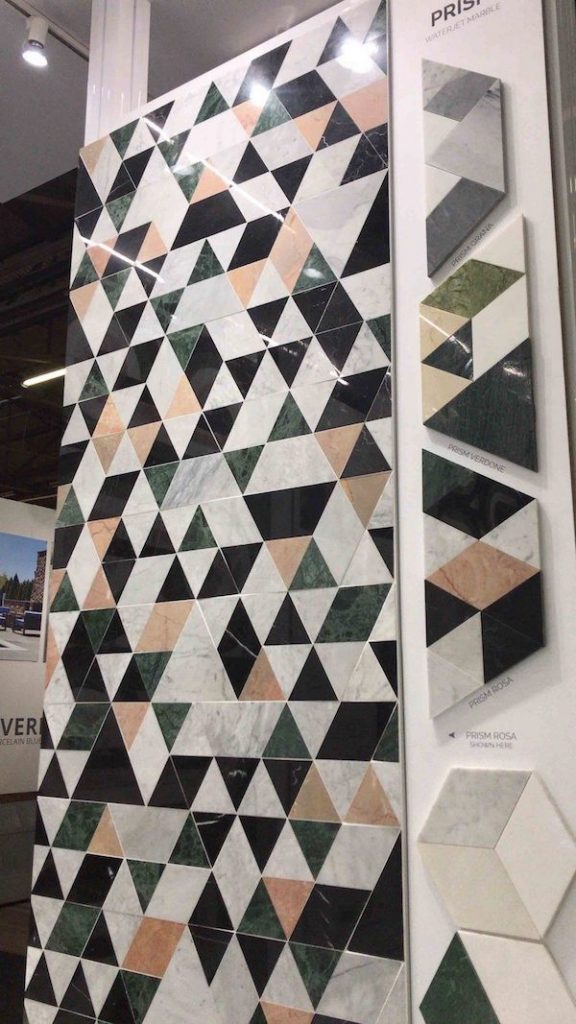 Be sure to check out TileBar online and order samples for your next project!
Another one of my favorites is Artistic Tile. They also have gorgeous tile and never disappoint! Check out their website for more stunning beauties! Artistic Tile is a family-run business, offering thousands of stocked tile and natural stone products for immediate delivery, as well as in-house design services and complete custom capabilities.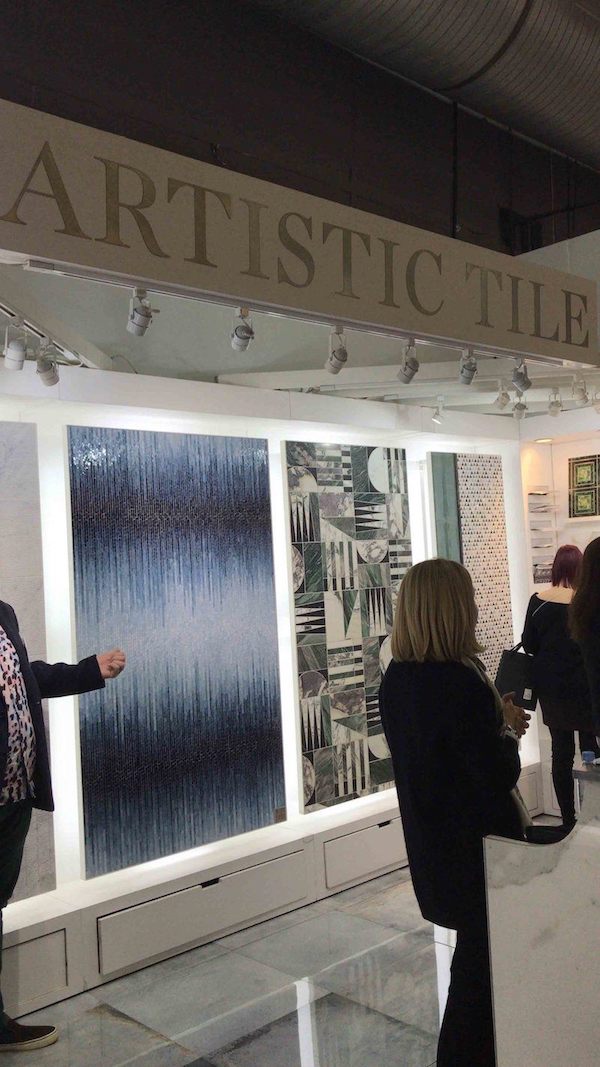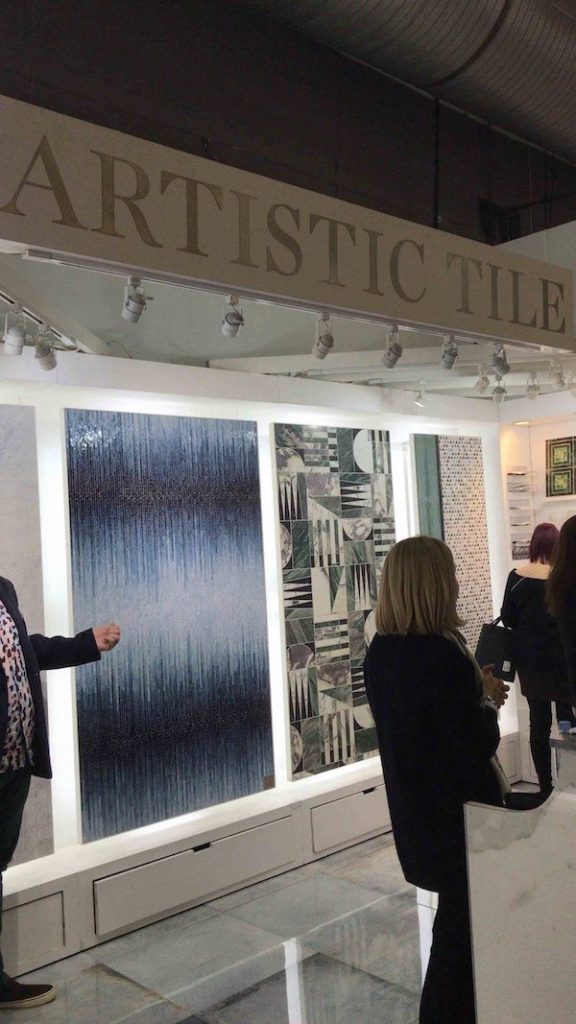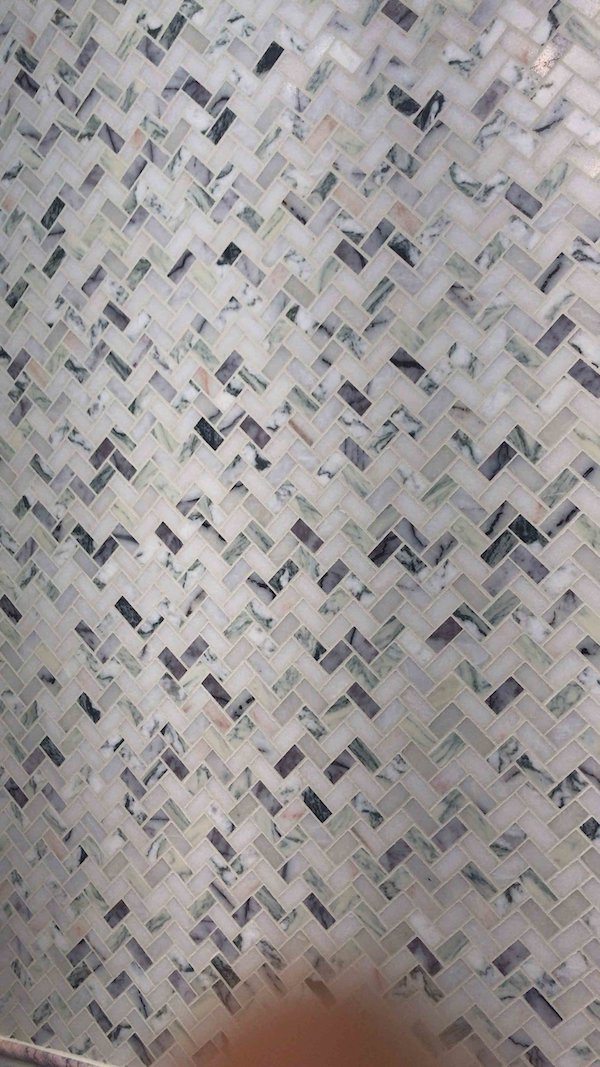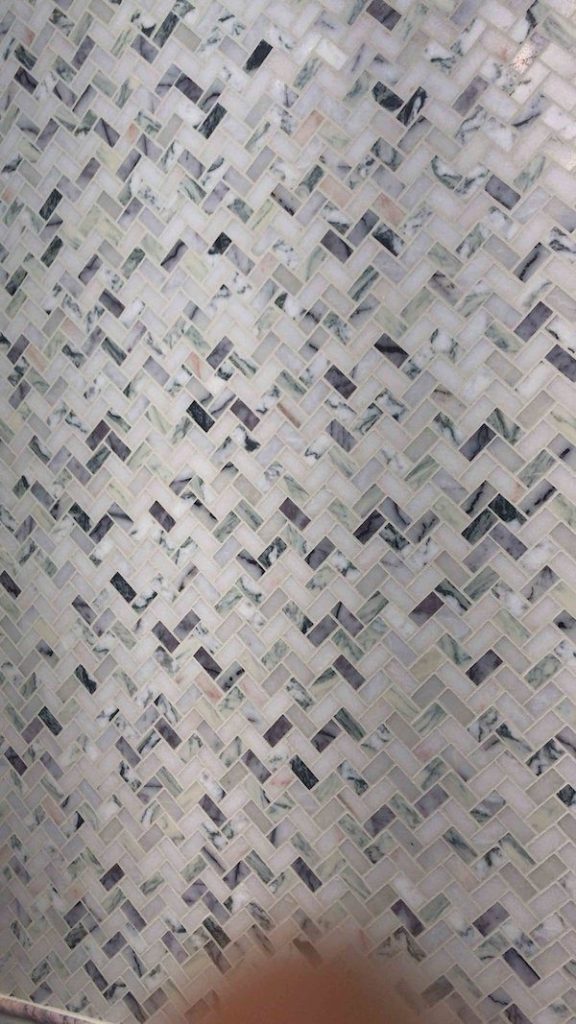 Anahi DeCanio an artist from Long Island had beautiful pieces at the AD show.
From her website:
 
 "Every brushstroke, color, element, or scratch as symbols of the marks left behind by life events and the passage of time." Anahi DeCanio
 
Anahi DeCanio is a multidisciplinary artist using mixed media, photography, collage as a form of expression. Her influences are as varied as the art she creates. Born in Uruguay, DeCanio came to New York as a child and felt immediately at home. Her pieces are inspired by nature as well as urban settings. Her complex abstract landscapes encompass layer upon layer, each awaiting exploration. As viewers dive deeper into the works, subtle details that might have been missed upon initial glance are unveiled.  Graffiti-like elements and text, in combination with Zen and gilding with occasional collage elements, produce vibrant energy creating unexpected arresting works.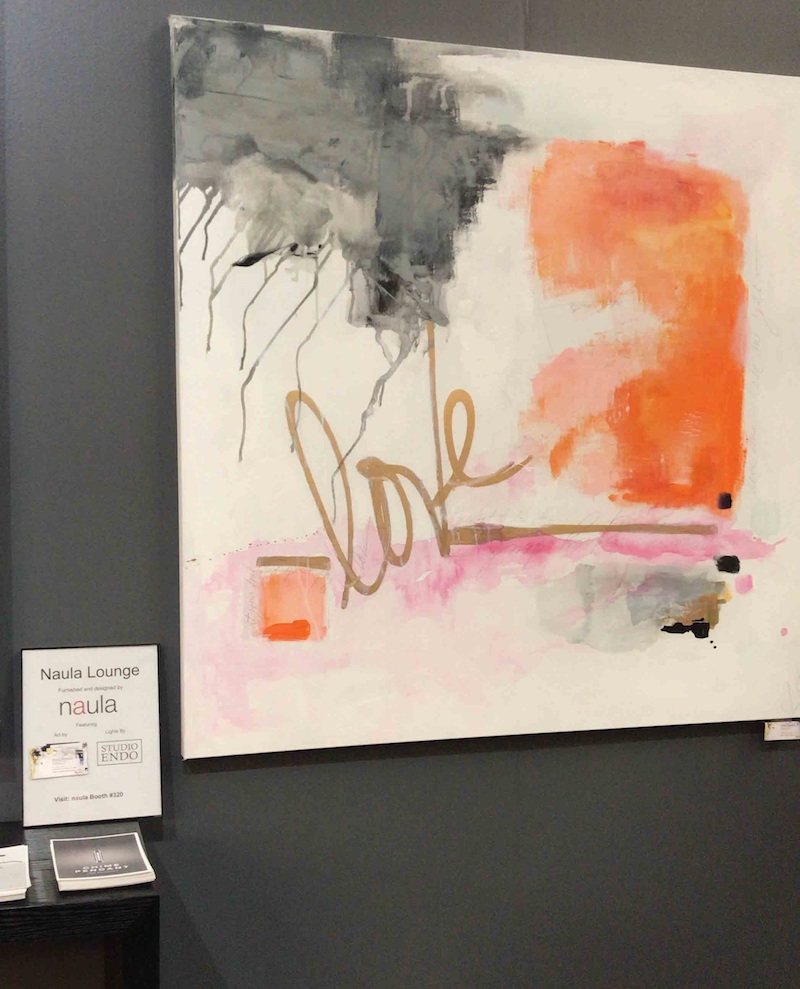 SAMANTHA SANDBROOK ART & INTERIORS is one of the many unique artists at the show.
Samantha's style marries playful yet luxurious design with impeccable attention to detail and craftsmanship. Her distinctive style juxtaposes refinement (swishing haute couture dresses, the luxe use of brass) with rawness (graffiti, industrial parts) and leaves fairy dust floating in the air. She uses vibrant color to highlight sophistication and glamour, often employing candy-like colors and contrasting textures to enhance the visual effect. Every piece has a brilliant metallic moment. Her work dances with playfulness, blending glamour and beauty with levity and whimsy. Samantha's sculptural pieces, wall installations, and paintings are glistening jewels, the focal point of a home.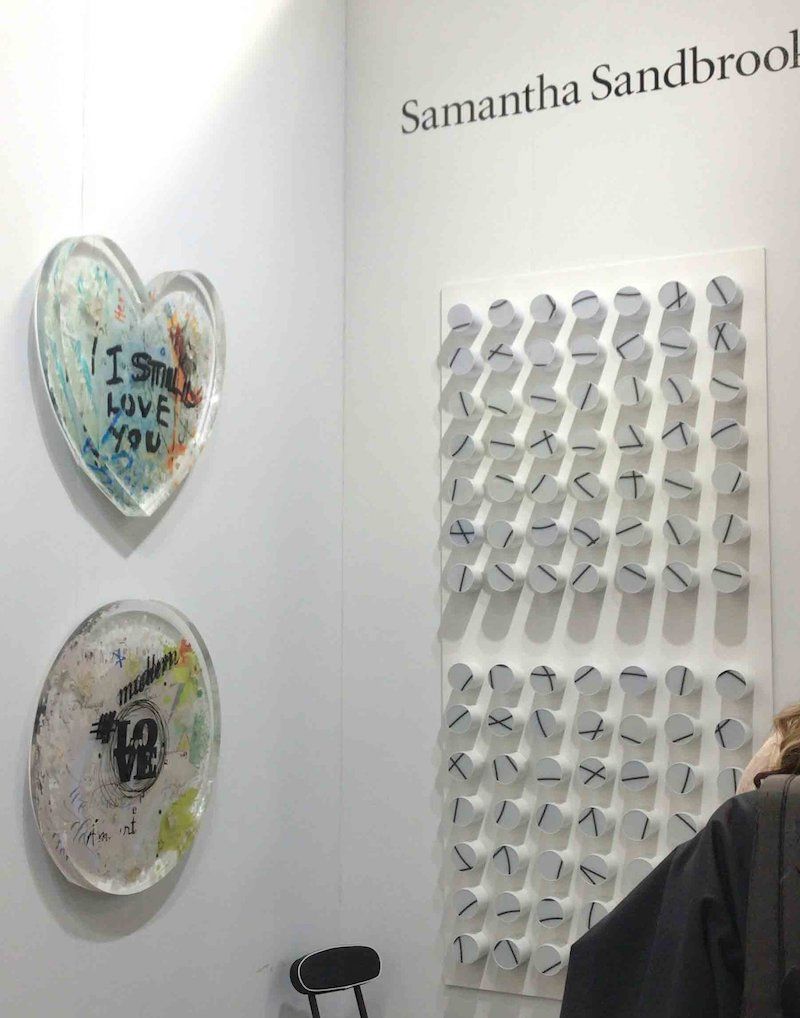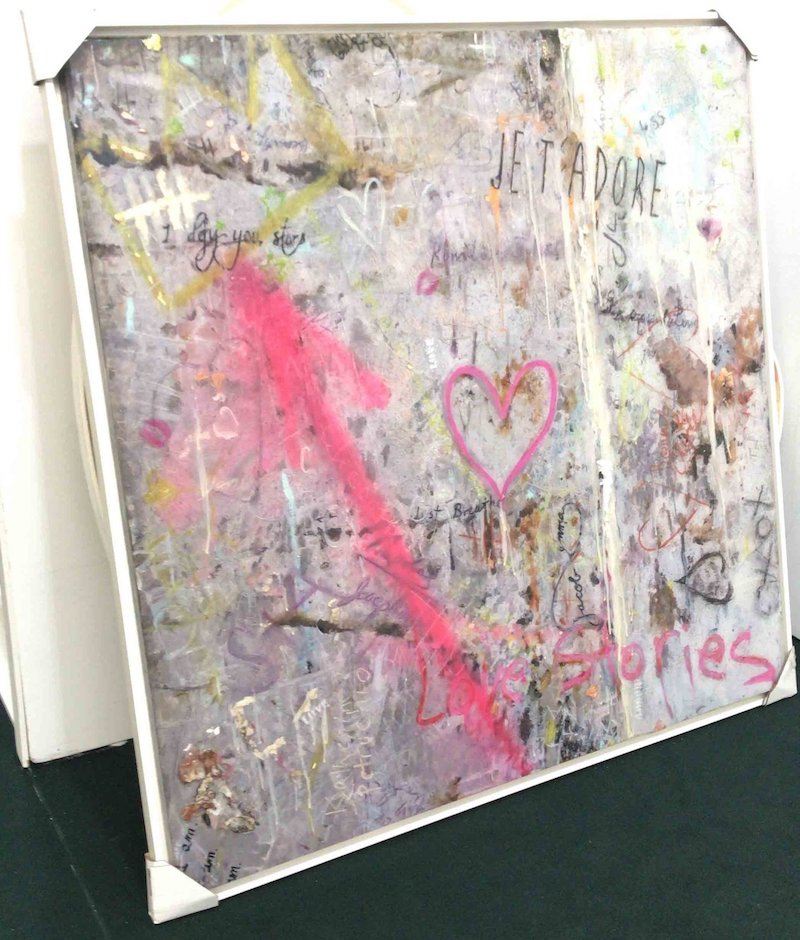 Elizabeth Chiles Studio had beautiful colorful pieces of art!
Elizabeth Chiles is an artist based in Austin, Texas who makes abstract photographic collages, natural pigment paintings, videos, and writing.  Her work explores intersections of the physical world and the personal worlds we embody and experience, weaving cosmic, geologic, and human time scales and embracing the wonders of existence.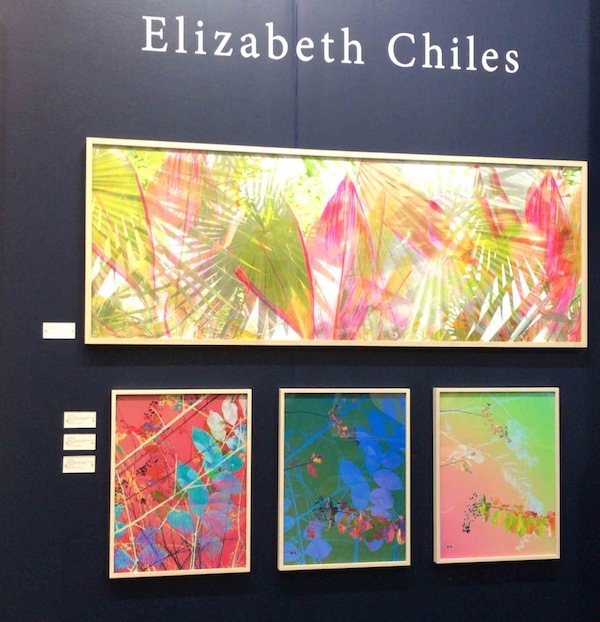 Tempaper self-adhesive, removable wallpaper which I love and can't wait to use in an upcoming project was on display at the show.
Tempaper launched into the lifestyle and home décor market as the first removable wallpaper in NYC in the spring of 2008. Its one-of-a-kind utility and trendsetting designs quickly made a name for the product with the brand's first appearance in the New York Times Style Section.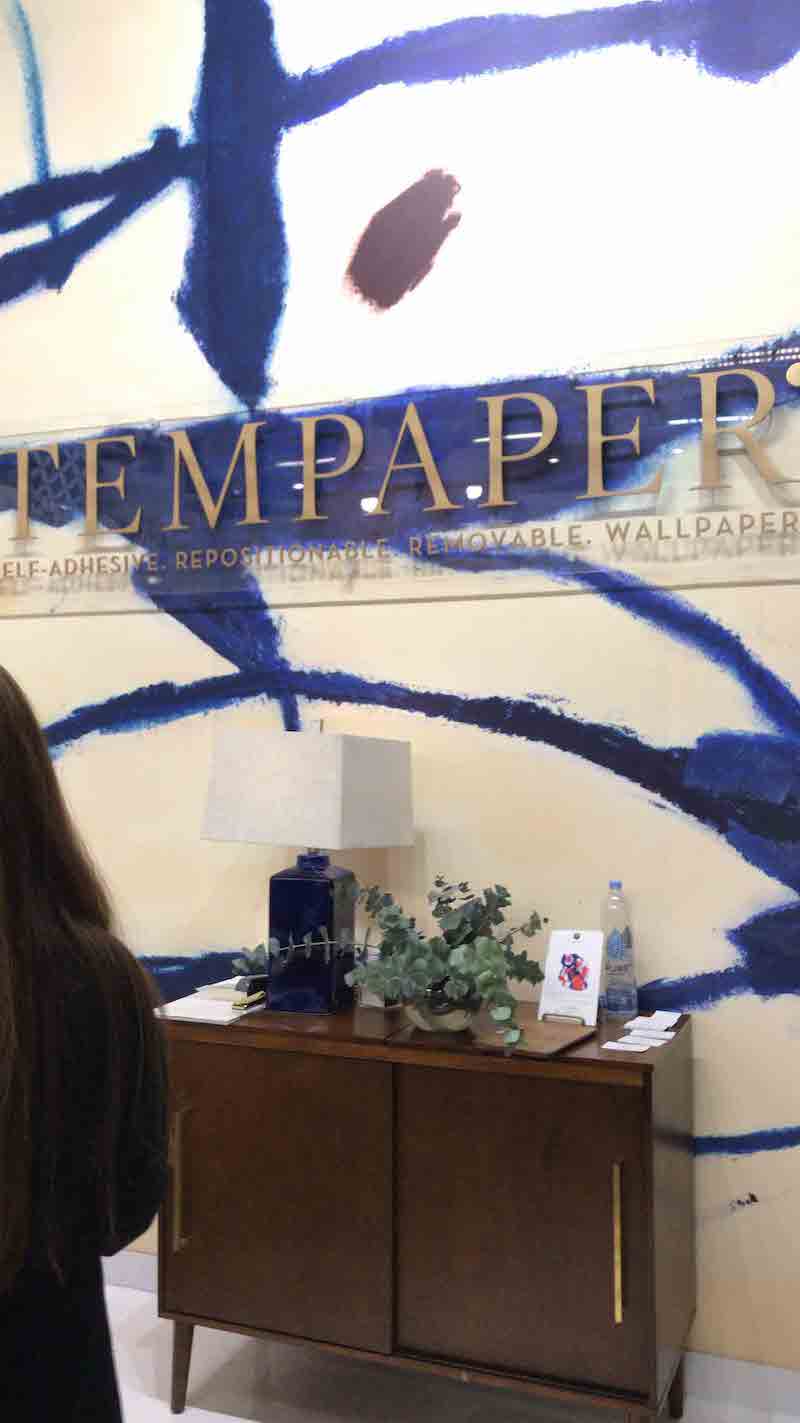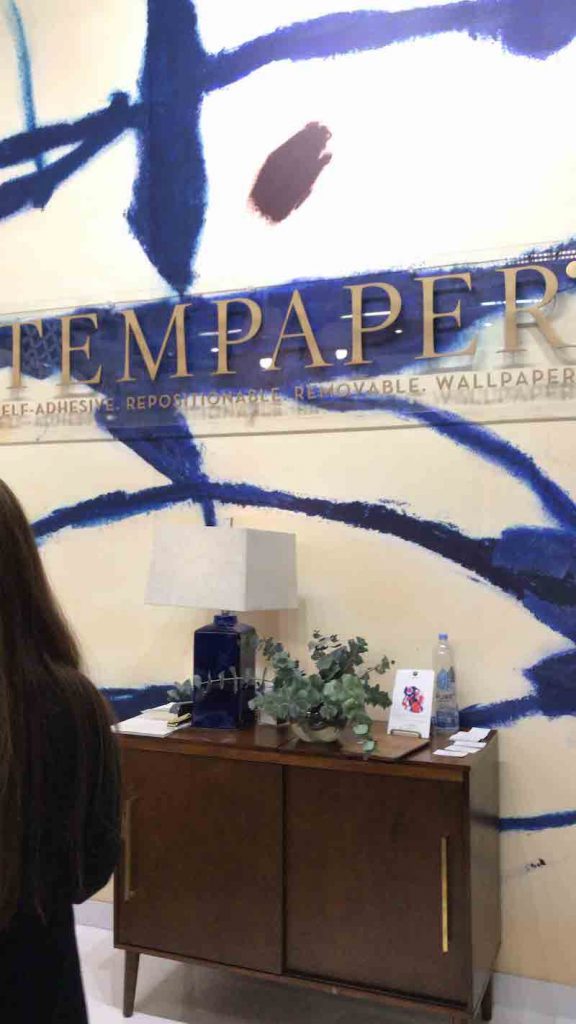 The brand focuses on launching innovative products, chic collections, and partnering with prominent designers that share the same vision. Tempaper is dedicated to using state-of-the-art materials that are 100% made in the USA and nontoxic. Tempaper is perfect for DIY projects including but not limited to: dressers, stair risers, cabinets, bookshelves, drawers, and headboards. Let your imagination be your guide when decorating with Tempaper.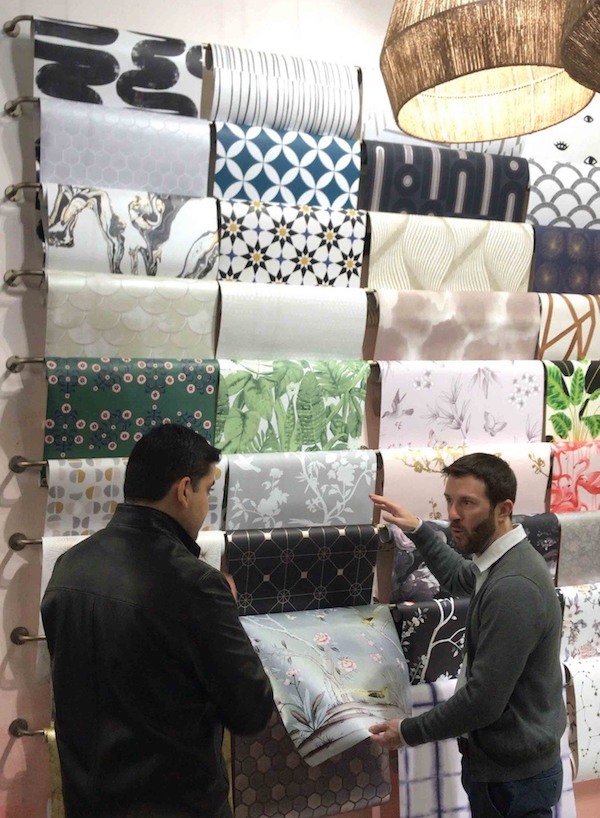 We put the Booth & Williams books in with the artwork because they are really beautiful with the many color and theme options.
Info from their website:
Booth & Williams wraps luxury spaces in the natural beauty of authentic books, supplying hotels, office buildings, studios, retail showrooms, and residences throughout the United States and around the world. We process over one million books each year which enable us to rapidly fulfill orders of all sizes. Our BOOK LOOK COLLECTION features 90 precise shades of authentic book color sold by the linear foot. With choices ranging from Antique Boxwood and Vintage Denim to Midcentury Granite and Modern Seafoam, homeowners and designers can now order decorative books in any quantity as easily as they order paint. Customers can shop our entire product line on boothandwilliams.com by color, content, or style with no minimum order. Our design team is available at 1.844.4.BWBOOK or desig[email protected] for free assistance with custom projects.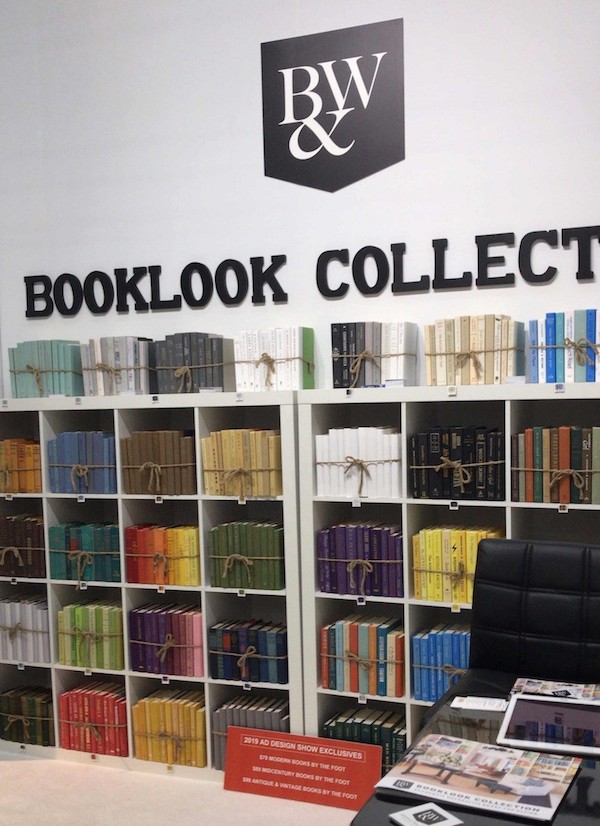 Lastly we loved Forbes & Lomax 's Decorative Light Switches and Outlets. Check out their website for more information.
From the website:
Established in 1987, Forbes & Lomax have always approached the electrical accessory market from an aesthetic point of view.
The elegant glass, nickel, and brass switches of the 1930s were no longer available and the modern equivalents were unsuitable for the prestigious projects that interior designers were working on at the time. It was with these problems in mind that Forbes & Lomax launched The Invisible Lightswitch®, a simple, transparent acrylic plate allowing the wallpaper or paint to show through, with a stylish metal toggle switch in the center. These switches were able to combine an attractive design with all the advantages of modern technology.

We still have more to share so stay tuned for upcoming posts covering the Architectural Digest Design Show 2019!
That said as always reach out to us HERE so we can help you create a space that makes you feel inspired and rejuvenated when you come home from a long day of work!
Please comment and share this blog post with anyone you think will enjoy it! #sharingiscaring
As always please continue to follow the journey through our Instagram Stories and Facebook updates where we will continue to share behind the scene videos and findings.
Have an Inspired evening everyone!
xo Nicole
#beinspired