Please Note: This post may contain affiliate links, which means that if you make a purchase, I might make a small commission at no extra charge to you. I only recommend products or services I believe will add value to my readers. Please read my full disclosure for more details.
Did you know you can paint most furniture and get a totally new look?
I'm sure you did but just in case I'm here to let you know you can!
You can paint furniture, spray metal and repurpose many of the pieces you already have.
Remember when I said that many people are looking around their home while quarantining thinking of all the projects they want to tackle?
Sure enough, my girlfriend messaged me the other day that she was making over her bedroom.
It was dated and needed a facelift and my friend Susan takes ACTION!
That was two days ago and today she sent me pictures of her wall that she prepped today to paint tomorrow!
Clearly she does not just talk about what she wants to do it she makes a plan, buys the supplies and gets to work.
Probably one of the many reasons we have been friends for over twenty years now!
She is definitely one of my people who calls me out on things and helps me stay on track.
Super grateful for our friendship!!
Back to the story, she has a wrought iron bed already that is green and wood furniture.
She asked me what paint color she should paint her walls. Naturally, the color needs to be chosen in her space because it depends on the lighting and elements she is keeping but I gave her several greiges and greys to look at. If I was doing an in person color consultation I would bring my large painted boards to choose the color in her space but under the current conditions that is not an option.
Since grey is down trending and we are moving on to Greige and Black and White I gave her options that would not look dated anytime soon.
The plan is she will paint her green wrought iron bed either charcoal or black. I prefer black but she is afraid it may look dark. Again this is a personal preference and she will have to decide the look and feel she is after.
For the furniture, she will paint that a medium grey, and then the bed will be either charcoal or black.
To help her visualize the look I was proposing I created this Room Starter for her.
For anyone who is starting from scratch, this would make for a beautiful space and I'll share the links below.
***Don't forget to measure your space to create your road map before purchasing any furniture to make sure everything will fit and function for your needs.***
Here is the Room Starter Design: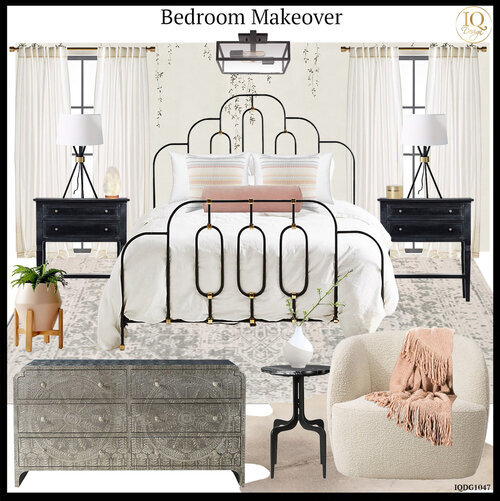 Click the Shoppable Links below for Product Details:
As this project progresses I'll keep you updated but for now enjoy all the Pretty Things from this Design : ))
Let me know which is your favorite in the comments below!
Also, please share this post with friends and family who would love it too. Thanks!
Have a happy night full of Unicorns and Rainbows my friends!!
xo Nicole
---
Related Blog Posts:
Note: My blog periodically contains affiliate links meaning that if you make a purchase, I might make a small commission at no extra charge to you. Purchases made through them are greatly appreciated.