Please Note: This post may contain affiliate links, which means that if you make a purchase, I might make a small commission at no extra charge to you. I only recommend products or services I believe will add value to my readers. Please read my full disclosure for more details.
A while back I was contacted by Home Decor AZ though of all places twitter.

I am not on there all that much but I must have been posting enough at the time to get noticed by this company.
They asked me if I'd be interested in answering some questions for a Designer Spotlight series.
I said yes and they did an article which I've had a link on my website to ever since.
---
LINK TO TWITTER UPDATES
---
The problem is the link keeps breaking.
They have probably done some updates to their site and are not aware the link is broken.
I recreated the post below so in the future if it breaks again at least the Q&A will live here.
For anyone who does not know my back story continue reading the article to learn more about my journey from Fashion into Interior Design.. : )).
xo Nicole
---
Home Decor AZ Designer Spotlight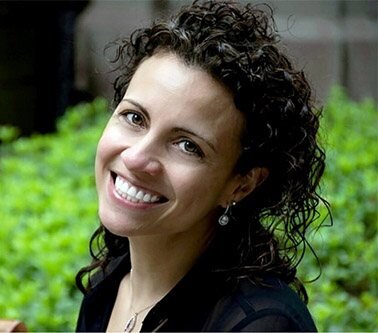 The focus of our next installment in our 'Interior Designer Spotlight' blog series is an interior designer whose career path began in fashion design. Since fashion design is considered to be a form of art and requires so many of the same skills and talents required of interior design, it's only natural to expect that a fashion design background would be beneficial when applied to designing spaces. Indeed, browsing through her portfolio, Nicole Dela Cruz of IQ Design Group has been able to translate her passion for designing fashion apparel to beautifying interiors.
What inspired you to transition from fashion design to interior designer?
Nicole: Growing up, I came from a family that is the definition of DIY. I never knew Interior Design existed as a career opportunity. My mother was a super creative stay-at-home mom. She wallpapered, painted, sewed and could make anything she wanted. My father had an aluminum siding and roofing business. Most of my uncles were in construction. They worked on anything and everything, from small jobs to full house remodels and rental properties. As a child, I was always around some sort of remodel or construction job site. My favorite place to be on a site was on the roof. I loved watching the spaces transform. I loved seeing the messes turn into beautiful spaces. When we bought our first home, "Willow House," I started watching Candice Olson on HGTV. Her show, "Divine Design," inspired me to go back to school at 24 to get a degree in Interior Design.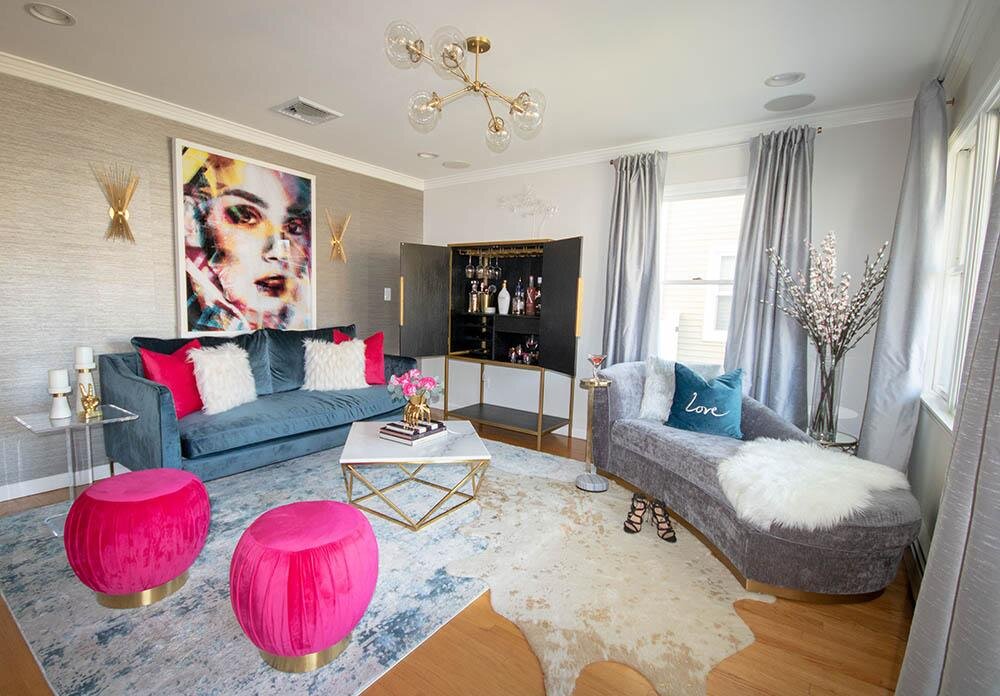 How do you leverage your background and over 20 years of experience as a fashion designer in your interior design work?
Nicole: As a Fashion Designer, I am required to be on top of the latest trends. I am responsible for pulling together trend inspiration in a way that is understandable to both the retailer and the customer. Additionally, great presentations, use of color balance, knowledge of fabrics, texture, and pattern mixing are all essential and used regularly in my design work. I've been able to leverage these skills seamlessly into interior design. But some of the most valuable skills I have learned are more practical. My abilities to not take anything personally, to work well under pressure, and to deliver on tight deadlines have served as great assets. Lastly, my role as a team leader has served as an invaluable tool in project management. The ability to lead and motivate an entire team is extremely important. The time it takes to build trust and camaraderie is worth the effort. I strongly believe "teamwork makes the dream work." A designer, whether it's fashion, interior, industrial, etc, is only as strong as her trades and vendors.
What do you feel is the biggest difference between fashion design and interior design?
Nicole: The biggest difference for me is the originality and sense of closure that comes with interior design. In fashion, it's a repetitive cycle. We go through four seasons, and then we do it, again. We are constantly searching for newness and the next best thing for a market that is not always receptive. We try and try again. In interior design, each project is unique to the individual client and their style. Once the design process ends, I find there is a greater sense of accomplishment.
What is your design philosophy or mantra?
Nicole: Great design is timeless, livable and, most of all, inspiring.
To inspire others so that they know anything is possible.
To inspire others so that they dream big.
What do you love most about your job?
Nicole: I love the process. I love the collaboration of the team and trades coming together with a design plan. We strive to solve a problem on time and on a budget above and beyond the expectations of the client. I love the client's reaction when they see their newly designed space for the first time. I love to see how transforming a physical space can bring such emotional gratitude.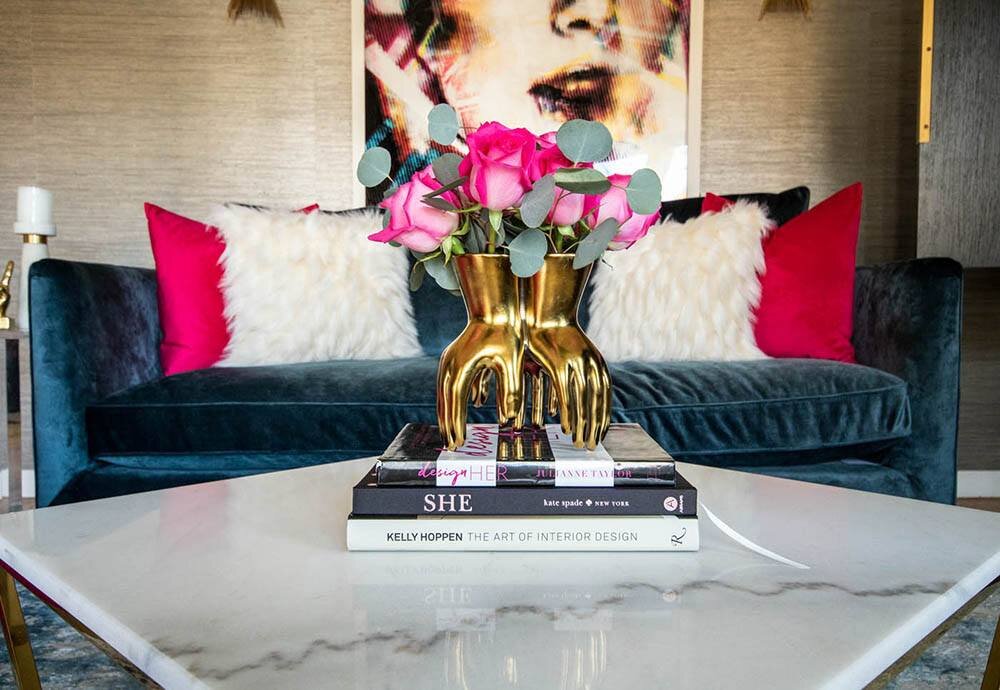 Is there a style unique to Long Island? If so, how would you describe it?
Nicole: Long Island which is just under an hour from NYC can be described as having a casually sophisticated style. It is an eclectic mix or combination of such styles as Traditional, Transitional, Contemporary, Glam, Modern, Coastal, and Farmhouse. For example, my personal niche style is Contemporary Glam with urban touches.
What is your favorite space to work on?
Nicole: My favorite space to work on is the space of my ideal client(s). My ideal client is a busy, creative, career-driven individual who wants a unique space, but doesn't have the skill, time, or energy to focus on doing it themselves. There is a lot of trust that goes into this process. I am a great listener and focus on the client's needs first. If you give me direction and let me work my magic, we will all be very happy with the end result. I also enjoy designing children's spaces. I have years of experience designing children's apparel so I find children's spaces to be fun and more creatively challenging.
What do you like to do when you're not working?
Nicole: When I am not working, I enjoy reading a book, listening to podcasts, spending time with my family, and watching my children's sporting events.
What are your top tips for a kitchen makeover?
Nicole: Keep it classic and don't go trendy. I have made this mistake in my own home and it is an expensive one! White kitchens with subway tile backsplash are timeless and won't go out of style anytime soon. You can pull color in with accessories and artwork. Also, if you have a busy granite go simple on the backsplash and vice versa. Less is more in the kitchen!
What are your top tips for a bathroom makeover?
Nicole: To look at everything going into your bathroom as a whole, not just individual items. It is extremely important to be aware of the undertones you are selecting to make sure they do not clash. Make sure you have good lighting, storage and that your bathroom functions well for your needs. This is another area of the house to not get too trendy because trends tend to have a 10-year life cycle, and you don't want to date your bathroom or hate it later. This is valuable advice for resale purposes as well.
If you were stuck on an island, what 3 items do you absolutely need to survive (aside from food, water, clothing, and shelter)?
Nicole: Cell phone or iPad, internet, electricity. (All needed so I could find a way to get off the island! lol!)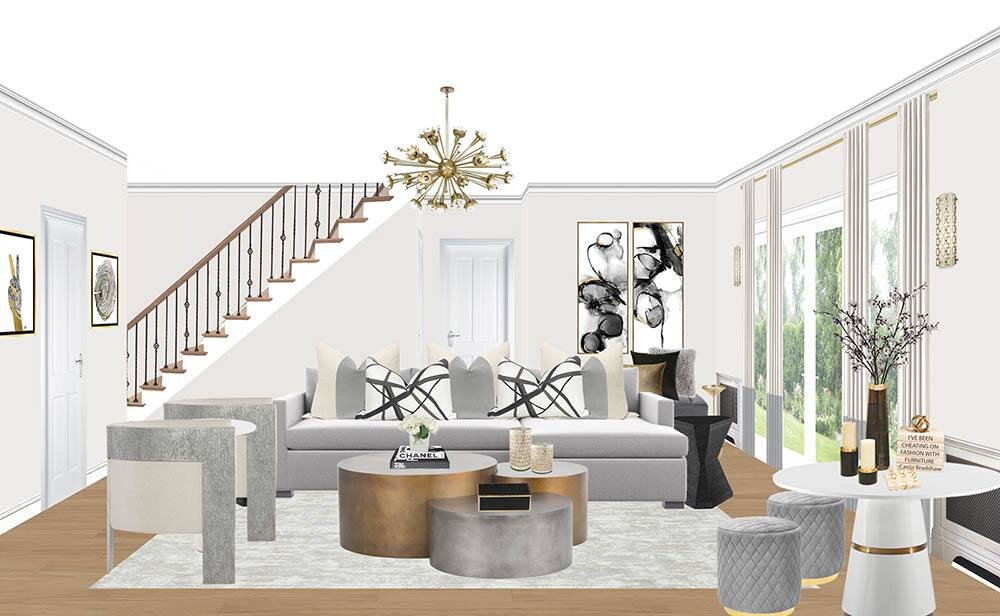 How can interested clients learn more about you and your services?
Nicole: I am an open book and love making new connections! Interested clients can hop over to the GET IN TOUCH tab on my website at www.iqdesigngrp.com
They can also follow my design journey and crazy family shenanigans across all forms of social media. Follow @iqdesigngrp I share inspiration, new products, trends, and design projects from start to completion. I love engagement and feedback so please do comment as you follow along.