Please Note: This post may contain affiliate links, which means that if you make a purchase, I might make a small commission at no extra charge to you. I only recommend products or services I believe will add value to my readers. Please read my full disclosure for more details.
---
Many Interior Design blogs I have read are about trends, DIY, and/or great interior spaces. They contain beautiful images by talented designers I admire. This blog may eventually be similar but for now, it's about the journey of a career change, what I am realizing I didn't learn in school and how important it is to get real-world experience. On the job, in the field, is where the real education begins.
In college, I learned the foundation, principles, and overview of Interior Design but now I'm trying to learn everything else!
We learned hand rendering and presentation boards. I took the required AutoCad class, which I got an A in, but like any program the more you use it the better you are at it. I can pick up new programs quickly so I'm not concerned with learning to use a new program.
What I am trying to figure out is what's the best affordable program? Is it AutoCad, Revit, AutoDesk, Sketchup, Roomstyler, Photoshop, 20/20, ProKitchen, etc. I'll share what I have discovered so far in this post and will continue to update as I go along.
ProKitchen
About a month ago, I downloaded a free trial of ProKitchen to design a kitchen I'm working on. During the two week trial, I was able to learn the program and found it very user friendly.
I received a GoToMeeting tutorial from Bob who was awesome and very knowledgeable. He spent an hour going over the tools and features. He then checked back a week later and at the end of the trial to see my progress and answer any questions. The program will create elevations and 3D images for you once you get your cabinets in your floor plan. The 3D view is fully rotational and there is a high definition feature that I loved!
The ProKitchen software has a complete list of cabinet manufacturers to choose from. It will generate an up to date pricing list and pdf of exactly what needs to be ordered based on your design. The program is online and I was quoted a price of $1795 a year for a single cabinet manufacturer and $2595 for multiple (over 300). The software updates are automatic since it's online. They offer support and answer questions within 4 hours. If I was heavily designing kitchens this program would be great and love that the client can visualize the design from the 3D rendering feature.
See images below that were created using ProKitchen. For youtube tutorial videos you can check out this link https://www.youtube.com/user/ProKitchen
Photoshop
Most recently I've watched youtube videos on creating 3D room renderings in perspective in Photoshop. As a fashion designer, I have worked 90 percent in Adobe Illustrator and only about 10 percent in Photoshop. I have always had a love-hate relationship with Photoshop and I didn't know why the print services we bought from used it.
After the past week of working in it, I get it now!
It's extremely easy to manipulate images and quickly create a 3D perspective room. Again youtube is a free educational tool that you can learn anything through!
I have googled and discovered Brian Lee of The Design Cure Academy. He has free tutorial videos that walk you through Photoshop for Interior Design specifically and the tools needed. Instead of showing you everything the program is capable of he focuses on exactly what tools you need to get the job done.
There are packages you can buy with short cuts and templates but since I already had a base knowledge I was able to learn just through the video lessons. They are short and to the point which I love! I also feel it's important to know how to build a room in perspective from scratch on my own. I was able to pull images off the internet of doors, textures, furniture, etc specific to my design and didn't want to use generic images. The below image is the first room I created using Photoshop which is not bad. I do need to work on the skew feature some more on the chairs but overall I'm happy with the end result.
Check out this link for Brian's lessons http://www.thedesigncure.com/tutorials/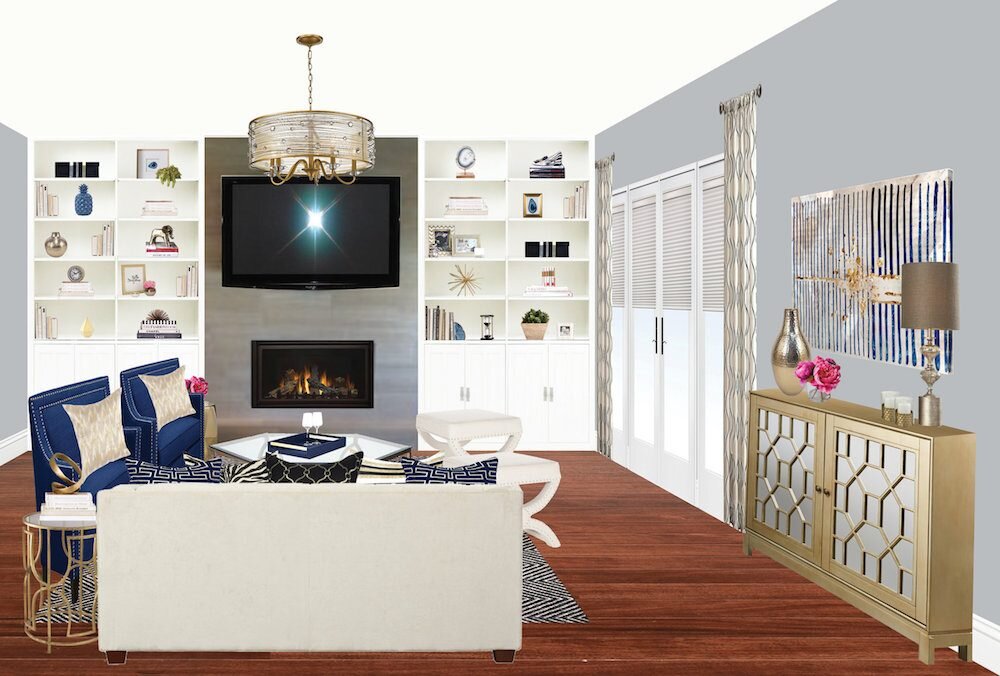 My plan is to learn Sketchup and 20/20 next so I'll let you know how that goes after.
I'm not sure I'm doing this whole blog thing right?! If nothing else I'm documenting my journey in the hope that maybe I can help and/or inspire someone else along the way. : ))
xo Nicole
---
For more shoppable designs check these out from my Like To Know It page.
Note: My blog periodically contains affiliate links meaning that if you make a purchase, I might make a small commission at no extra charge to you. Purchases made through them are greatly appreciated.