Please Note: This post may contain affiliate links, which means that if you make a purchase, I might make a small commission at no extra charge to you. I only recommend products or services I believe will add value to my readers. Please read my full disclosure for more details.
Do you have a Class of 2020 Senior who is actually going away for in-person classes in the fall?
If you are anything like me then you may have asked your child to start thinking about what they need.
As I mentioned in a post a few days ago we have the list from the college and have started the research and planning phase of the process.
Yesterday I researched the options we have for shopping when we are on the island.
I messaged the Hawai'i Pacific University student who made the dorm room tour youtube video to ask where she shopped for her freshman year.
She's from Rhode Island and replied that she bought everything at Target and Bed Bath and Beyond.
So at the moment, my thought is we buy only a few items now that can fit in the suitcase like the Tapestry which the room is being designed around and possibly the duvet.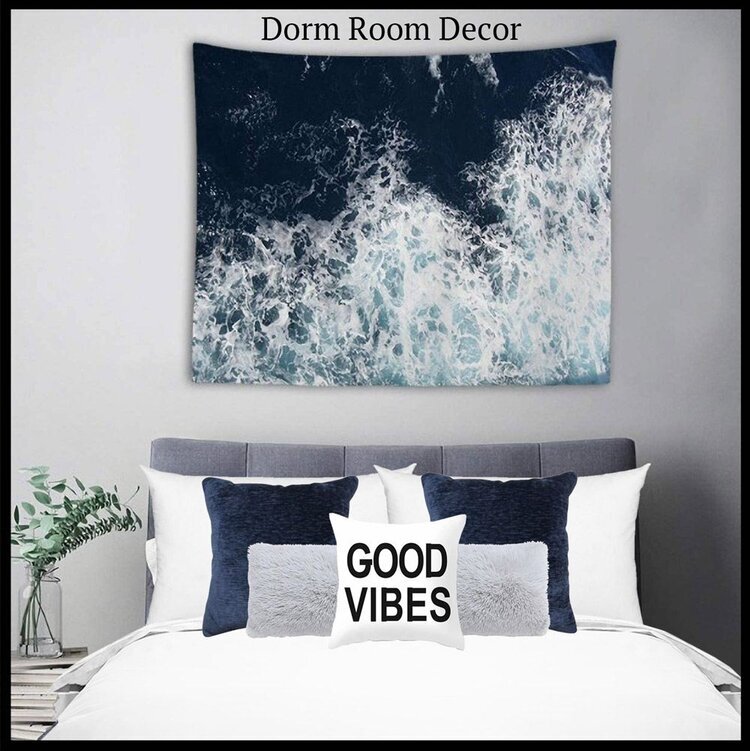 Then the rest we will just head to the stores and buy in Hawai'i.
We leave on a Monday (travel day) and then I'm there until Sunday (travel home on the red-eye) so we should have no problem pulling the room together.
We just have to take out the orientation time but Bella can pick up whatever she is missing after as long as the main part is done.
Since the decor is the fun part that's where we started.
Bella requested the color scheme to be gray and white with pops of navy.
Since she is not into gold I added touches of black as well for contrast.
Below is the concept board which will evolve based on what we find but at least we have a plan of what we are looking for.
Remember to always start with a road map so you know where you are going when you design your space.
---
Like To Know It Board: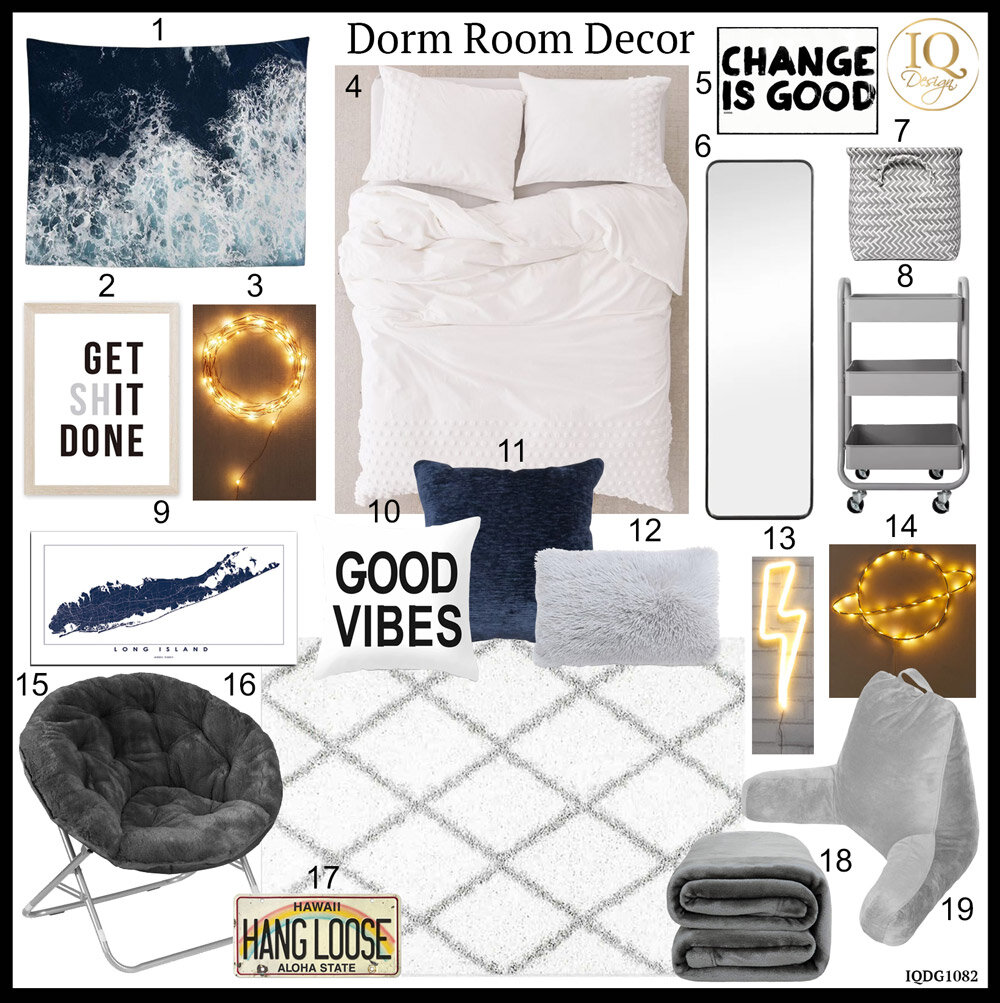 Sidenote: I will come up with a budget for the room so we are not just buying everything in sight.
One thing that is good about buying on location is if we overbuy we can return what we don't need.
---
The Products:
1. As mentioned we will buy the Tapestry now since this is our jumping-off point. While sourcing this I did find many others.
2. I like the idea of the black and white artwork but again we will see what we find.
3. I asked Bella if she wanted the vines like the youtube student had or just the lights and she said just the lights.
4. For the Duvet we will most likely purchase that now in Full Size. Even though the bed size is the standard Twin XL we will get the Full because Bella will only be in the dorm the first year. I made that mistake with my son because after he got an apartment the twin bed was done and we were back at the store for round two of bedding.
5. I love this artwork because CHANGE IS GOOD my friends and moving to Hawai'i is quite the change!
6. Over the door mirror with black border. We have this in gold in the Airbnb and it's been great.
7. We have to see how many of these she will need and the size but the gray and white chevron storage bin is super cute!
8. This Metal Utility Cart can be for the bedroom or kitchen and is available in both gray (shown) and white.
9. Map of her hometown Long Island. The color and theme are perfect but we will see if it makes it in the room.
10. Good Vibes pillow to keep the energy in the dorm room positive.
11. Navy pillow to tie back to the tapestry. I read another student's blog who said not to bring a lot of pillows but Bella said she needs multiple pillows.
12. Cute lumbar pillow from Shein which if you don't know about them check it out because they are inexpensive and trendy.
13. Neon Lightning Bult but maybe to remind her of her brother who is obsessed with the Flash?! Doubt Bella was thinking that.
14. Saturn Neon Light wall art but again we will buy these on the island.
15. Faux Fur Chair that will probably not fit in the bedroom but they do have a Living area.
16. The Rug we definitely have to get over there.
17. Love this Hawai'i License Plate wall art which was on eBay so we will get that if she wants now too.
18. Blanket to tie in the grey but don't ask me why she is thinking fuzzy fur decor items for Hawai'i which is probably not cold??
19. We have one of these Reading Pillows in the attic but no shot it will go over on the plain so if she decides she really wants this we will get another one.
---
So far this is the beginning of the planning of Bella's Dorm Room.
Tomorrow I'll probably focus on the essentials.
For anyone interested check out this Dorm Room Shop which is basically a brain dump of all the good finds so far.
Let me know if you have a favorite and keep coming back to see where we are in the process.
Have a great night full of Unicorns and Rainbows!
Stay healthy and well.
xo Nicole
---
Product Links:
---
Note: My blog periodically contains affiliate links meaning that if you make a purchase, I might make a small commission at no extra charge to you. Purchases made through them are greatly appreciated.
For more shoppable designs check these out from my Like To Know It page.