Please Note: This post may contain affiliate links, which means that if you make a purchase, I might make a small commission at no extra charge to you. I only recommend products or services I believe will add value to my readers. Please read my full disclosure for more details.
Are you wondering how schools are handling this special occasion during the current health situation?
For my daughter Isabella she will be attending a virtual graduation ceremony part of which was experienced today.
Are you also wondering what the long term effects are going to be on your grad?
Since I try to see the positive as much as possible I am going to trust the universe that the current graduating seniors are going to come out of this time stronger and more aware of what matters in life had they not experienced Covid-19.
As I've mentioned before my daughter is not super emotional so she hasn't really expressed feeling sad during this time.
At this point, I think she is just ready to start the next chapter at Hawaii Pacific University as a member of the Acrobatics and Tumbling team and I can't blame her.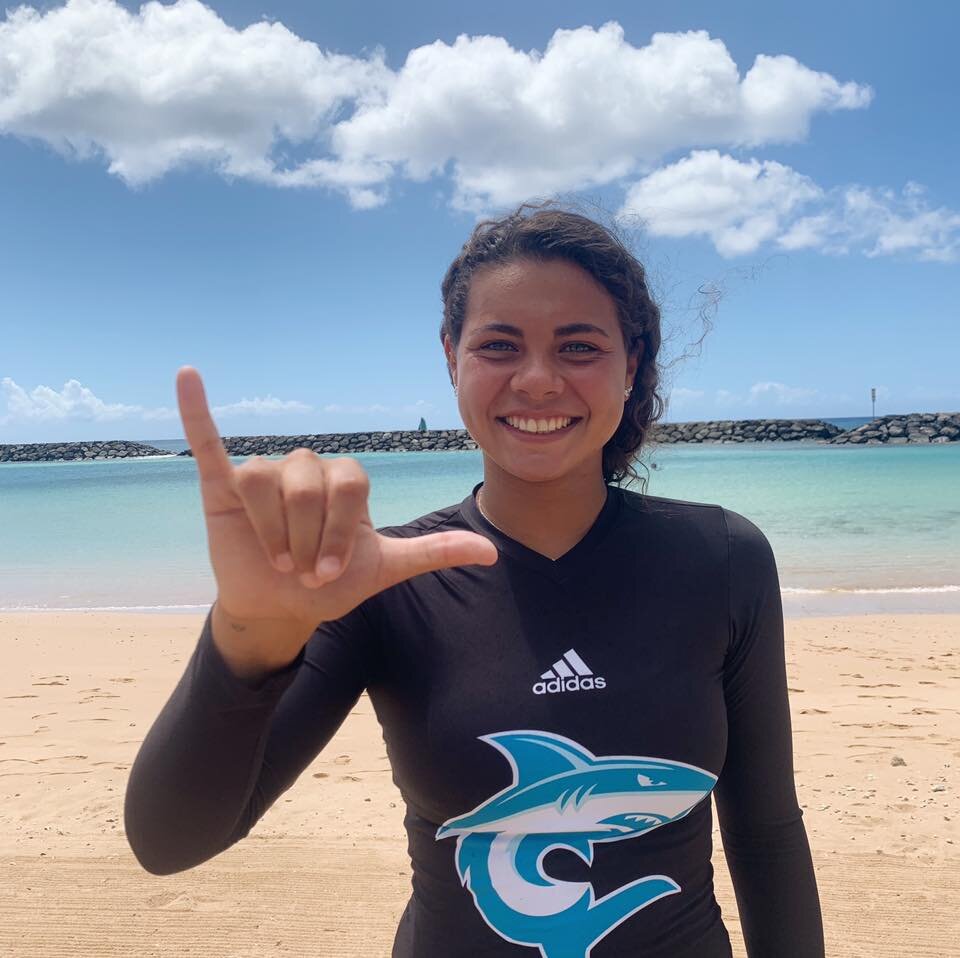 Take away all the milestones of senior year and I'd be ready for the next part of the journey too!
That said today was that graduation drive-by situation in preparation for the virtual ceremony that will take place on June 12th.
Yesterday I was super surprised by my son Quimes who came home to be a part of Bella's special day.
I had forwarded the email to him and much to my surprise he not only read it but also came home!
I haven't seen him for what felt like forever so I was soooo happy and grateful even though I was about to go to bed when he arrived.
Naturally, I stayed up to chat and catch up and still managed to get up at 4:30 am thanks to the Mel Robbins trick I learned.
Want to know what the trick is??
So this is what has worked for me ever since I heard it.
Do not sleep with your phone next to you!
What I have been doing the past couple of days is setting my alarm and putting the phone in the bathroom.
I have to tell you this has been a game-changer.
When the alarm goes off I have to walk to the bathroom to shut it off.
By the time I do this I'm up and stay up.
That's it!
It works I promise.
Now back to the Graduation story.
So today we went to the school and followed the very organized order of events.
Bella took the first photo at the Wantagh High School sign.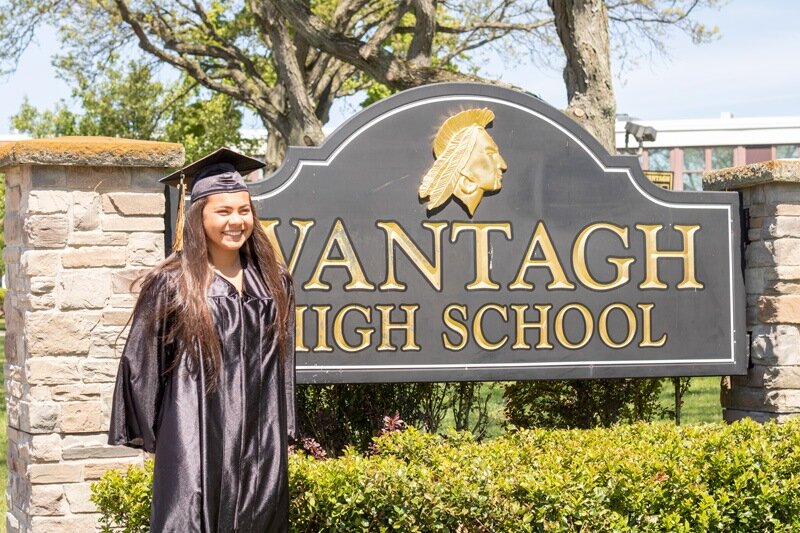 This first stop was a little awkward so she didn't put her Lei on.
She took an individual and family shot and then we got back in the car and headed to the next station on the football field.
The energy in the next area was much more upbeat and Bella was wearing her Lei. : ))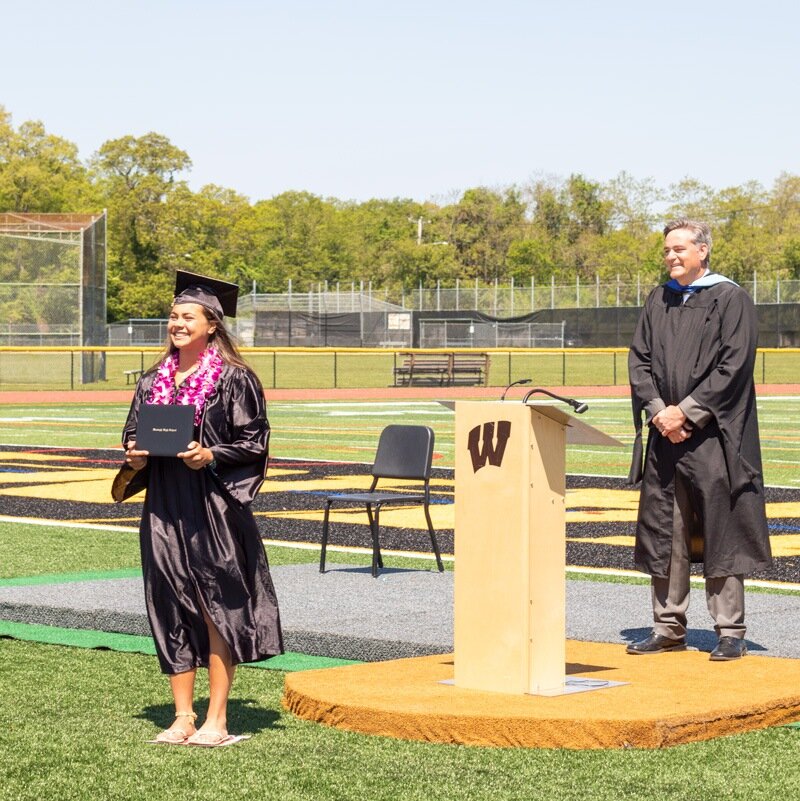 There were teachers and staff and they were all clapping and calling out the students' names.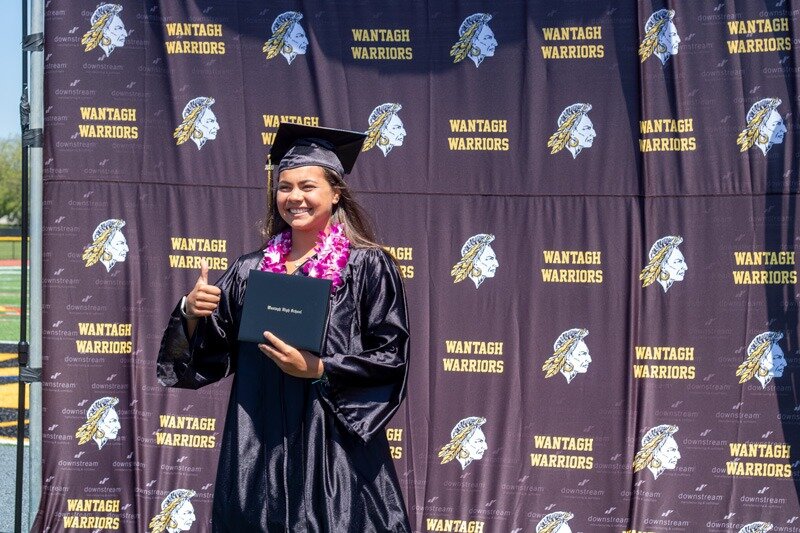 While there I videoed and my husband took some pictures on my son Quimes' camera to which Bella said "Why does dad have the camera?"
Good question?!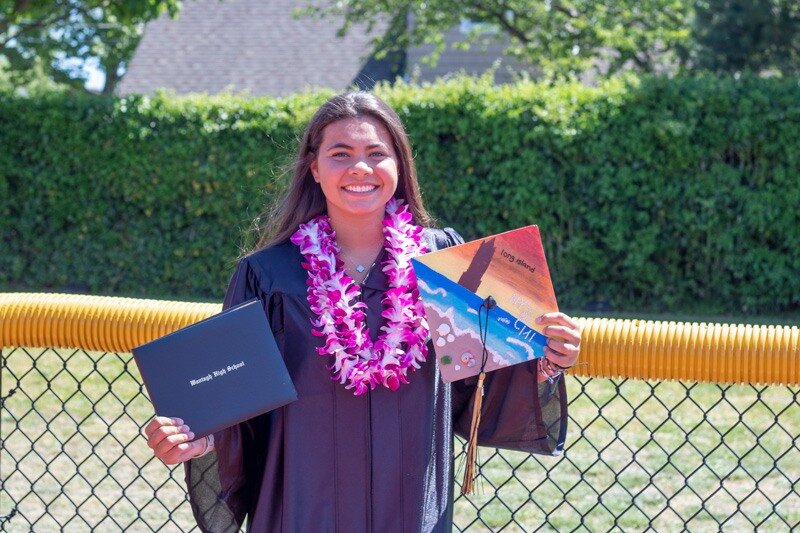 When we got back to the house Quimes took a few more shots in front of the house.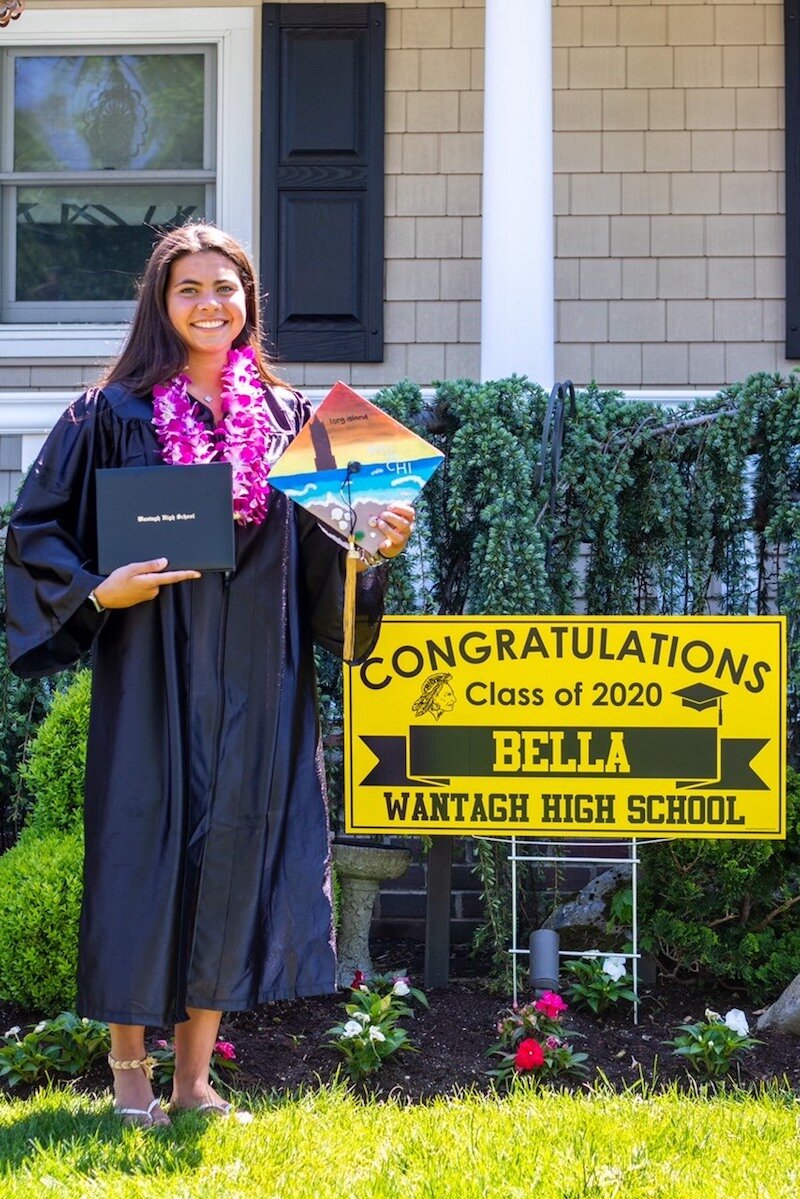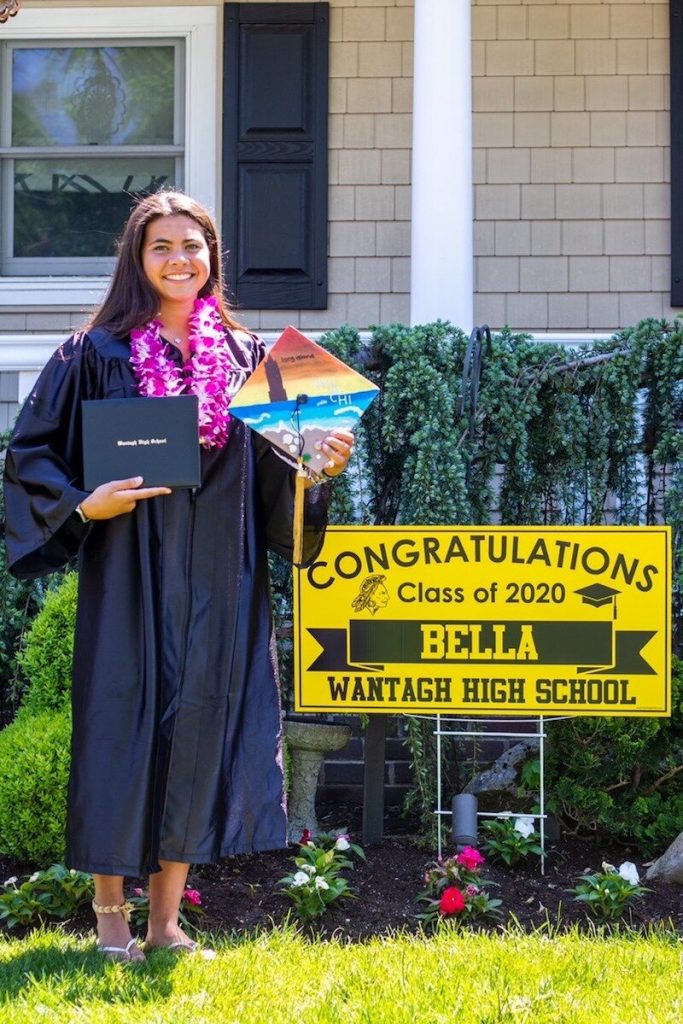 Did you notice that decorated graduation cap in those pictures?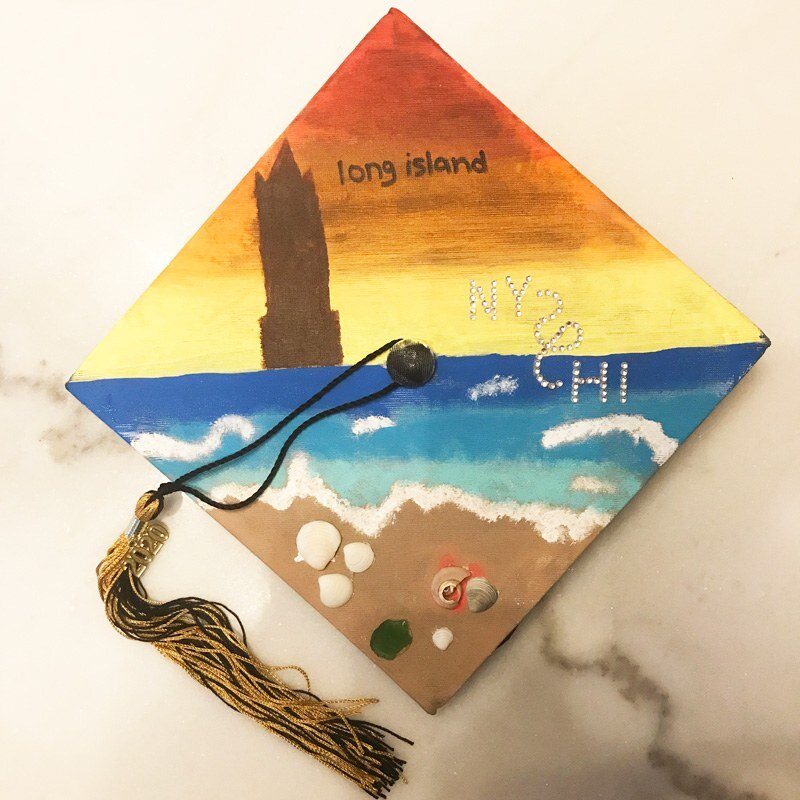 Bella made that last night at her friend Gianna's house using paint.
I think it came out super cute!!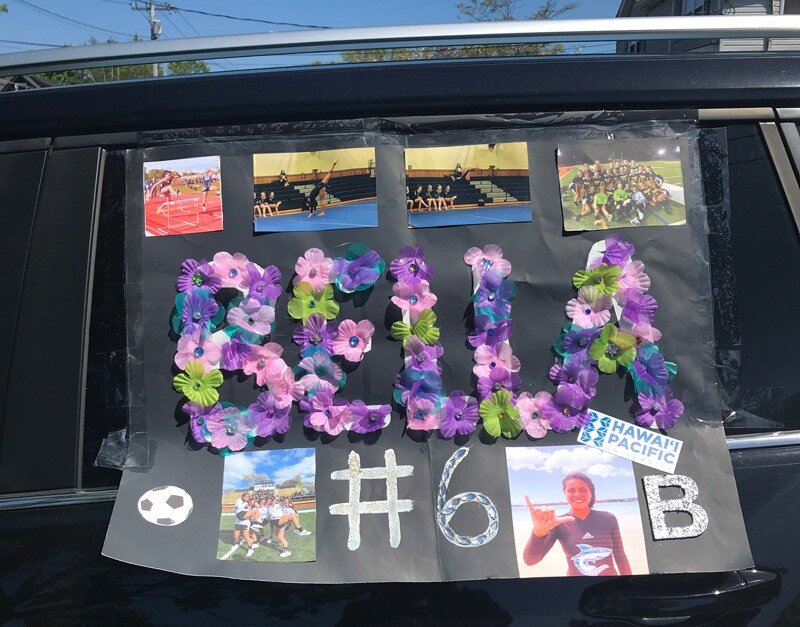 Here is the car sign that was on display so the teachers and staff knew who was in the car.
Overall I thought Wantagh High School did an awesome job making the day as special as possible and I am super grateful to everyone involved.
I'm looking forward to watching the Virtual Graduation Ceremony on June 12th and wish the entire Class Of 2020 much success and happiness!
Here's to the new norm and whatever that may be!!
Sidenote: Super Duper proud of Bella and all she has accomplished to date and can't wait to follow along in her journey as she heads off to Hawaii Pacific University in August for in-person classes.
WooHoo!!
I hope you too had an inspired day full of Unicorns and Rainbows!
xo Nicole
---
For more shoppable designs check these out from my Like To Know It page.
Note: My blog periodically contains affiliate links meaning that if you make a purchase, I might make a small commission at no extra charge to you. Purchases made through them are greatly appreciated.