Please Note: This post may contain affiliate links, which means that if you make a purchase, I might make a small commission at no extra charge to you. I only recommend products or services I believe will add value to my readers. Please read my full disclosure for more details.
This post may contain affiliate links, which means that if you make a purchase, I might make a small commission at no extra charge to you.
In this blog post, we will continue our discussion from last week where we talked about how offering an AIRBNB can bring you passive income (click HERE to get up to date).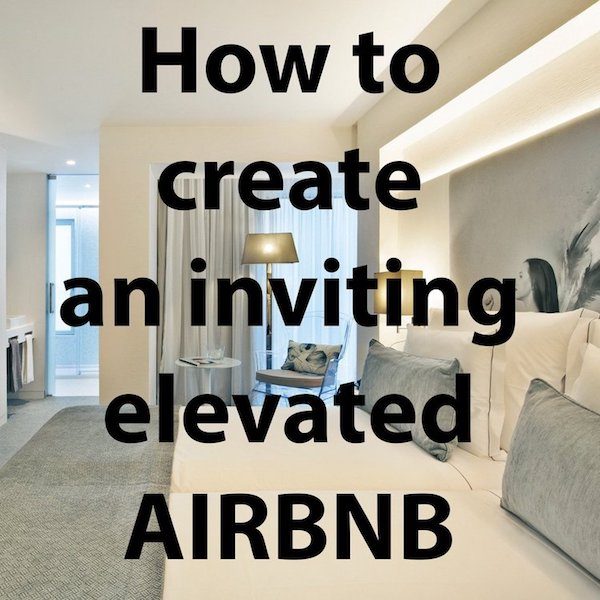 This week we will discuss how hiring an INTERIOR DESIGNER (like myself) can help you have a stress free AIRBNB design experience. Now while many of you may be able to execute this process yourself I'm pretty sure there are many out there who either don't have the time or desire to do so. If that sounds like you then this post is PERFECT for you!
One of the many services we offer is our Turnkey design package which is perfect for the client who prefers to NOT lift a finger and wants our design team to manage the entire project. We are committed to facilitating a worry-free and enjoyable design experience so you can sit back and relax while the MAGIC happens!
The Turn-Key package consists of ALL Phases of the Design Process which I will be explaining today. A presentation with your floor plan, concept, final design plan, and list of items is included. We source from a large network of trade professionals to create a curated ORIGINAL design for your space. Obviously for the AIRBNB space will not source high end but rather quality budget-friendly pieces. We will create purchase orders, track, receive, and deliver everything to you. We collaborate as a team with the various contractors, fabricators, and/ or tradespersons (if needed) to successfully turn the design vision into a reality. This package includes an HGTV style reveal and Photography.
Now let me walk you through the four phases of this service but before we start here is a brief bubble diagram of the steps in each phase.

The first phase of the process is the project kickoff.

During this stage of the project, NO actual design drawings are being done but this is a WORKING SESSION. We are also going to go through several pulls with ideas for the overall VIBE of your space and will go over your design pain points. It is crucial that we really nail the LOOK and FEEL you are after so we execute your vision FLAWLESSLY. Remember our GOAL in the process is to really connect with you so we are able to make selections and create a space that you will LOVE! It is truly our MISSION is to design ORIGINAL, ELEVATED and LIVABLE spaces on time and on budget so that our clients come home REFRESHED and INSPIRED after a long hard day. Now your AIRBNB should give the same experience to your guest so they SLEEP WELL, WAKE UP HAPPY and leave you a GREAT REVIEW, Right?!
Now onto the second phase which is space planning and design.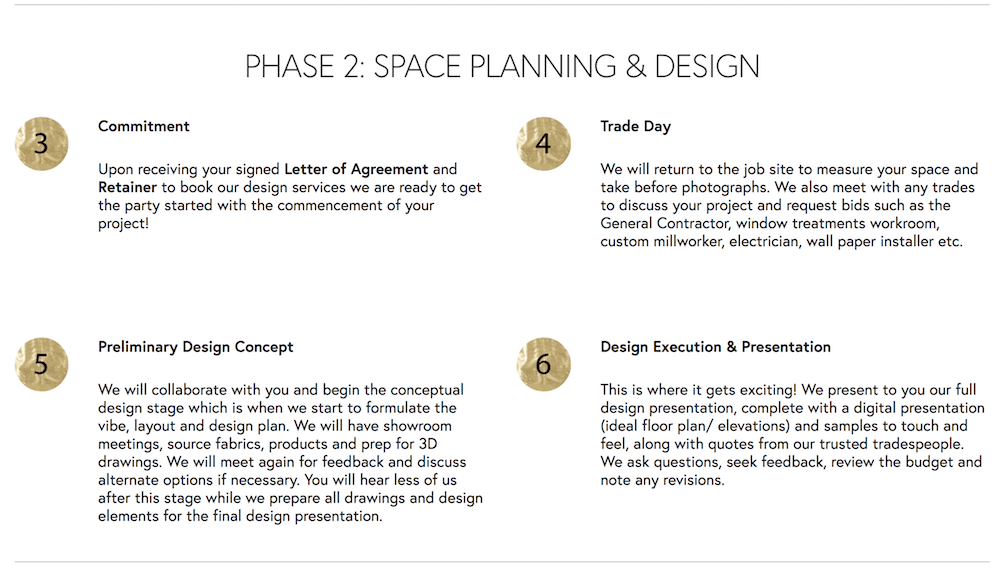 During this phase, it is imperative that we are on the same page for the Vibe, Floor Plans, and Concepts before we move onto the Design Execution stage. That said we may have several meetings to go over ideas and progress so we really nail that Design Presentation where we present to you the options and vision of your space.
The Concept Board will have many of the products shown for your space to give you a visual of what's to come. Not every piece will be shown as this is just to get your first impressions on the overall Look and Feel of the space.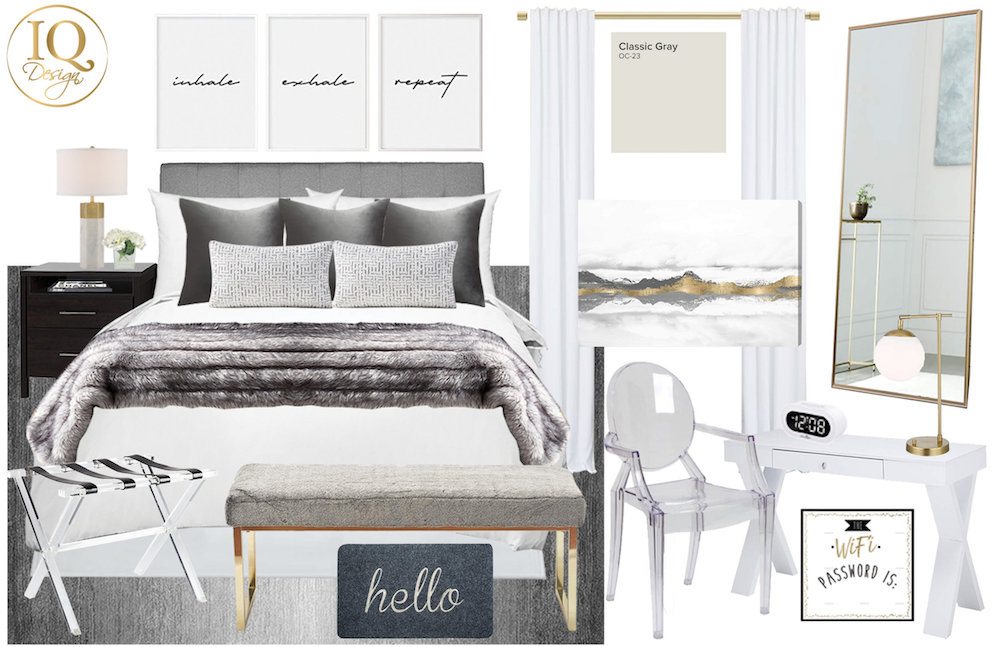 We will also show you Floor Plan options to make sure the flow of the space is working for your needs.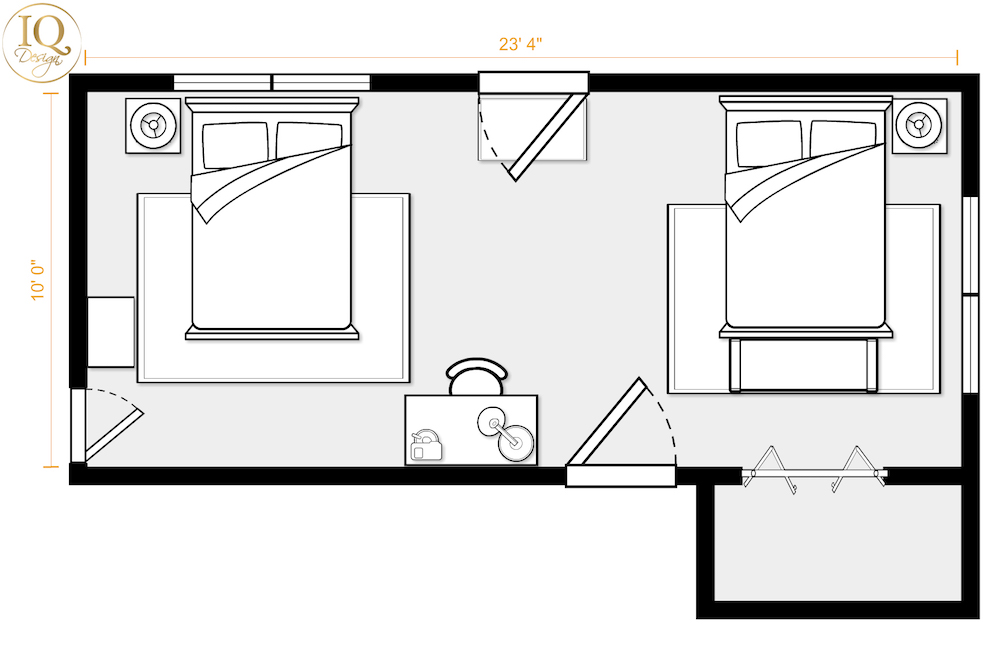 Once we are sure we are on the same page we then go back and source the rest of the products so we can present to you out finding on at the Presentation Meeting. This is when we will have many of the fabrics and materials for sure space for you to touch and feel.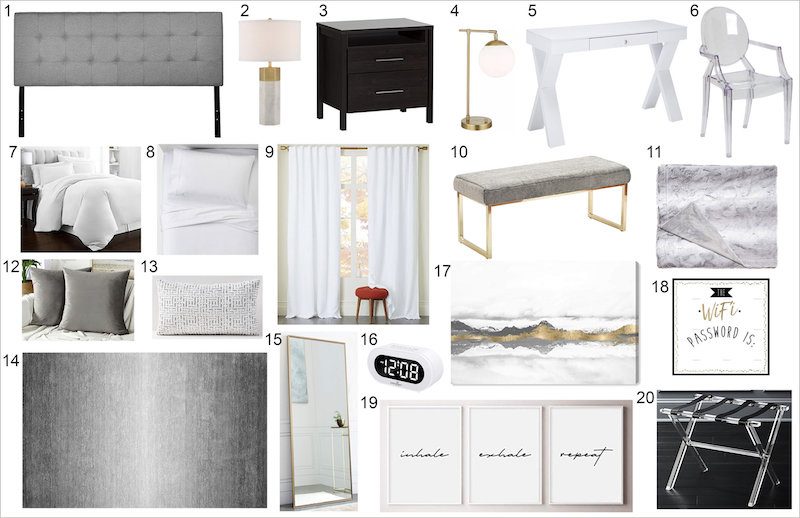 During the Design Presentation, we will also show you a computerized rendering of your space so you can really begin to see how it will look transformed.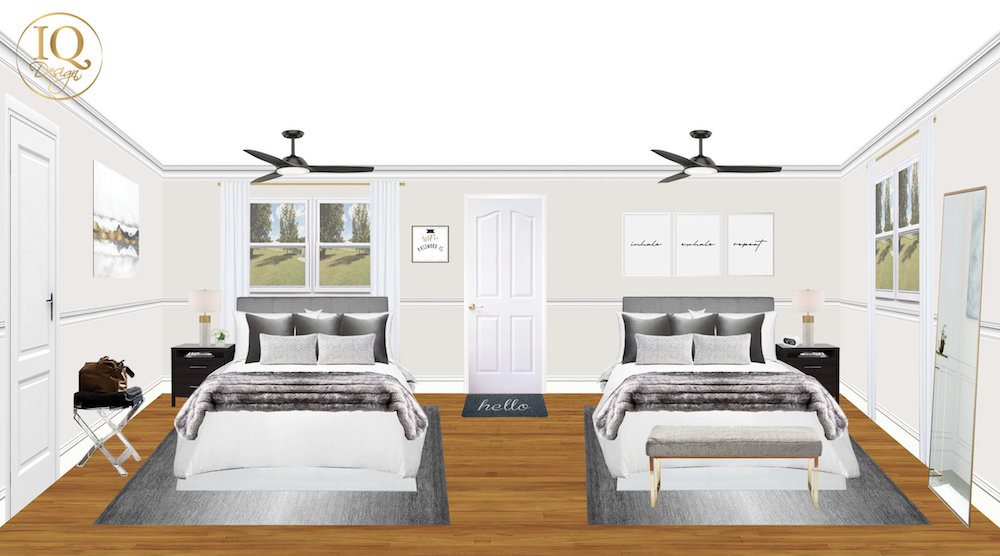 Once all items are approved, the contract signed and the deposit paid we move onto the third phase which is when products are purchased and project management happens.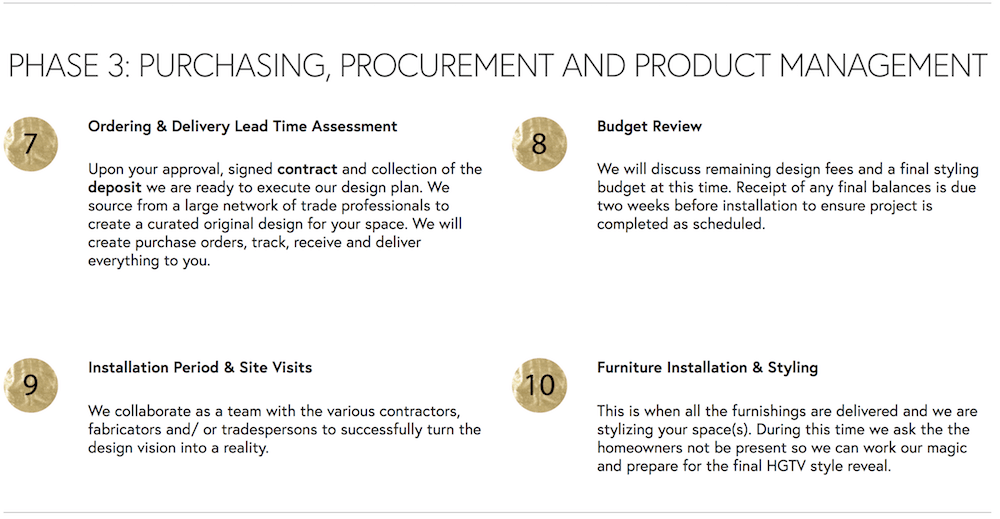 It can take a few weeks for retail products to arrive or several weeks if you have chosen custom products. Either way, we will stay on top all items to ensure they arrive and are checked for damages. This can be a time-consuming process and we are happy to take this off your hands to ensure you have a STRESS FREE experience. We will update you weekly as to our progress because we don't want you to have any surprises at the end.
Lastly, the fourth phase is absolutely our FAVORITE because this is when you get to see that HGTV REVEAL!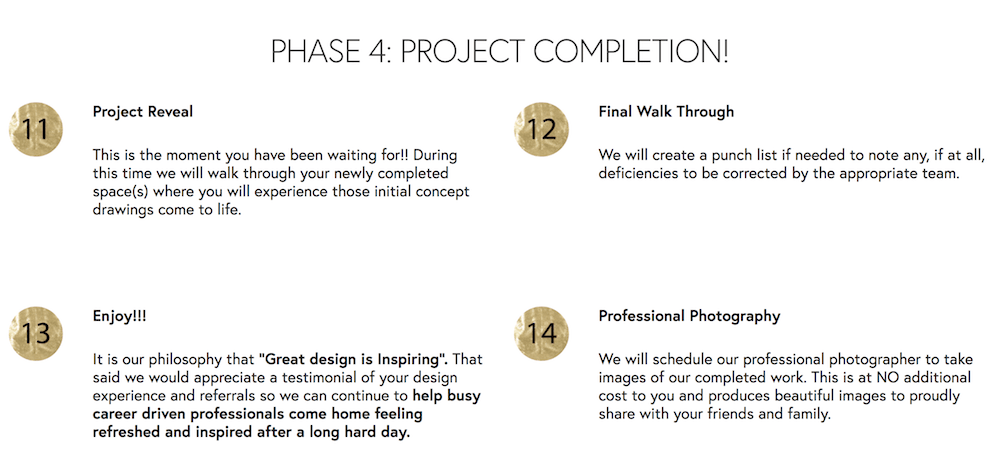 We strongly believe TEAMWORK MAKES THE DREAM WORK and getting to this point is definitely a team effort. There is no I in the team and we strive to collaborate without the ego, with the best design professionals in the Long Island NY metro area.
That said if you need help with your AIRBNB space or another project please do reach out to us so we can help you create a home that makes you HAPPY and you LOVE coming to!!
BOOK YOUR 15 MINUTE COMPLIMENTARY CALL TO DISCUSS HOW WE CAN HELP TODAY!
As always please continue to follow the journey through my Instagram Stories and daily Facebook Live videos where I will continue to share behind the scene videos.
Have an inspired week everyone!!
xo Nicole