Please Note: This post may contain affiliate links, which means that if you make a purchase, I might make a small commission at no extra charge to you. I only recommend products or services I believe will add value to my readers. Please read my full disclosure for more details.
So you have some extra space in your home that is unused OR you just want to make some extra cash. An AIRBNB rental may be the perfect solution for either of these scenarios.
One of the things I have discovered recently in my self-discovery journey which I am currently on is the fact that my parents had it wrong all along! It's NOT working harder and you will be successful (whatever your definition of that is) NOPE it's actually working SMARTER. I have come to discover a little thing called passive income which is finding ways to make money for you while you sleep or are maybe enjoying time with your family. Now, this is not to say that you don't have to put time and energy into whatever it is you are doing for passive income beforehand but the point is after you do the work you can continue to make money off it after the fact. While many people may already be doing this with the compound interest they receive from stocks or from rentals they have from real estate there are other options aside from those, like an AIRBNB. You can click HERE to find out more information on the process to get started. Now let's say you are in my current phase of life where you have a large house that many of the rooms are underused and maybe you'd like to bring in a little extra money. For whatever reason, you may not be ready to downsize just quite yet. Whatever your situation this post will cover some of the beginning design necessities to make your AIRBNB appealing to the masses.
Since most homeowners who are looking to set up their AIRBNB are not interested in spending a ton of money. Here is how you can create an inviting and elevated AIRBNB rental using products sourced mostly from you guessed it, Amazon!
Something things to be aware of before we get started is that aside from location two of the most important features of an AIRBNB for most is a separate entrance and bathroom. Also, most renters want a clean clutter free space so remember to clear out your personal belongings. Since we are going to want to appeal to the masses a neutral color palette layered with textures is going to be the best bet.
That said let's dive into the overall concept of the space and then I'll list the products individually with links to purchase if you are interested in doing so.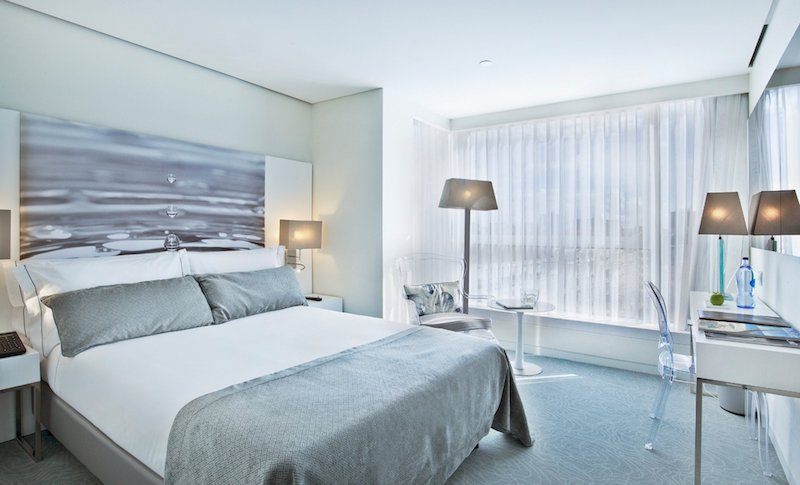 Our inspiration for this AIRBNB design is from Hotel White Lisboa located in Lisbon, Portugal which can be viewed HERE.
For this design, we have chosen Classic Gray OC-23 from Benjamin Moore for our walls which is a neutral greige color.
The overall look and feel of the space have a contemporary glam vibe to it. The color scheme is Gray, Black, and White with touches of gold. Since mixed metal is definitely on trend this will help attract those looking for an updated current space to rent for their stay.
Below you can see the main products we have sourced for our space. The bed for this space is full size but adjust according to your floor plan and space you have available. A useful tool to help you create a floor plan to scale for your space is Icovia which can be located HERE (promo code 38c3232214817b5ee).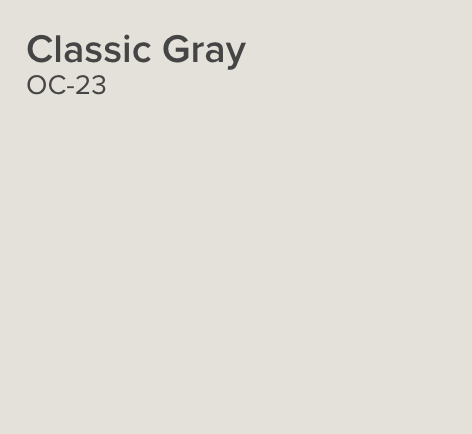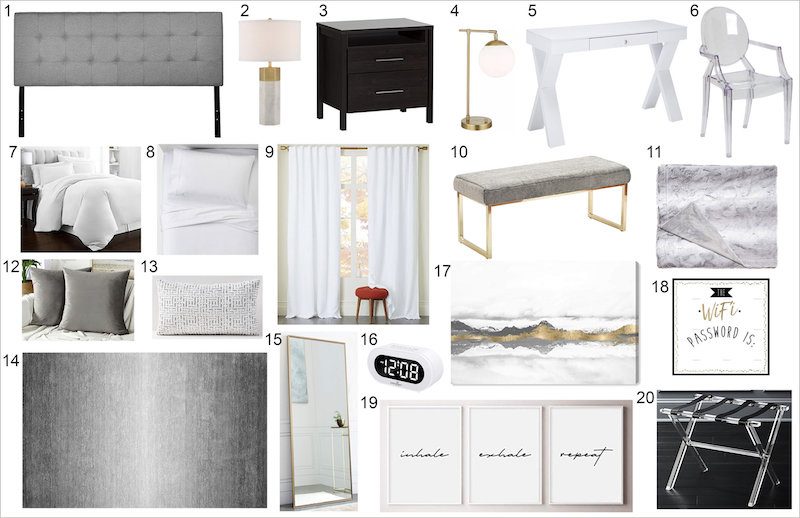 PRODUCTS:
1. Head Board: Modway Lily Upholstered Tufted Linen Fabric Full Headboard Size In Gray
The headboard we have chosen is in a medium tone grey which contrasts nicely against the greige Classic Gray walls. Using a linen tufted upholstered headboard helps create an elevated hotel feel for your space.
2. Lamp: Possini Euro Leala Faux Marble Accent Table Lamp Set of 2
This lamp is on trend with its marble accents and gold details and is super cute! It will pair nicely with the black side tables.
3. Side Table: South Shore Gravity 2-Drawer Nightstand, Ebony with Satin Nickel Finish Handles
The rich black of the side tables will add contrast against all the white and gray that will be in this design. The only thing I would personally change here would be the silver handles only because I am so in love with gold and the way it pops off of black these days. Like how cute would these Solid Brass Cabinet Pulls look?!
4. Desk Lamp: Rivet Modern Gold Globe Table Lamp 22″ H, Integrated LED Light, Opal Glass Shade
Love this modern gold globe lamp on top of the white desk for added task lighting.
5. Desk: Convenience Concepts Newport Desk with Drawer, White
Having a small desk area in your space if room allows will attract business executives or those clients who may need to jump on their laptops during their stay. This is also a great place to store the welcome binder which includes useful information for your guests to get around and know the rules of your home.
6. Chair: Modway Casper Modern Acrylic Dining Armchair in Smoke
The chair I linked is acrylic in the smoke colorway but the clear acrylic option is in here too. The chair shown in the concept board is in a clear version. I do like the contrast of the smoke acrylic over the clear but you can decide after checking both out.
• Fur Throw: Super Soft Sheepskin Chair Cover Seat Cushion Pad
Adding this faux fur chair throw will add a bit of warmth to the otherwise cold acrylic chair.
• Welcome Packet
As mentioned above your desk is a great place to store your Welcome Packet. Now again since we are working smarter and not harder these days click HERE to purchase the template shown below from JannaLynnCreative who has already created this for you!
VespertineAndCo also on Etsy is a second shop that also has a very cute template:
Welcome Book Beach Theme · Airbnb Welcome · Vacation Home Welcome Book · Airbnb Printable · Local Guide · Vacation Rental · Instant Download
7. Duvet Set: Beckham Hotel Collection Luxury Soft Brushed 2100 Series Microfiber Duvet Cover Set – Hypoallergenic – Full/Queen – White
All white bedding is going to appeal to the majority of renters for its clean sterile hotel feel so we have sourced that for our design here.
• Down Alternative Comforter: Duvet Insert or Stand-Alone Comforter – White – Full
As a vegan designer, I have sourced a down alternative for the comforter which is cruelty-free and better for those with allergies.
8. Sheets: Performance Sheet Set Solids 400 Thread Count – Threshold™
I did not source the sheets from Amazon because after reading a lot of reviews I found many homeowners recommended a sheet set from Target as being the most comfortable as well as durable.
• Bed Skirt: SmartBase Easy On / Easy Off Bed Skirt for 14 Inch SmartBase Mattress Foundation, Full, White
Having a bed skirt to cover the bottom of the bed is best especially if your frame is metal or you need to have anything stored under the bed. It also helps create a more elevated look for your space.
• Mattress cover: Remedy Bed Bug and Dust Mite Mattress Protector in White
This was sourced from Bed Bath and Beyond after researching where others recommended purchasing from. Since we want to prevent and not have any issues with bed bugs or any bugs for that matter (I DO NOT like any bugs at ALL) a mattress cover is recommended.
• Bed Pillows: Hotel Collection Gel Pillow (2-Pack)
Start out with new pillows for your guests and replace these as they wear. Remember how you would feel laying your head on pillows that are worn down, Not so good right?!
• Pillow Cover: Remedy Bed Bug and Dust Mite Queen Pillow Protector in White (Set of 2)
The pillow covers are also from Bed Bath and Beyond and help your renters know they are sleeping on sanitary bedding which is important to most.
9. Drapes: Belgian Flax Linen Curtain – White
These drapes are from West Elm and have a blackout liner for guests who prefer to sleep in.
• Curtain Rod: Adjustable Curtain Rod for Windows
Gold curtain rods, of course, to tie back to the accents in the room!
10. Bench: Elle Decor Giselle Bench Gray
Having a place for your guest to sit and relax or put their shoes on is a nice added feature.
11. Fur Throw: Luxury Oversized Faux Fur Throw Grey 
This throw is perfect to add warmth and should be laid folded at the foot of the bed. this will also help break up the white of the bedding.
12. Velvet pillows: Decorative Throw Pillows Covers Cases for Couch Bed Sofa, Solid Color Soft Pillowcases,26×26 
I would purchase three of these pillows and have them placed in front of the white pillow shams.
• Pillow Fill: Foamily Premium Hypoallergenic Stuffer Pillow Insert Sham Square Form Polyester, 28″ L X 28″ W, Standard/White
Since the Grey velvet pillows are liners only you are going to want pillow fills that are at least 2" larger than your cover. These are hypoallergenic again for allergy purposes.
13. Lumbar Pillows: Allover Crosshatch Jacquard Velvet Lumbar Pillow Covers
Two lumbar pillows should be placed in front of the three grey velvet pillows for an elevated look with added texture.
14. Gray rug: Hand Tufted Ombre Bernetta Area Rug
The gray ombre rug is perfect to add contrast against the white bedding and light greige walls. This will also add warmth to your space.
• Rug Pad Slip Area Rug Pad 8×10 Ft 
To protect your floor a rug pad is recommended.
15. Wall Mirror: Large Rectangle Bedroom Mirror Floor Mirror Dressing Mirror
Your guests are going to want to be able to check themselves in the mirror and this one will be perfect for doing that.
16. Alarm Clock: Digital Alarm Clock with Snooze
Just in case your guest are not attached to their cell phone as an alarm clock it's a great idea to have one for them to use if they prefer.
17. Artwork: Modern Premium Canvas Art Print
Since artwork is super subjective for most and this contemporary piece pulls the color palette of the room together while remaining neutral in subject matter.
18. WiFi Password: Oliver Gal "Wifi Password" Framed Whiteboard – 16 X 16
This is absolutely perfect for a cute way to display your WiFi password. I actually have this hanging in my Kitchen currently and I must say it was perfect this Holiday Season as none of my guests had to ask me "What's your WiFi"?
19. Inspirational Artwork: Wall Art Inhale Exhale Repeat Print Set of 3
I love inspirational artwork and quotes and this one just reminds your guest to remember to breathe!
Another option here would be this decal version of the same saying which is also super cute!
20. Luggage Rack: Acrylic and Leather Luggage Rack
I'm absolutely in LOVE with this lucite luggage rack from CB2! This is for anyone looking to have that star element that just adds that extra wow factor.
For those who want the less expensive option here, it is my friend's.
EXTRAS:
• Coffee Maker: Keurig K-Classic Coffee Maker K-Cup Pod, Single Serve
Always needed especially if you love your coffee as much as I do!
• Mini Fridge: Midea WHD-113FSS1, 3.1 Cubic Feet Stainless Steel
This is a great idea if you prefer to NOT share your Kitchen with your guests.
• Iron: Steam Iron
Because every hotel has one and so should you!
• Iron Board: Ironing Board Cover with Iron Rest
Needed unless you want your guest to iron on the bed which would not be great at all!
• Garment rack: Heavy Duty Clothing Garment Rack
If you don't have space in your closet for the guest or if the room doesn't have a closet.
Lastly, I'm assuming you have a TV, Cable, Roku, and/ or Firestick setup for your guest so I have left that out. In a later post, I'll cover some bathroom essentials but going to end as we have already covered a lot of information. I hope anyone considering hosting an AIRBNB rental finds this helpful. I especially think this is a great idea for the summer months as it can help cover the cost of some of those extras you'd like to spend on.
As always please continue to follow my journey through my Instagram Stories and daily Facebook Live videos where I will continue to share behind the scene videos.
If you have a project you are considering working on, know your budget, and like cool things then reach out HERE so we can help!
Have an inspired week everyone!!
xo Nicole