Please Note: This post may contain affiliate links, which means that if you make a purchase, I might make a small commission at no extra charge to you. I only recommend products or services I believe will add value to my readers. Please read my full disclosure for more details.
Those who have been following along with the One Room Challenge know that we changed out what used to be an office into an Airbnb. This past week we had our first guests in from Texas. Three ladies stayed with up for 9 days while they worked the PGA Tour. In this post, I'll be sharing how the experience went and the areas we can improve the experience for future guests. I made sure to let our first guests know that they were just that "Our First Guests". That said throughout their time with us we let them know to share any feedback on how their experience could be improved and they thankfully did!
For anyone that missed the previous blog posts about the ORC Airbnb be sure to catch up here:
Week 1 | Week 2 | Week 3 | Week 4 | Week 5 | Week 6
---
Still waiting on the professional photography to happen which may take a minute now that we are booked out every weekend through June 23rd but it will eventually happen. In the meantime here are the iPhone images of the Airbnb.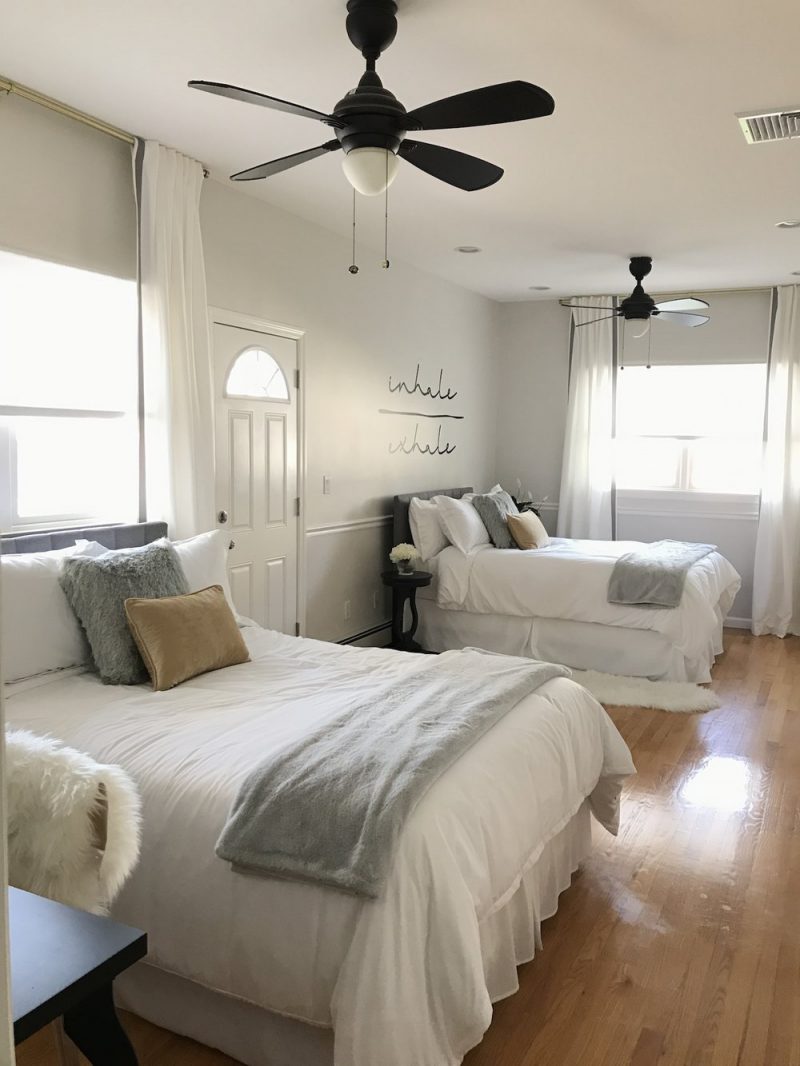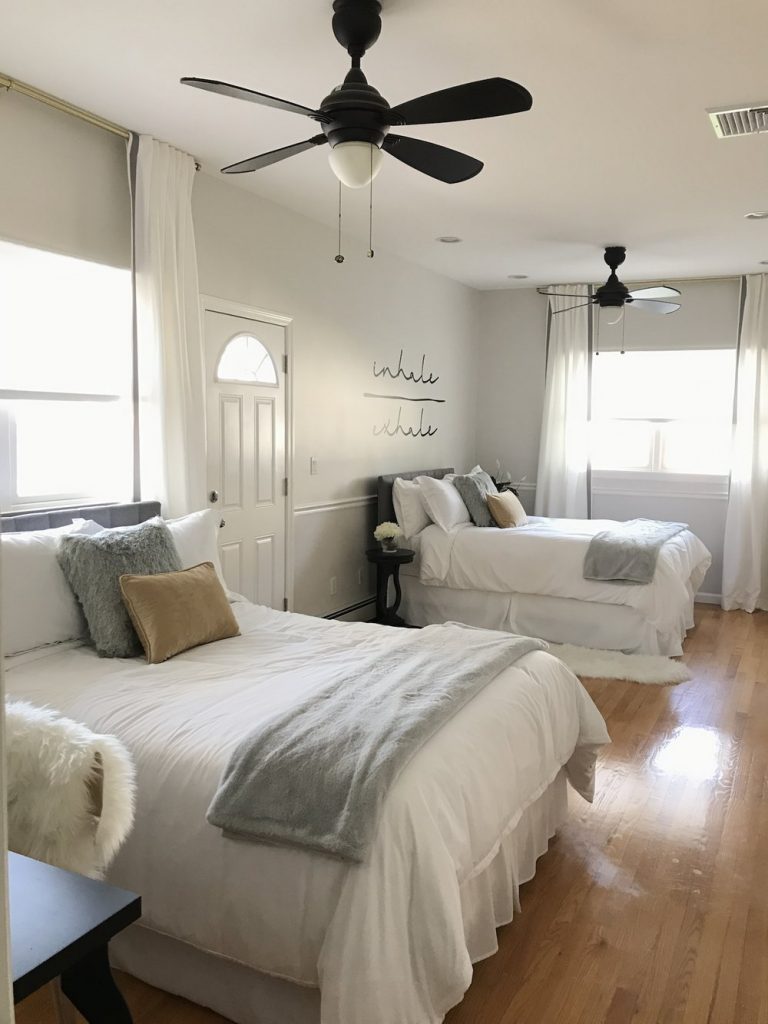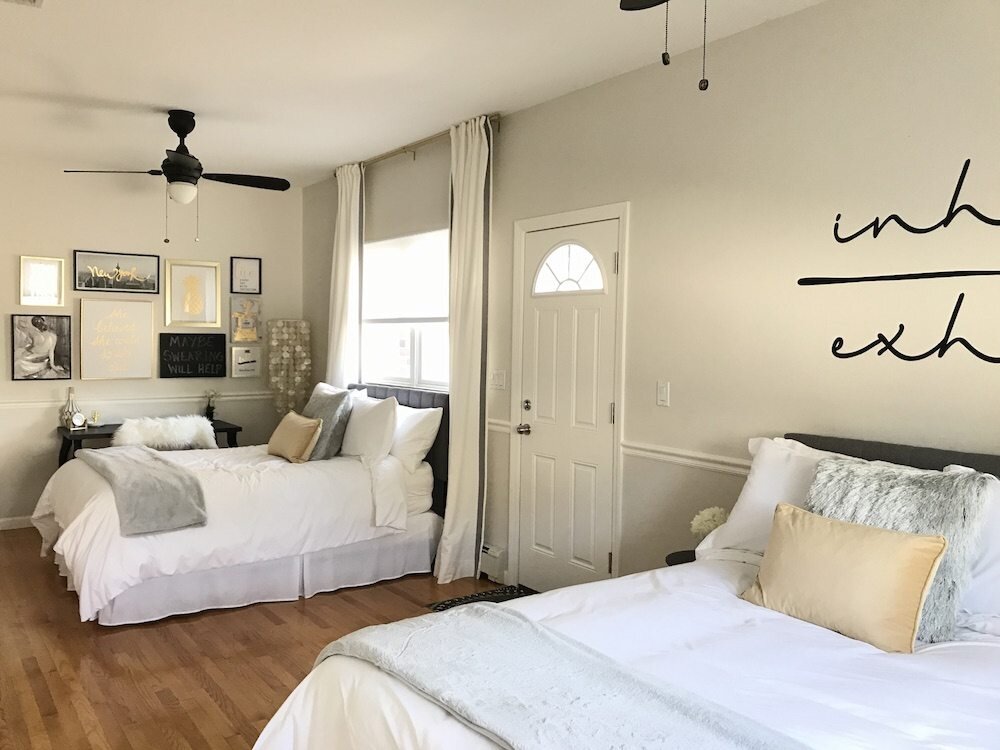 More views…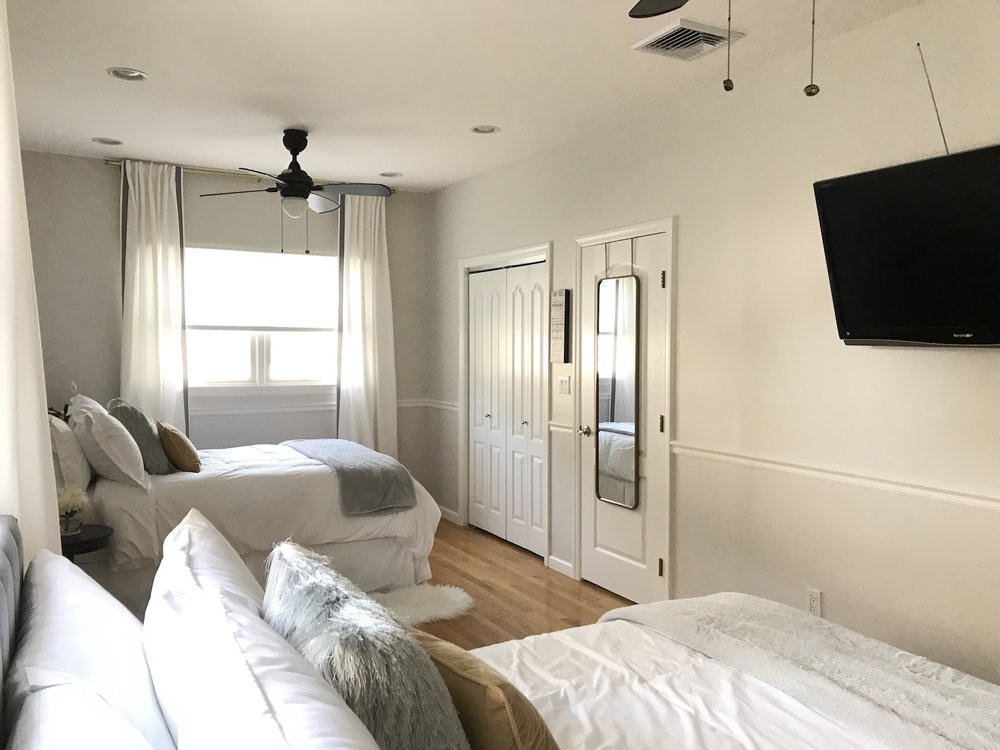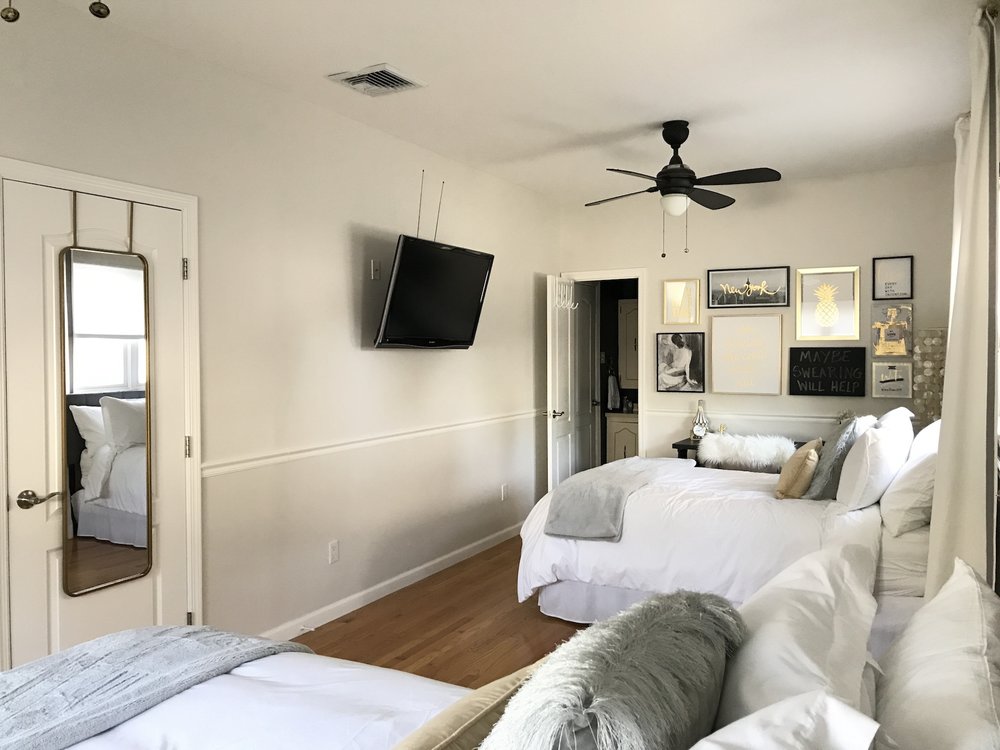 The closet situation.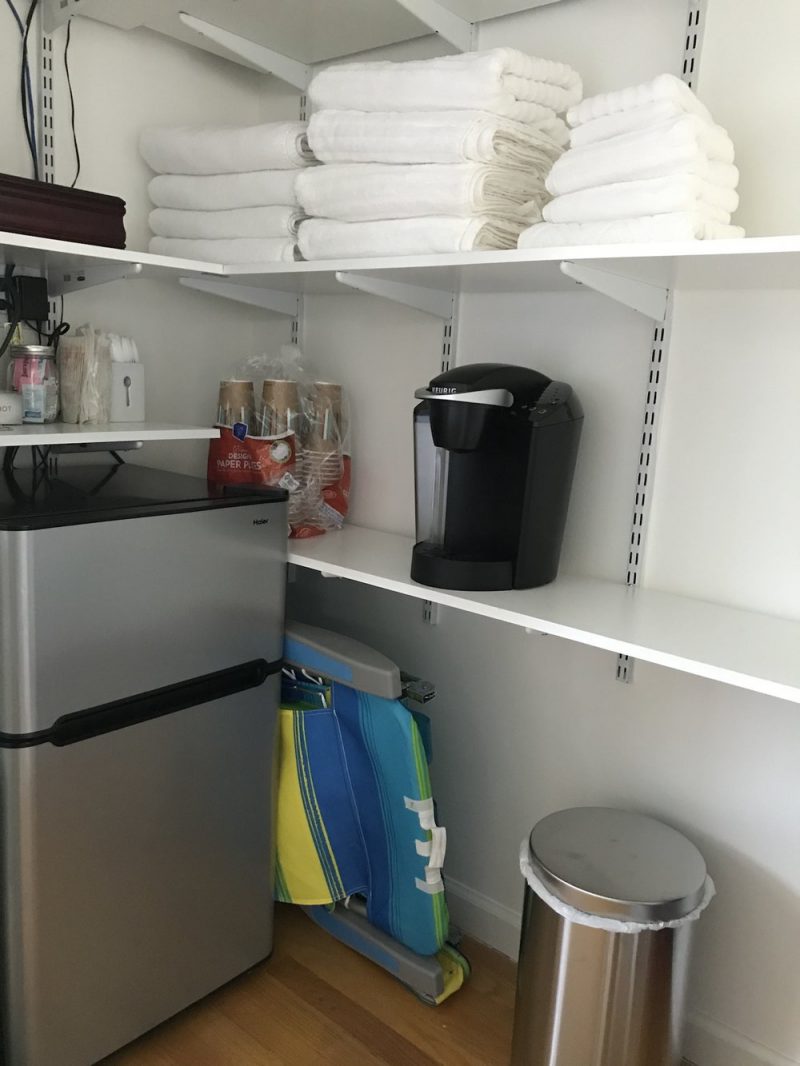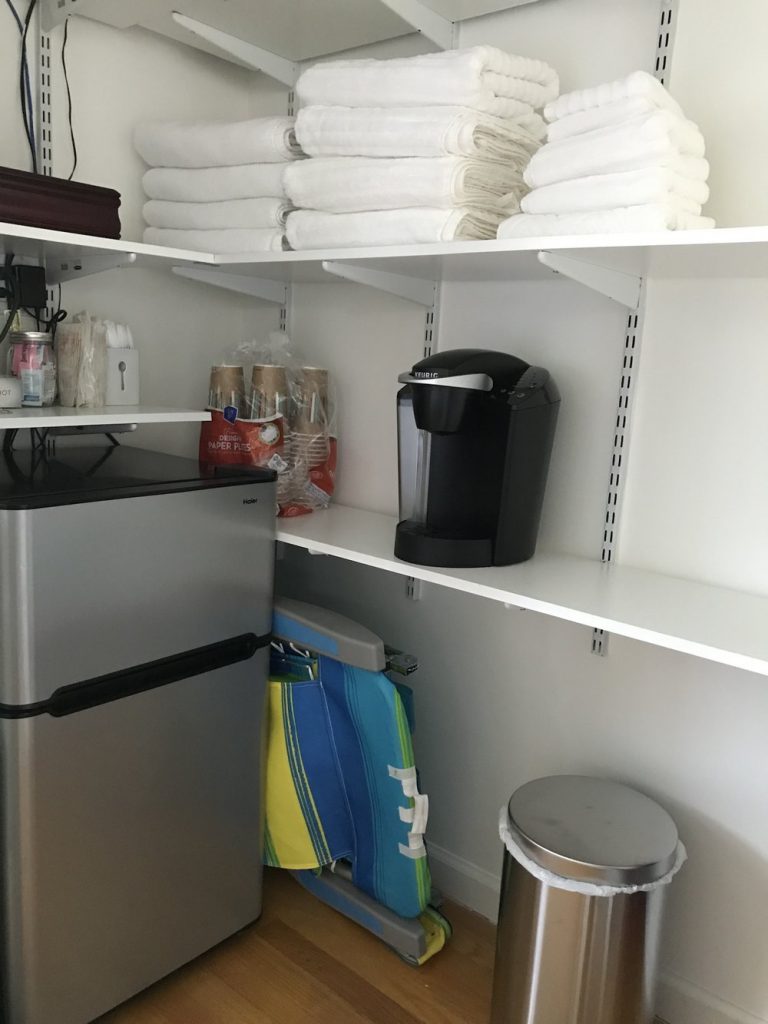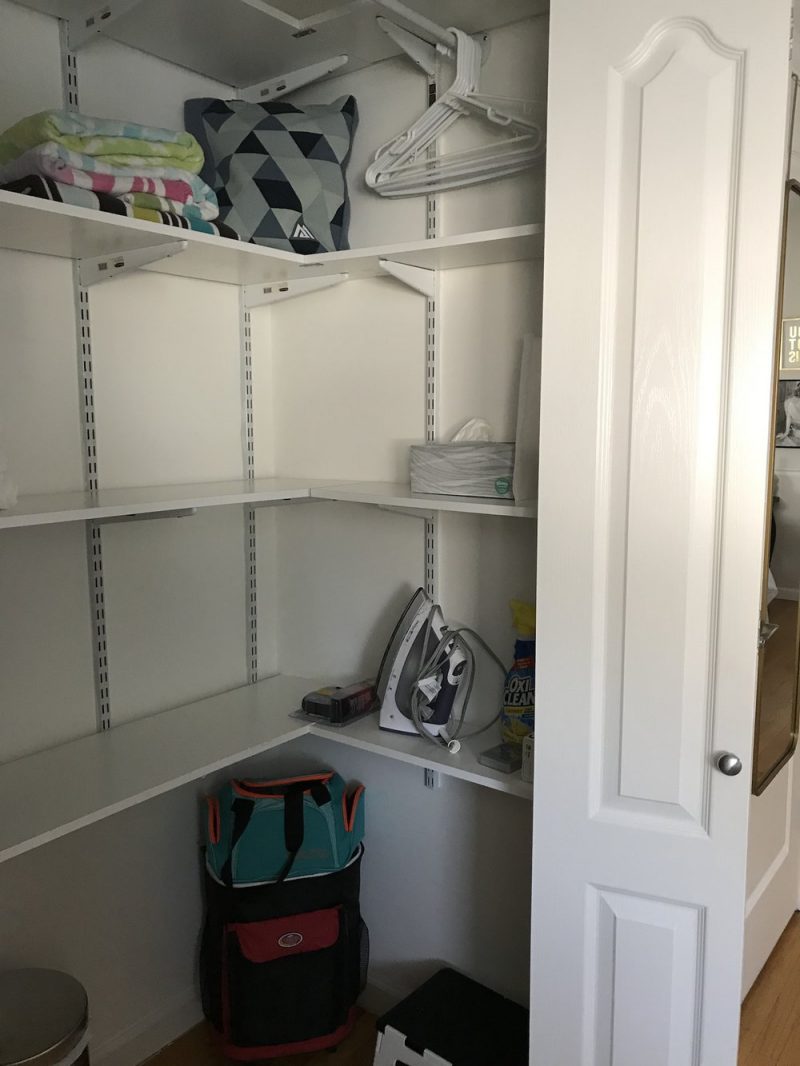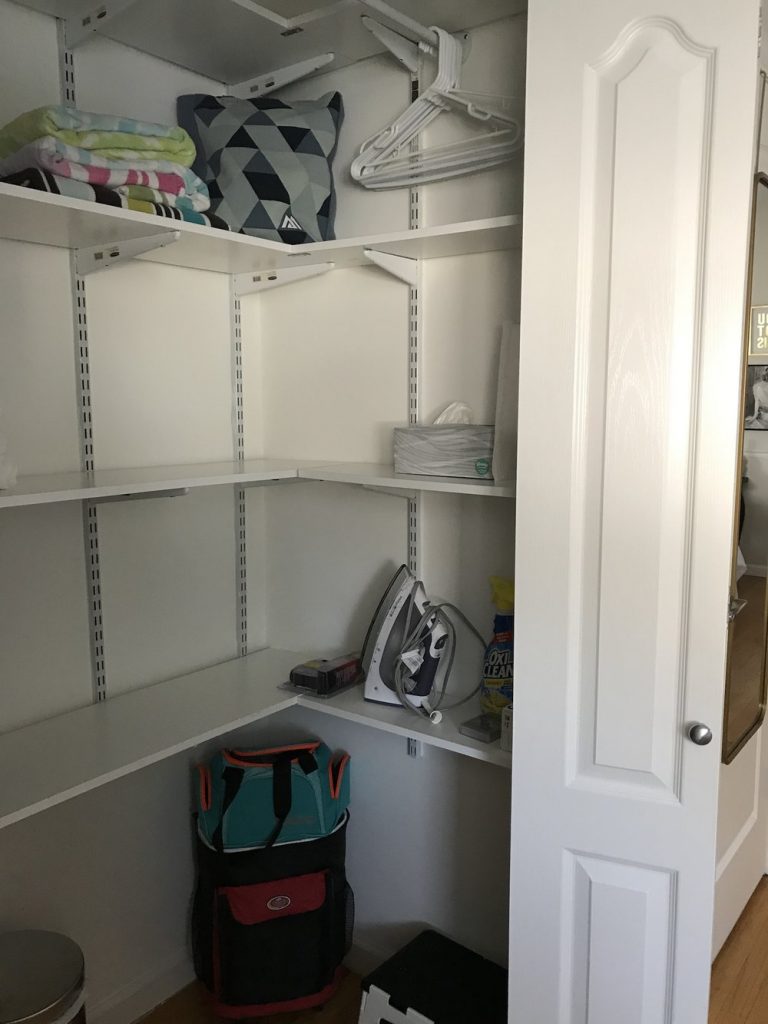 The bathroom area.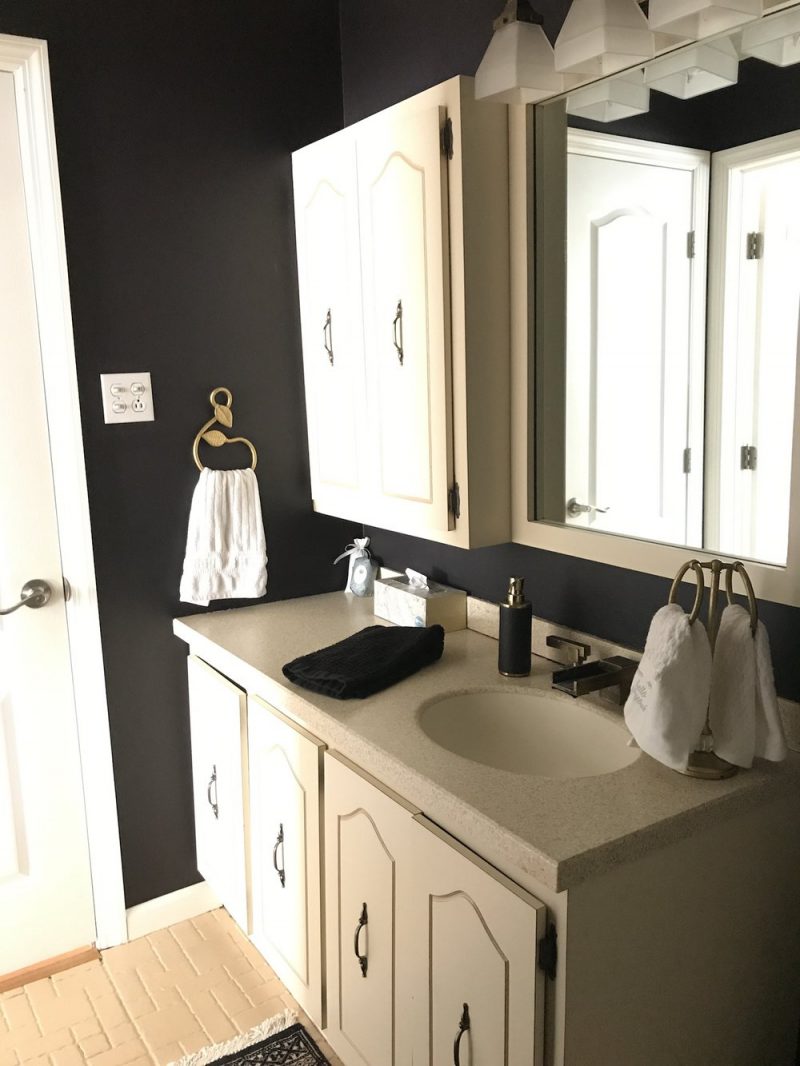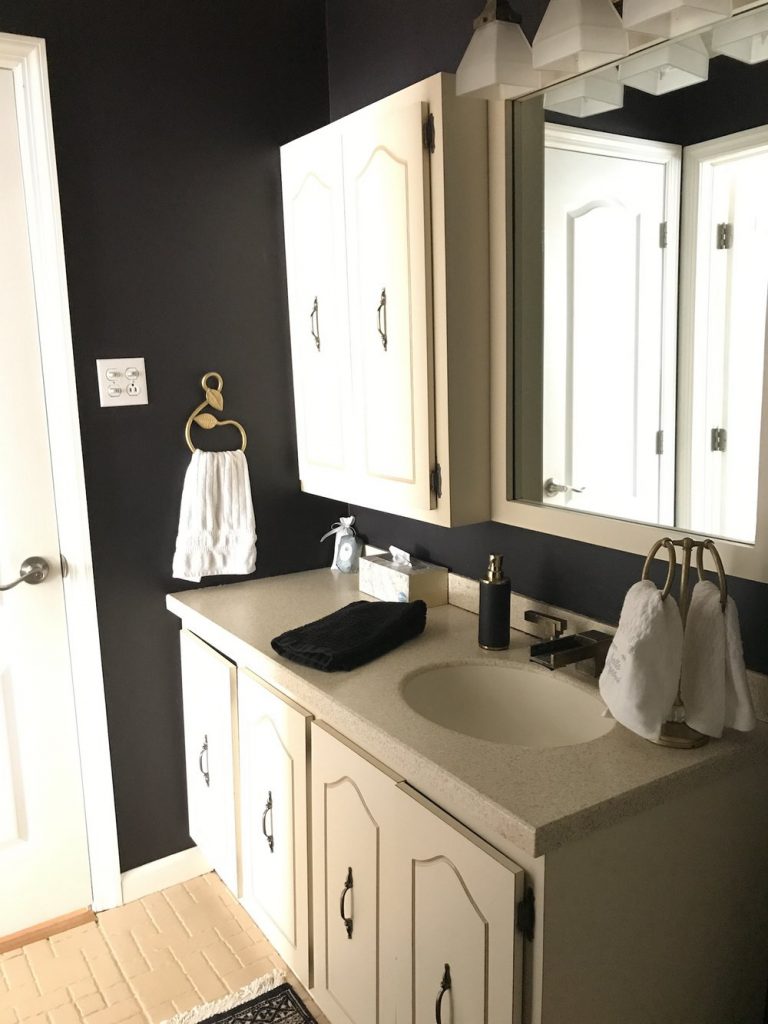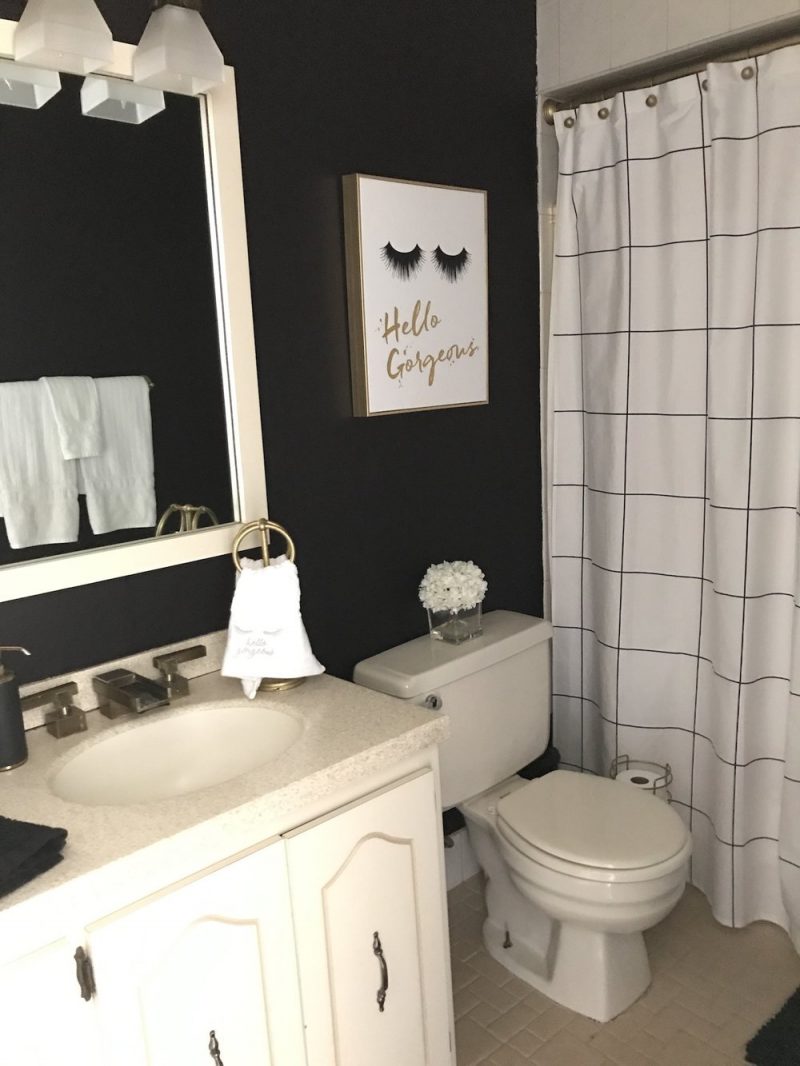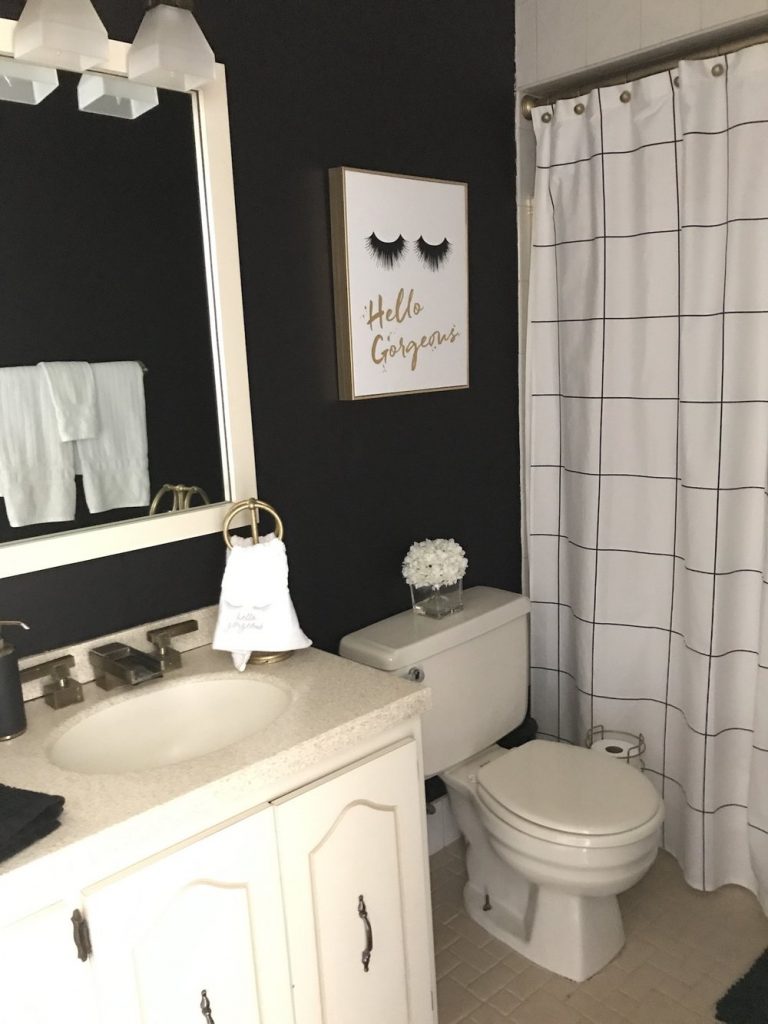 This is the link to our listing for anyone interested in checking it out.
To start off I purchased a lockbox for the door to provide guests easy entry into the Airbnb. This worked out perfect. At first, I thought if we were home I would greet our guests and hand them the key but my twenty seven year old son mentioned that he liked self-check-in and did not care to interact with the hosts when he traveled. Taking his advice I figured we'd use the lockbox and if there was an opportunity to say hi to our guest we would if not we wouldn't worry about it.
The lockbox I purchased was Master Lock 5400D Set Your Own Combination Portable Lock Box, 5 Key Capacity, Black shown below.
It worked out perfectly especially since our first guests were on different work schedules. One lady left at 4 am and the other two at 9 am so being able to keep the key on the door was ideal for their situation.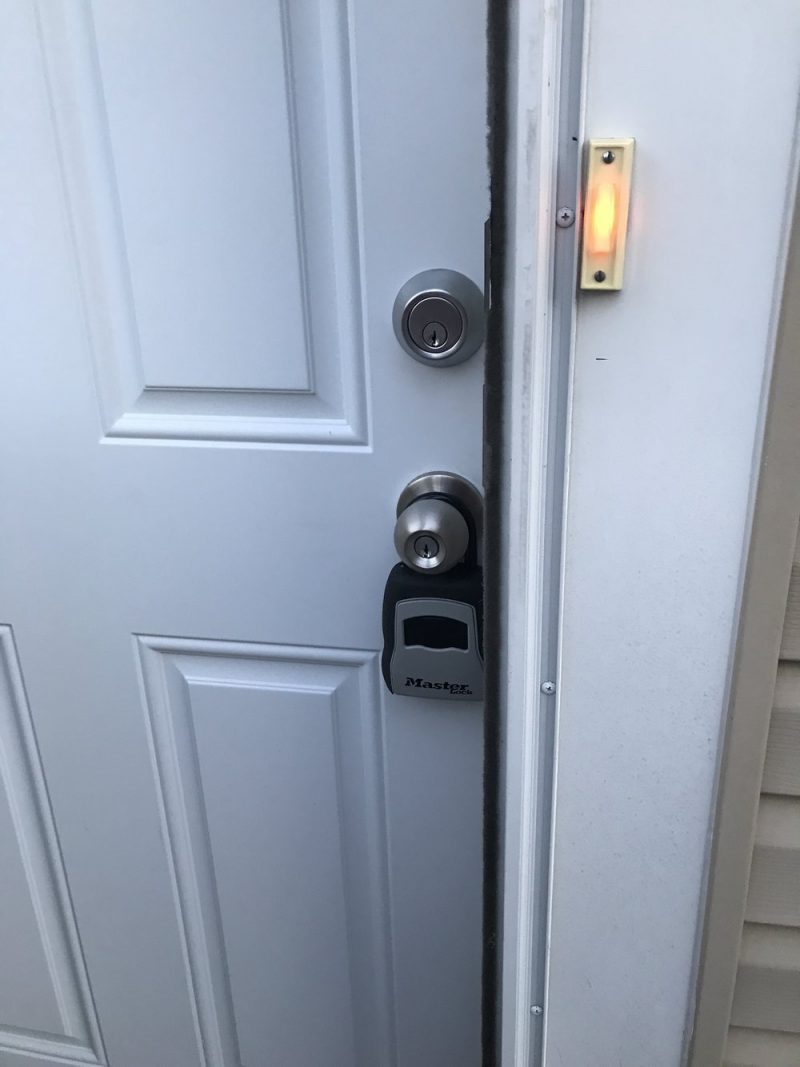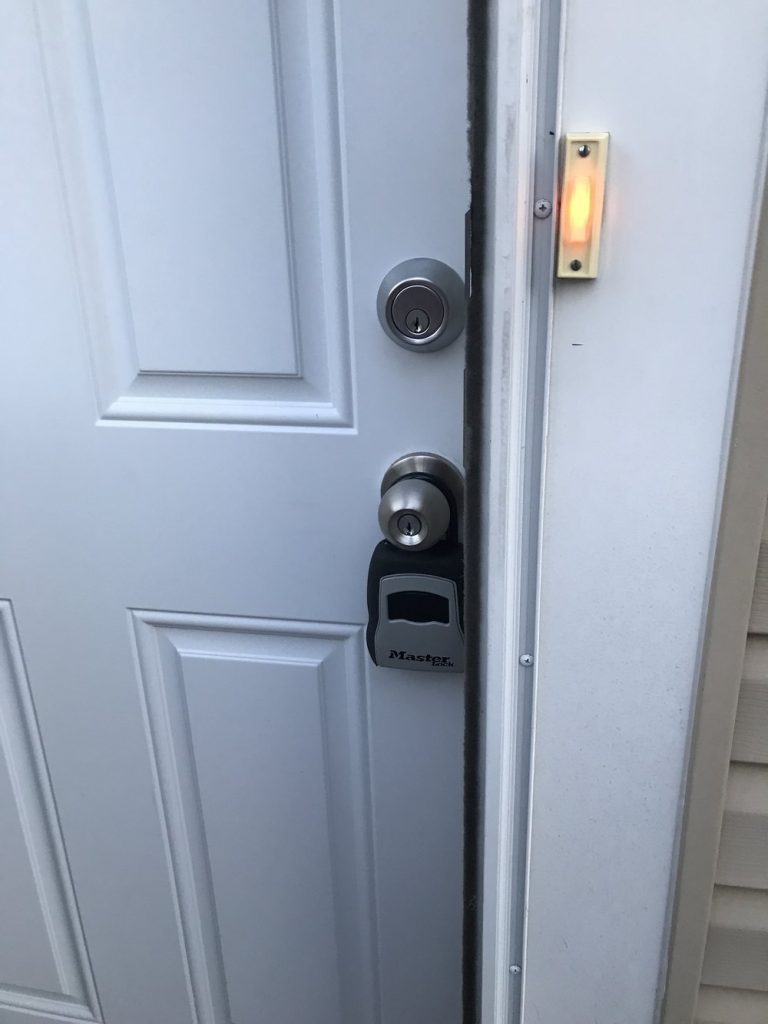 Even though I mentioned in the first Airbnb post about purchasing a hair dryer I left my personal one in the bathroom for guests and needed to order a new one for myself. I forgot about this but thanks to Amazon it literally came the next day.
This is the one I purchased: Revlon 1875W Volumizing Turbo Hair Dryer. My hair is curly so having a diffuser is a necessity.
When our guests first arrived they stuffed towels at the bottom of the doors that connected to the main house. We did not think of the gaps at the bottoms of the doors prior to their arrival. The towels actually helped with the noise because without them we could hear everything and our guests let us know they could as well. Oops!
During their stay, I purchased these Door Draft Stoppers to put on our side of the doors but since they left I switched them to the Airbnb side. They do make it a bit more difficult to open the doors now but they help with sound and privacy control for our guests.
I am still deciding but may also purchase these for added noise proofing MAGZO Door Snake Draft Stopper 38in Length, Gray Draft Blocker Great for Saving Energy Easy Storage. I know I have one of them somewhere in my house but I've yet to find where I put it.
Probably by day two our guest let us know to please consider them in the morning when we were up. Most days during the week I am up by 4 am, my husband by 6 am and my daughter by 6:30 am. She also has drivers ed right now so two days during the week she is up by 5:30 and 6 am. The thing we did not realize is the noise we were making those first few days because we are so used to not having to worry about guests staying with us. This was an adjustment to make sure we were aware and we had to really put effort into walking softly and whispering especially in the early hours of the morning.
Another issue they let us know about was the hot water situation. When we added a second floor to the house over 14 years ago now we did not increase the size of the hot water heater so it's original to us buying the house. We have oil and my husband has gone back and forth on whether he wants to change over to gas so we've pretty much left it as is since 1998 when we bought the house. So the issue is if more than two people take a shower back to back we run out of hot water. What happened in the morning is I was taking a shower after my husband and then we'd be out of hot water by 7 am when our guests went to take a shower. We since switched to me taking a quick shower at 4 am then exercising which is not ideal but I do Boho Beautiful Youtube Pilates and Yoga videos so I'm not usually sweating at all. It is more toning and strength than cardio. My husband then takes his quick shower by 6 am and the tank is able to fill back up by the time our guests were ready to shower. There was also one evening when my daughter took and shower and then did her wash so that night was a problem with the hot water. Now we make sure to only wash on cold if we need to during our guests stay and she is taking a shower when she gets home from practice or later before bed. It was definitely a learning curve to get the schedules figured out.
The other issue we had was the heat. Since our guests were working outside all day and when they arrived it was chillier than normal here in NY they were cold. I hate being cold myself so I completely understood how they felt. We adjusted the heat and made sure it was on when they arrived home from work. I also had this mini heater up in my office since I am always cold so I gave that to them just in case they needed it.
Warmtec 1500W Oscillating Ceramic Space Heater with Adjustable Thermostat,Overheat Protection and Tip-Over Protection, ETL Listed Portable Electric Hot/Cool Fan Heater for Indoor Use (Black)
Once the weather broke and it was warmer our guests then had the overhead fans running 24/7. Now I did have in the rule book that if our guests opened the windows to make sure they closed them when they went out but I think they misunderstood that and thought we did not want the windows open. That was not the case so I've since updated the book to say if the weather forecast calls for rain please close the windows. Otherwise, we are fine with the windows being open so the room does not get stuffy. It has definitely been a learning process so we'll see how that goes since I updated it.
During our communications, one of our guests also mentioned that it would be nice to have a microwave in the closet pantry also. Since I went back and forth on this and my husband was at the "stop spending money on the room" kick I did not purchase one prior to their stay. After the comment I did purchase this Toshiba EM925A5A-BS Microwave Oven with Sound On/Off ECO Mode and LED Lighting, 0.9 Cu.ft, Black Stainless
Since I only reached out to our guests when they contacted me I mentioned I had it for them if they needed it but they never asked for me to bring it over. I've since added it and it's super cute actually. Naturally, I told my son whose comment was I told you to get the microwave lol. My daughter hid it for me in the closet so my husband wouldn't see it but we got caught so now he knows. He got over it but pretty quick because he knows it's an investment but he just doesn't want me to continue "decorating it" when it is good as is. Probably best that someone pulls the design reigns in.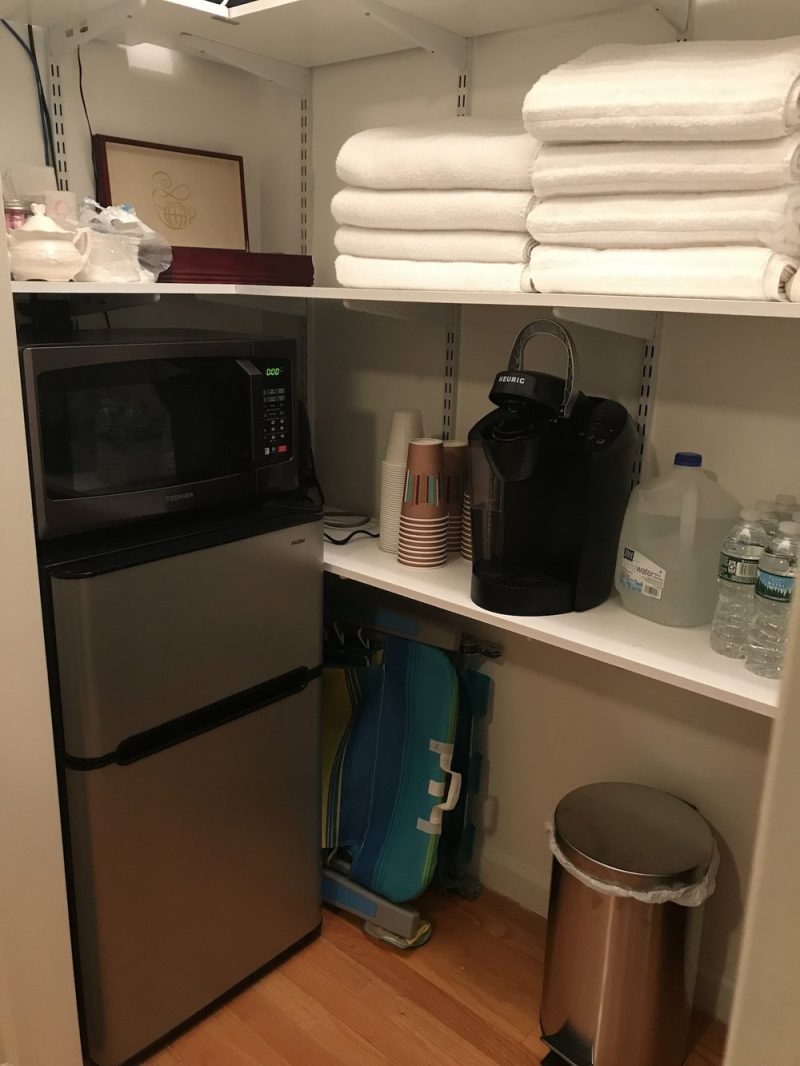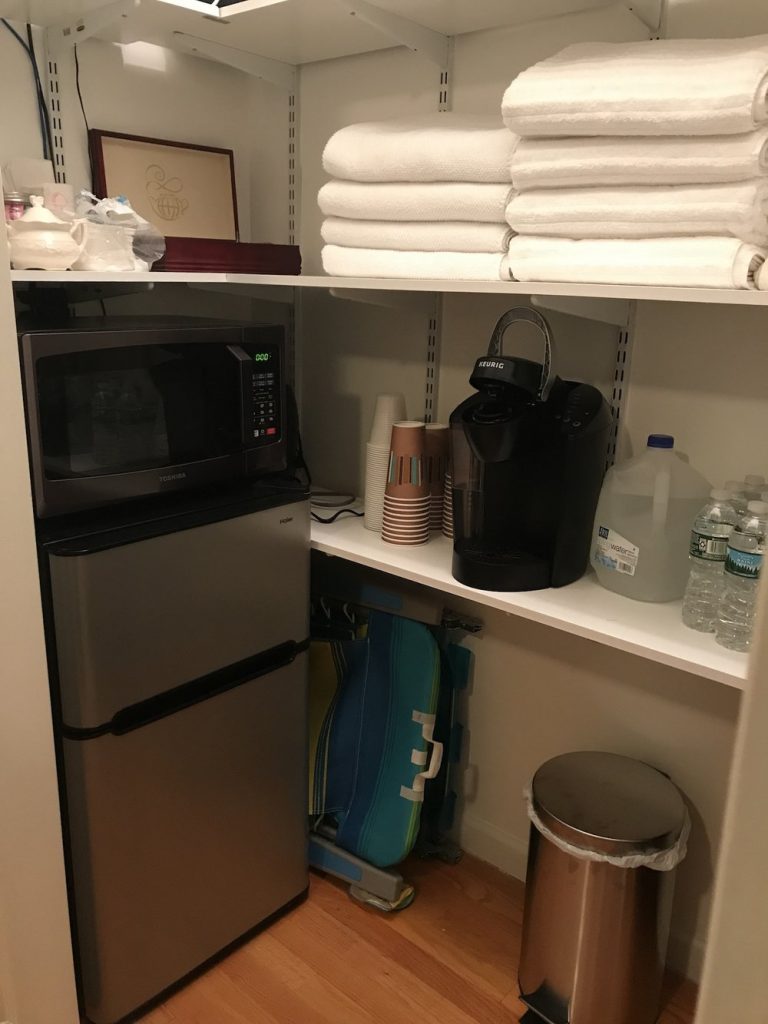 Now I do want to add that 9 days is long especially for our first go at it. I've since changed the number of days to five and our current future guests are all coming for long weekends. For us this is better since my husband and daughter sleep in on the weekends and take showers later.
See below for the comments from our first two sets of guests. The first was the three ladies in from Texas for the nine days. The second was a father and son in from CT for the weekend.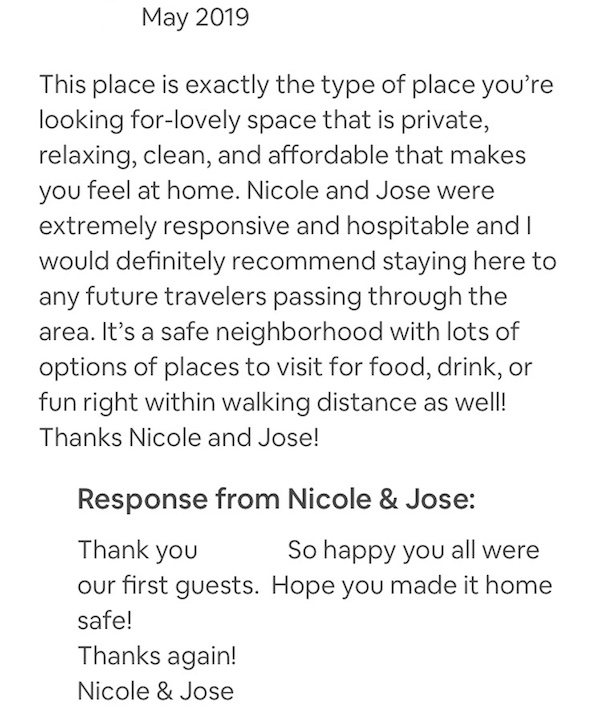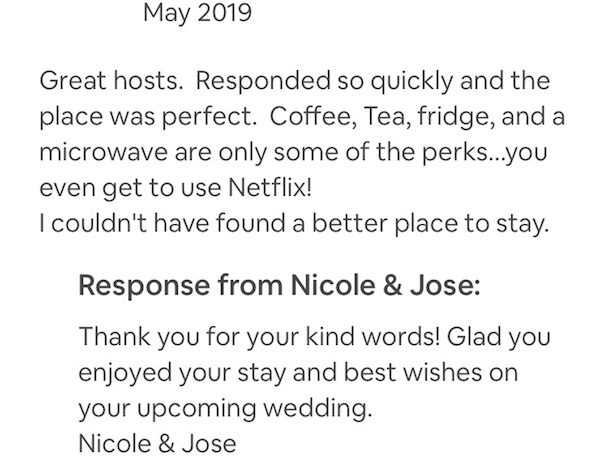 We received nothing but compliments from our second set of guests from CT who came in to see the Airshow at Jones Beach and a Ducks Game. We are hoping the trend continues as we welcome our third guests from Florida this weekend.
For anyone that is considering opening your home up as an Airbnb I have to say overall it has been a very positive experience for us. I must also add that our place is probably not the cheapest available but we are trying to attract a better quality of clientele so our pricing is intentional.
So that's the update and lessons learned to date with the Airbnb. If you'd like more information to get your Airbnb started click HERE ! Remember it's not working harder but working smarter that we should all strive to achieve.
As always remember DON'T BE ORDINARY or afraid to step outside your comfort zone! If you are not sure where to start or need help with your next design project reach out to us HERE! We believe everyone deserves a space that makes you feel inspired and reenergized after a long day of work!
Please comment and share this blog post with anyone you think will enjoy it! #sharingiscaring
As always please continue to follow the journey through our Instagram Stories and Facebook updates where we will continue to share behind the scene videos and findings.
Have an Inspired weekend everyone!
xo Nicole
#beinspired