Please Note: This post may contain affiliate links, which means that if you make a purchase, I might make a small commission at no extra charge to you. I only recommend products or services I believe will add value to my readers. Please read my full disclosure for more details.
Looking for the best modular sectionals to update your home? Here are our favorites to help you get started.
This post may contain affiliate links, which means that if you make a purchase, I might make a small commission at no extra charge to you. Please read my full disclosure here.
---
Are you in the market for a new sofa or sectional?
If you have been following along in this three-part series you would have learned about pit modular sectional options in these two posts:
For the last part of the series, I will give options for creating a modular sectional that does not form a "pit".
Instead, you may have a Lshape, U-shape, Chaise, or sofa configuration.

---
Since the other posts contained a lot of information I will try to keep this one short and sweet. I know everyone is super protective of their time and trying not to get sucked into the web.
Wait sorry, I was talking about myself and how I've been feeling lately!
There are only so many webinars, lives, and summits a person can consume and it seems like there is an overload of all these days.
Yesterday I did not allow myself to consume anything while writing my blog post and what a surprise this was my second one!
What this means for me is today I got to enjoy my day and take off from blogging which is huge considering I have been doing a blog post pretty much every day since quarantine.
Today is also the day Maria (aka my husband Jose) planted his annual summer flower garden.
By him I mean he watched, chatted, and occasionally assisted his friend Cheping (spelling?) and the helper.
Not even kidding!
Since I was off I took a bunch of videos and pictures for the future Blog post so make sure you come back for that one!
I also took in some sun with my daughter, chatted with the neighbors, had a visit from my mother, and then my cousin.
It was so nice to socialize with people other than my family, no offense.
---
here are the Modular Sectionals at multiple price points
Like To Know It Board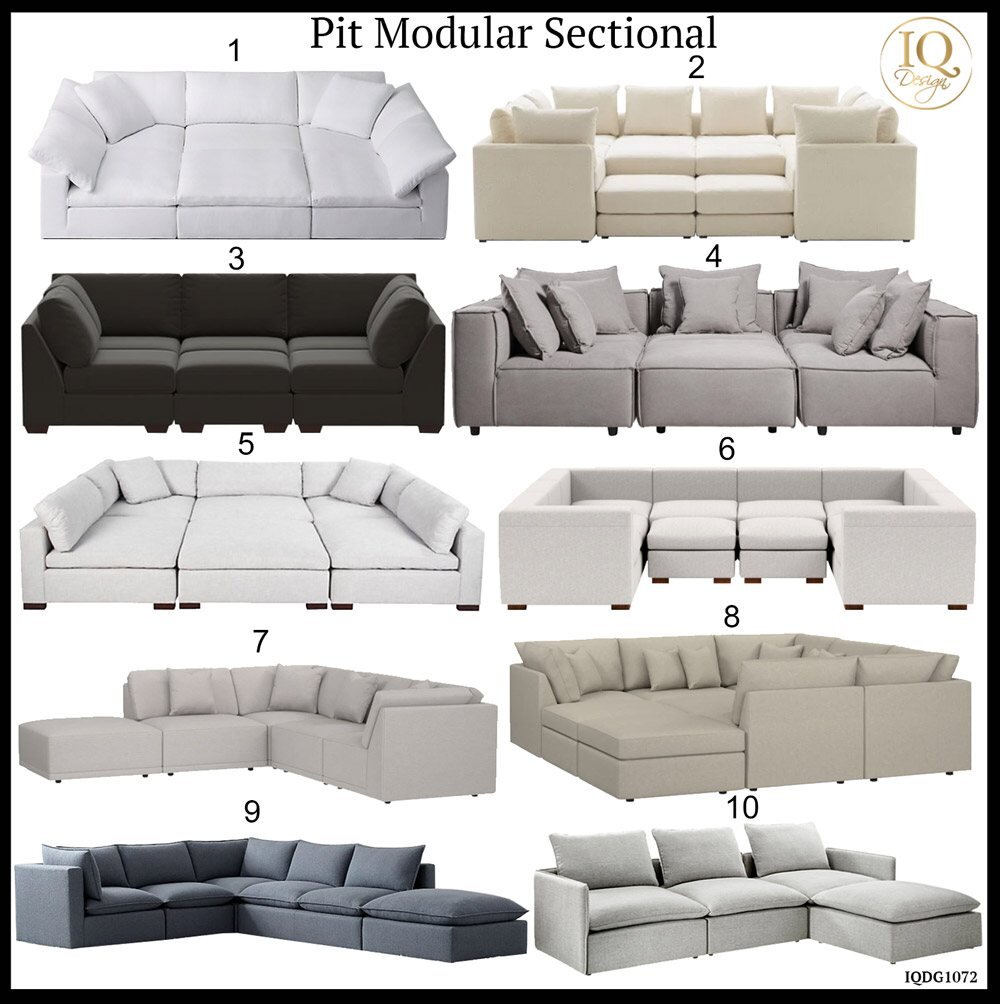 ---
Best Modular Sectionals
Lounge in the lap of this sumptuous modular sofa. A low profile with deep seats, the Gaba features five unique forms that can be configured any way you like. Whether you're looking to build a moveable couch or want to make a modern conversation pit, the Gaba is here to help.
Article is a hidden gem out of Canada and has great prices! Be sure to consider them for your upcoming projects. Mid-century, modern, Scandinavian style.
The sleek and flat profile of the Milo Modular Sectional marries sophisticated style with casual comfort. Milo's subtle curves of the padded armrest add visual elegance while delivering plush and stable support for the spacious seating.
Love RoveConcepts! Super cool furniture with a more modern contemporary vibe at a mid-price point
European styling and generous proportions give the Antonio a unique and stunning presence. Meticulously structured seams and a low profile are modern and minimalist. High chaise pillow tops create corners of intimacy while low back modules leave living space unobstructed for a feeling of openness.
Another from RoveConcepts because I love them that much. This one with sexy metal legs is always a fav for me!
Harmony is our most comfortable sectional ever, thanks to its deep seat, plush cushions, and go-anywhere lumbar and throw pillows. Made for sprawling out or curling up, its low, clean-lined frame has reinforced joinery and comes in your choice of fabrics.
West Elm is one of my favorites and this is a super comfy option.
Long, lean, super deep four-piece sectional lounges low to the floor. Clean silhouette has a fresh, casual vibe with European appeal. Luxe white fabric plays well against contrasting white oak.
cb2 is just looking so good lately for me and this is a great contemporary modular sectional.
Deep, low seating says relax. An inviting sectional is covered in a soft, durable light grey woven fabric. Modular components allow the perfect combination for any space.
Love the clean lines of this sectional from Burke Decor.
All modules in the VALLENTUNA series can be used freestanding or together to create a sofa combination in any size that suits you perfectly.
Guess where this one is from?! IKEA! For anyone just starting out, it's a great option at $1375.00.
This three-piece modular sofa offers outstanding style and support with tailored upholstery and plentiful foam-and-fiber padding below a removable and reversible pillow-top seat. A steel bracket base in a gleaming finish adds an element of structure and shine. We love how this versatile piece can be reconfigured to fit your space. Handcrafted in the USA.
This one is from One Kings Lane and is super pretty with those brass metal legs. I love this one!
Our plush and luxurious Emmett modular sectional lets you create custom comfort to perfectly fit your living space. Our end chair, one of the many pieces available in this versatile collection, features soft yet durable gray upholstery and deep seat cushions and can be arranged in multiple configurations with our armless chair, ottoman and corner chair.
Another lower price point option for you to consider from World Market. Check out the website for a lot of great home decor and furniture finds for your next project.
---
Product Link Details + Extras:
As you can see there are many options in the modular sectional category.
Make sure you spend time doing your research, do a sit test if possible (in-store) and do not rush the process.
Tips to Remember:
have a floor plan done to scale.

consider high-performance fabric

ask if sectional connectors are included

estimated delivery time

is white glove delivery available

read the reviews online

is there a protection plan

return policy

upholstery warranty

is there a military & first responder discount

finance options

can you do a sit test

what is the frame? interlocking laminated hardwood, MDF, particleboard?

cushion support? drop in coil (best also known as 8 way hand tie), sinuous wire (good), rubber webbing

cushion filling? standard poly, firm, gel, down, blend down, spring down

back pillows? standard, blend down, microfiber

do a youtube search for reviews/ product info

made in America if that's a factor for you
---
Let me know in the blog comments if this series was helpful.
I'd love to know so if it was I can cover similar topics.
Have an awesome day full of Unicorns and Rainbows!
Stay healthy and well.
xo Nicole
---
Other posts You May Like:
Beckham vs. Cloud Modular Pit Sectional | What's the Difference?
11 Modular Pit Sectionals That Will Make You Want To Stay Home
How to Measure and Draw a Floor Plan
For more shoppable designs check these out from my Like To Know It page.
Note: My blog periodically contains affiliate links meaning that if you make a purchase, I might make a small commission at no extra charge to you. Purchases made through them are greatly appreciated.