Please Note: This post may contain affiliate links, which means that if you make a purchase, I might make a small commission at no extra charge to you. I only recommend products or services I believe will add value to my readers. Please read my full disclosure for more details.
---
HAPPY NEW YEARS EVE 2020!!
Yes, this is totally how I spent my day! Designing an Airbnb living room makeover because it just makes me HAPPY! I also decided one of the many things I want to focus on in the New Year is designing Airbnb spaces because again it makes me HAPPY and I have found that many hosts don't realize they could potentially be charging a higher rate with a beautiful uniquely designed space.
Many travelers, like my friends and family, base their Airbnb selection on the design they see of the space in the app. There is also something to be said about good photography and lighting when uploading your images. While hosts who price there space lower many get frequent guests they may NOT be attracting the best quality guests. No offense to anyone who likes a cheap space! In our experience, we have found you will attract a higher quality client if your space is uniquely designed, super clean, clutter-free, and not the lowest price.
Now not everyone has a living room space separate for their guests but for those who do here is a Cali Eclectic design inspired board to help inspire you.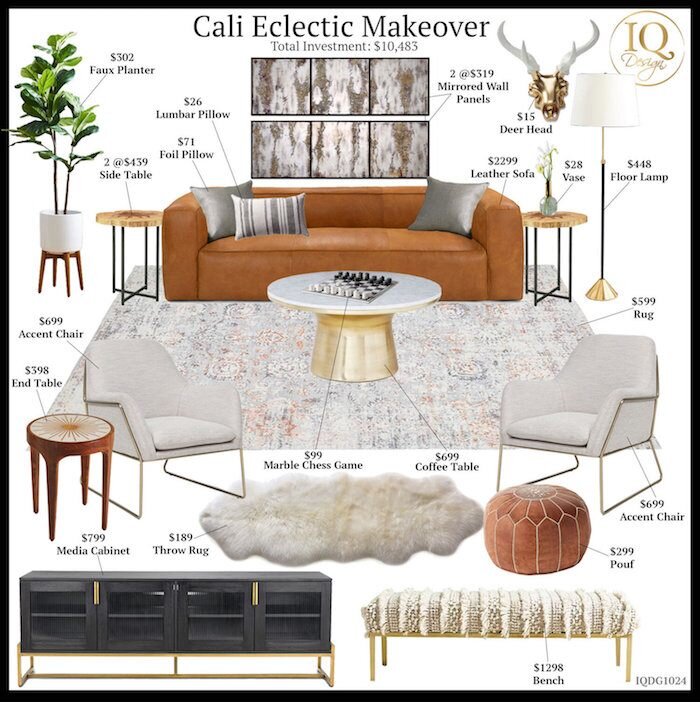 For this client/host, the investment range of what is shown is $10,483. For the most part, this is a mid-range design because it would definitely be possible to find less expensive artwork, planter, floor lamp and bench for sure. Many items here are actually from the sale section so they may now be available for a long time.
With this design, you will receive a link to purchase all of the above items which were sourced from a variety of retailers. In my experience, many hosts have no idea where they should start to design a unique space and since I LOVE designing Airbnb spaces I thought what a better way to spend my New Years' Eve day! Yup, I have no plans, as usual, tonight lol. To be honest Christmas Holiday parties and entertaining just wipe me out and I need this day to recoup. I'm also taking down the holiday decorations tonight too!
New Year Fresh Start!!
Stay tuned for some exciting changes for IQ Design as we pivot in our focus a bit. It took a lot of soul searching to get to this point but I'm super excited about what 2020 and this next decade will bring!!
Happy New Year everyone and Be safe!!
xo Nicole
---
For more design inspiration like this and get to notifications of our blog posts please sign up for our newsletter.