Please Note: This post may contain affiliate links, which means that if you make a purchase, I might make a small commission at no extra charge to you. I only recommend products or services I believe will add value to my readers. Please read my full disclosure for more details.
---
Have you been scrolling through Instagram wondering how you can create those designer rooms you are loving?
Many of you may be because let's face it so many of them are just gorgeous.
One of my most popular pins is this Neutral Living Room design from my website.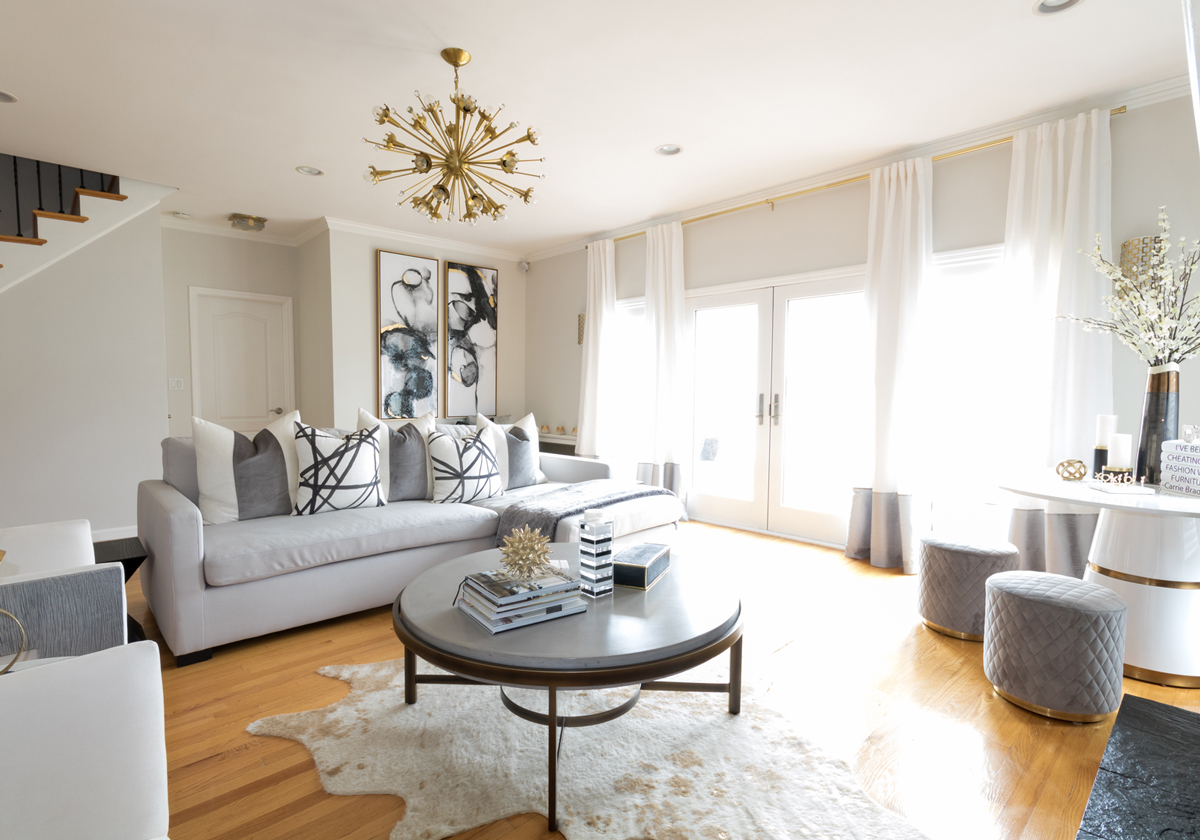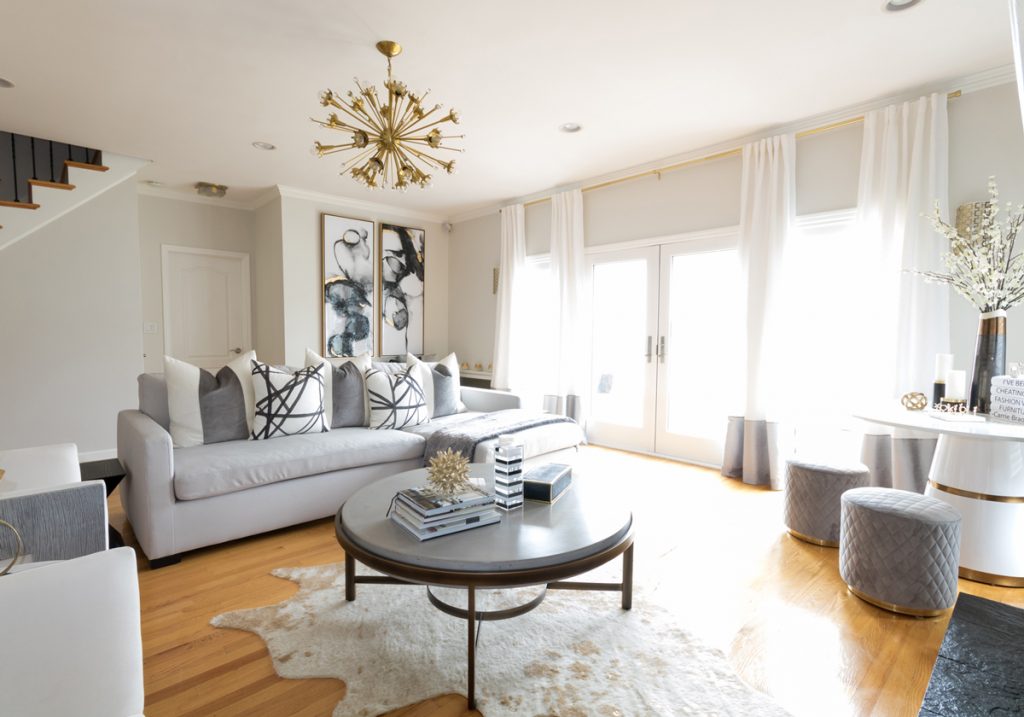 You may notice it is actually the number 1 and 3 top pinned images.

Since this is a favorite for a lot of visitors I wanted to show you how you can recreate this look today.
All pieces sourced to create this room are available right now and ALL retail.
I'll do the total Investment and maybe even create a room starter for this one.
The beauty of purchasing the Room Starter package is you will have every piece available in a design portal so you can see the entire list and check off the pieces as you purchase them.
A variety of retailers have been used for a curated look mostly at the mid-range price point.
The pieces in the Shop The Look Board are not exactly the same but the overall look and feel of the room is similar to the inspiration image.
One of my favorite decor items is this book set with the quote: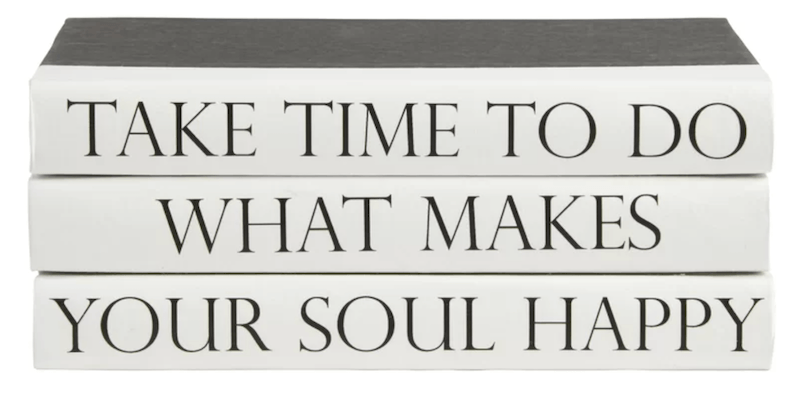 For me one of the things that make my soul happy is creating the original Room Starter Design Boards I am always posting!
One of the few things I miss from the garment center was the design boards I created.
Getting in the zone of creating on the computer is one of my superpowers I have come to realize.
I mean I've only been designing in the computer for a solid twenty-five years now so it makes sense.
When I first start off I have inspirations images I like but then through the process of sourcing (another superpower), the design always evolves into more than I imagined.
They say that having an Interior Design Business is 90% business and 10% design.
My goal is to figure out how to reverse that sucker because well I'm a spoiled brat and want to do what I LOVE.
I mean do you blame me?
Don't worry I'll figure it out… with the help of my good friend's Google and Youtube of course.
When I post this to the Like To Know It app later I'm going to use the actual room image.
Trying to gauge whether people react better to:
The board with the numbers

The Room Starter imageboard (shown below)

The actual photo of the completed room(shown above)
I'll let you know what I find out after some testing.
If you have any thoughts feel free to share in the comments below.
---
See below for the Room Starter
Shop The Look Board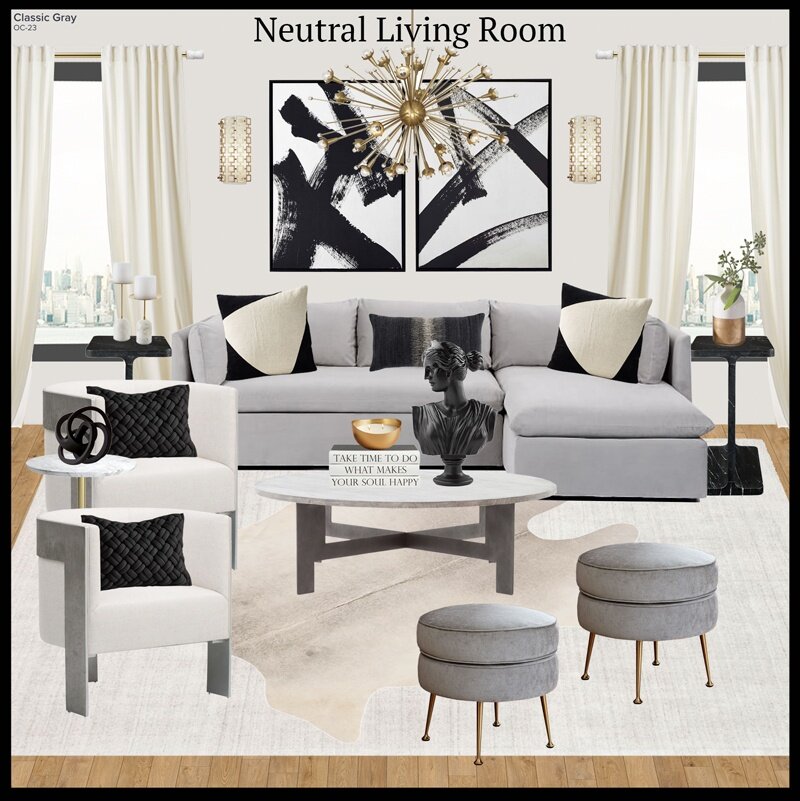 The color palette here is clearly neutral and very much keeping with the current Black and White trend.
Mixing in the gray, silver, and gold helps carry your eye throughout the design.
Texture is used to add visual interest.
The layered rugs are also one of my favorite details but you could also purchase a vegan faux cowhide rug instead.
The lighting is by Jonathan Adler who I LOVE as you know.
The paint color here is Benjamin Moore Classic Gray OC-23 which is a pretty greige color.
***If you apply this color and it has a slight purple cast don't worry in time it will cure to a beautiful combo of gray and beige.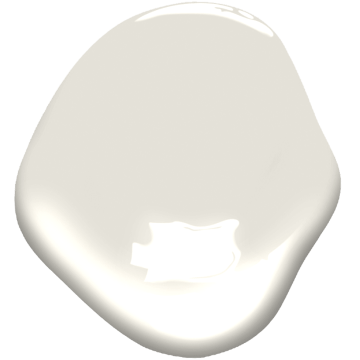 ---
Click the Links below for product details:
Let me know which are your favorites in the comments below!
Also, please share this post with friends and family who would love it too. Thanks!
If you have any thoughts on the new sidebar feature with links and the Blog Archives share in the comments if you found it helpful.
I hope everyone is staying healthy and well.
Have an inspired night full of Unicorns and Rainbows!
xo Nicole
---
Note: My blog periodically contains affiliate links meaning that if you make a purchase, I might make a small commission at no extra charge to you. Purchases made through them are greatly appreciated.
Shop The Look