Please Note: This post may contain affiliate links, which means that if you make a purchase, I might make a small commission at no extra charge to you. I only recommend products or services I believe will add value to my readers. Please read my full disclosure for more details.
One of the many benefits of being a member of IDS (Interior Design Society) is the ability to get involved and give back. There is no greater feeling than knowing you helped make a positive impact on the life of another person!
When I had my son twenty-eight years ago MOMMAS House was one of the options I explored as a young mom. My situation worked out when I married my son's father but it was comforting to know I had another option for housing at the time. When I learned IDS was looking for a new Interior Design project to donate their time and expertise to I recommended MOMMAS House and their "Adopt a Room" program. I thought it would be a great way to get involved and give back. I was right! It was an extremely rewarding experience which I am honored to have been a part of!
Below is the final reveal of the room makeover which was completed with the help of so many IDS members both in person and in spirit.
The end result was beautiful and will hopefully inspire its future mother and children to dream big and know anything is possible with hard work and determination. It was, however, quite the process getting to the finish line. This is because when you do this type of project it is Pro Bono and you are at the mercy of the donations of awesome IDS members and individuals. It would be amazing if we had unlimited funds to makeover the room in a short amount of time but unfortunately that was not the case. That said here is how the project was completed.
We first reached out to Jill Klein the volunteer coordinator of MOMMAS House. She filled us in on the needs of the three houses and which house project was the priority. After learning it would be the Hempstead house we set up our first site meet up. The room for the makeover needed to house a mother with a toddler and infant. There was also an ensuite bathroom and a large closet. At our first meeting, we took measurements, discussed ideas and the plan of action for the space.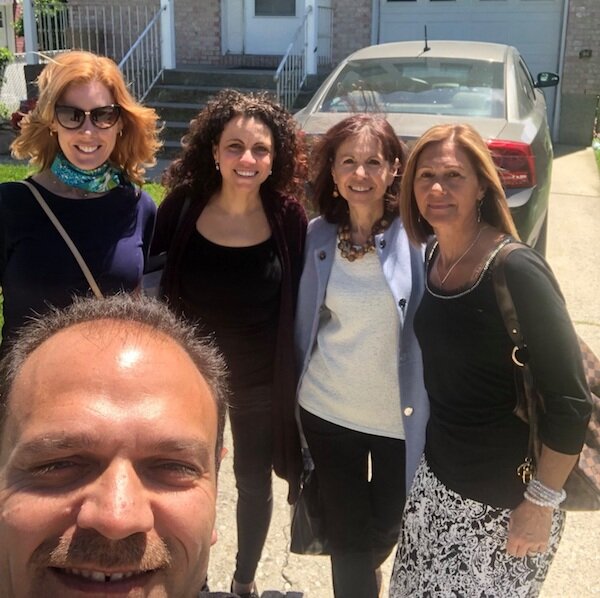 Below is the final floor plan we came up with. Since all the furniture and supplies were donated we needed to adjust the design as we went along working with what we had available.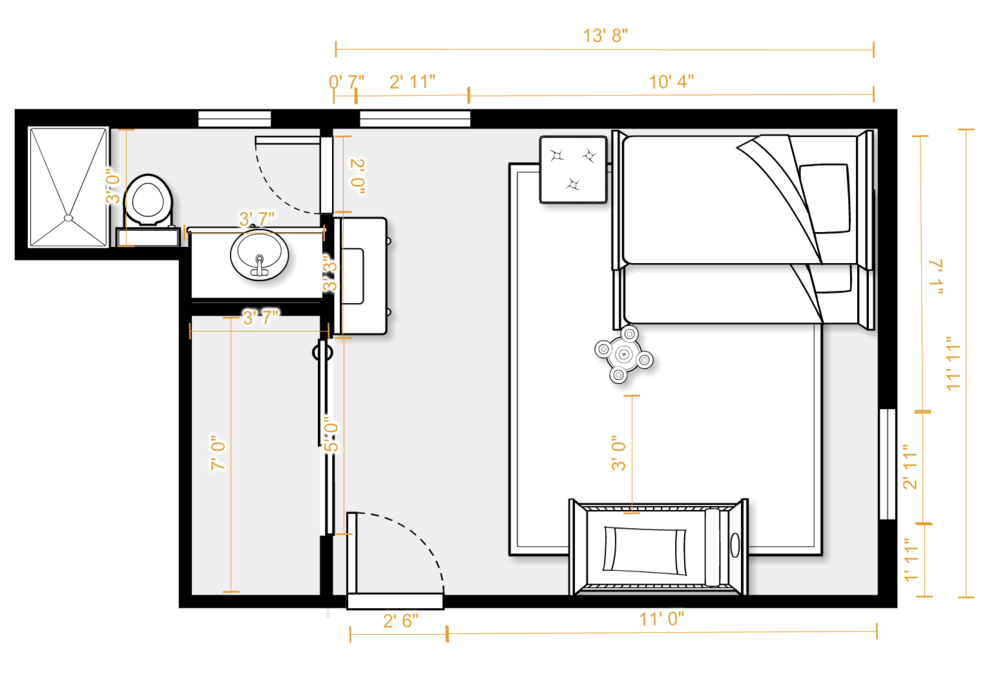 Here you can see the images of the room we would be making over.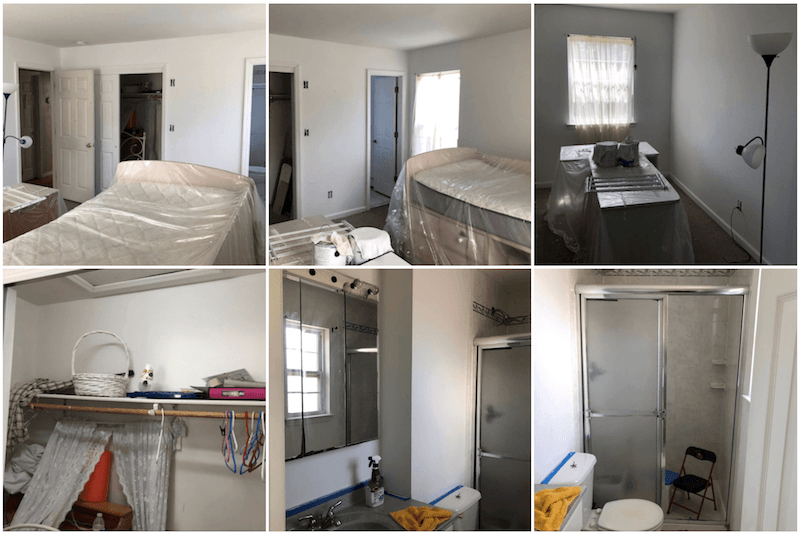 As you can see we had our work cut out for us with this project. Before we could get to the fun design part we needed to empty the room completely and remove the rug which was in bad shape. I don't think people realize all the accumulated dust and debris that is within wall to wall carpeting. This is probably why I don't have any in my home! Also since we did not plan on keeping any of the furniture this meant we needed to take apart that massive loft bed.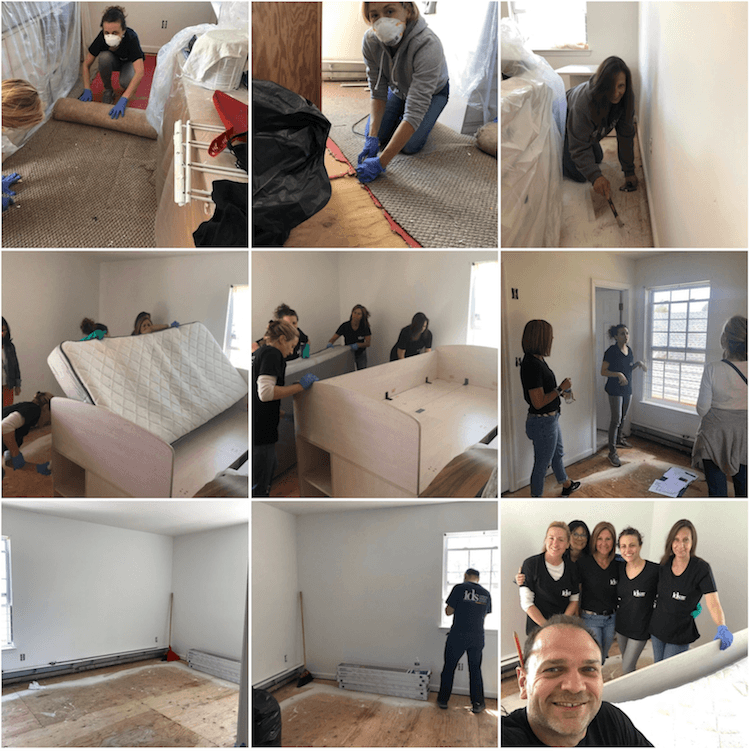 We had a lot of help that day and were able to empty the room out which was amazing. Joe Calise, Sara Reagan, Peggy Guerrin, Isabel Melo, myself, and Yvonne Abrams all contributed this day. It was quite a sense of accomplishment since we made a lot of progress. Now that we had the carpet was removed we needed to figure out the new flooring solution.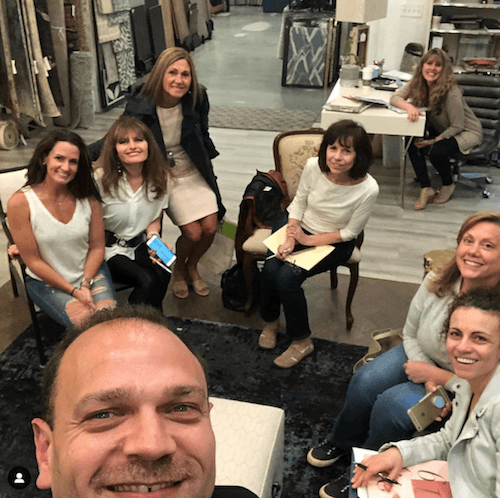 Our next meet up was at Designer Rugs and Carpet by Pekar where we discussed the plan of action as far as getting the furniture we needed for the room. Everyone discussed the things they could possibly donate or find for the project.

There were some leftover materials from the IDS Veterans House project we were able to make use of like boxes of faux wood vinyl flooring. Cyndy Katz of Harry Katz not only provided the installation of the flooring but also donated a beautiful 8×10 rug which was perfect for the room!

Above is the room after the floor install. It came out amazing!
Another thing we needed to tackle was the walk-in closet. Previously there was just one rod with a shelf above which did not maximize the space at all. We reached out to Bonnie Reich, former IDS president and owner of Symmetry Closets to see if she could help. She graciously said yes and supplied us with the design below.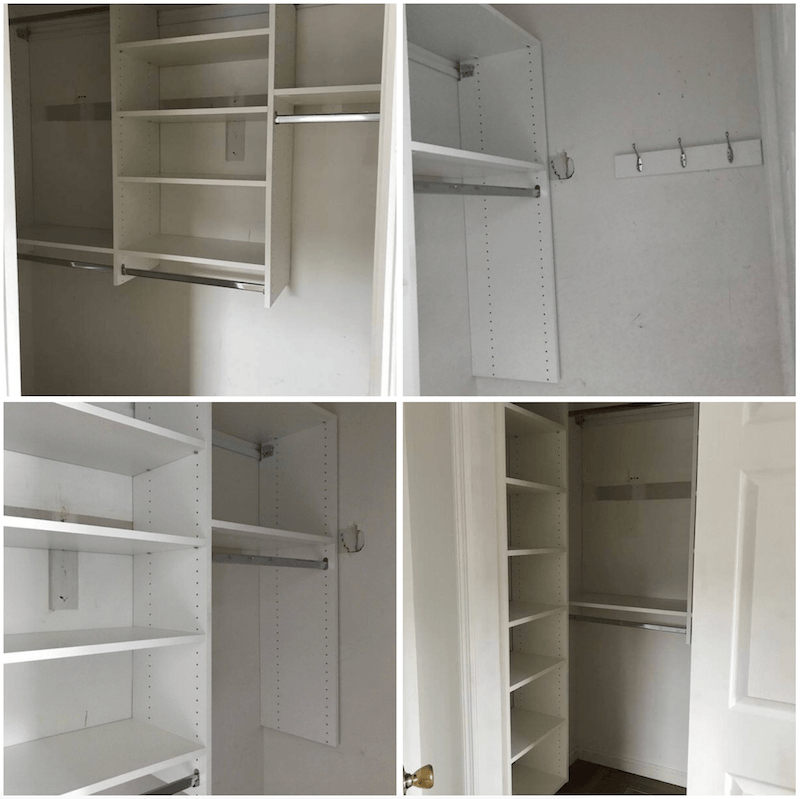 We still had patchwork to do but the closet install was a success! Symmetry closets did an awesome job!
Now that we had the closet and flooring installed we needed to get to work on pulling the room together. Again we were working off donations so we had to get creative with the room design.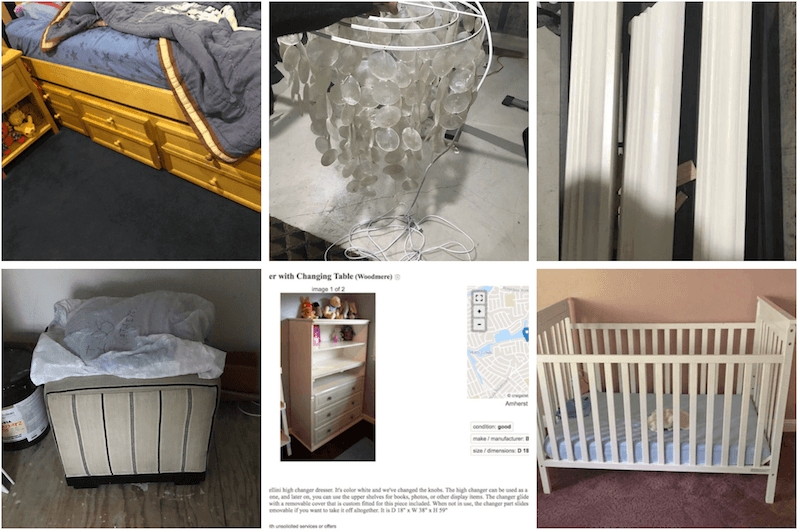 Above are the images of what we had to work with. Joe donated his son's old trundle bed which was great since we needed both a twin and toddler bed for the project. By having a trundle option instead it gave us more space in the room. I donated my daughter's Lapis shell chandelier and shelves I had in my basement. Then I was able to find a free dresser on craigslist and a crib on facebook. The crib would have been $50 but after asking if the price was negotiable and explaining where it would be used it was donated to the project as well.
I'll do a detailed blog post on the mural wall at a later date but for now here are the images of the wall. I used paint that I had in my basement from leftover projects. Three different shades of grey were used to create the wall which had to be painted in stages. The end result was better than I expected and really added a focal point for the room.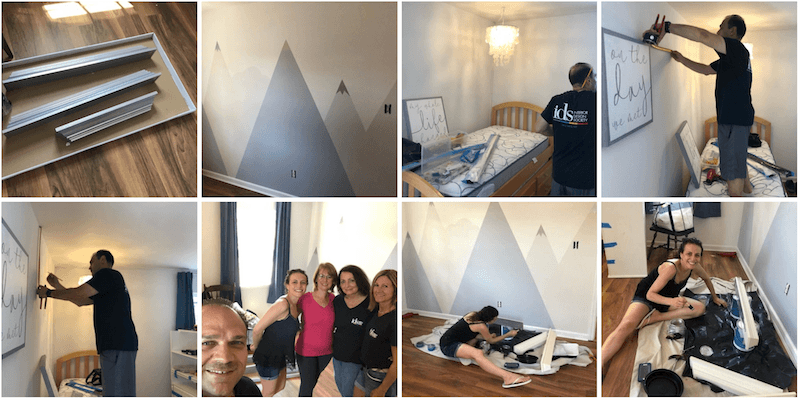 At our next meet up we got to work installing drapery rods from Target and drapes that Sara Reagan sewed from donated Kravet fabric which was leftover from the Veterans House. She did an awesome job! We needed to keep the drapes short for safety purposes. Joe also installed the chandelier over the bed. The white shelves were painted in the same metallic silver used at the peaks of the mural mountains and inexpensive artwork purchased from HomeGoods. This was a super productive day as you can tell. Joe, myself, Lisa Aiello, Dolores Manicone, and Isabel all chipped in.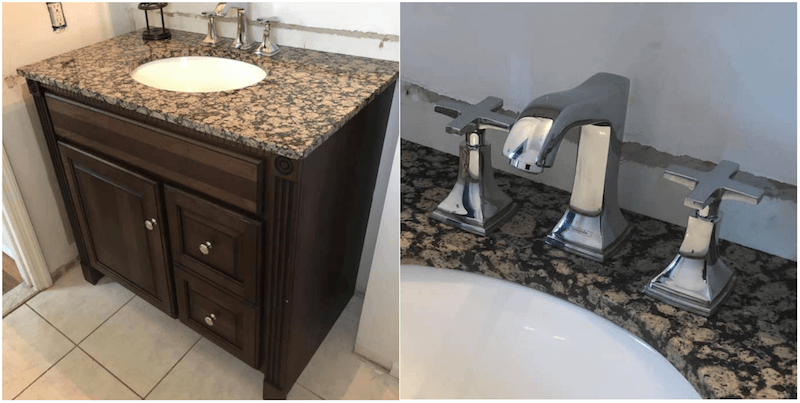 The next IDS visit was from Dean Camastro of Hansgrohe. He installed the vanity, faucet, and sink. The vanity was donated by Pasquina Regina D'Angelo of AF Supply and the metropol classic faucet from Nikki Parnell of Hansgrohe. This was quite an improvement to what was there before.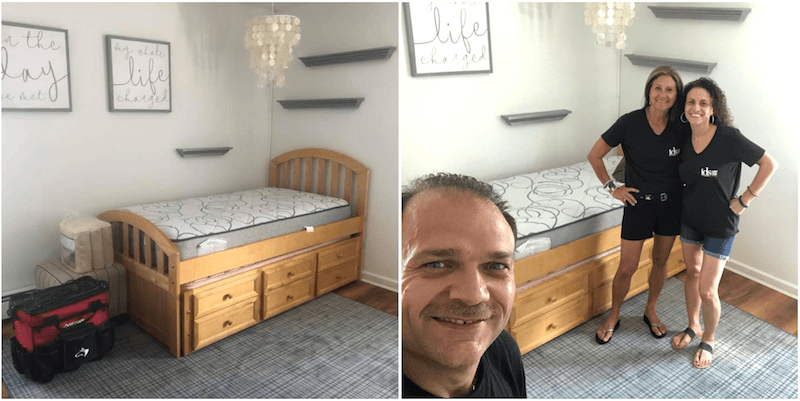 At the next meet, the metallic painted shelves were installed and the closet was patched up and painted.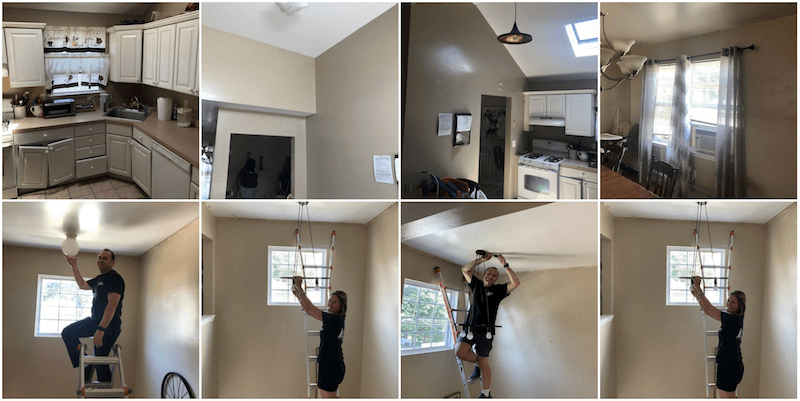 In between all of the above little projects in other parts of the house were also completed. A new pendant light was installed in the kitchen, cabinet doors were fixed, and the drapery panel rod was rehung. Joe and Isabel worked to install the stairway wheel light fixture which was donated by Yvonne Abrams and matched the wheel wall decor which was already hanging in the stairway.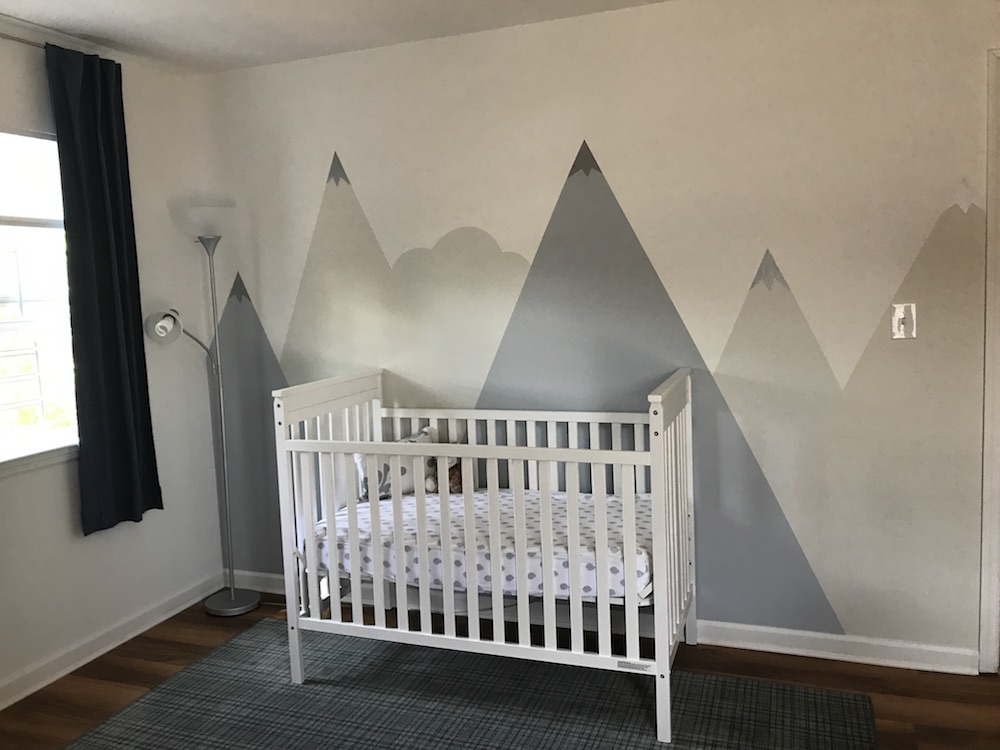 At our last meet up Joe, Isabel and I got to work on the finishing touches. We put the crib together, finished up the bathroom project, added bulbs and outlet covers.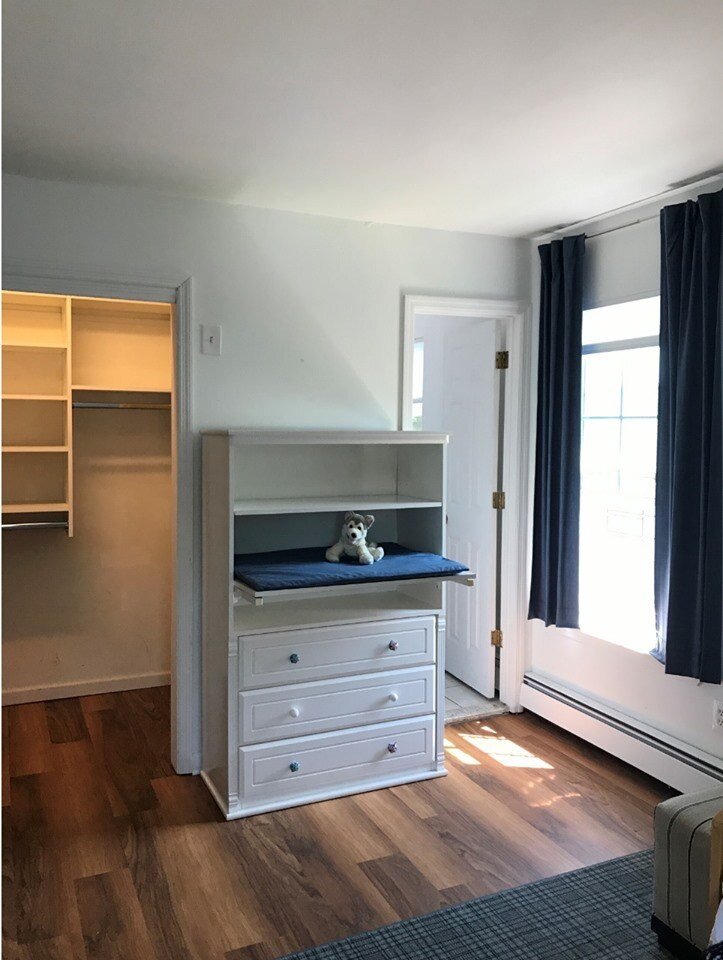 There was enough fabric to make a cover for the changing table pad to match the drapery panels. Other finishing touches to complete the room makeover included Norman cellular shades donated by Isabel which were hung in the bathroom and bedroom windows.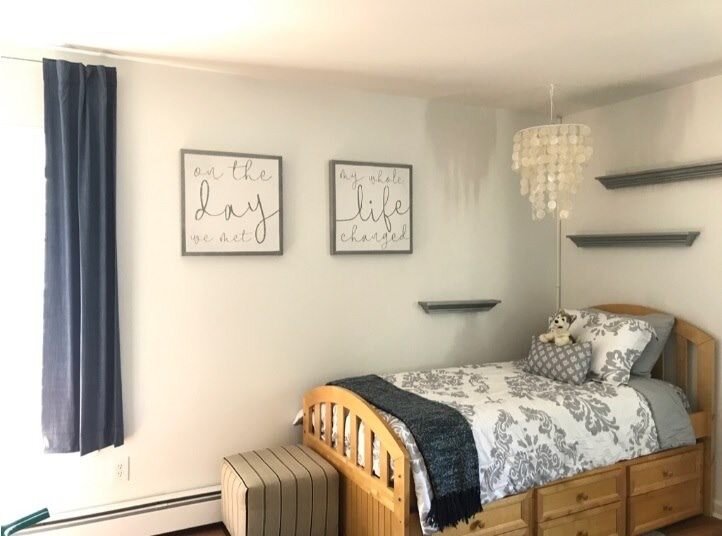 The bedding was purchased from Walmart while the navy blanket from West Elm was unused and laying in my house.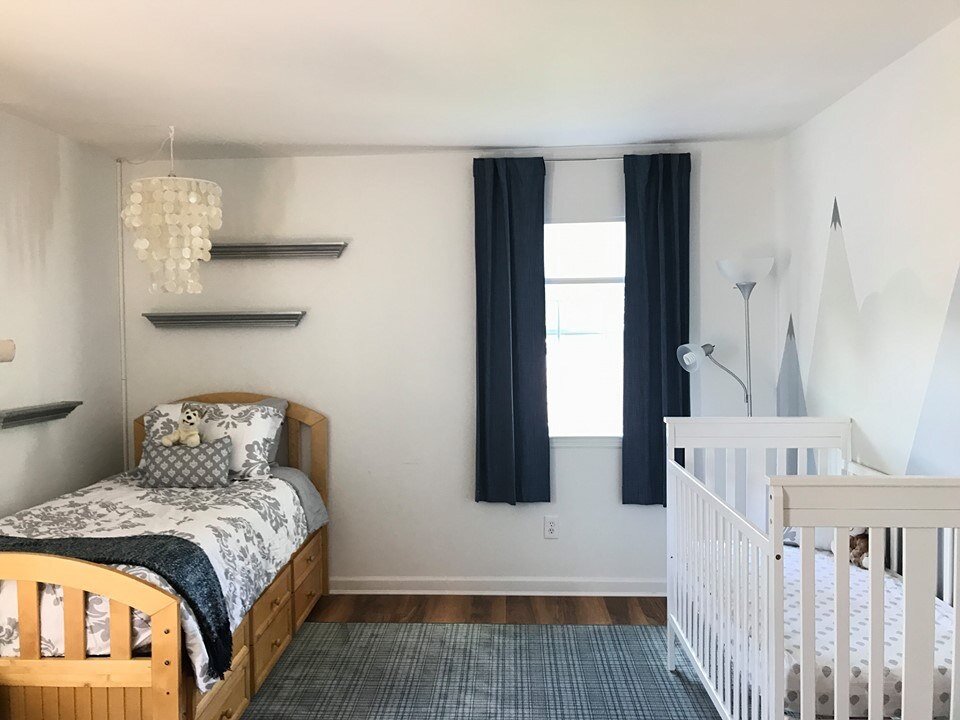 A floor lamp from my basement and stuffed animals from Isabel and myself completed the room. Notice the theme! We all have things laying around the house that we are not using or no longer need. What a better way to make use of these than to donate it to someone who can really use them.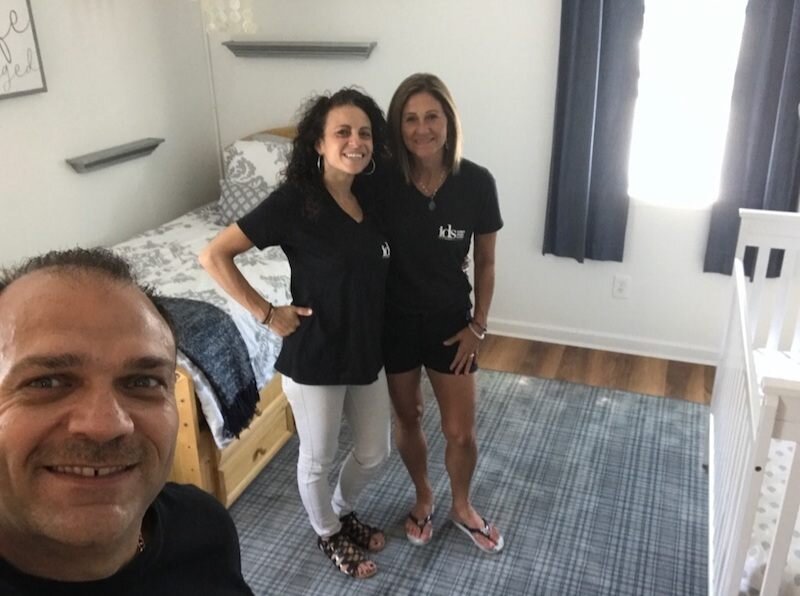 Here we are on that last day very happy to have completed this project and helped to make an impact on a family in need.
This project was just the first of three that we will work on for MOMMAS House. We have another bedroom makeover and then a kitchen facelift coming up. For anyone looking to get involved or donate to either of these new projects please leave a comment and we will reach out with information on how you can help!
We already have donations from Nava Slavin, Salvatore Campitiello, and Corey O'Brien of Core Stoneworks for our next projects which is amazing!
---
As always please continue to follow the journey through our Instagram Stories and Facebook updates where we will continue to share behind the scene videos and findings.
Have an Inspired day my friends!
xo Nicole