Please Note: This post may contain affiliate links, which means that if you make a purchase, I might make a small commission at no extra charge to you. I only recommend products or services I believe will add value to my readers. Please read my full disclosure for more details.
I am learning that most people have no idea what it actually costs to makeover a room. From a few pieces to a complete design I'll be doing a series of blog posts to give everyone an idea of the costs for a design makeover. Furniture ONLY this is not including design fees, taxes, freight, shipping costs, white glove delivery, OR any renovations. Transparency is key these days so let me enlighten you.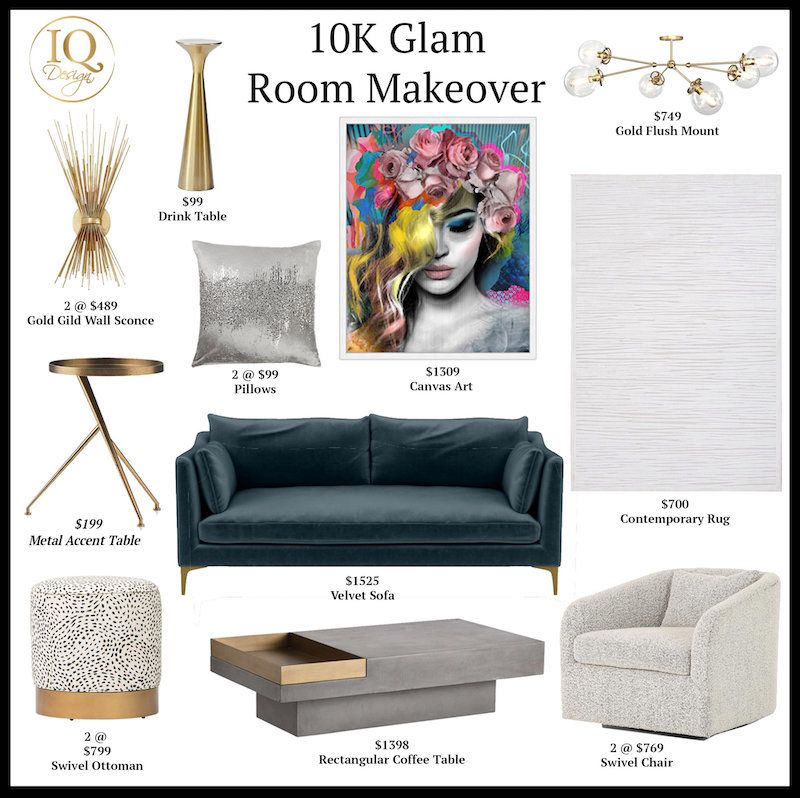 The above design was inspired from my own sitting room makeover shown below which was completed for the One Room Challenge.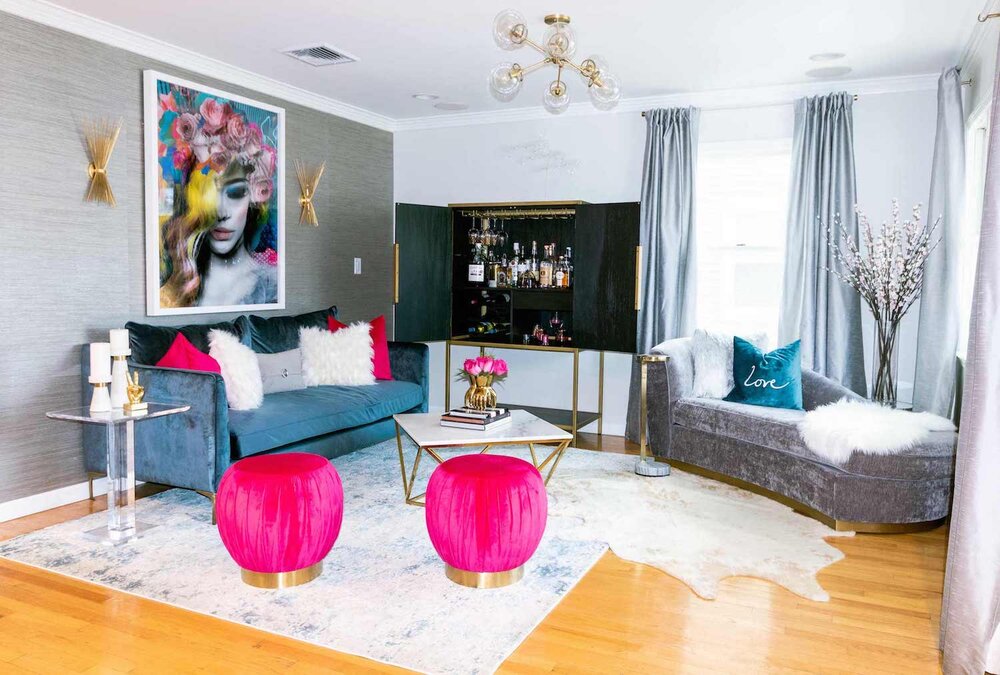 When designing I like to mix high and low-end pieces as you can see from the items sourced in the 10K Glam Room Makeover. For this design, the teal velvet sofa was not expensive so if I decide later to change it out for a neutral color I won't feel guilty about doing so. On the other hand had the sofa color been cream or grey I may have invested more money in it so it would last longer. Usually, you are going to want to put more money into those investment pieces that you will keep longer.
What I have found in my experience working in retail is that most people have absolutely no idea what things cost, they look at each individual piece not the complete design as a whole, and like to know the cost of the room makeover upfront. Most people do not realize that one of the first steps in a design is to establish the budget. A talented designer can then play with hi's and lo's to get an elevated "look and feel" while sticking within your budget. It's ok to have "show stopper" or investment pieces mixed with those that are maybe more trendy that you can change out when you get tired of them.
One of my favorite designers Cheryl Eisen does this in all of her luxury designs. She has even mentioned that in most of her staged designs there is a piece from Ikea that may or may not have been hacked to change the look.
Items that can cost less are cute little side tables, rugs, and pillows. There are definitely higher-priced versions of the ones shown in this design concept but you will be able to achieve a similar look with the ones sourced here.
---
As always please continue to follow the journey through our Instagram Stories and Facebook updates where we will continue to share behind the scene videos and findings.
Have an Inspired day!
xo Nicole