Please Note: This post may contain affiliate links, which means that if you make a purchase, I might make a small commission at no extra charge to you. I only recommend products or services I believe will add value to my readers. Please read my full disclosure for more details.
We are now at Week 2 of the ONE ROOM CHALLENGE. Last week I showed you the before pictures of the Office to Guest/ Airbnb makeover. If you missed that blog post you can read Week 1 HERE.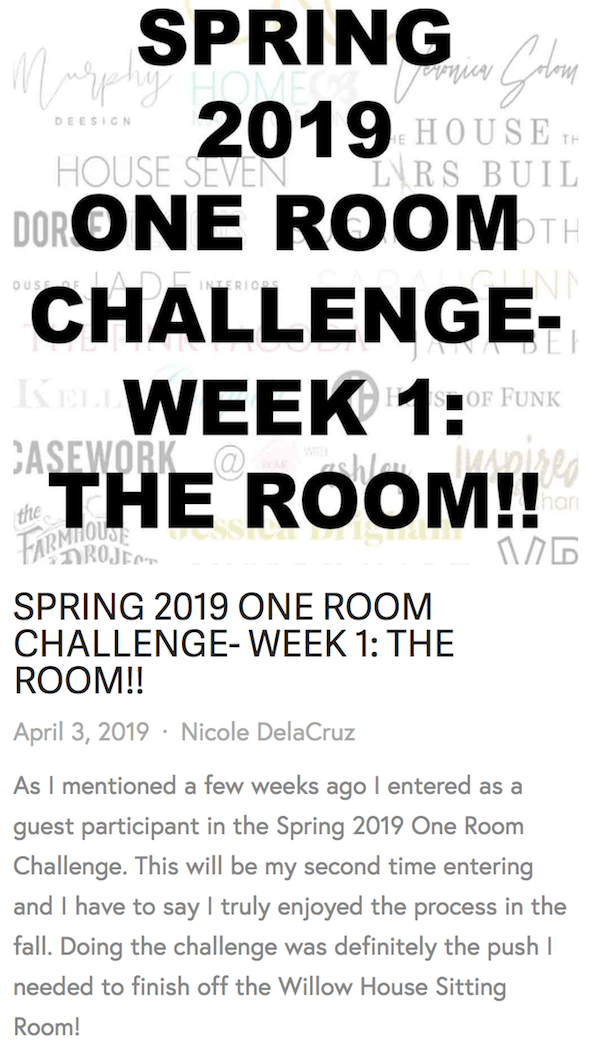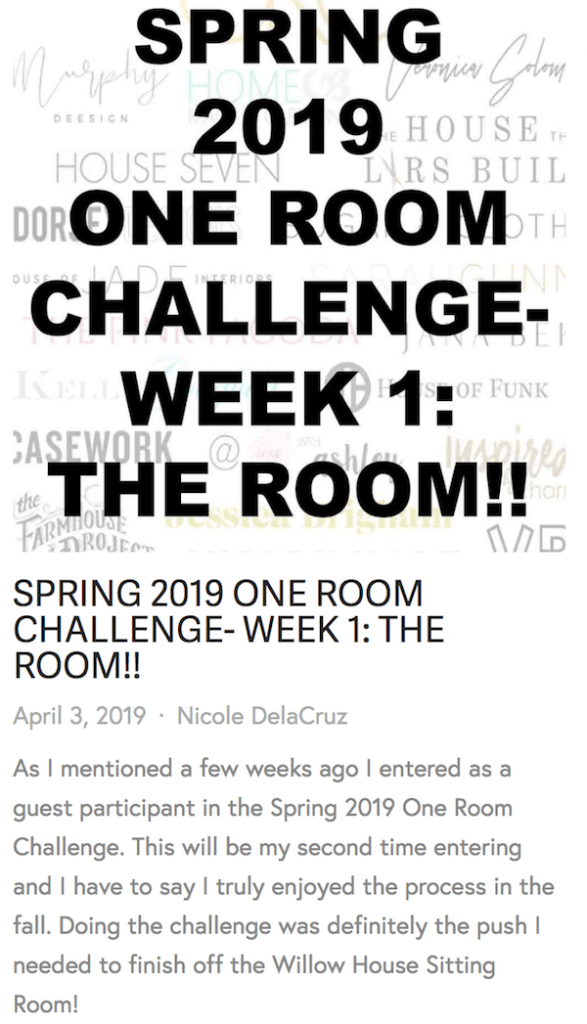 During the week I also shared this post on the bathroom that was updated recently which is off the new guest room. One of the many features, my twenty-seven-year-old son said he looks for in an Airbnb is a private entrance and bathroom. This space has both so we are hoping it will be a listing feature for future guests!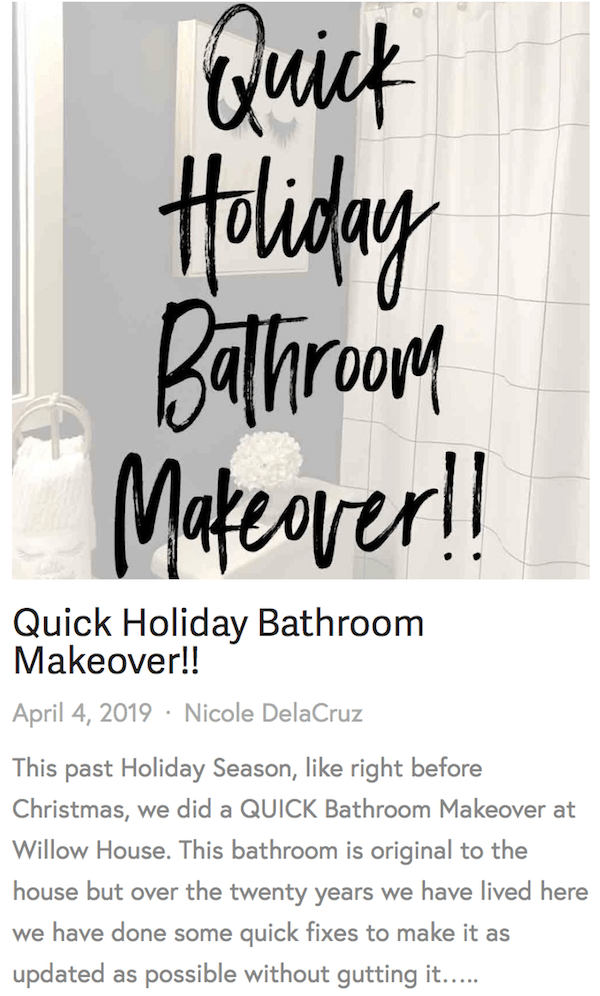 Now the reason we decided to do the Airbnb is that one of the things I have discovered recently in my self-discovery journey which I am currently on is the fact that my parents had it wrong all along! It's NOT working harder and you will be successful (whatever your definition of that is) NOPE it's actually working SMARTER. I have come to discover a little thing called passive income which is finding ways to make money for you while you sleep or are maybe enjoying time with your family. Now, this is not to say that you don't have to put time and energy into whatever it is you are doing for passive income beforehand but the point is after you do the work you can continue to make money off it after the fact. While many people may already be doing this with the compound interest they receive from stocks or from rentals they have from real estate there are other options aside from those, like an AIRBNB. You can click HERE to find out more information on the process to get started. Now let's say you are in my current phase of life where you have a large house that many of the rooms are underused and maybe you'd like to bring in a little extra money. For whatever reason, you may not be ready to downsize just quite yet. Whatever your situation this post will cover some of the beginning design necessities to make your AIRBNB appealing to the masses.
Now like most homeowners setting up an AIRBNB we are NOT interested in spending a ton of money.
This is the concept board from the original blog post we did on How to create an inviting elevated AIRBNB.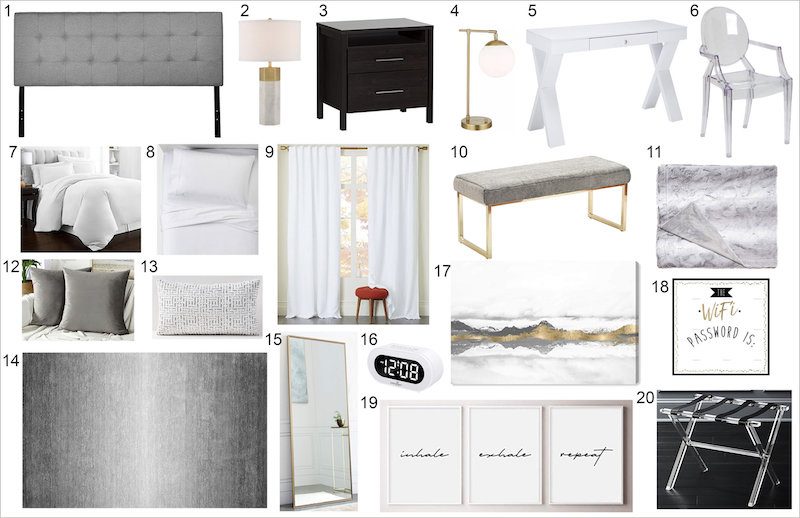 For our Airbnb we will be using a combination products sourced mostly from Amazon as well as repurposing items we have. Since most renters want a clean clutter free space we cleared out our personal belongings from this space. Also, we want to appeal to the masses so our color palette will be neutral layered with textures.
That said let's dive into the overall concept of the space and then I'll list the products individually with links to purchase if you are interested in creating your own Airbnb rental space.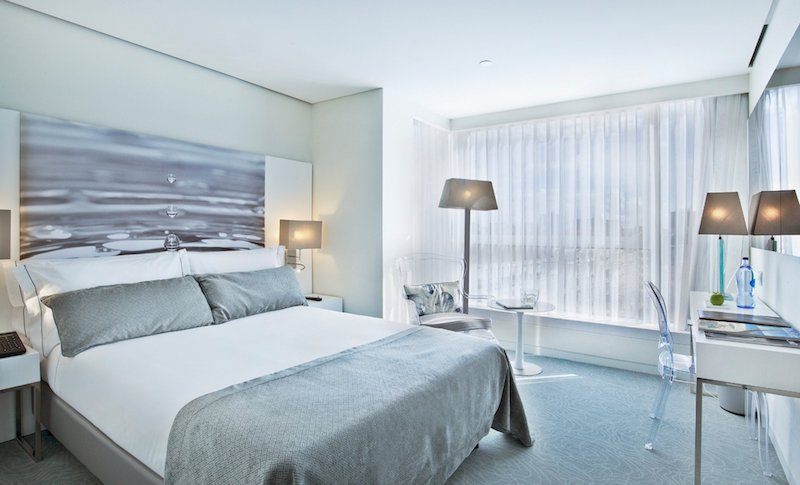 Our inspiration for this AIRBNB design is from Hotel White Lisboa located in Lisbon, Portugal which can be viewed HERE.
For this design, we have chosen Classic Gray OC-23 from Benjamin Moore for our walls which is a neutral greige color.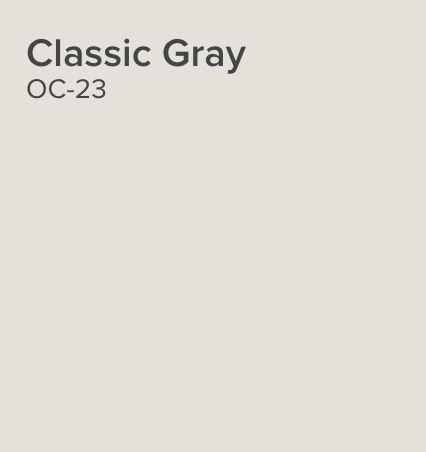 The overall look and feel of the space have a contemporary glam vibe to it. The color scheme is Gray, Black, and White with touches of gold. Since mixed metal is definitely on trend this will help attract those looking for an updated current space to rent for their stay.
Below you can see the main products we have sourced for our space. The bed for this space is full size but adjust according to your floor plan and space you have available. A useful tool to help you create a floor plan to scale for your space is Icovia which can be located HERE (promo code 38c3232214817b5ee).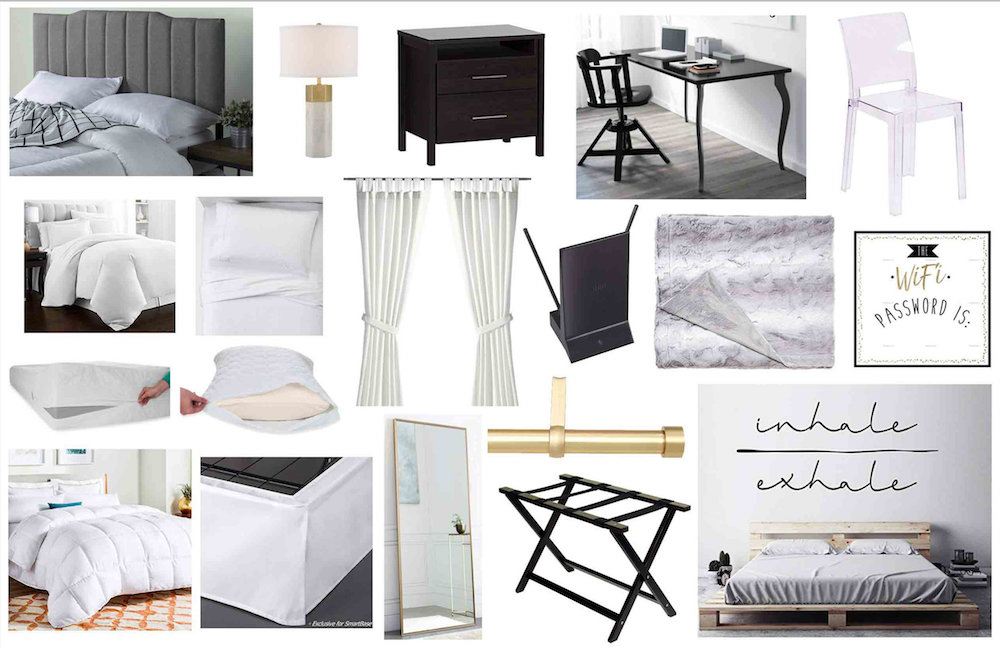 PRODUCTS:
• Head Board: Zinus Upholstered Channel Stitched Headboard in Grey, Full
The headboard we have chosen is in a medium tone grey which contrasts nicely against the greige Classic Gray walls. Using a linen channel quilted upholstered headboard helps create an elevated hotel feel for your space. BUT I will be flipping the headboard around so the top edge is straight not curved.
• Lamp: Possini Euro Leala Faux Marble Accent Table Lamp Set of 2
This lamp is on trend with its marble accents and gold details and is super cute! It will pair nicely with the black side tables. We are repurposing lighting from my daughter's old room here but here is an option if you need one.
• Side Table: South Shore Gravity 2-Drawer Nightstand, Ebony with Satin Nickel Finish Handles
The rich black of the side tables will add contrast against all the white and gray that will be in this design. The only thing I would personally change here would be the silver handles only because I am so in love with gold and the way it pops off of black these days. Like how cute would these Solid Brass Cabinet Pulls look?!
BUT we are repurposing side tables that will be painted black. Again we are trying to cut costs, my friends!
• Ikea Desk: LINNMON Tabletop
I had this desk from my daughter's room and just had to get an extra set of legs. She had the file cabinet at one end in her previous room which my son now has. Every hotel I have been to has had a desk area so this is a good idea for those needing to do a little work during their day. Also, the small ironing board can be placed on top for anyone needing to iron.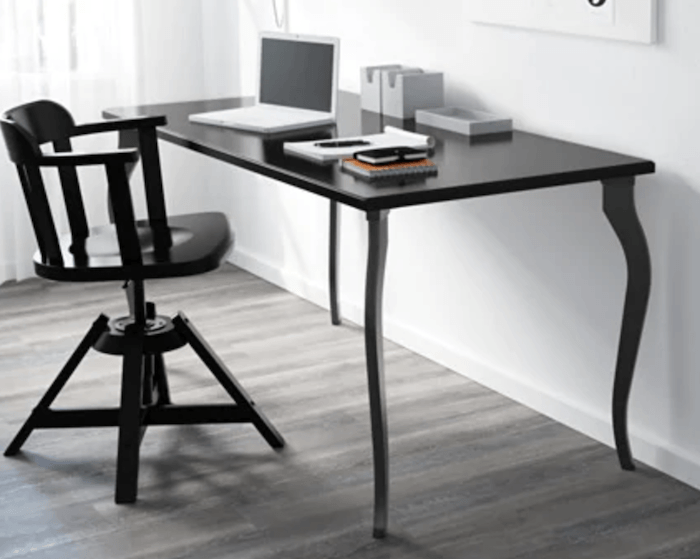 The desk is mix and match your choice of tabletop and legs – or choose this ready-made combination. Strong and lightweight, made with a technique that uses less raw materials, reducing the impact on the environment.
• Ikea Desk Legs: LALLE
Mix and match your choice of tabletop and legs – or choose this ready-made combination. Strong and lightweight, made with a technique that uses less raw materials, reducing the impact on the environment.
• Chair: Flash Furniture Ghost Chair with Square Back in Transparent Crystal
Love this lucite chair but I am going to wait and scope out my local HomeGoods before ordering. I'd love to see if they have cool chair options because I know I have seen them there in the past.
• Fur Throw: Super Soft Sheepskin Chair Cover Seat Cushion Pad
Adding this faux fur chair throw will add a bit of warmth to the otherwise cold acrylic chair.
• Welcome Packet
As mentioned above your desk is a great place to store your Welcome Packet. Now again since we are working smarter and not harder these days click HERE to purchase the template shown below from JannaLynnCreative who has already created this for you!
VespertineAndCo also on Etsy is a second shop that also has a very cute template:
Welcome Book Beach Theme · Airbnb Welcome · Vacation Home Welcome Book · Airbnb Printable · Local Guide · Vacation Rental · Instant Download
• Duvet Set: Beckham Hotel Collection Luxury Soft Brushed 2100 Series Microfiber Duvet Cover Set – Hypoallergenic – Full/Queen – White
All-white bedding is going to appeal to the majority of renters for its clean sterile hotel feel so we have sourced that for our design here.
• Down Alternative Comforter: Duvet Insert or Stand-Alone Comforter – White – Full
As a vegan designer, I have sourced a down alternative for the comforter which is cruelty-free and better for those with allergies.
• Sheets: Performance Sheet Set Solids 400 Thread Count – Threshold™
I did not source the sheets from Amazon because after reading a lot of reviews I found many homeowners recommended a sheet set from Target as being the most comfortable as well as durable.
• Bed Skirt: SmartBase Easy On / Easy Off Bed Skirt for 14 Inch SmartBase Mattress Foundation, Full, White
Having a bed skirt to cover the bottom of the bed is best especially if your frame is metal or you need to have anything stored under the bed. It also helps create a more elevated look for your space.
• Mattress/ Box Spring cover: Remedy Bed Bug and Dust Mite Mattress Protector in White
This was sourced from Bed Bath and Beyond after researching where others recommended purchasing from. Since we want to prevent and not have any issues with bed bugs or any bugs for that matter (I DO NOT like any bugs at ALL) a mattress and box spring cover is recommended.
• Bed Pillows: Hotel Collection Gel Pillow (2-Pack)
Start out with new pillows for your guests and replace these as they wear. Remember how you would feel laying your head on pillows that are worn down, Not so good right?!
• Pillow Cover: Remedy Bed Bug and Dust Mite Queen Pillow Protector in White (Set of 2)
The pillow covers are also from Bed Bath and Beyond and help your renters know they are sleeping on sanitary bedding which is important to most.
• Curtain Rod: Adjustable Curtain Rod for Windows
Gold curtain rods, of course, to tie back to the accents in the room!
Ikea Curtains: LENDA with tie-backs, 1 pair, bleached white
Stay tuned because we are going to really elevate this pair of $34.99 Linen Drapes from Ikea!
• Roller Shades: Rosette from The Shade Store
The story behind these will be told in a later post!
• Fur Throw: Luxury Oversized Faux Fur Throw Grey
This throw is perfect to add warmth and should be laid folded at the foot of the bed. this will also help break up the white of the bedding.
•. Wall Mirror: Large Rectangle Bedroom Mirror Floor Mirror Dressing Mirror
Your guests are going to want to be able to check themselves in the mirror and this one will be perfect for doing that. Deciding between a standing mirror or other options. Stay tuned
• WiFi Password: Oliver Gal "Wifi Password" Framed Whiteboard – 16 X 16
This is absolutely perfect for a cute way to display your WiFi password. I actually have this hanging in my Kitchen currently and I must say it was perfect this Holiday Season as none of my guests had to ask me "What's your WiFi"?
19. Inspirational Artwork: Decals Inhale Exhale Art
I love inspirational artwork and quotes and this one just reminds your guest to remember to breathe!
• Luggage Rack: Acrylic and Leather Luggage Rack
I'm absolutely in LOVE with this lucite luggage rack from CB2! This is for anyone looking to have that star element that just adds that extra wow factor.
But we got the one from Amazon of course to keep our costs down : /
For those who want the less expensive option here, it is my friends.
EXTRAS:
• Coffee Maker: Keurig K-Classic Coffee Maker K-Cup Pod, Single Serve
Always needed especially if you love your coffee as much as I do!
• Mini Fridge: Midea WHD-113FSS1, 3.1 Cubic Feet Stainless Steel
This is a great idea if you prefer to NOT share your Kitchen with your guests.
• Iron: Steam Iron
Because every hotel has one and so should you!
• Iron Board: Ironing Board Cover with Iron Rest
I have a small ironing board I'll be using but here is a link if you need to buy one. Needed unless you want your guest to iron on the bed which would not be great at all!
• Garment rack: Heavy Duty Clothing Garment Rack
If you don't have space in your closet for the guest or if the room doesn't have a closet. Or you can get a over the door hook like we did from Target.
Lastly, I'm assuming you have a TV, Cable, Roku, and/ or Firestick setup for your guest so I have left that out.
• Antenna: RCA Amplified Indoor HDTV
If not my husband just got this antenna so I'll let you know how that works out.
---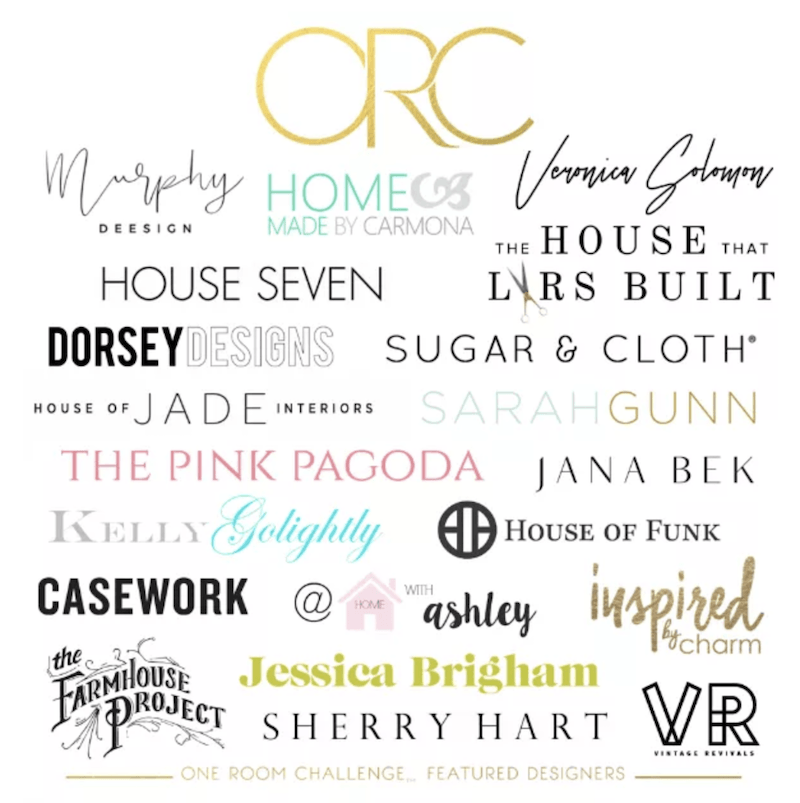 So this is the plan for the ORC that we will try to stick to but depending on where we can save on cost we may pivot!
Please be sure to follow the other amazingly talented Featured Designers and guest participants here, as they transform their spaces.
At Home With Ashley | Casey Keasler | Dorsey Designs | The Farmhouse Project | Home Made by Carmona
House of Funk | House of Jade Interiors | House Seven Design | House That Lars Built | Inspired by Charm
Jana Bek | Jessica Brigham | Kelly Golightly | Murphy Design | The Pink Pagoda | Sarah Gunn
Sherry Hart Designs | Sugar & Cloth | Veronica Solomon | Vintage Revivals | Media BH&G | TM by ORC
---
As always please continue to follow my journey through my Instagram Stories and daily Facebook Live videos where I will continue to share behind the scene videos.
If you have a project you are considering working on, know your budget, and like cool things then reach out HERE so we can help!
Have an inspired night everyone!!
xo Nicole
*** This post contains some affiliate links for your convenience ***