Please Note: This post may contain affiliate links, which means that if you make a purchase, I might make a small commission at no extra charge to you. I only recommend products or services I believe will add value to my readers. Please read my full disclosure for more details.
---
Remember the Living Room I posted last week? Great! This is a continuation of that design. The Cali Eclectic theme was carried into this bedroom makeover which I'm totally crushing on!
One of the most important things to remember when designing your Airbnb space is to stay consistent and carry the same theme throughout your entire space. This will create a calm and inviting atmosphere for your guests rather than a chaotic experience.
That said let's check out how we kept these two spaces cohesive!
The Living Room space shown above has a neutral color palette, mixed textures, brass finishes, warm wood tones, and greenery throughout. The Cali Eclectic bedroom design shares the same color scheme vibe and overall "look and feel" as the living room. A beautiful vinyl decal greenery accent wall, along with planters on the nightstands, adds life to the design. The leather and wood tones were kept warm throughout. Brass and black details are used as well as multiple textures for warmth and interest. Since the bedroom will most likely have less wear and tear than the living room we are able to keep the costs down a bit. While many hosts may not find it necessary to have a dresser (especially if there is a closet area) it is nice to add if your space allows. A desk or writing area should definitely be included even if it's small so guests have an area to sit, pull out their laptop or write. In this case, we found a SUPER CUTE vanity that doubles as a desk which is perfect for anyone needing a spot to apply their makeup.
Here is a close up of the bedroom design: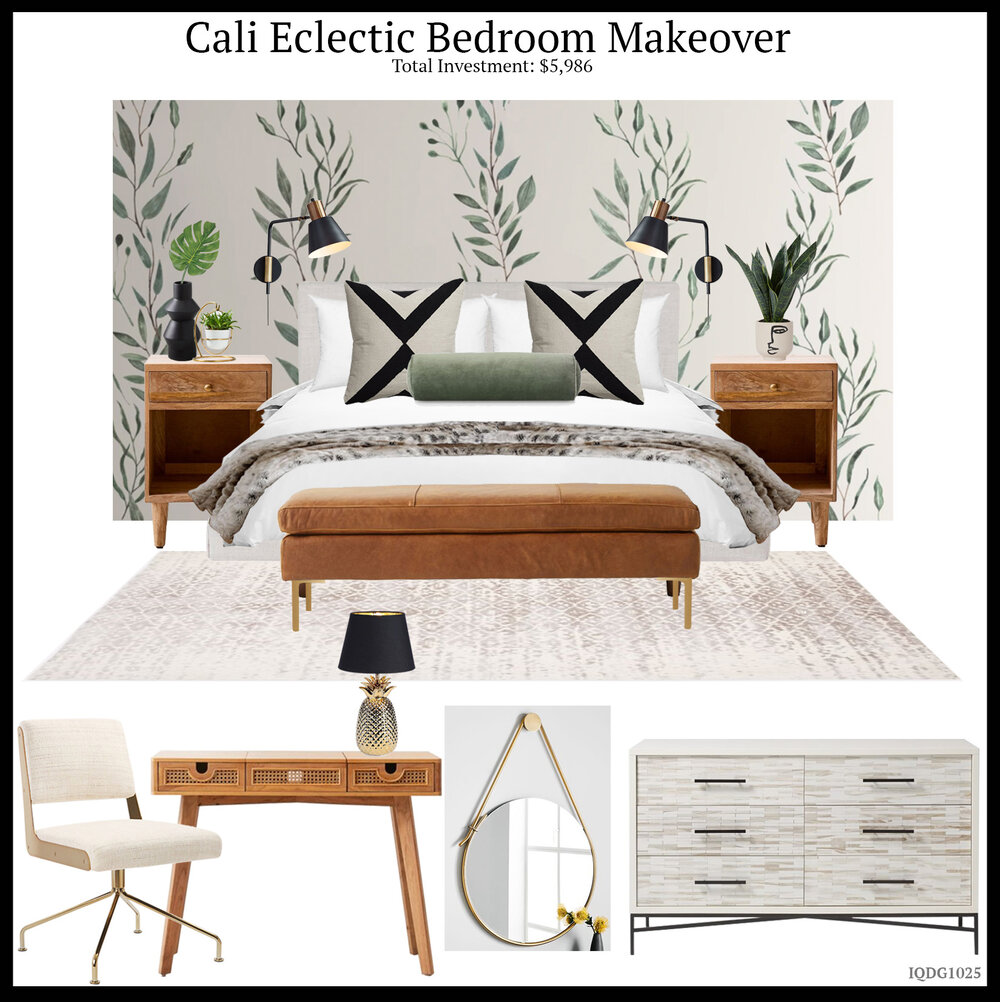 It's important to remember the images of your space are what most guests will look at first when scrolling through Airbnb. Then they will look to see that you have the amenities they need and they will definitely check out the reviews. Make sure to have good photography or hire a professional. Airbnb does also have local photographers they will recommend to you if you don't have your own.
HERE is a link to our space for a visual. I'm super fortunate to have my son as my photographer!
The goal of creating these ROOM STARTER boards is to help inspire you to create a beautiful space for your guests which will at the end of the day INCREASE your PROFITS. Design can be an overwhelming process when you are not sure where to start but it is my hope these designs will help lessen the pain and make your entrepreneurial venture more enjoyable!
Check out more designs HERE. Comment below if you have a theme in mind you'd like us to create a Room Starter board for.
The investment range of the above bedroom design is $5,986. To keep costs down and add the most value some items were sourced from sale sections. That said as always if you see something you LOVE buy it ASAP! Not everyone needs to hire a designer to help them create a beautiful space. Some people just need a little guidance and a jumping-off point.
Have an inspired day all!!
xo Nicole
---
For more design inspiration like this and get to notifications of our blog posts please sign up for our newsletter.
Related Blog Posts: