Please Note: This post may contain affiliate links, which means that if you make a purchase, I might make a small commission at no extra charge to you. I only recommend products or services I believe will add value to my readers. Please read my full disclosure for more details.
Are you looking to keep busy, make your home pretty, and get outside during quarantine?
Whether you are stuck at home or not one way to feel good is by getting outdoors.
Every year my husband Jose creates a beautiful flower garden in front of the house.
It's one of the little things that make him HAPPY.
After it is planted he spends a little time each day watering and admiring his pretty flowers.
My thing is the inside of the house but he loves to work on making the outside pretty.
Good thing or it would probably be overgrown!
I get asked by neighbors and friends what he uses and the names of the flowers.
Every year I say I don't know you have to ask Jose because I literally have no clue.
Not my thing.
As I mentioned in yesterday's post this year I decided to pay attention and do a blog post so I can direct those inquisitive onlookers here.
This is what the Flower Garden looked like last year.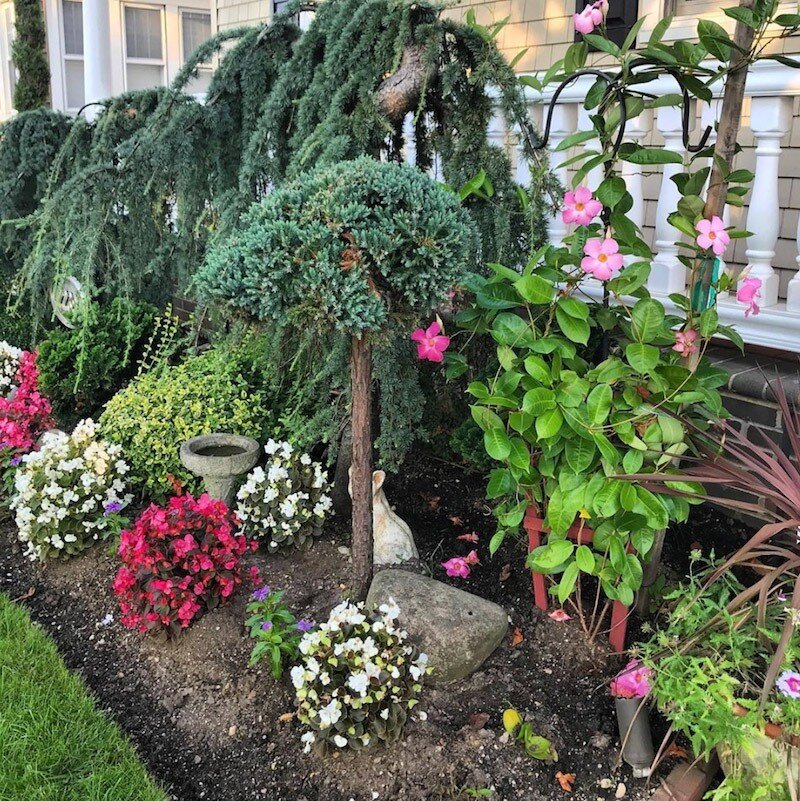 So pretty right?
When my husband came on from the nursery I took pictures of everything he bought so I could share.
I've provided links for any online shoppers but Jose does go to a nursery because he likes to select the flowers himself.
Here is the Before Picture of the front of the house.
Usually, Jose is the helper of Chepin (spelling?).
Sadly Chepin was in an accident so he brought a worker Ramiro that he supervised.
I must say Jose actually did quite a bit of work himself making this year's flower garden beautiful.
Here are some action shots from the morning.
As you can see Maria (aka) Jose was hard at work!
This was all the prep work that went into cleaning up the area before the flowers were planted.
They removed a maple tree that died (our fourth one I think since we own the house), moved existing plants around, and prepped for the flowers.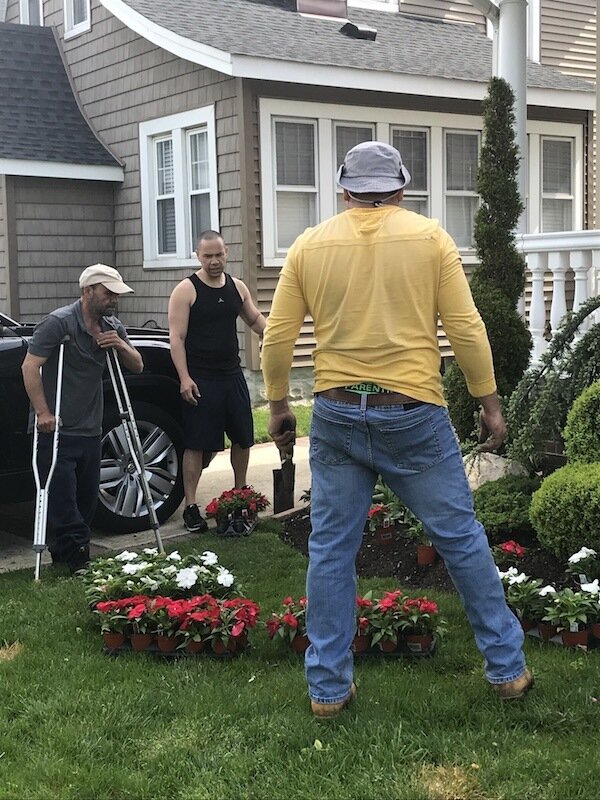 The first shot here I took from my bedroom window because I spent the majority of yesterday cleaning the house and was taking pictures of the process in between rooms.
Here Jose and Chepin are "supervising" Ramiro planting the flowers.
Once the flowers were in the worker added peat moss to the grounds.
Here is a close-up shot of the New Guinea Impatiens Flowers which the tag says to plant in sun or part sun spaced 10-12" apart. They will grow 15-24" tall.
Here are after shots of the completed Flower Garden.
For the front pots, my husband used a combination of the Red Star Dracaena Palm Tropical Treasure Plant and the Pink Mega Splash Geranium Flowers.
They look really pretty but I think we may need new flower pots next year!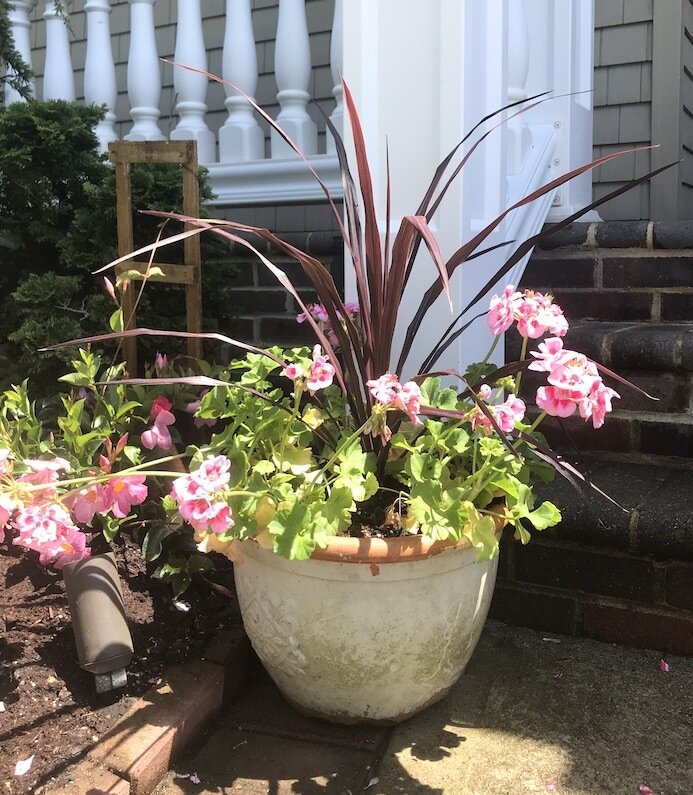 I shared a post on indoor/ outdoor planters but come back for a future post on those flower pot options.
Most likely we won't be changing them this year but I'll research now for those end of season sales.
The Sun Parasol Pretty Pink Mandevilla Tropical Flowers were placed along a Trellis which provides support for the flowers as they grow.
So there you have it the flowers and products used to create my husband's beautiful flower garden each spring/ summer.
Can't wait till they are in full bloom and overflowing with flowers!
---
Shopping List:
Flowers:
Product Link Details:
---
I hope you all had an awesome Sunday full of Unicorns and Rainbows!
Stay healthy and well.
xo Nicole
Combined Video Of Instagram Stories
---
For more shoppable designs check these out from my Like To Know It page.
Note: My blog periodically contains affiliate links meaning that if you make a purchase, I might make a small commission at no extra charge to you. Purchases made through them are greatly appreciated.
---