Please Note: This post may contain affiliate links, which means that if you make a purchase, I might make a small commission at no extra charge to you. I only recommend products or services I believe will add value to my readers. Please read my full disclosure for more details.
---
Have you been thinking the Room Starter designs I've shared so far have been too high end and more than you'd like to invest in your Airbnb space?
OK, I get it! I'm sure many people who are nervous to get started are thinking there is no shot I'm investing 10K into my short-term rental space. While you may not at first realize that the more "designed" your space is the better Airbnb clients you will attract I understand the concern. That's why I designed this Airbnb ENTIRELY using Amazon products. As an Interior Designer, I am familiar with the names of many furniture vendors that are reliable so I tried to source from those whenever possible. I also scoped out the reviews and star ratings before making selections.
The below bedroom design is Scandinavian in theme which is marked by a focus on clean, simple lines, minimalism, and functionality without sacrificing beauty.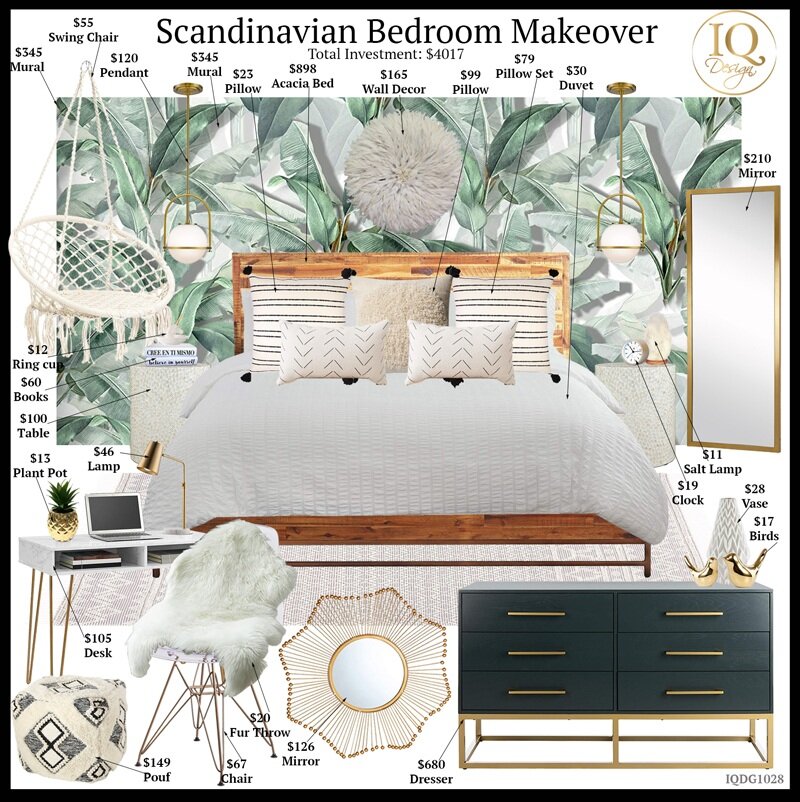 One of the design touches I'm loving of late is accent walls in the bedroom. They add drama and interest and in this case a bit of color with the greenery wall mural. Keeping with the Scandinavian theme natural wood tones and neutrals were mixed together to create and very zen-like bedroom. Pops of black and gold touches are seen throughout as well. The dresser option may not show but it is actually a beautiful teal wood tone.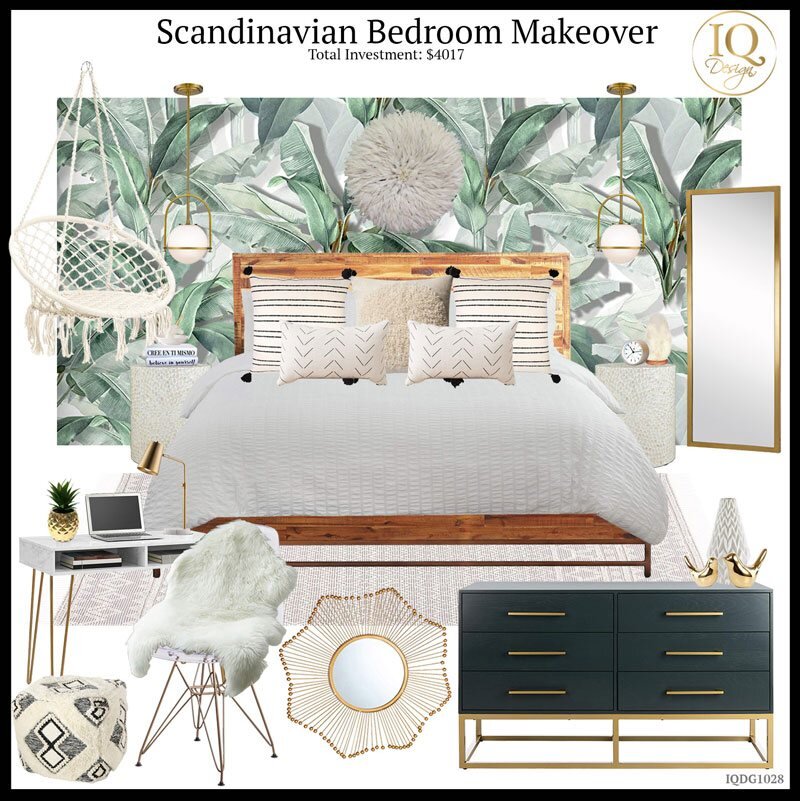 Since this Room Starter was all created through Amazon links I will do a separate post tomorrow with the links included. For today I am also going to share what is included in the Room Starter purchase for anyone interested in that process.
That link will direct you to the Room Starter page where you will also see all the other designs we have available for purchase.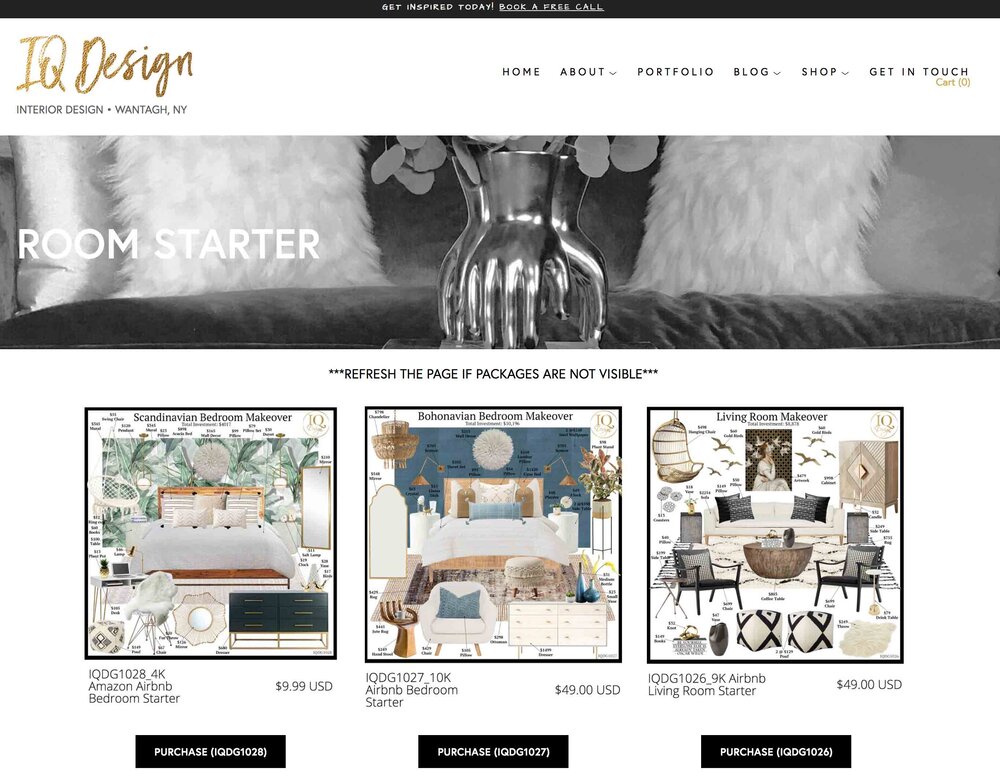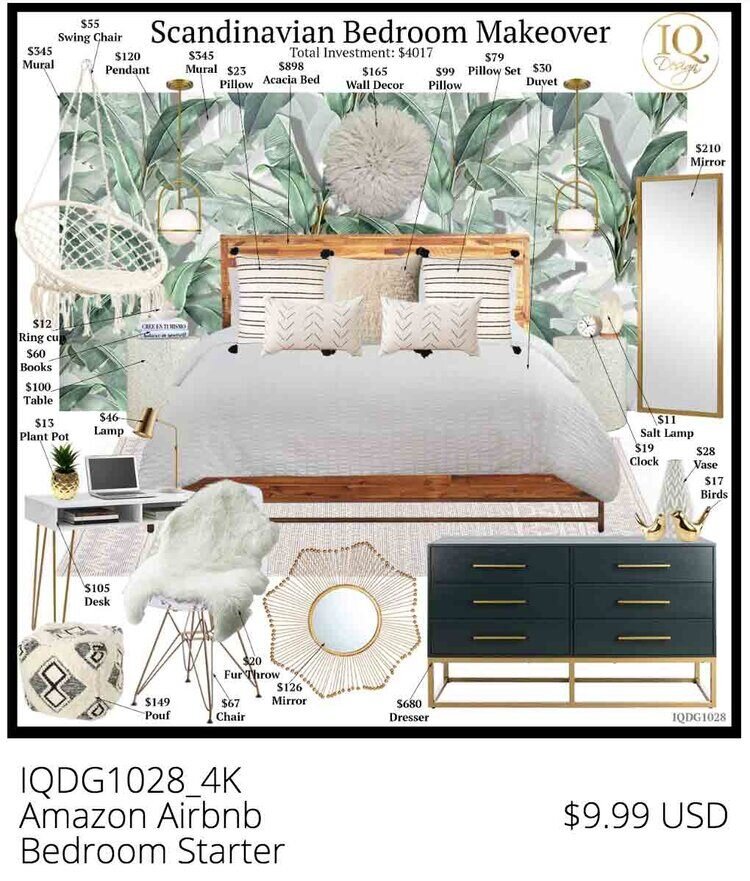 You will then be directed to the Design Portal where you can read the Room Starter terms and conditions as well as purchase the package.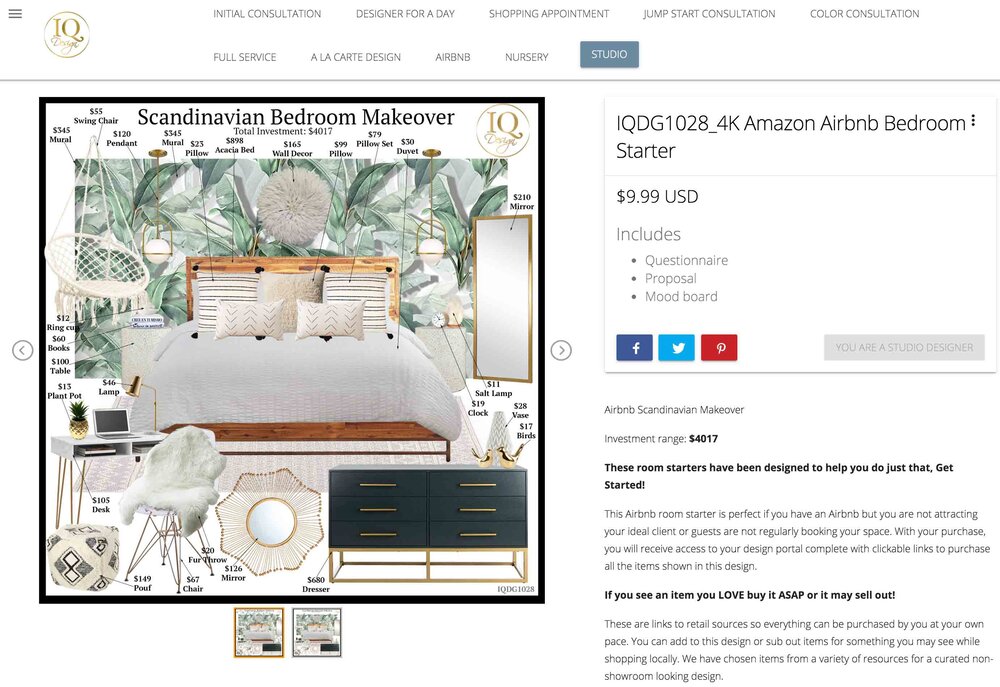 This is where you enter your information and create an account and login in. You will also confirm and submit payment on this screen.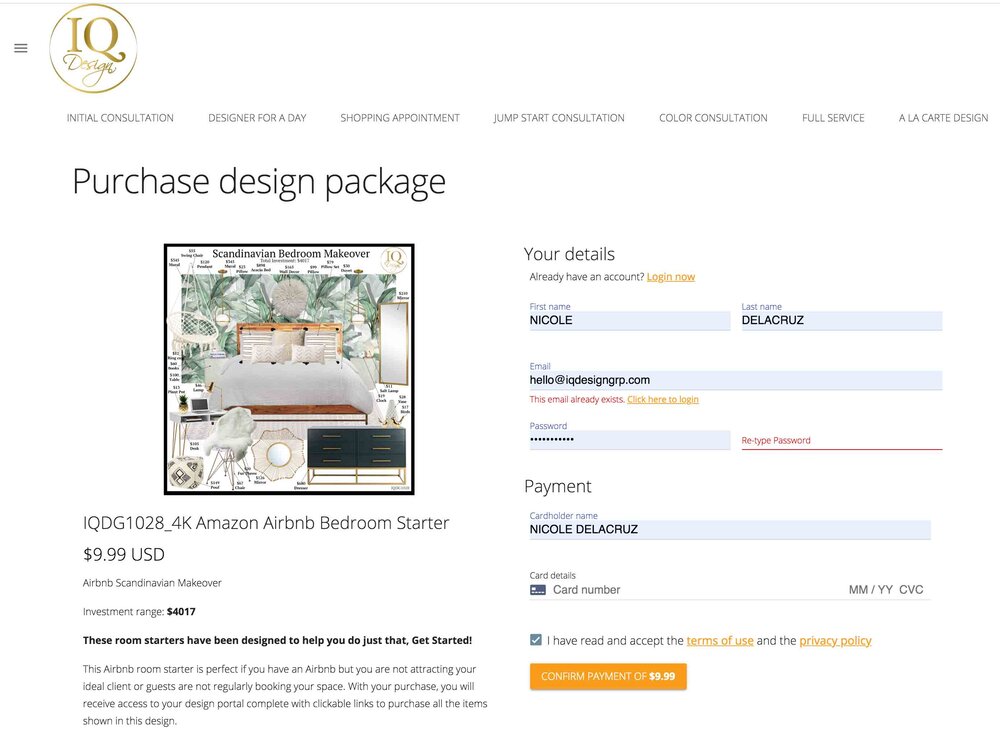 You will then see a similar image to the one below. The "Info" link on the left displays the image and the terms of the package you have purchased.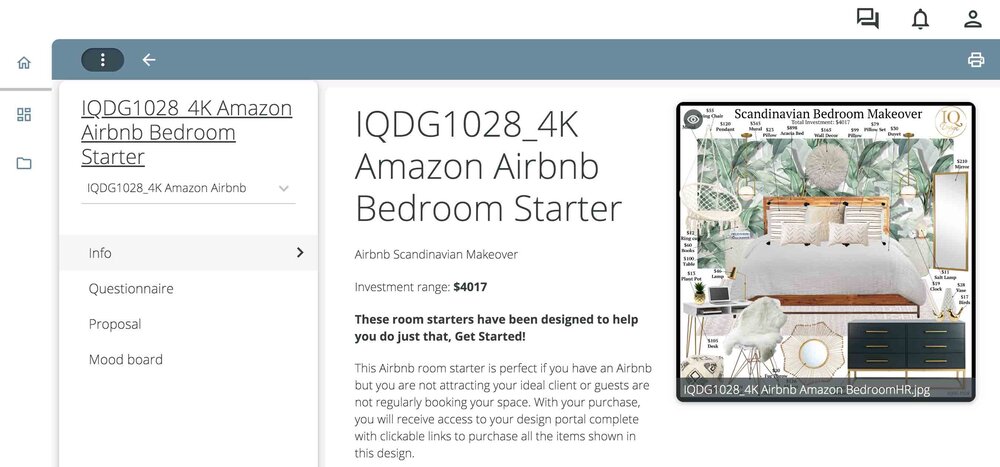 The "Questionnaire" link is a form you can fill out that will help you determine your style and cost of future spaces you may be working on.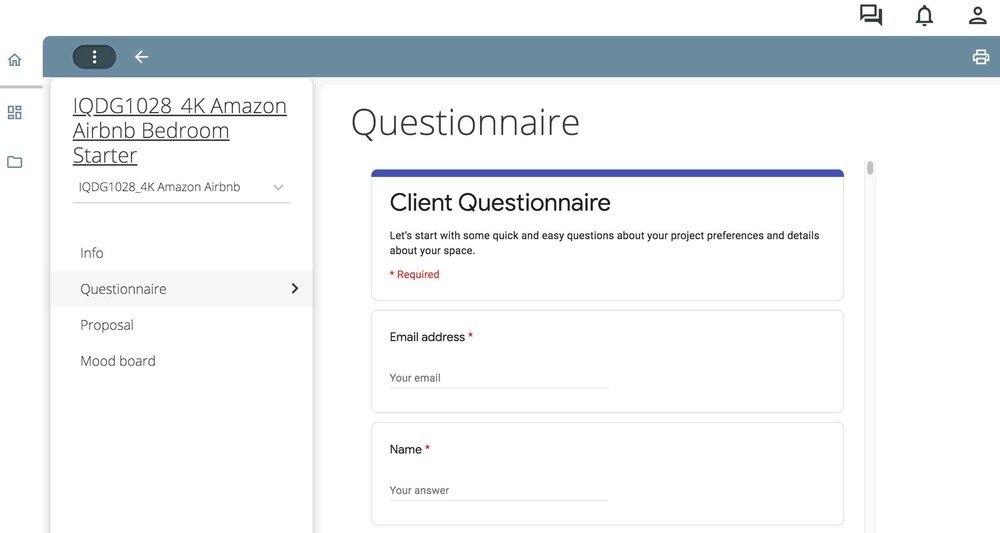 The "Proposal" link is the best part in my opinion of the Room Starter Package. This is your list or road map of the purchased package. Here you can click on the link to purchase products and keep track as you go by clicking the "purchased" button. This is also where you will see the total investment amount of all products for the purchased room.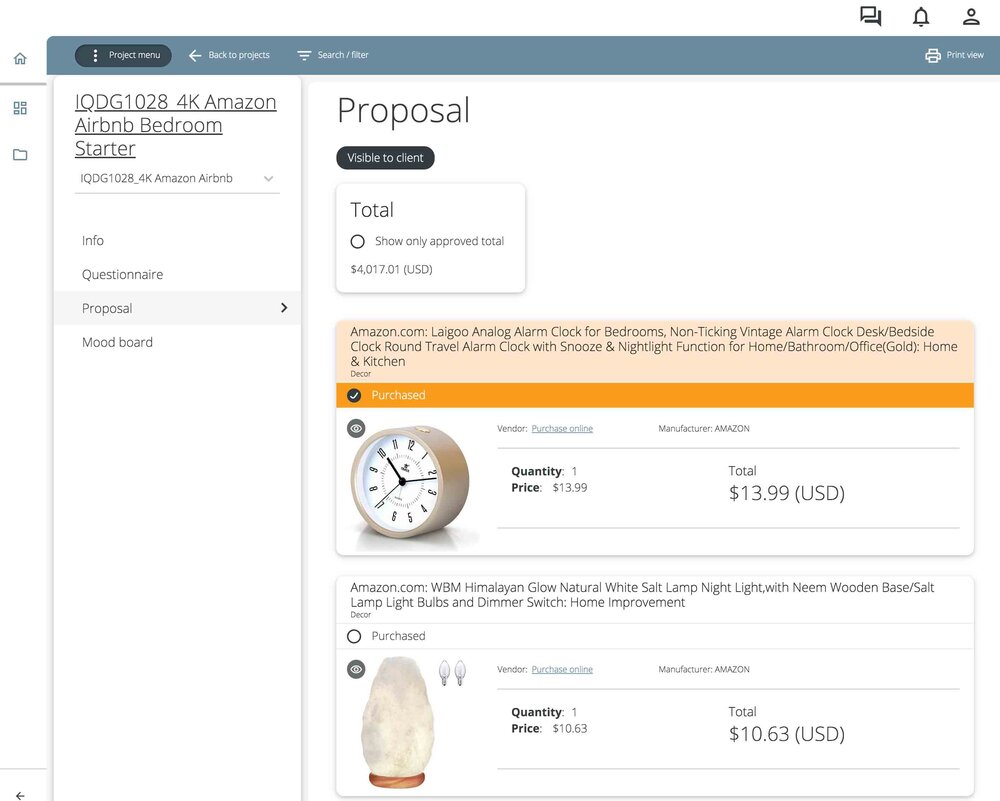 The "Mood board" shows all products in the package for a clear visual reference.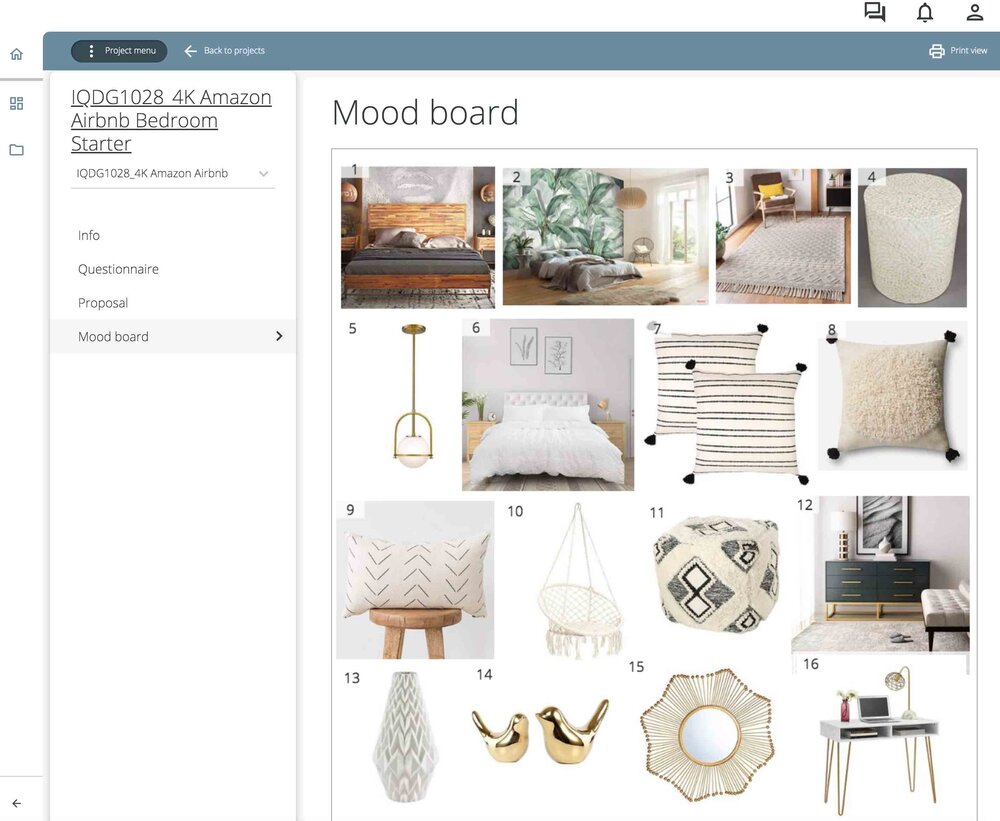 As you can see there are so many advantages to purchasing access to the design portal! Don't you agree??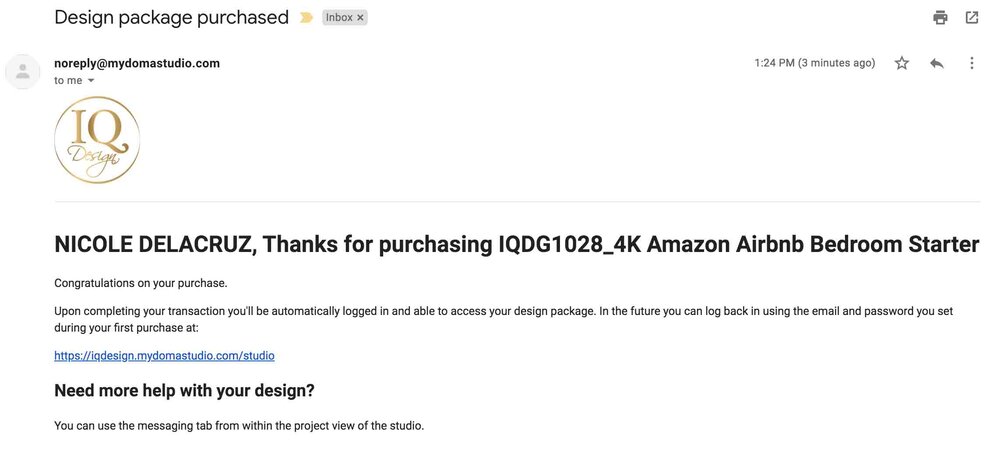 One last thing I wanted to share the above image of the email you will receive after your purchase. Just in case the studio link is included here for a quick reference.
The investment range of this Amazon Room Starter design is $4,017. Naturally, you can add or eliminate details to this starter to work within your design budget but the goal is to get you started in the right direction. With the organized design portal, you will be able to purchase at your own pace and keep track of what you have left on the list. Just a reminder as always if you see something you LOVE buy it ASAP! Remember not everyone needs to hire a designer to help them create a beautiful space. Some people just need a little guidance and a jumping-off point to get started.
Hopefully, this post has helped to clear up any questions or hesitations as to the benefits and value in purchasing one of the many Room starter designs we have available to help elevate and increase profits of your Airbnb space.
Have an inspired day all!!
xo Nicole
---
For more design inspiration like this and get to notifications of future blog posts please sign up for our newsletter.
Note: My blog periodically contains affiliate links meaning that if you make a purchase, I might make a small commission at no extra charge to you. Purchases made through them are greatly appreciated.
---
Related Blog Posts:
Get The Look