Please Note: This post may contain affiliate links, which means that if you make a purchase, I might make a small commission at no extra charge to you. I only recommend products or services I believe will add value to my readers. Please read my full disclosure for more details.
---
Are you wondering what Airbnb Plus and Bohonavian design are?!
If you aren't quite sure about either let me fill you in. First I'm sure you have heard of the Airbnb Superhost status right?
Superhosts are experienced hosts who provide a shining example for other hosts, and extraordinary experiences for their guests. Once a host reaches Superhost status, a badge will automatically appear on their listing and profile to help you identify them.
Beyond being a Superhost there is also the Airbnb Plus program. These are thoughtfully designed homes. Exceptional hosts. Verified for quality. Airbnb Plus is a selection of only the highest quality homes with hosts known for great reviews and attention to detail. Every home is verified through in-person quality inspection to ensure quality and design.
---
Here is an overview of current Airbnb Plus program standards:
Style standards
Each room feels tied together and features pieces that create visual interest, helping guests connect with their environment and get a sense for the host.
Comfort standards
Spaces are clean and well cared for, offering everything a guest might need to make the most of their stay.
Hospitality standards
Memorable stays begin and end with genuine care and outstanding service with a personal touch. Airbnb Plus hosts bring their own unique spin on hospitality—welcoming guests with warmth, flexibility, and a commitment to making things right.
---
Given the high standards of the Airbnb Plus program Bohonavian design is a perfect style to incorporate into your space. To get the Boho-navian look combine Scandi-influenced natural, blond woods and light colors with rich boho texture, global patterns and lots of greenery. Rich colors and fabrics of bohemian style are blended with the light colors and natural materials typical of Scandinavian style. Muted-blue tones have always been a mainstay in Scandinavian style but paired with woven textures and graphic patterns the look becomes more boho. The look is kept uncluttered with crisp white, ivory and natural materials typical of Scandinavian style. White linens are a definite in Scandinavian style and fringe details are a big part of boho. No bohemian home would be complete without houseplants. If your thumb is not green, try a few air plants. They're very low maintenance and in a simple glass vessel, they add an air of minimalist Scandinavian style.
Now that you have a better understanding of what the Bohonavian design style is, let's dive into the details of this newest room starter package available for purchase!
The rug in this design was used as the jumping-off point. For those who may not know this is one of my favorite places to start a new concept and pull the color scheme from. The traditional rich colors of the Bohemian rug was layered on top of the neutral jute Scandinavian inspired rug. The material of the bed is a light textured mango frame and the bedding was kept white with fringe trim. Since this is an Airbnb and storage is not needed hand-inlaid bone drum tables were used as nightstands. We pulled blue into the design through the beautiful sisal weave wallpaper and in the pillows. An African inspired Juju hat in ivory was used as wall decor which really pops off the wallpaper and adds an extra layer of texture. Natural wood tones and beading are seen in the shades of the wall sconces, the boho-inspired chandelier, and the super cute hand stool. The plush boucle chair and fringe stool both in ivory add more interest to the design. Gold accents are seen throughout which add a warm touch. Greenery is also a part of the design which lends well to the Bohonavian design trend.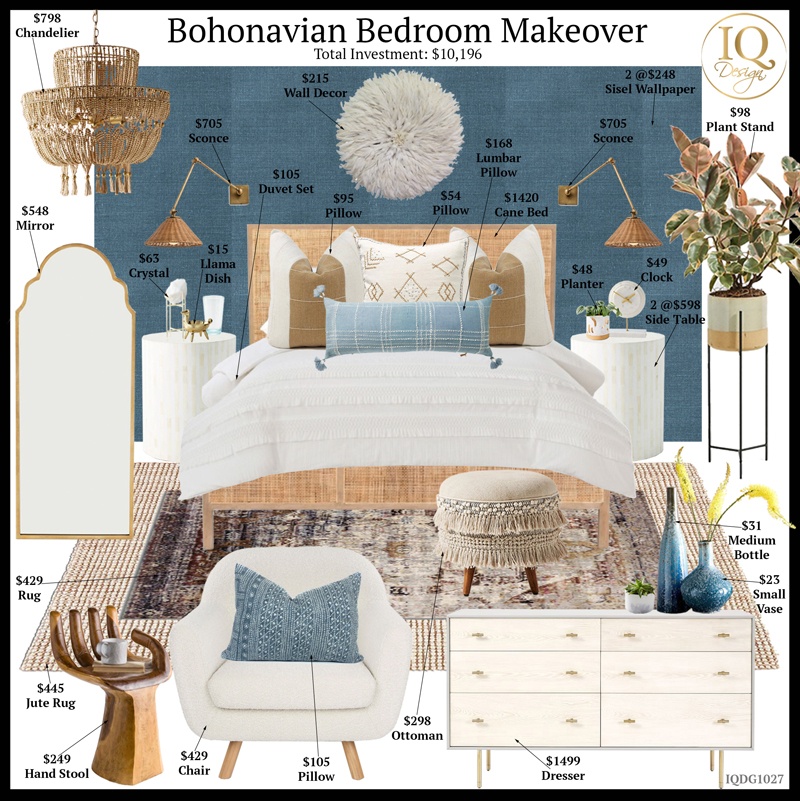 The investment range of this design is $10,196. Naturally, you can add or eliminate details to this starter to work within your design budget but the goal is to get you started in the right direction. When you purchase the room starter you will see about $300 worth of additional products. As usual, these pieces were all sourced from a variety of retail companies where you can buy direct at your own pace. To keep costs down and add the most value some items were sourced from sale sections. That said as always if you see something you LOVE buy it ASAP! Remember not everyone needs to hire a designer to help them create a beautiful space. Some people just need a little guidance and a jumping-off point to get started.
---
As you scroll through the Airbnb feed you will notice many places to stay and then others you will find uninspiring. The design of your space plays a HUGE roll on the guests you will attract and the price point you can ask for. The goal of creating these ROOM STARTER boards is to inspire you to create a beautiful space your guests will enjoy while increasing your profits! Isn't that what you'd like?!
Have an inspired day all!!
xo Nicole
---
For more design inspiration like this and get to notifications of future blog posts please sign up for our newsletter.
Related Blog Posts: