Please Note: This post may contain affiliate links, which means that if you make a purchase, I might make a small commission at no extra charge to you. I only recommend products or services I believe will add value to my readers. Please read my full disclosure for more details.
---
I'm not going to lie every now and then I DO miss my old career as a Children's Wear Designer.
Feeling inspired by all the cute baby room ideas I was seeing online I thought let me channel that creativity into a nursery room starter. This room started out being gender-neutral although, in the end, I think it has more of a feminine vibe to it. Oooh, that's a thought I should do a boy version too! Right?!
In the meantime, I'll talk about the inspiration behind this room starter. This room is for any new or current mom who is looking for a more modern take on their nursery design. Rather than go with the traditional pink or blue this room could work with any accent colors.
I love the idea of black and white with pops of gold to start off with. Then for anyone looking to add a personal touch to the room starter they could then add blush pink in or whatever pop color of their choice. The touch of gold helps to warm up this nursery.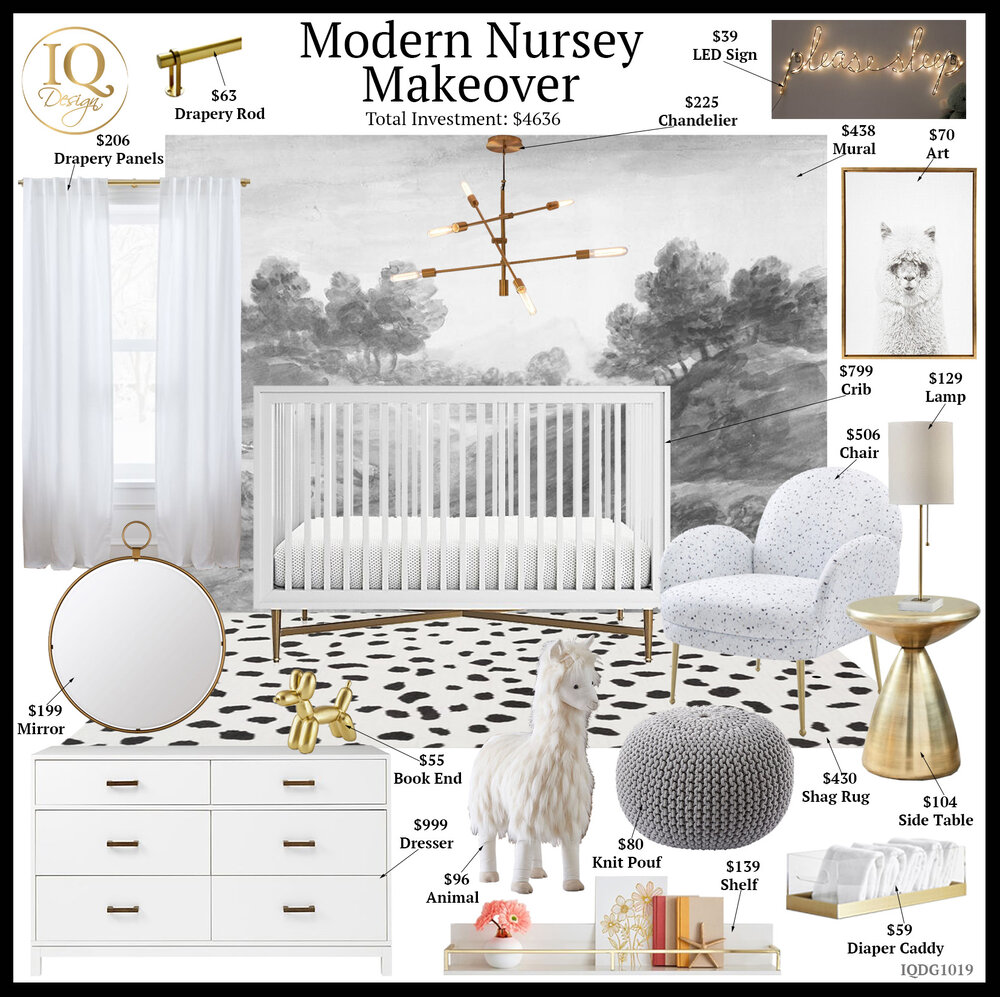 I know when I first had my children, who are now 17 and 28, I truly enjoyed designing the nursery. There were a few staples that I had to have. For me, I loved having a crib that both of my children transitioned into very early. I did have a bassinet with my daughter but my son was just in the crib. I had a full-length dresser and closet organizer system with both because naturally, they had a ridiculous amount of clothes. I always seemed to design for the size range of my children and back in the day the design room just split up the samples which were a mix of domestic and European. I added into the package the changing table attachment for this dresser and pad because that is what I used for both. There may be something newer and fancier these days but sometimes less is more. I was able to keep the nursery dresser well into my children's early childhood years. The other thing I think is a must-have is the chair and side table. This is perfect for nursing or rocking the baby to sleep. Love the knitted pouf for your feet as well. The light fixture selected adds a mid-century modern vibe and will transition nicely as your baby gets older. I'm a little obsessed with llamas and this standing stuffed animal is just super cute in my opinion. The drapery panel is blackout which will be perfect for when the baby is napping. Then there is the gorgeous scenic mural which will add a great focal point to the nursery design.
The investment range of the above Nursery design is $4636. When you purchase the room starter you will see about $500 worth of additional products. As usual, these pieces were all sourced from a variety of retail companies where you can buy direct at your own pace. To keep costs down and add the most value some items were sourced from sale sections. That said as always if you see something you LOVE buy it ASAP! Remember not everyone needs to hire a designer to help them create a beautiful space. Some people just need a little guidance and a jumping-off point to get started. If that sounds like you then click the link below to purchase this ROOM STARTER and take ACTION today!
Have an inspired night all!!
xo Nicole
---
For more design inspiration like this and get to notifications of future blog posts please sign up for our newsletter.
Related Blog Posts: