Please Note: This post may contain affiliate links, which means that if you make a purchase, I might make a small commission at no extra charge to you. I only recommend products or services I believe will add value to my readers. Please read my full disclosure for more details.
---
So you may be wondering "What's with that title?! For starters, it's the name of the artwork lol BUT it also relates to the topic of this post.
I was working with a client the other day and she mentioned to me that she really needed me to see her space because she was HOUSE BLIND. She had just moved back into her childhood home after her parents had passed away and EVERYTHING was the same as when she was a child. She was in the process of updating the space but was trying to work with the existing layout. She mentioned that when friends saw her old small shared bedroom they questioned why she wasn't turning it into a walk-in closet?? My point with this is many times you need an outside eye to give you feedback on your space because you too are BLIND to the possibilities. This goes for Airbnb rental spaces as well. As you scroll through the website looking for your next destination on Airbnb notice how many of the spaces are decorated using a hodgepodge of old furniture that is dated and not inviting. Always remember that guests are going to look quickly through the images to help make their selection of where they will book.
That said here is another Living Room Makeover Room Starter Package to inspire and help you get started today!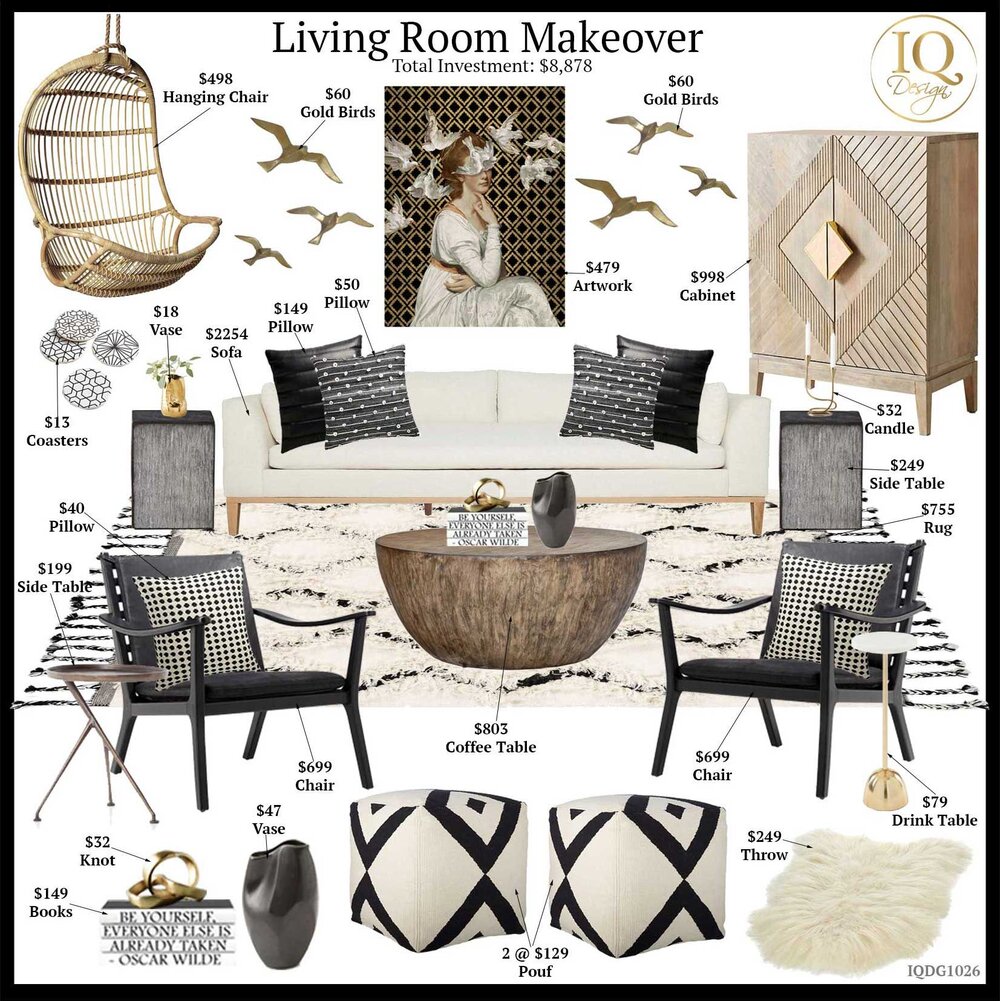 Now I personally LOVE to use either a piece of art or a rug as a jumping-off point when designing. In this case, the artwork was used. The color palette was kept neutral with black, white, ivory and touches of gold. Textures and patterns were used throughout to add interest and dimension. One of my favorite features of this space was the use of the gold 3D bird wall decor that plays off the theme and movement of the artwork. This will be a conversation starter for sure in the space! By mixing in warm wood tones and gold metal it helps to soften the contrasting black finishes. The fur throw is meant to be added to the seat of the swing chair which is a fun touch. I'm just a little obsessed with these hanging chairs and think they are super cute! This design would make for a great hangout space for anyone stopping by the area. Additionally, the bold graphic element will help attract scrollers on the Airbnb site.
This room starter design package can be used as is or mixed in with some of your own pieces. If you have two chairs you LOVE for example replace those out for the ones we suggested for a look unique to you! Remember this is a guide to help you get past the sofa and see the big picture of what your space could become. Feel the Fear and Do it anyway my friends!
The investment range of the above Living Room design is $8,878. These pieces were all sourced from a variety of retail companies where you can buy direct at your own pace. To keep costs down and add the most value some items were sourced from sale sections. That said as always if you see something you LOVE buy it ASAP! Remember not everyone needs to hire a designer to help them create a beautiful space. Some people just need a little guidance and a jumping-off point to get started. If that sounds like you then click the link below to purchase this ROOM STARTER and take ACTION today!
Again as we mentioned before the goal of creating these ROOM STARTER boards is to inspire you to create a beautiful space your guests will enjoy while increasing your profits!
Have an inspired night all!!
xo Nicole
---
For more design inspiration like this and get to notifications of future blog posts please sign up for our newsletter.
Related Blog Posts: