Please Note: This post may contain affiliate links, which means that if you make a purchase, I might make a small commission at no extra charge to you. I only recommend products or services I believe will add value to my readers. Please read my full disclosure for more details.
This post all about the benefits of eDesign.
Project #39 Glam Transitional Living Room from Downtown DC ~ Video by Quimes DelaCruz (my son) of urekaDesign
This blog post is about the benefits I have experienced as an eDesigner with a big box company over the past six months. It has been a work in progress (probably way too long) but here it finally is! For those of you like me, who skim through a post, I have listed the benefits and then gone into more detail as well. There are a lot of project images shown so hopefully the visual interest helps break up all the text. : ))
In Sept of 2017, I decided to apply to the online eDesign platforms I knew of for Interior Design. My thought was since I was still at the day job it would be a great way to gain experience from home. I had friends on Facebook that liked Havenly and Homepolish so I started there. First, I applied to Havenly through their online application and then Homepolish. I figured whoever reached out first was where I would try. If neither reached out I would just keep going through the list until someone got back to me. Plan B was to get something part time at a local design center since there are many in my area. I never heard back from Homepolish but Havenly did email me. They offered to have me do a test project that was to be completed in Adobe Photoshop. Luckily, I had found The Design Cure Academy on YouTube which has a series of Photoshop tutorials for Interior Design. There is a perspective room kit you can purchase but I was able to learn how to build the room through the tutorials. Brian is a great teacher and has a Facebook support page. He and his wife Jessica have also started their own podcast about eDesign. Since my background is designing Children's clothes in Adobe Illustrator for the past twenty-plus years picking up Photoshop was not difficult for me.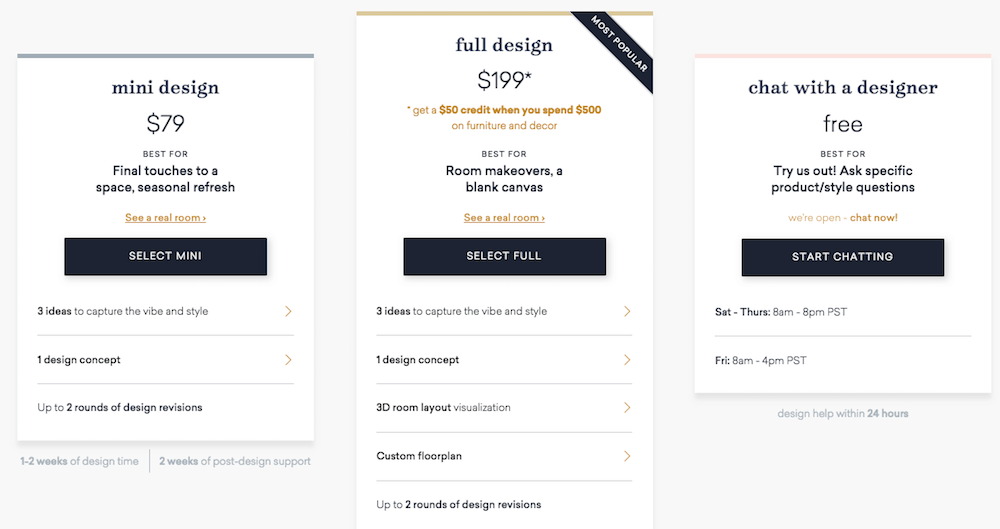 There are different opinions from what I've heard regarding the various eDesign platforms. I have noticed higher-end designers charging an average of $1500 a package. Havenly charges $79 for a Mini and $199 for a Full Package. With my designer code, NICOLED clients get 25 percent off either package. Many designers feel these larger companies are exploiting designers and paying minimum wage for their services. My ultimate goal is to get away from staring at a computer all day so eDesign is not a service I plan to focus on in my own future business. I am looking to work hands-on which is what I am lacking at the day job. Personally I did not join Havenly for the money. That's not to say you don't make any but for me, it wasn't the objective. I wanted to gain experience and knowledge while juggling my four days a week job where I earn a good living. For me, it is basically a paid internship I am able to do from home. That said I will not be getting into the financials since it's irrelevant. I will however discuss the 20 key benefits I personally have received since my eDesign account was officially made active on October 17th, 2017.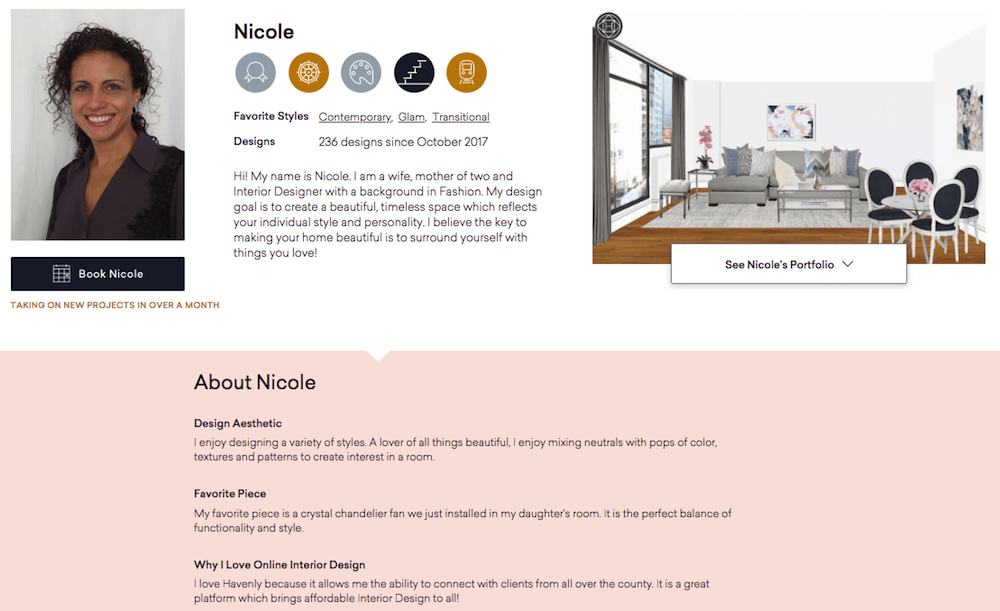 These may seem obvious to a seasoned designer but here is my List of Benefits:
1. Found my style
2. Discovered my ideal client
3. Established goals when designing a space
4. Built a portfolio
5. Worked in a variety of rooms
6. Learned what vendors are available by style and price point
7. How to work within a budget
8. What the average room cost to furnish
9. The importance of a few options but not too many
10. The importance of accessories for a finished look
11. Learned to juggle multiple clients at once
12. Worked with clients all over the US
13. Learned quickly because I googled anything I didn't know
14. Gained confidence
15. Learned the importance of being enthusiastic
16. Received great reviews
17. Happy clients equal repeat clients and referrals
18. Felt more comfortable engaging with other industry professionals
19. Gave me social media content
20. Learned what I enjoy from the process and don't (need to outsource)
That's the quick overview of my experience. Here I will go into detail on each of the above.
1. Found my Style
Since there is a quick turnaround for Havenly projects (usually 1-2 weeks) I discovered my style pretty quickly. If I had started with hands-on projects (not virtual) this would have taken longer since many projects can take several months to complete. It only took about two months to realize which projects were easy because I enjoyed them and which were a struggle because I didn't!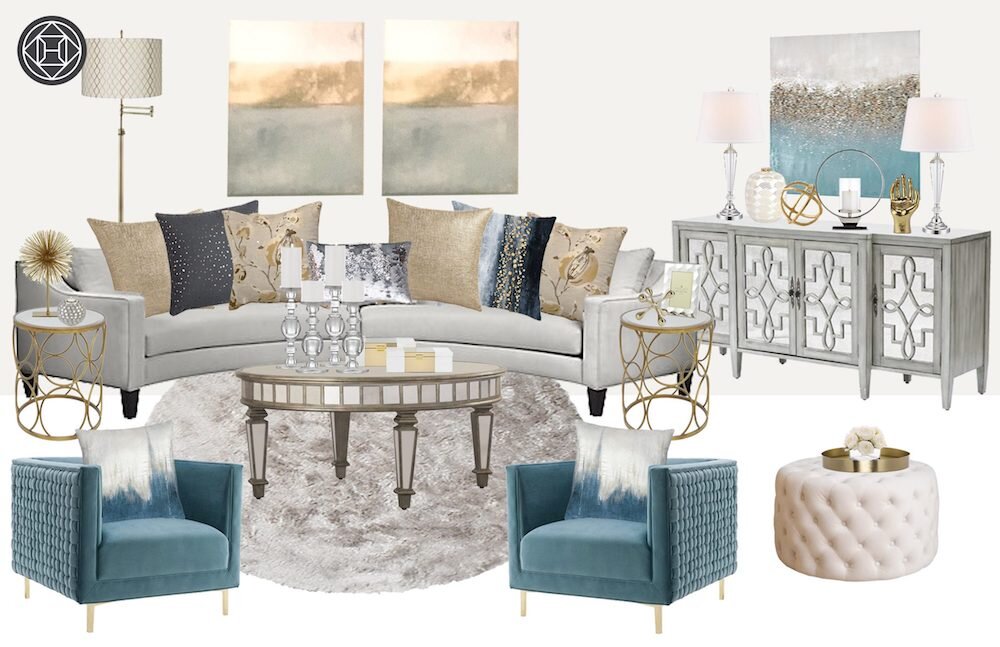 A little background first on my twenty-something years as a Children's Wear Designer. Throughout my career, I have always designed every size range, girls and boys. Which meant market research before starting any projects. This is done not only to see what's out there from competitors but also for inspiration. It helps when sales/ management question why you designed something because you can defend your designs with your findings. In my head, I was more valuable since I could work on any project that needed to get done. I also get bored easily so it gave me a challenge and variety. Most designers specialize in one or two size ranges for example girl's newborn/ infant, toddler, 4-6x or 7-16, and the same holds true for boys.
When I first started as an eDesigner I thought I should be doing the same thing and design in a variety of styles. My go to styles are Glam, Transitional, and Contemporary which is what I submitted my Havenly portfolio concept boards in. Within the first week of my boards being published on the site, I was chosen by my first clients.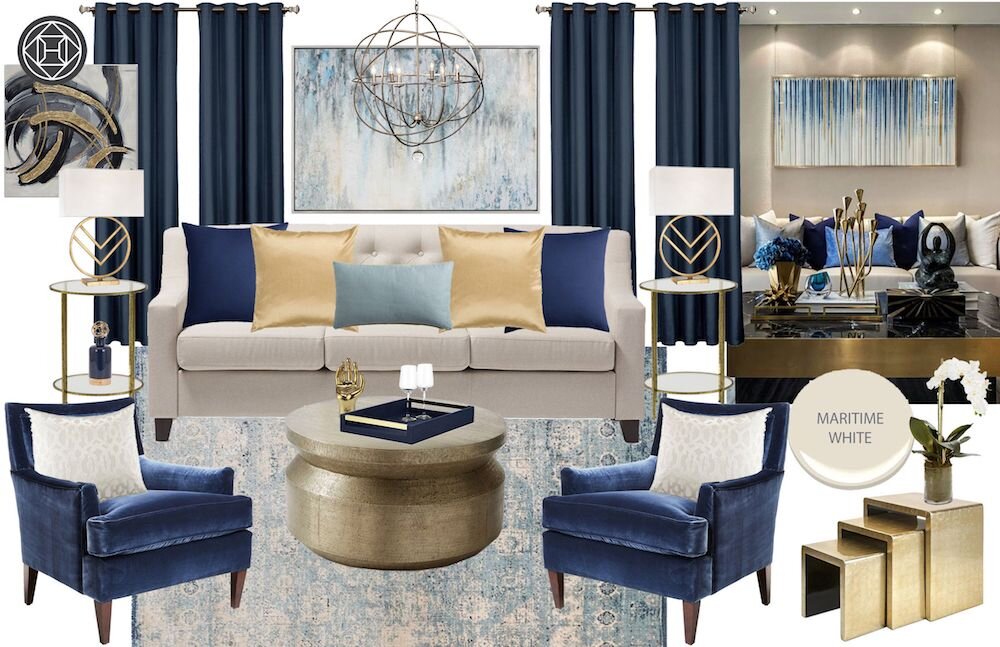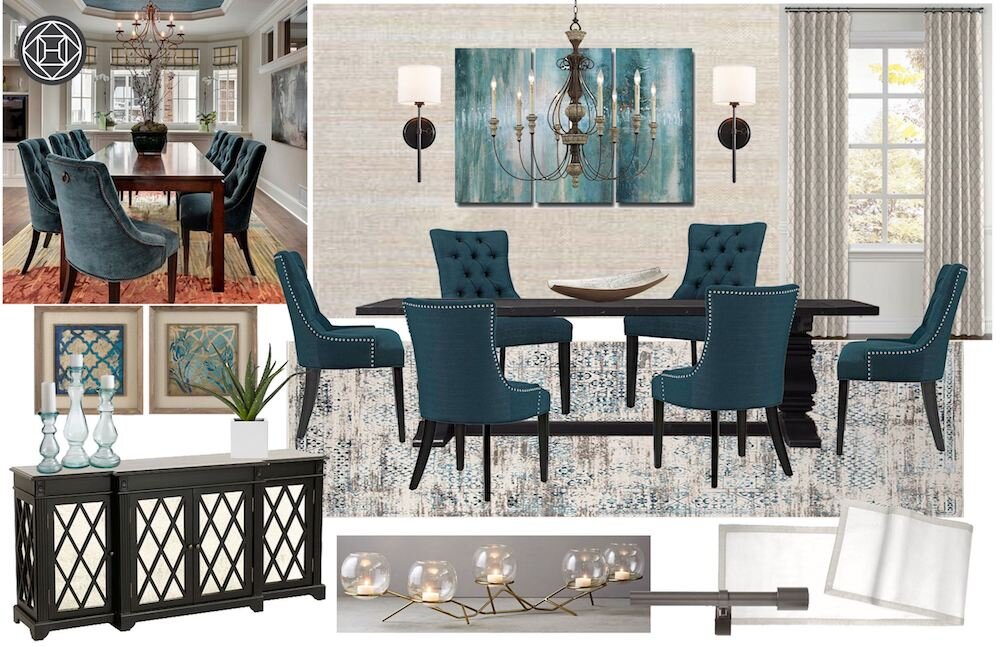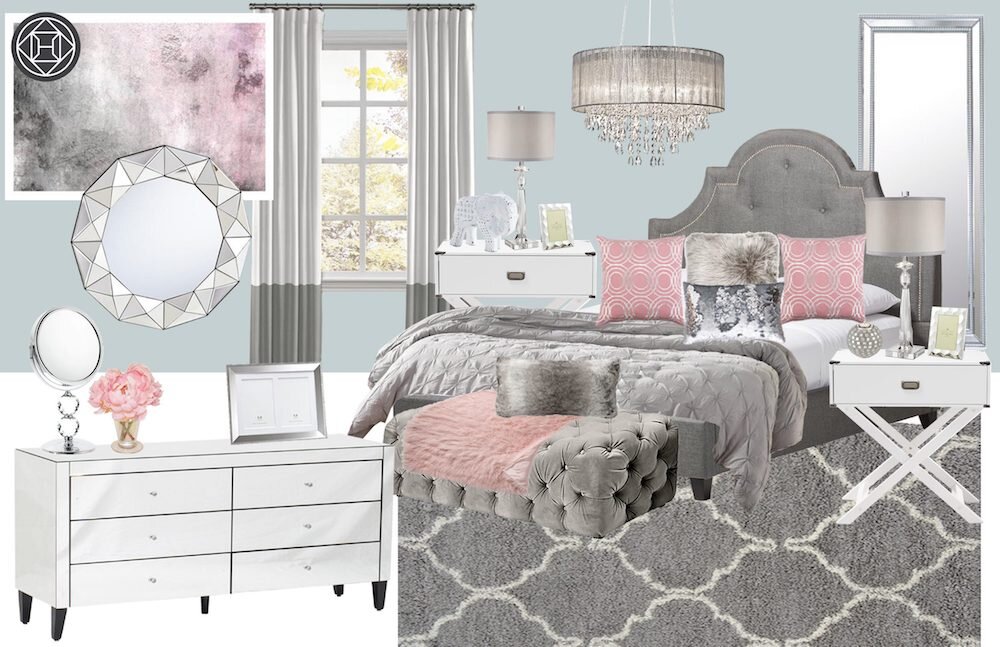 In the beginning clients who picked me listed their style as Classic, Traditional, Rustic, Farmhouse, Eclectic as well as my preferred styles Glam, Transitional and Contemporary. I didn't understand at first why they chose me but later realized it was possible they looked at the link to my web site IQ Design and saw the pictures of my house. Since I don't have a ton of content to date my website portfolio consists of rooms in my home some of which have a very Spanish, Rustic, eclectic vibe. This is something I was very into in 2005 when we remodeled my house. They also may have picked me because of my social media accounts. Specifically, Instagram which is basically my life through an Instagram post, and they probably felt like they knew me before we even started the design process.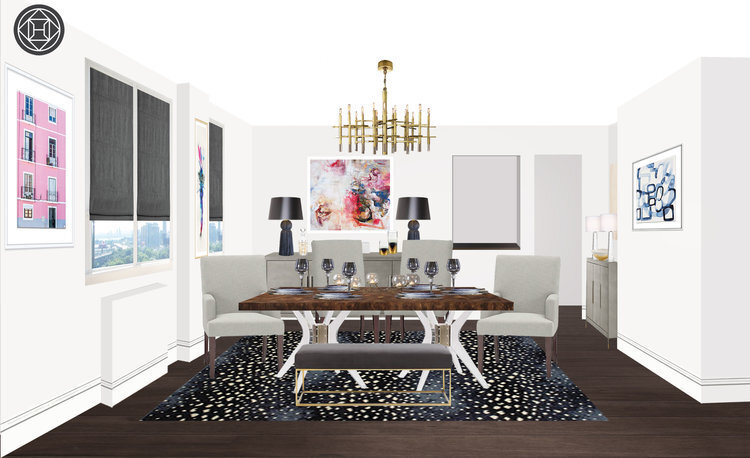 The problem with working in every style is you have to research the products from different vendors for each so it takes longer. There is less of a crossover between projects since they are not in the same vibe. In the beginning I had every Havenly board I completed in my portfolio. I realized after I continued to get chosen for styles other that my own, that I needed to change the boards to reflect only the ones that best represented my style. Since then I have had more "ideal" clients, the process is more enjoyable, and the clients are happy with selections from the beginning.
***On a side note eDesign may be a good option for an experienced designer looking to build a portfolio quickly in a new style or fill their pipeline.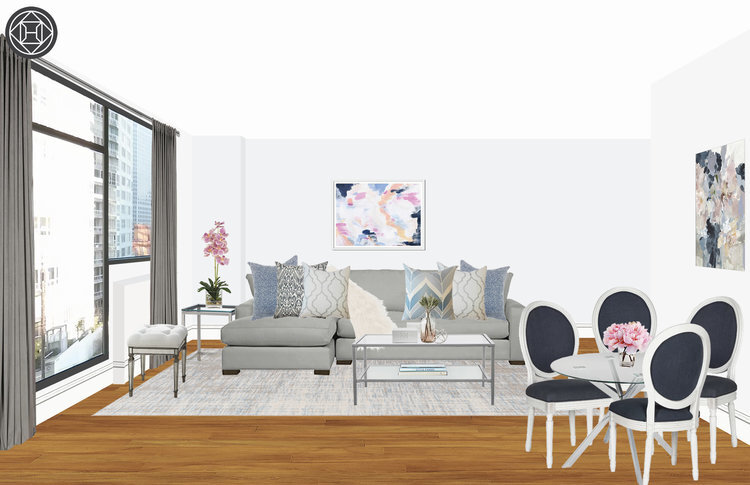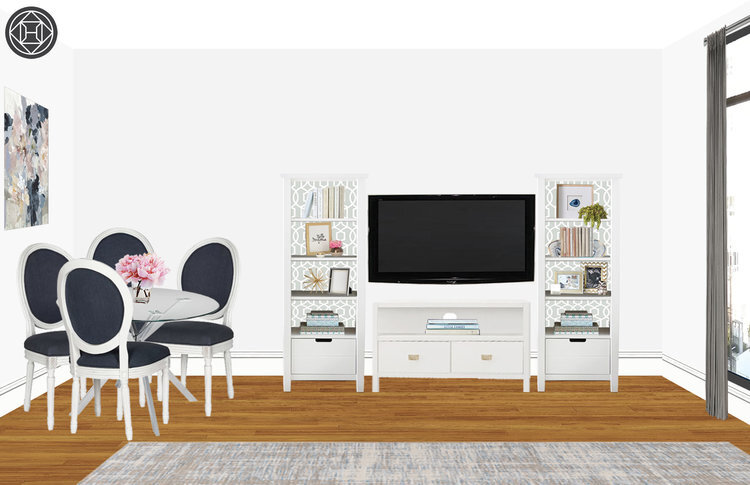 2. Discovered my ideal client
If I had not started with eDesign I probably would have taken any job that came my way. This most likely would have been frustrating since I would have not been able to filter out those who were not a match. I have come to realize my ideal client is a working adult(s) that is able to make decisions given their options. They want their home to be beautiful but do not have the time to focus on it without help. They love unique pieces and want an original design that when the company walks in they say: OMG That is so cool! Where did you get that from! They are not afraid to bring new trends and/or technology into a timeless space. They also are not afraid to mix neutrals with pops of color, textures, and patterns in their design. They know their style and are able to express what they like. My ideal client is NOT the stay at home mom that really wants to design their own space, who questions every design decision and googles other options. In my experience at Havenly I only had one client who had no idea what their style was, could not make a decision and to top, it off wanted originality but was allergic to MDF. That project was a complete struggle as I'm sure you can imagine the challenge since a large amount of furniture contains MDF!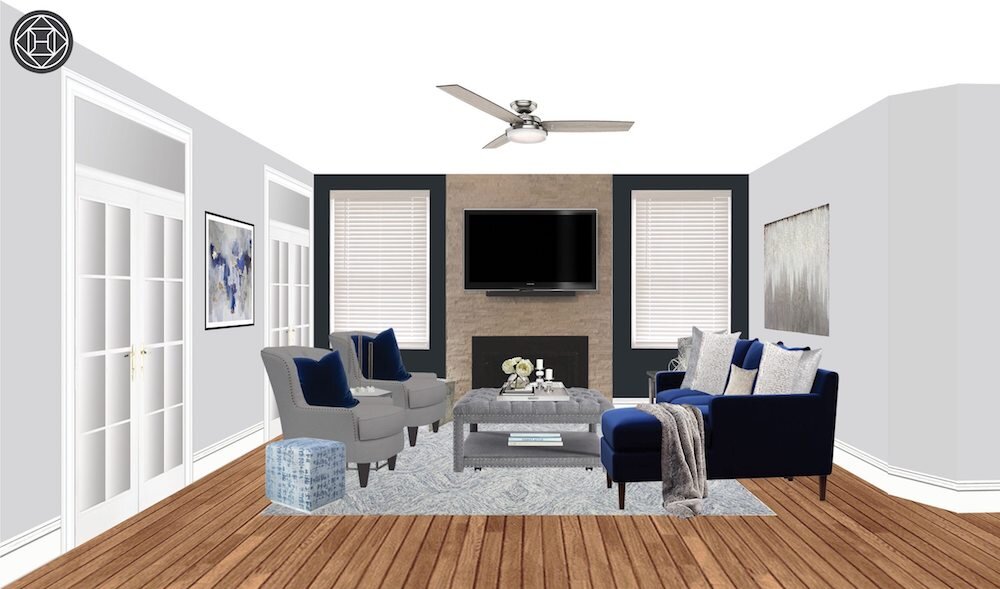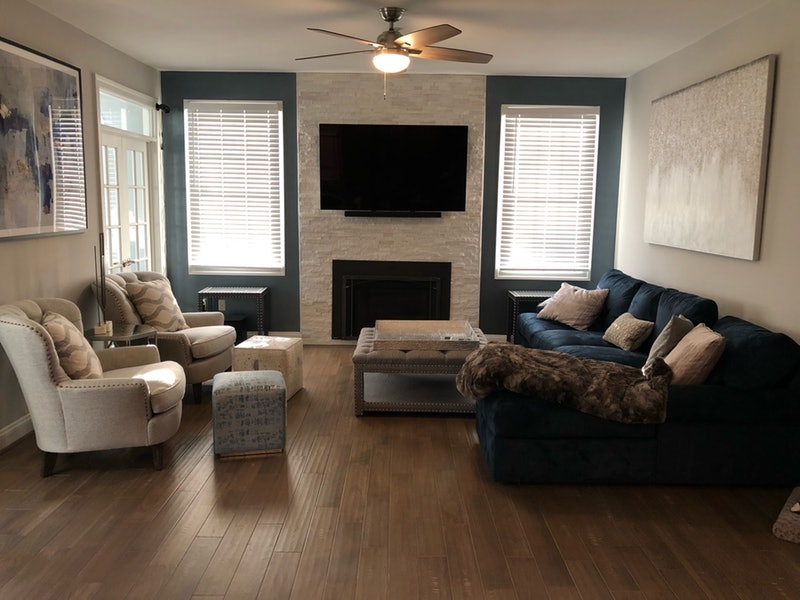 3. Established goals when designing a space
I have found that most clients are looking for one of two things when they sign up for a package. One is the client who has the larger pieces already for their room but needs help adding the finishing touches and pulling it all together. The other has images they like but need help achieving the look of what they are seeing on Pinterest or Houzz. Both I have found are looking for originality or something different which is why they come to a designer for guidance and advice. With each project, my goal is to determine what the client's room feels like based on their inspiration images and/ or room questionnaire.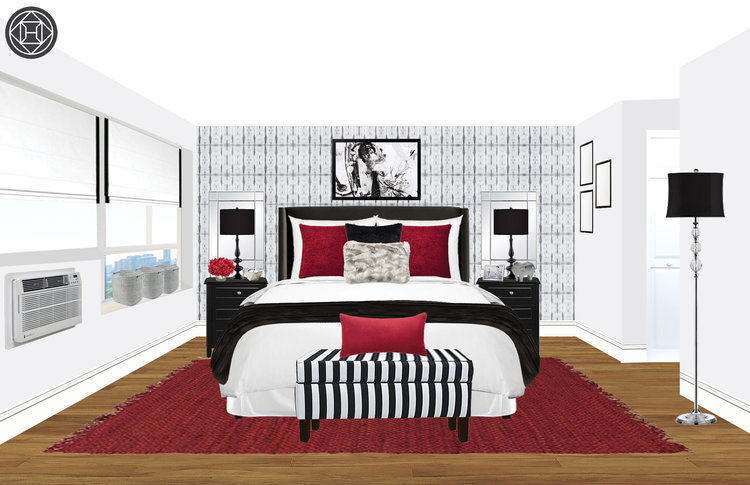 4. Built a portfolio
Since starting as an eDesigner I have already completed 46 projects to date working part-time. I have designed Living Rooms, Dining Rooms, Bedrooms, Offices, a Basement, a Bathroom, a Foyer, and was just asked by a repeat client if I can do their outdoor space. This all in just six months working nights and weekends as a side hustle. These projects I have been able to add to my website which also helps my SEO ranking since I am continuously adding content.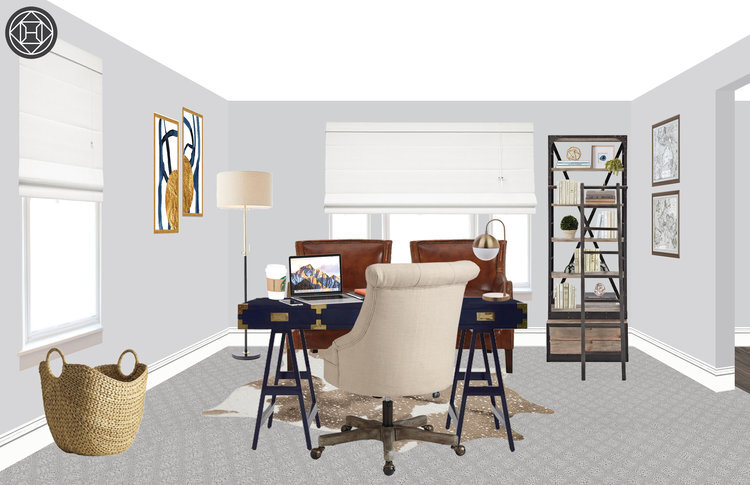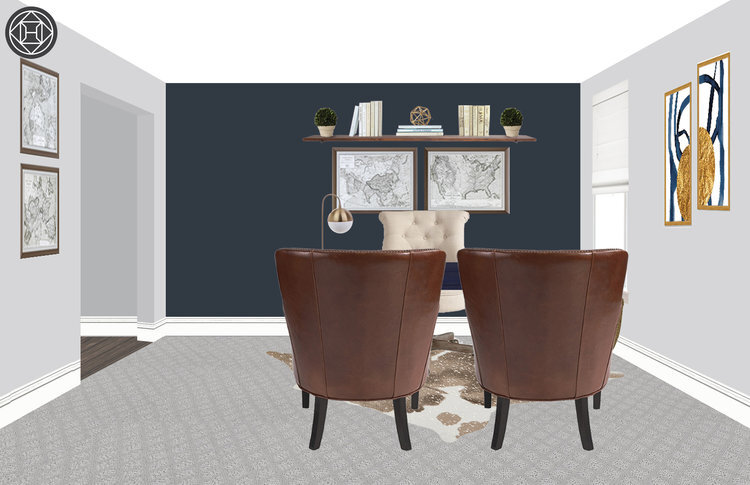 5. Worked in a variety of rooms
As mentioned above I have worked in a variety of rooms thought my experience with eDesign. If these were actual design projects the turnaround time would have been much longer. Having access to other room designs with in the platform is helpful because I can quickly see where other designers are sourcing from. Instead of starting from scratch for example on the bathroom I just did, I was able to find vendor options and their price points quicker than searching the internet. I also know how long each phase takes to complete (ideas, concept and layout) which with be helpful for future billing of in home projects.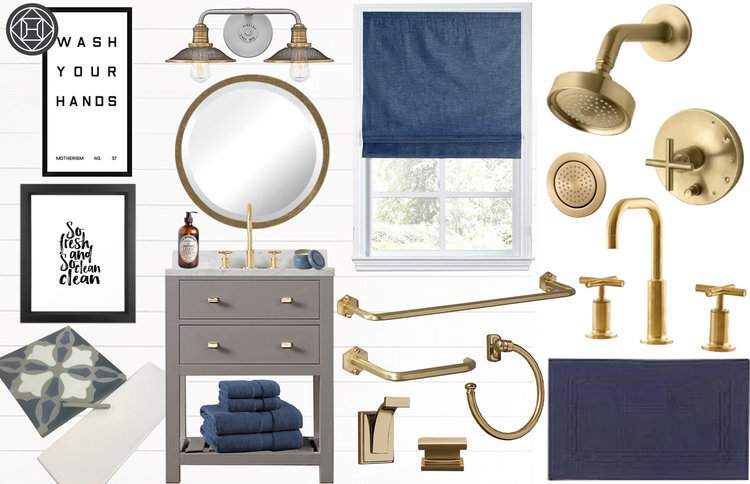 6. Learned what vendors are available by style and price point
Before this process, I would not have known the options of vendors for say traditional vs contemporary with the exception of the obvious. I also did not know all the available vendors for high end vs low end. Since there are over 200 plus vendors, and this info is available to you, the process is faster to learn than it would be on your own. I also discovered who my favorite vendors are. Some of these I'll use in the future since many times my Havenly clients cannot afford my favorites lol. I do try to get a product in here or there mixed with lower-tiered vendors for a more polished unique look. Another thing I have done is opened trade accounts with many vendors so they are ready when I need them.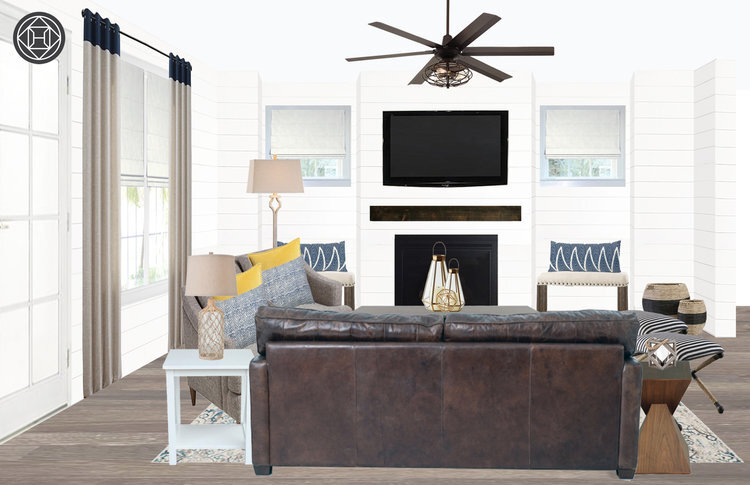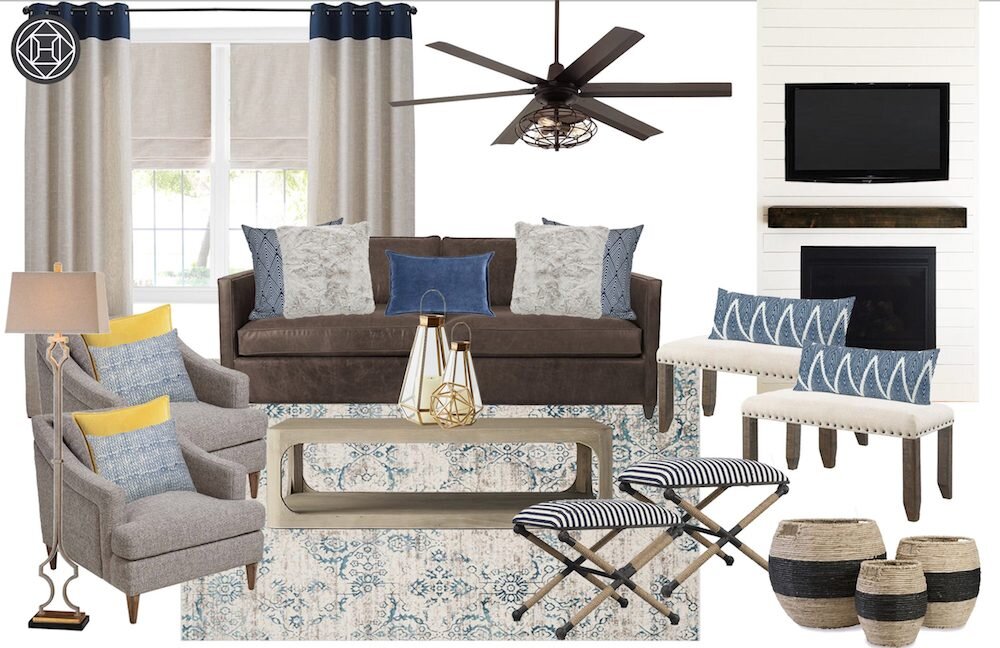 7. How to work within a budget
When a client signs up from a room design package they fill out a room/ style questionnaire which includes their budget range for the items they would like sourced. What I have discovered from this is many clients do not have an idea of what it costs to furnish the average room. Often times their list includes many items for a very low budget. I have found is it's better to offer the best quality possible, be slightly over budget and then give a few alternates at a lower price point. Most of the time the client goes for the higher better priced/ quality item. I do also find if I go slightly over their budget it is a good idea to let them know they can purchase over time. This helps lesson the sticker shock of what some items actually cost.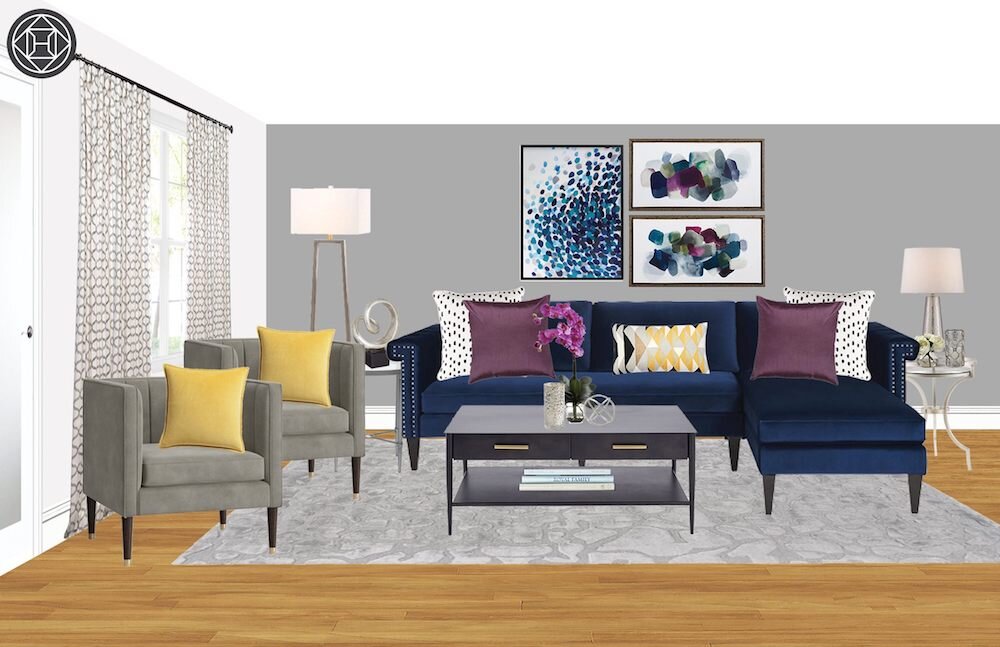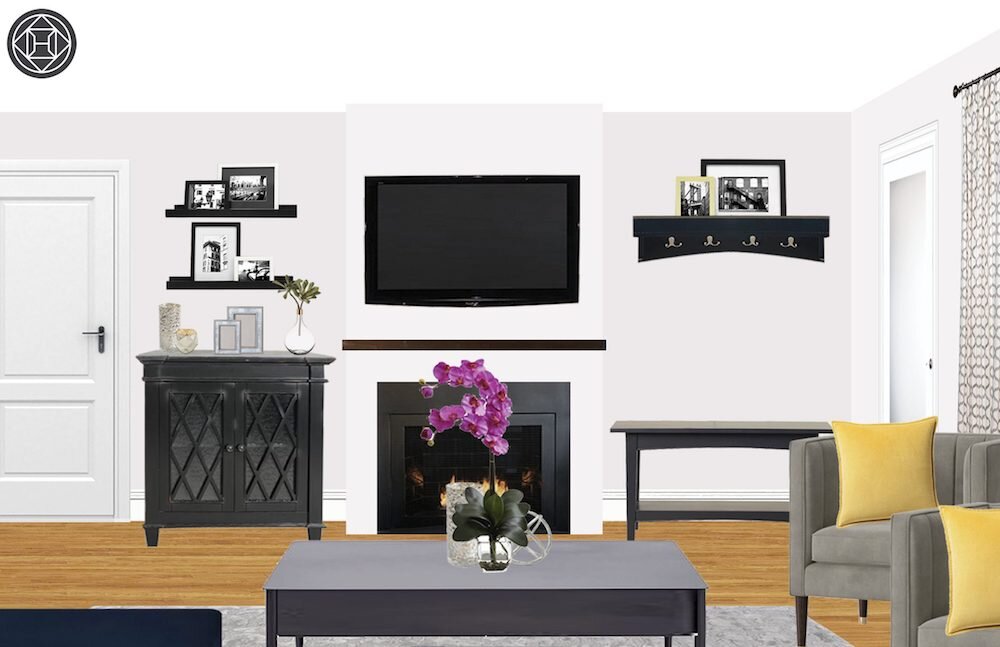 8. What the average room cost to furnish
Prior to this experience I would not know off the top of my head what an average room would cost to furnish. As a result of the eDesign process I am now able to gauge a client's budget based off where they like to shop for furniture without actually asking them for a number. This will be very valuable in the future.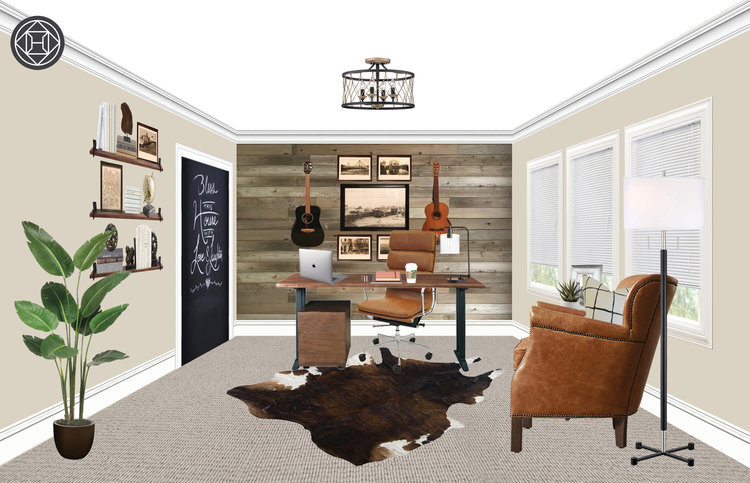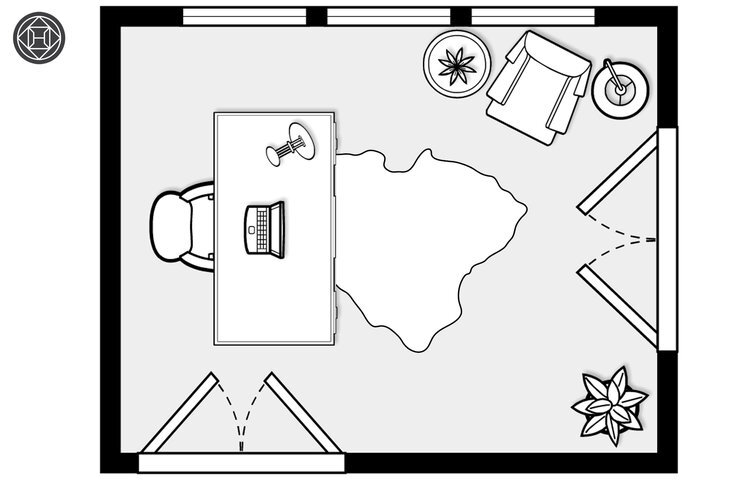 9. The importance of a few options but not too many
The first projects I did I found myself giving clients up to 10 options for an item they didn't like. This was mainly because of lack of experience and confidence in my selections. My process now is to get as many of the larger items as possible on the initial idea boards. I make sure these items are in stock and available as well. That way the client is essentially getting three options from the start and they generally pick the board they like best and a piece or two from another. As the process moves to the concept phase I have their picks and the process goes smoother. Then on either the final concept or layout board any pieces they want options for are nailed down on that last board. I have also learned not to base my client's selections off what I think they can afford. The initial idea boards are based off the look of the room and I tend to let the client tell me if a piece is too expensive and they want a lesser option. I also learned to always have the artwork, rug and pillows in the idea boards if they are to be sourced. The artwork and rug because I find these to be subjective and the pillows help show the direction of the color scheme.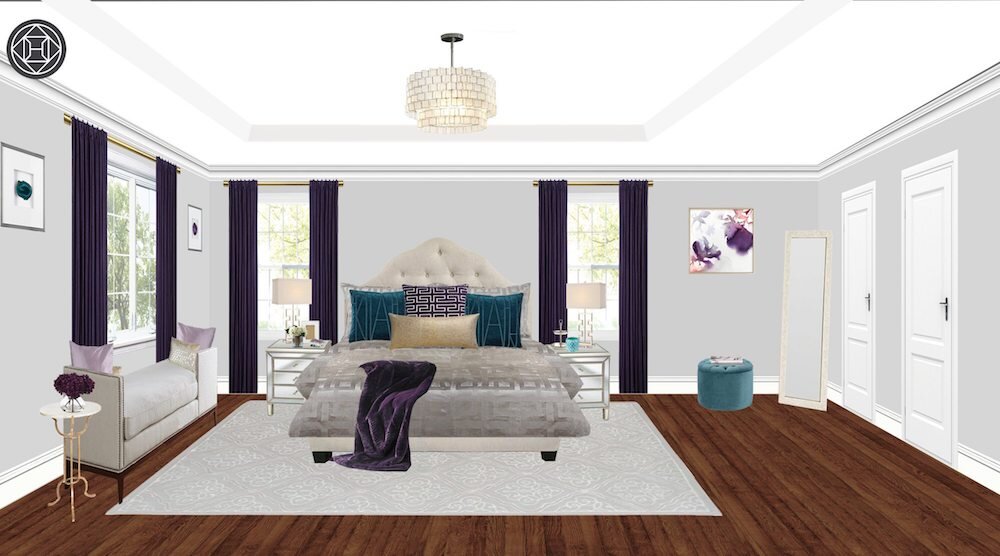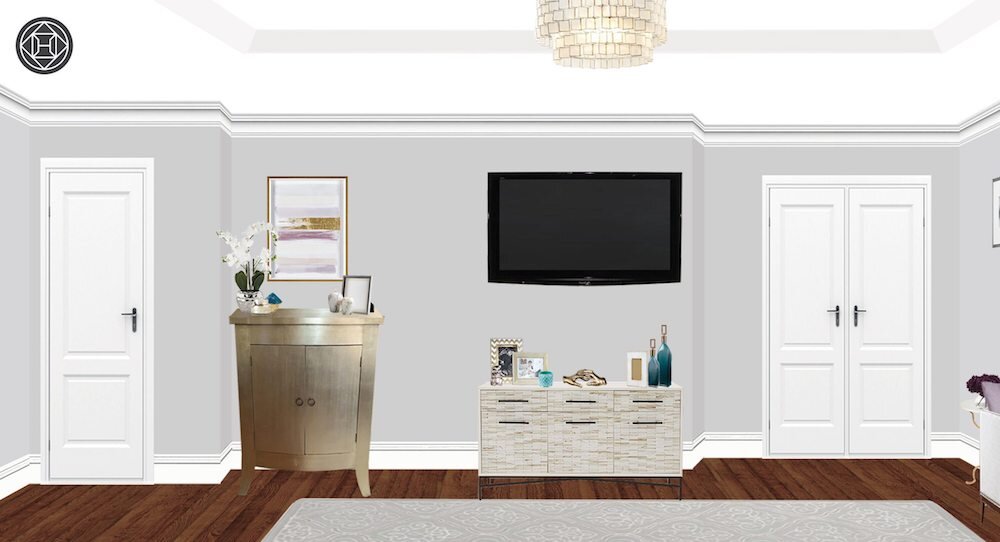 10. The importance of accessories for a finished look
One of my previous bosses told me I like designing "pretty pictures". He didn't mean it as a complement. It was his way of telling me what I designed wasn't affordable for the price point lol. For Interior design however I have found presentation is important. When I first started the process, I would add the pieces asked of by the client and not think of the accessories or jewelry. When you are in training other designers will review your work to make sure they are ready to be submitted to the client. Often times they made the comment to add accessories even if the client didn't ask for them because it gives a more polished look. Since learning this I make sure to add these to each project and believe it has helped me have a steady work flow. Since the beginning I have been fortunate to have clients in my queue.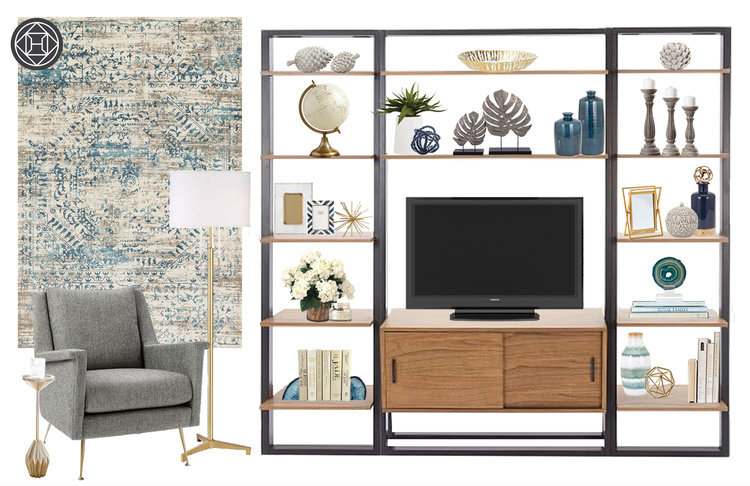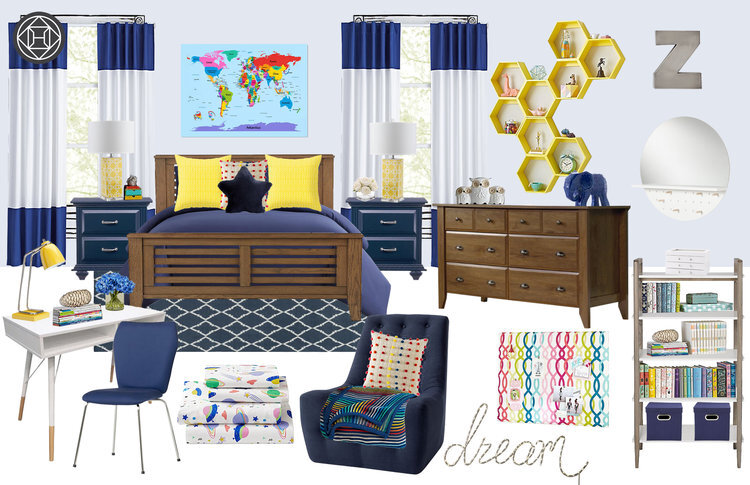 11. Learned to juggle multiple clients at once
Since I take on three clients weekly (the ideal minimum) I have to juggle between several projects a week. This has helped me develop a system to stay organized. I have a repeatable process I follow with each client which helps with time management. Pinterest has been a great resource to stay organized as I pin products for clients through the process. This has helped me develop a library of products to reference. My only issue is some nights I procrastinate because I have no desire to be on the computer after being on it all day so I'm not productive. The nights this happens I just go to sleep and get up at 5 am. I find I am refreshed and able to get the work done quicker since I'm focused. I've heard since starting this side hustle the 5 am club is a thing.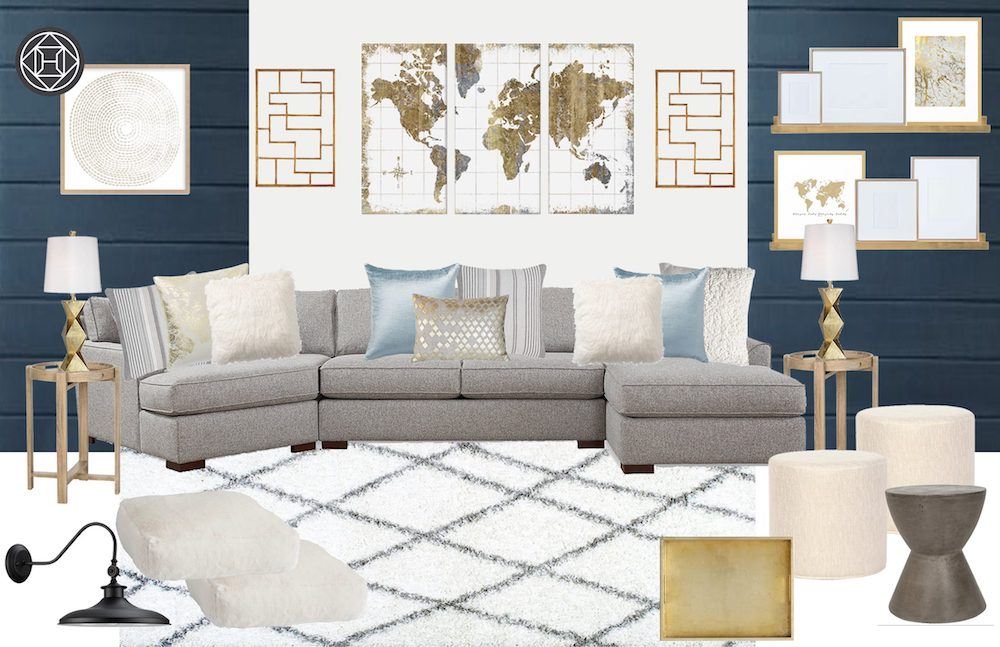 12. Worked with clients all over the US
Clients come to the platform from all over the country. So far, I have been able to work with clients from New York, Virginia, Missouri, Illinois, Delaware, Massachusetts, Tennessee, Arizona, Connecticut, Oregon, Washington DC, Colorado, California, Texas, Maryland, Wisconsin, South Carolina, Nevada, and Ohio. What I have learned from with such a variety of locations is what I may feel is an out dated coming from NY is still relevant in other parts of the country. For example, my house in all those earthy tones and rustic style is still appealing to someone living in the Midwest for example. I also just finished a room with a client from Tennessee who said the designers she has worked with from her area are doing the rustic farmhouse style but she is glam eclectic which is the reason she came to Havenly.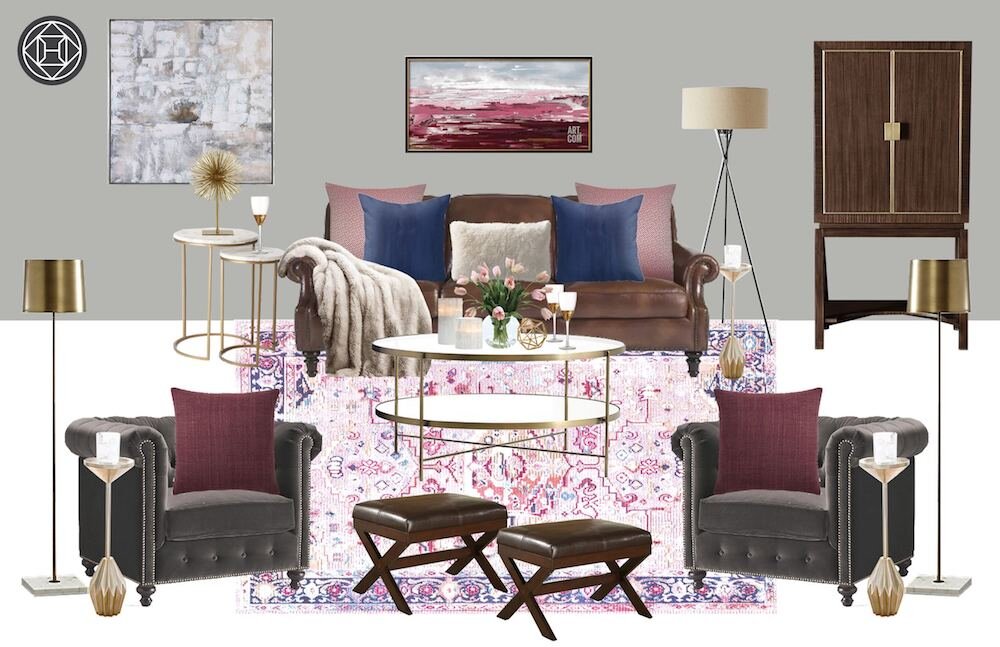 13. Learned quickly because I googled anything I didn't know
This goes back to what we always say at the day job. You are only as smart as how quickly you can google something. If I was working in person with a client and didn't know the answer to something I would have to say "Let me get back to you". With eDesign I can quickly google what I don't know and get an answer right away. This adds to a client's trust in me and what I am suggesting. It also adds to my experience and knowledge because with each project there is always something new to be learned. There is also a great support system in place with the other designers on the platform. I can reach out for help with sourcing, procedures, confirmation on what I googled and anything I do not know. Another designer always gets back to you quickly which is super helpful.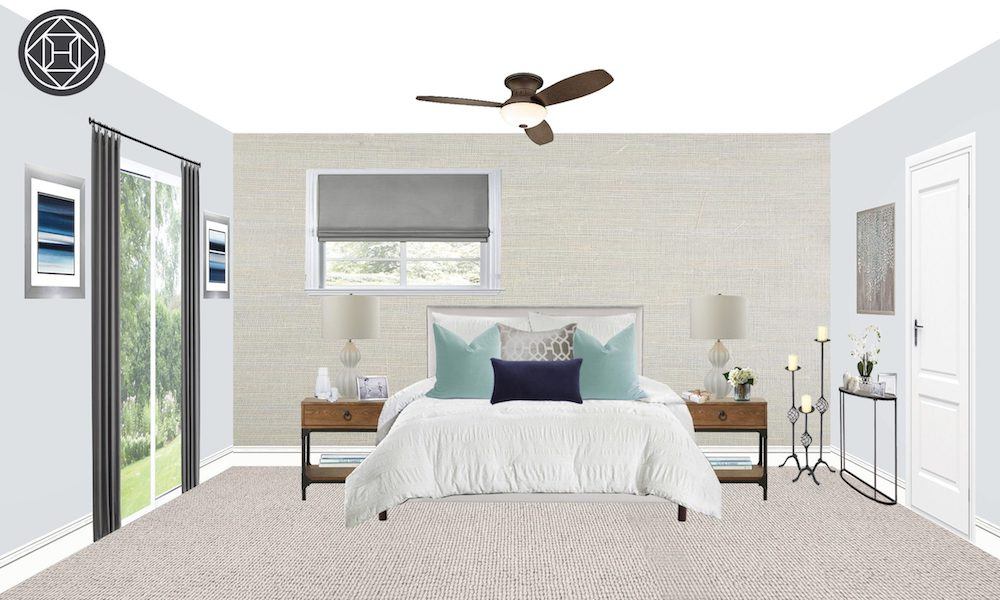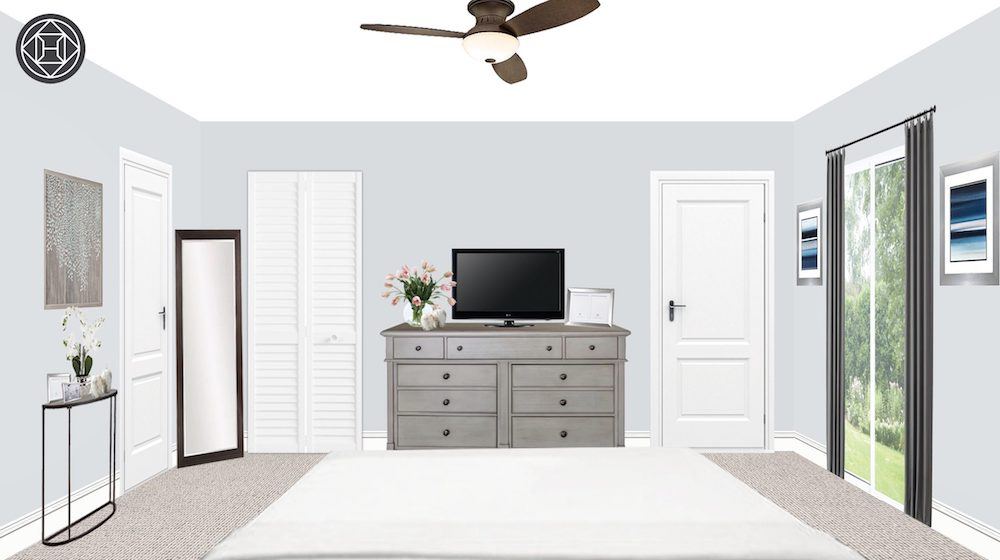 14. Gained confidence
Through experience comes confidence. The more projects I completed the more I learned. As they say knowledge is power. The more I learned the more confidence I gained. The more confident I was the smoother the process since clients trusted my selections and suggestions.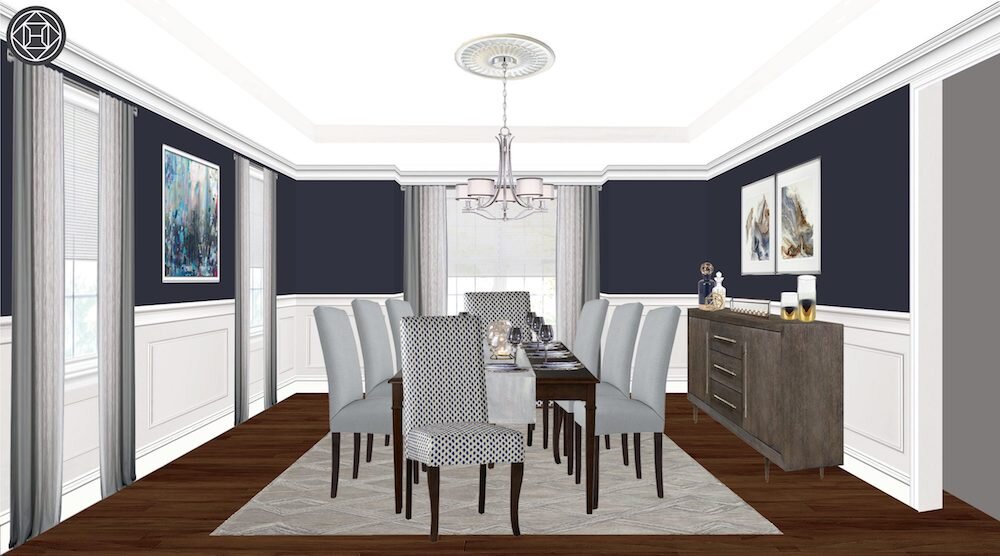 15. Learned the importance of being enthusiastic
This took me a minute for me since I'm not usually enthusiastic by nature. In the beginning I was more matter of fact when describing the pieces in a design. As the process went along and I became more confident and that came out when describing why I picked certain pieces. I also mentioned why they would work in the space and the impact they would have on the overall vibe of the room. This lead to less back and forth with the clients, less options and them purchasing more.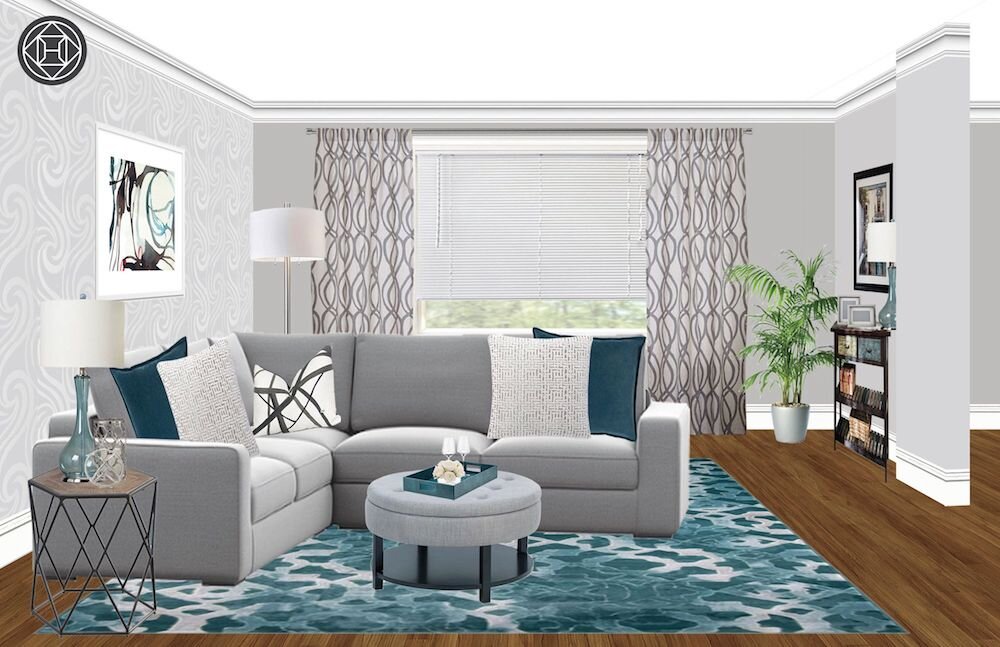 16. Received great reviews
Aside from this being a great confidence builder, it also reassures me that I am providing a valued service to my clients. My goal is to not only design a unique space true to my client's style but one that reflects the way they live in their space. I believe that the key to great design is to surround yourself with things you love that make you happy!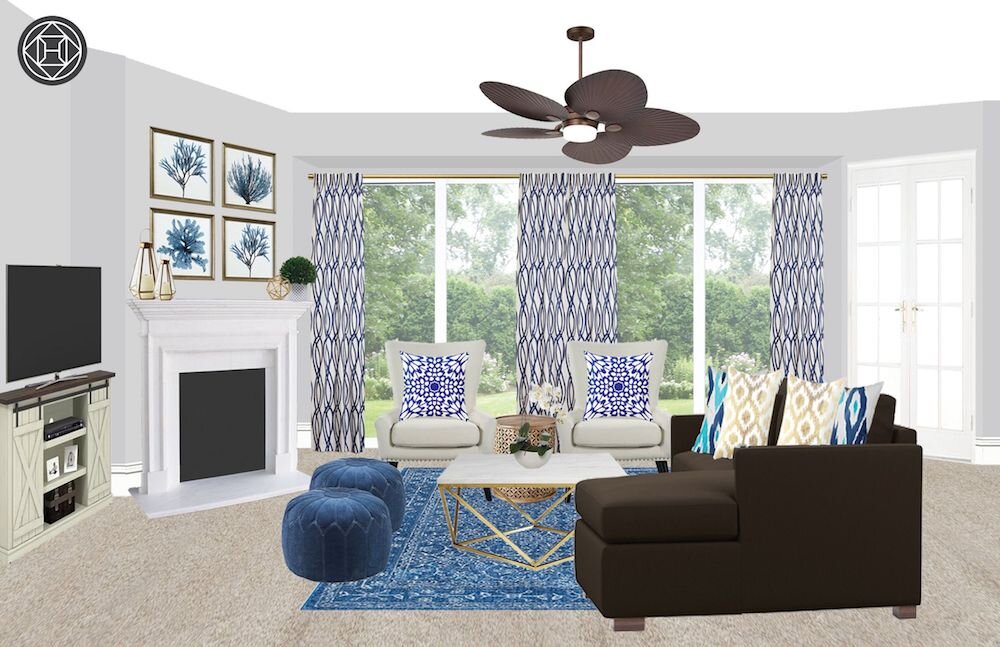 ~Hello Nicole, thank you for all your hard work! The pieces are perfect, i'm really amazed at how you've made my vision come true and it matches our budget perfectly. I wouldn't change a thing based on your current concept board.
~Hello Nicole, thank you so much, the layout is perfect! We're excited to start putting these items together to have the living room we've always wanted. Thank you for helping us make our dream living room come true 🙂
~Hello Nicole! Thank you so much for the beautiful design, it's PER.FECT 🙂 we're so excited to start putting things together for the dining room. We do love this table a lot (even though its 60 inc diameter means that we'll only be able to have room for 6) and we have our fingers crossed that there will be some sales over the next few months/memorial day. The rug's colors are perfectly subtle and the chairs and drapes look great. I don't know how you do it but you really read my mind when it came to helping us design the home we've always pictured for ourselves. As always, thank you for all your help and hard work.
~Hi Nicole, I just wanted to say I love the final layout! You did an amazing job of incorporating my style and needs, while also suggesting cool pieces I never would have thought of on my own! I can't wait to get started shopping later today! I've enjoyed working with you, and I hope you'll be up for collaborating on other rooms in the future! Thank you again!
~Hi Nicole, We absolutely love this design! I can't wait for the renovations to be done and will be sure to send photos! I ordered our items. Thank you!
~Hi Nicole, I absolutely love it!! I'm very happy with how everything turned out, and your idea for turquoise chairs is my favorite part of the room! Thank you so much for your hard work 😀
~Thanks for all your help! You really listened to what we wanted and we're excited about the room.
~Hi Nicole! I absolutely love it, it feels very much like me/us.
~I love it. Love it. Love it. I think you were a perfect match for me.
17. Happy clients equal repeat clients and referrals
During or at the completion of many projects I have had several clients book other rooms they need designed. One, in particular, has booked five rooms to date with me. The Living Room was first then the Dining and Bathroom. In my queue is her Kitchen and Office. The great thing about repeat clients is you already have a relationship with them and have an idea of their style. This makes the design process smoother and easier since you have a feel for their space right from the start.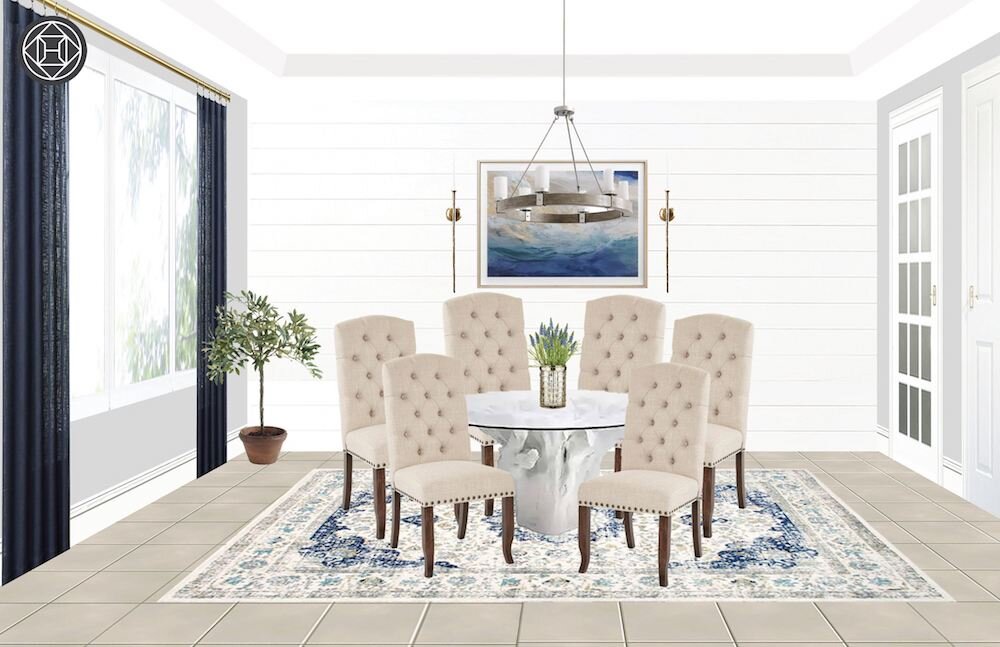 18. Felt more comfortable engaging with other industry professionals
Prior to doing edesign nights and weekends I used to dread the "what do you do?" question at industry events. I always felt uncomfortable since I was in the transition phase. Now however I feel more confident engaging with other designers because I am able to discuss my experience with eDesign. Since many designers are interested in or are adding the service they are curious to hear about it.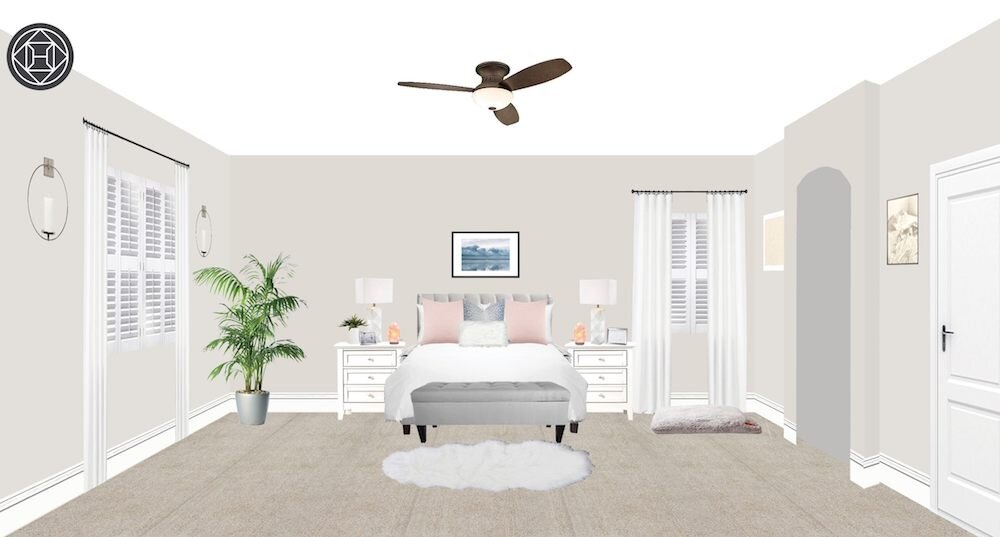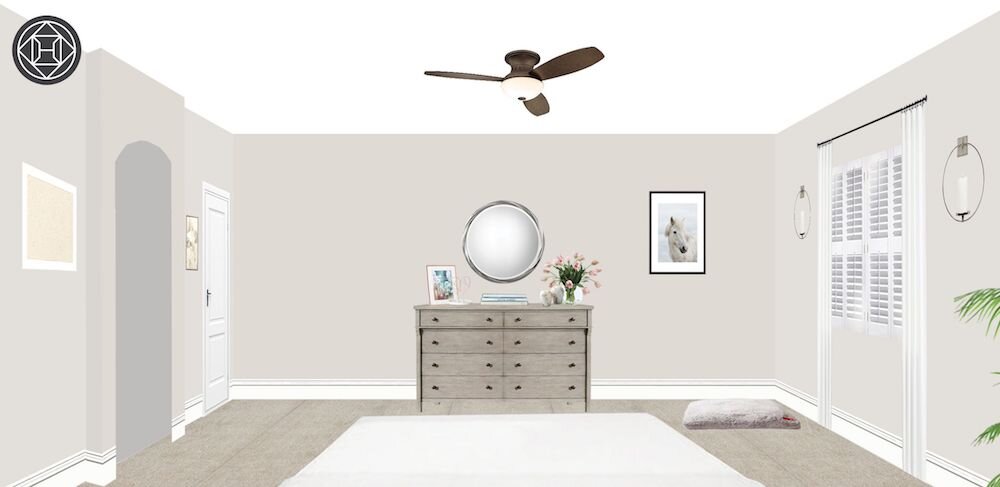 19. Gave me social media content
Since I have built a body of work I have more content to post of my own on social media. Many of my posts are inspirational or highlight designers work that I admire but it's nice to be able to mix in some of my own eDesign projects as well. This lets others know I am developing a style while building a portfolio of work. I often post design projects in progress in my stories which help show my process when designing.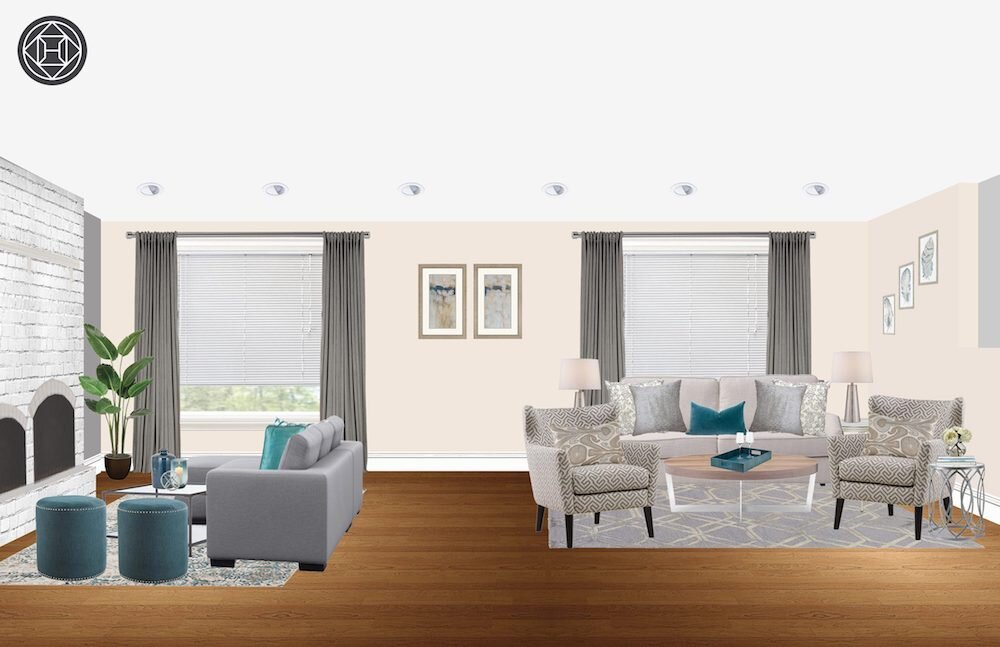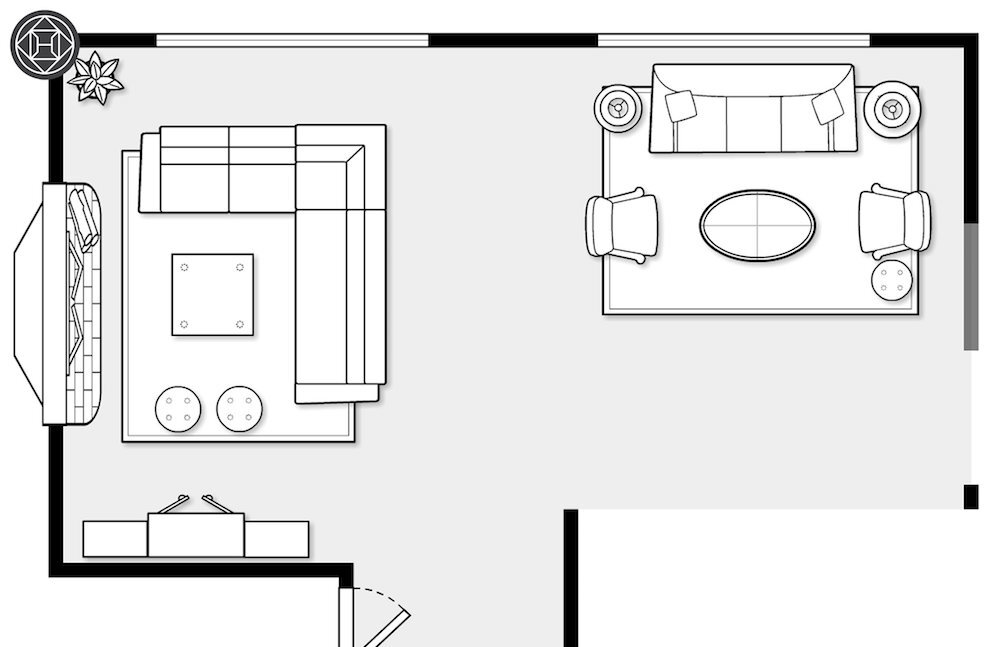 20. Learned what I enjoy from the process and don't (need to outsource)
Since my experience with edesign I know I enjoy sourcing product, the concept phase and coming up with the design plan. I also enjoy floor plans and the space planning phase of a design. I do NOT enjoy the layout/ perspective phase in Photoshop in particular. I still need to learn sketch up so I may feel differently about it working in that program. In Photoshop, many times I have to search for the perfect image at the right angle to put in a room. I have had to recreate furniture pieces because they get distorted when trying to get the piece in the right perspective. At times the layout phase can be very time consuming because of this. This is one of those things I can do but do NOT enjoy doing. Part of the reason I no longer enjoy designing children's clothes is because it is all done on the computer. There are many days I am starting at the computer the entire day which for me is just not enjoyable.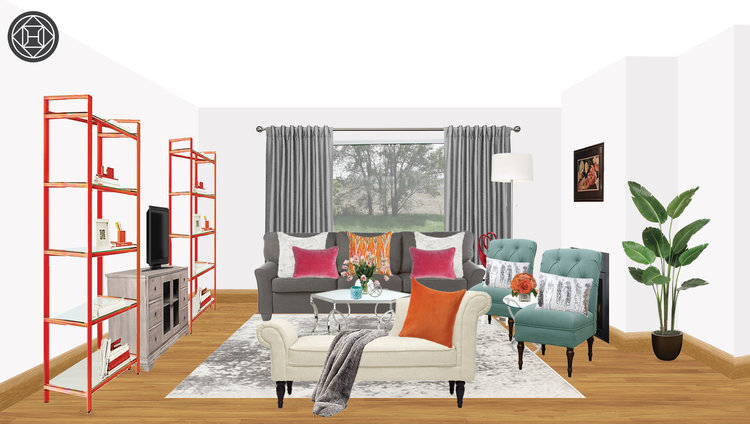 Sorry, this was so long but hopefully documenting my experience will help anyone who is on the fence about trying out eDesign with Havenly or another online platform!
xo Nicole
#beinspired
---
For more shoppable designs check these out from my Like To Know It page.
Note: My blog periodically contains affiliate links meaning that if you make a purchase, I might make a small commission at no extra charge to you. Purchases made through them are greatly appreciated.