Please Note: This post may contain affiliate links, which means that if you make a purchase, I might make a small commission at no extra charge to you. I only recommend products or services I believe will add value to my readers. Please read my full disclosure for more details.
This post is all about dorm room storage and organization tips every freshman should know.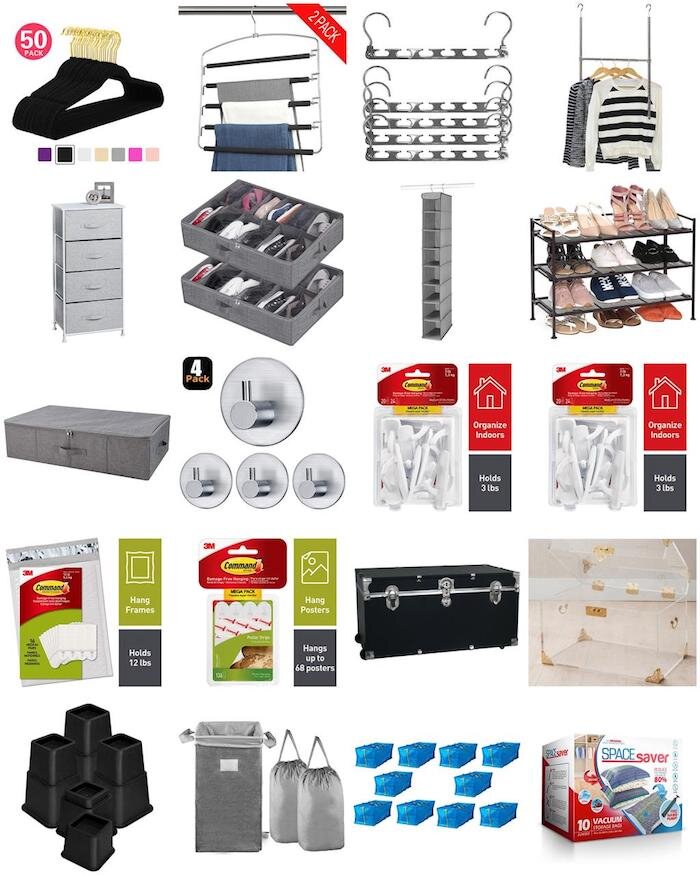 There are so many things to think of when a student goes away to college.
I am in several Facebook groups and there are always reminders of the little things that will help with storage and organization.
I tend to struggle personally in this area so I pay closer attention to the many tips offered.
There is a chance that my daughter may need to quarantine for two weeks when she goes to Hawai'i Pacific for the in-person fall semester.
If that is the case there is a good chance she will go on her own.
That said we really need to get all the details and master plan mapped out before she leaves!
---
Here is our List of Storage & Organization Products:
space-saving hangers
double closet rod
stacking drawers
shoe storage/ racks
storage shelf/ cart/ bin
under bed storage
hooks/ hook racks
wall safe adhesive
Extras:
storage trunk
storage ottoman
bed lifts
door stopper
hamper with laundry bags
Ikea large trunk bag
space saver vacuum
storage bags
---
SCROLL FOR A QUICK PREVIEW
1. space-saving hangers
Velvet hangers take up far less space than bulky plastic hangers. They also come in cool colors!
The closet organizer and layered pant hanger are both great options to save space in your dorm closet.
2. double closet rod
This adjustable closet double rod is perfect to maximize the space in your dorm closet.
3. stacking drawers
Two great options of side tables with drawers to keep next to your dorm bed.
I especially love the shelf in the Dormify one!

4. shoe storage/ racks
Every college dorm room needs a place to put all those shoes and here are three great solutions.
5. storage shelves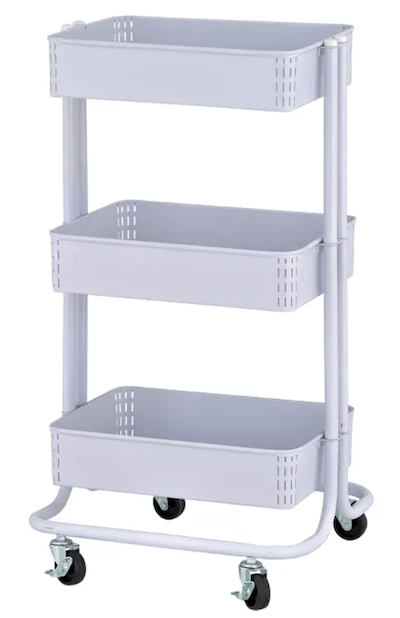 Either one of these is a great storage option depending on the space you have in your dorm room.
The cart one wheels is a really good option if you like to rearrange your room a lot.
6. under bed storage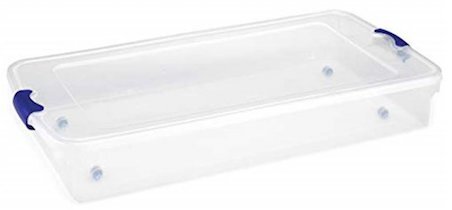 Whether you like the plastic or cloth version both these under the bed storage options will keep you organized.
Personally I love the gray linen material for its aesthetic appeal!
7. hooks/ hook racks
Love the cool chrome hooks but the white is a classic!
8. wall safe adhesive
These are perfect to hang all those awesome room decor items you purchase and they won't damage the walls!
---
A Few Extra Goodies:
9. storage trunk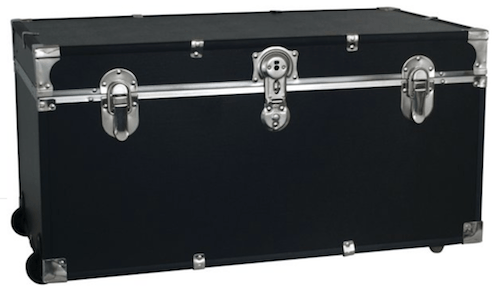 Love a good storage trunk!
Now obviously the Acrylic Trunk is not for every college student but I just couldn't resist including it!
It is super cute and only for the very organized college/ neat college student because if you are the type to use it to clean your room (Bella) it will just not be pretty!
10. storage ottoman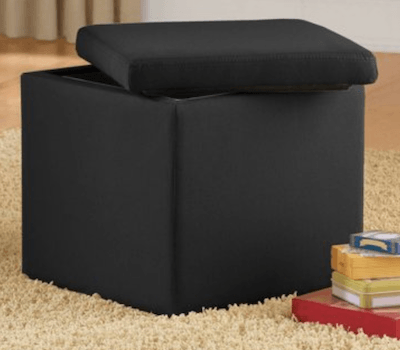 A lot of the parents in the groups I'm in mentioned buying these for their students.
They can be used for your feet, extra seating, a step stool, and for storage.
There are just so many practical uses for them!
11. bed lifts
These are great to raise the bed up so you can store things underneath.
12. door stopper
Super helpful for move-in/ out day and awesome for getting to know your dorm floor neighbors.
The best way to get out of your comfort zone and enjoy your college experience is by meeting new people!
13. hamper with laundry bags
Love the grey option!
I included other hampers in past dorm room posts but this one is super practical.
Included with the collapsible hamper are two removable laundry bags which are great to carry your laundry on cleaning days.
14. Ikea large trunk bag
So many moms included these in their must-haves for moving their college freshmen!
They are from Ikea but also are sold in packs on Amazon which works for us since pretty sure Ikea is not an option for Hawai'i??
15. space saver vacuum storage bags
These are perfect to shrink the size of all the bulky items you need to transport like your comforters and blankets.
---
I hope you found this post helpful in your college planning!
There are so many things to think of that first year of college and if you are traveling a far distance the more you prepare in advance the better off you'll be.
Stay safe and well all!
Have a great night full of Unicorns and Rainbows!
xo Nicole
---
Related Dorm Room Blog Posts:
9 Dorm Room Bath Essentials You Are Going To Want To Have
9 Dorm Room Bedding Essentials + A Few Extra Goodies
19 Dorm Decor Ideas That We Are Obsessing Over For 2020
Where To Shop For Your College Dorm Room At Hawai'i Pacific
Must Have College Dorm Checklist For The Class Of 2020!
15 Gift Ideas The Graduating The Class Of 2020 Will Love!
---
Product Links:
---
Note: My blog periodically contains affiliate links meaning that if you make a purchase, I might make a small commission at no extra charge to you. Purchases made through them are greatly appreciated.
For more shoppable designs check these out from my Like To Know It page.