Please Note: This post may contain affiliate links, which means that if you make a purchase, I might make a small commission at no extra charge to you. I only recommend products or services I believe will add value to my readers. Please read my full disclosure for more details.
Hello again everyone!! It is now Week 3 of the ONE ROOM CHALLENGE. I just returned back from HPMKT which I have to say was an amazing experience! Last week I shared with you the key vendors/ pieces for the Dining Room to Sitting Room makeover. If you missed that blog post you can read Week 2 HERE. This week I will be sharing progress shots of how the room is coming along.
Before I get into that I just realized I left out one of my favorite pieces in the room! It is the Horizontal Reef Flush Mount 38″ from Dutton Brown. Since the ceiling height in the sitting room is only eight feet I needed a cool fixture that was flush mount and this one was perfect! I discovered this vendor from Instagram of course. Their story very inspiring and you can read about HERE.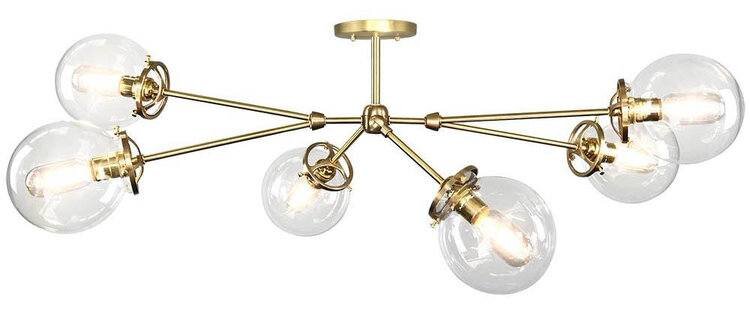 This image was taken right before I decided that the odds of the wallpaper coming in time were slim to none.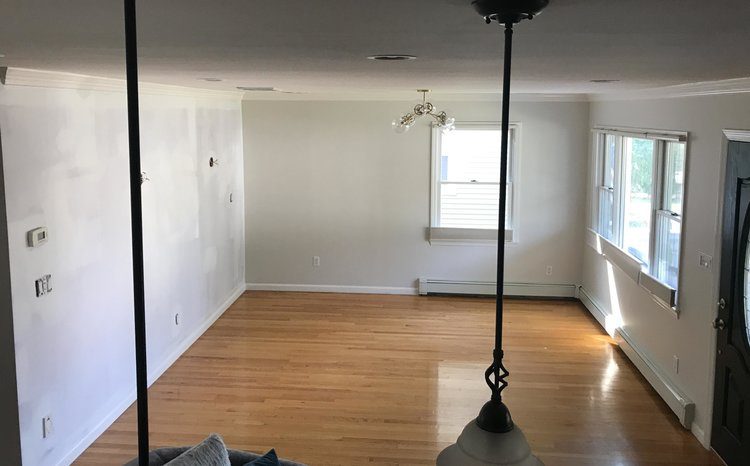 So I decided to paint the wallpaper wall while I wait for it to come in which is taking forever!!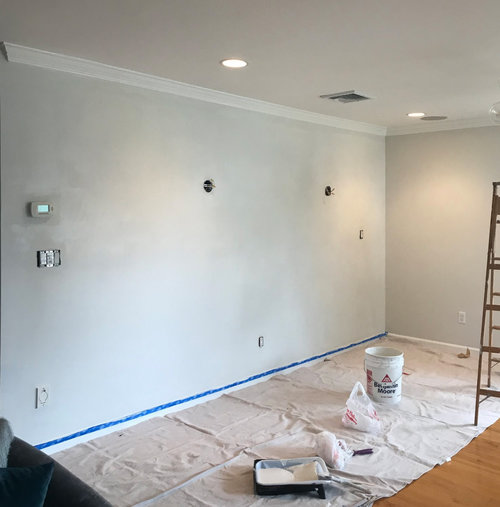 I did have a few imperfections in that wall since it was prepped for wallpaper and needed to spackle those areas before I could paint.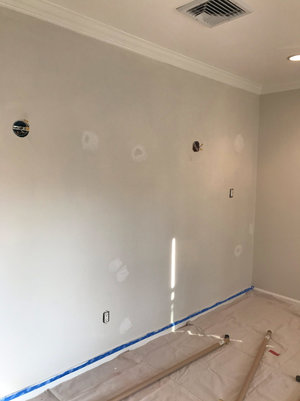 Next I decided I would work on getting the window treatments up.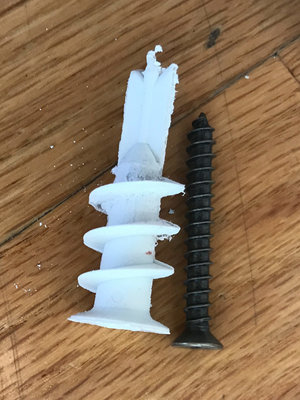 Since the molly provided was too short for screw provided I did have some issues.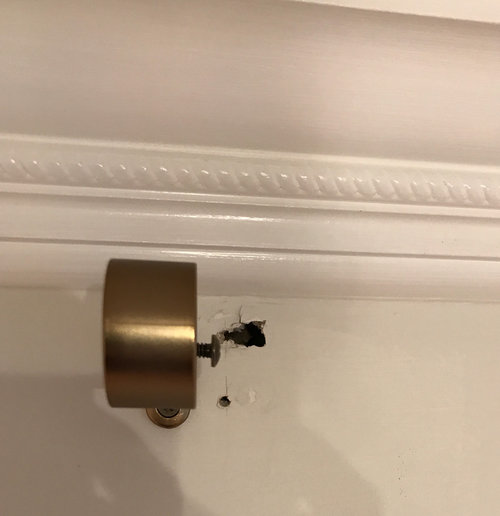 As you can see here I had to patch up the hole from the molly issue.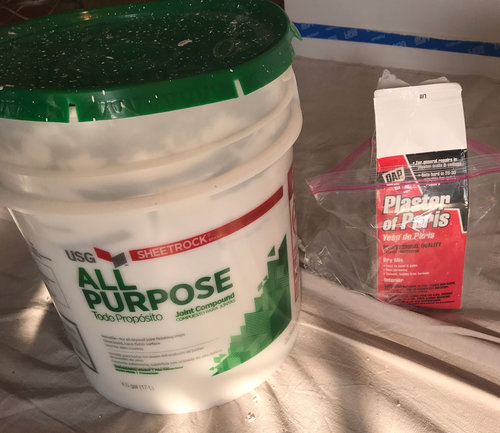 A combination of joint compound and Plaster of Paris was used for the repair. Once the area was dry it was then sanded, primed and repainted with two coats of the BM Classic Gray. I think I failed to mention the room paint color previously lol. Classic Gray is considered a Greige color since depending on the lighting it can have either a Gray or Beige appearance.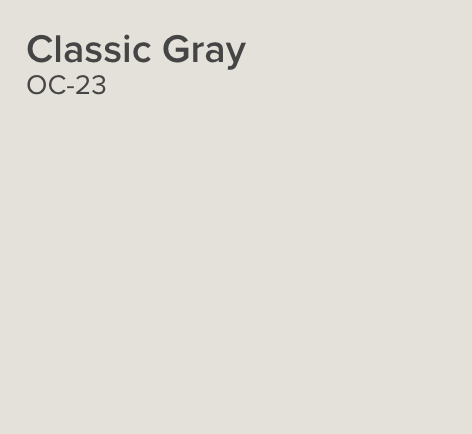 I should also mention the moldings at the window sills also had to be repaired after removing the shades.
Back to the window treatments.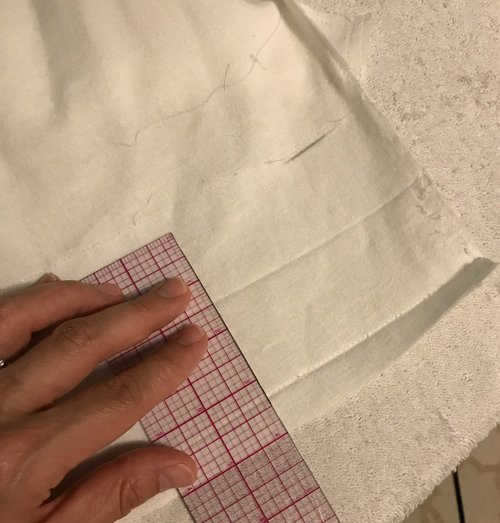 Since the purchased panels were 96" long and the ceiling height is 8' I did need to shorten them by about three inches.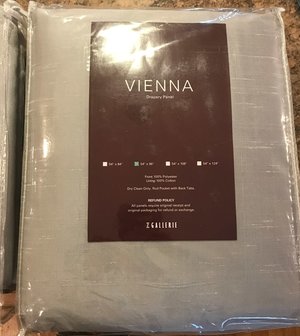 They are being hung just under the crown molding to draw the eye up and make the walls appear taller. This is where I brought out my FIT Fashion Design sewing skills.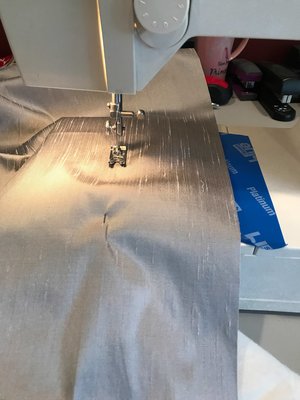 Hemming drapes is quite the process especially when there are three layers and the rods are already hung. It basically was as if I was hemming a dress. I first hung the drapes on the lucite rods.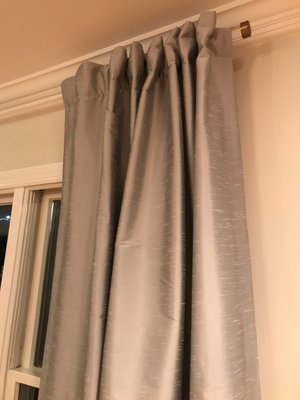 Then I pinned the length. Next, I pressed the hemline, re-pinned, and then hung them to double-check before sewing. When I sewed the first panel without double-checking I realized I needed to check the length pushed back and also straight. This is because when you push the drapes to the side they get shorter by about a 1/2". Me being a perfectionist (to an extent) I took the seam out and dropped the hem down so it would just brush against the floor.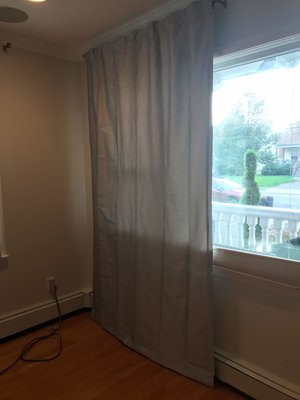 I have to say it was quite the process hemming the three layers of drapery panels myself but they are finally complete. This is definitely something I will outsource to a workroom for clients but for Willow House, we are on a budget so I need to cut back wherever possible!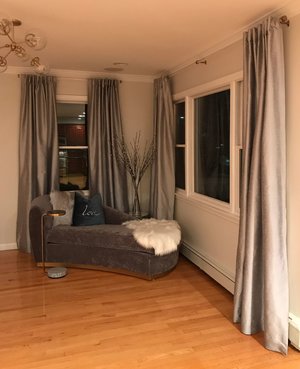 Please check back next Thursday for the update of where we are at with the ORC Sitting Room makeover. As usual to see all my behind the scenes follow along on my Instagram Stories and daily Facebook Live videos.
Also be sure to follow the other amazingly talented Featured Designers and guest participants here, as they transform their spaces.
xo Nicole
@oneroomchallenge | @betterhomesandgardens |@homelovenetwork