Please Note: This post may contain affiliate links, which means that if you make a purchase, I might make a small commission at no extra charge to you. I only recommend products or services I believe will add value to my readers. Please read my full disclosure for more details.
Hello again everyone!! It is now Week 4 of the ONE ROOM CHALLENGE and we are so close to completion. Last week I shared with you the update for the Dining Room to Sitting Room makeover. If you missed that blog or any of the previous ones you can read about them here Week 1 | Week 2 | Week 3.
This week I will be sharing more updates on where we are at. So I had a little bit of an issue with the Kelly Wearstler, Small Strada sconces from Visual Comfort.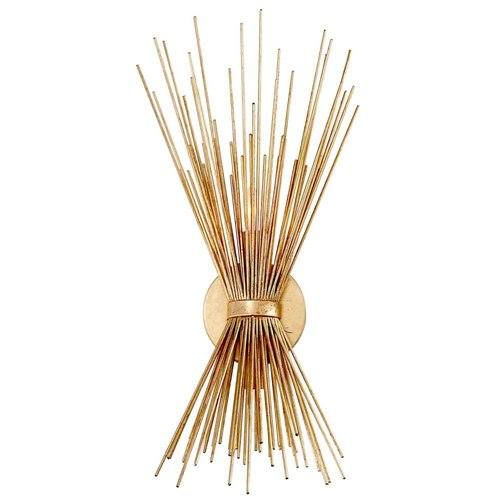 After my electrician installed the two sconces I noticed a blemish in the gold gilding rim on one of the sconces.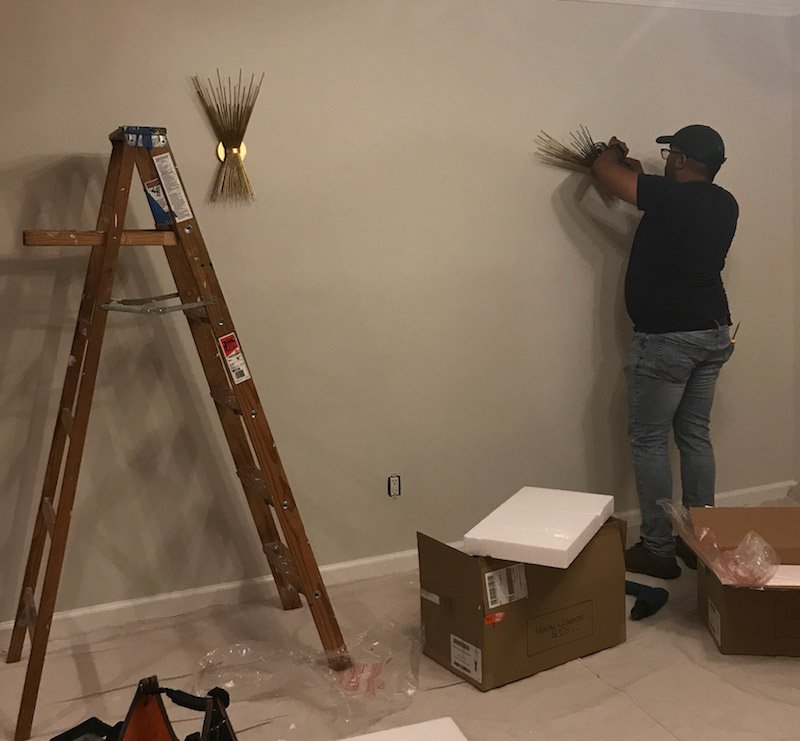 As you can see from this image there is a noticeable spot at the base of the sconce.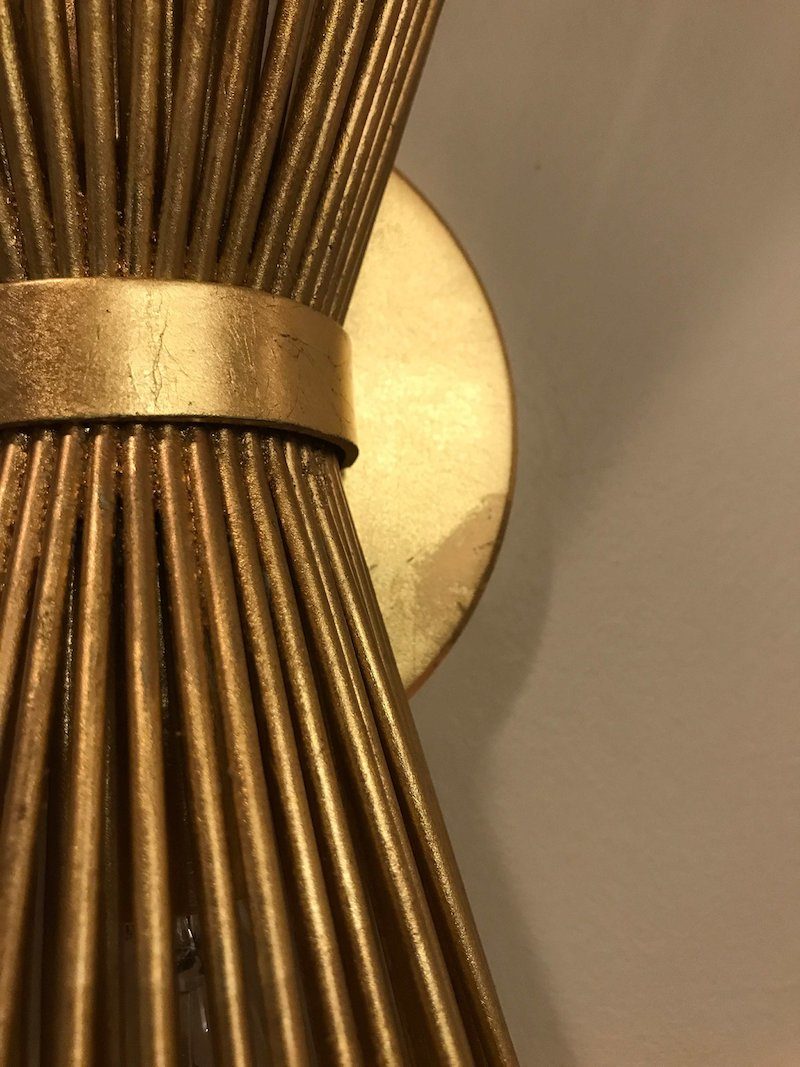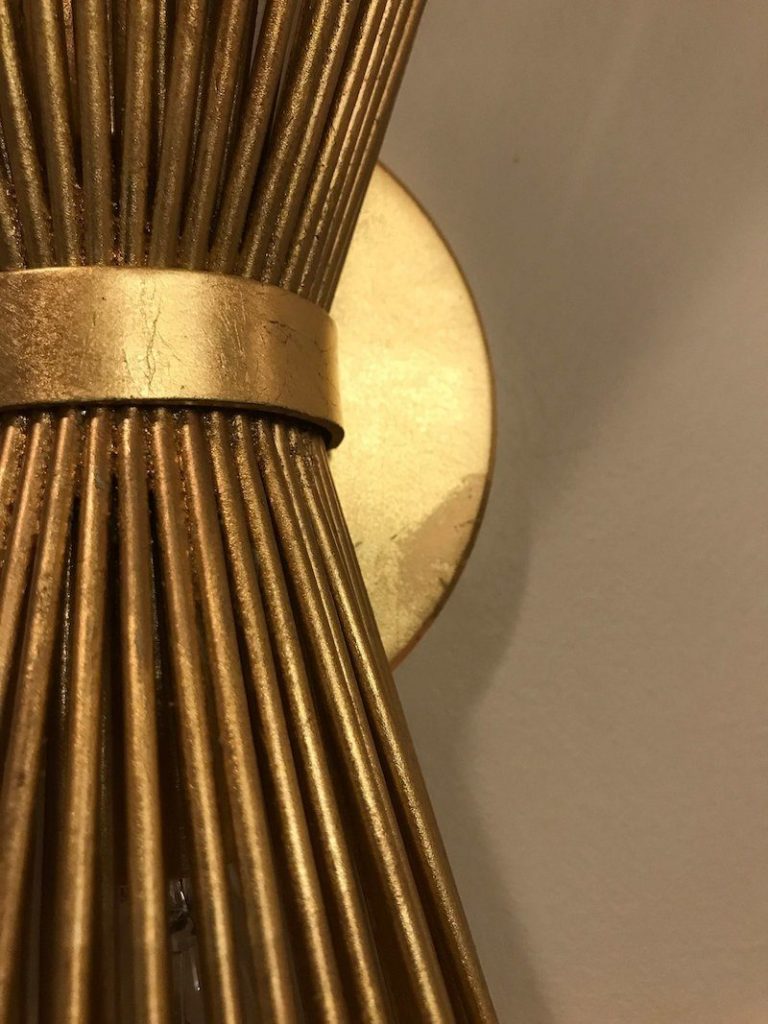 I contacted my rep and told him about the issue. Since the sconce was already installed he said that my electrician caused the mark when installing. Note to self always double-check the lighting as soon as it arrives and definitely prior to the electrician installing. This may seem like common sense but I am one of those glass half full people lol. Luckily my rep is awesome and had a replacement sconce sent out. This time I did check the sconce before I called my electrician to come back.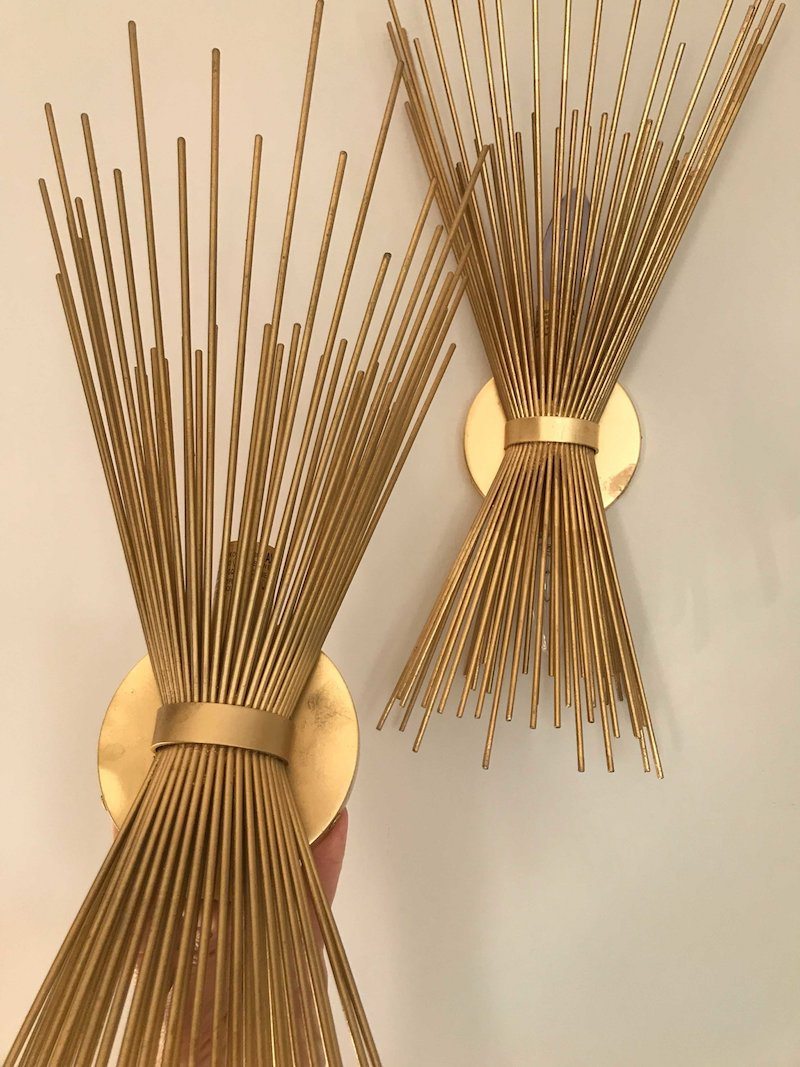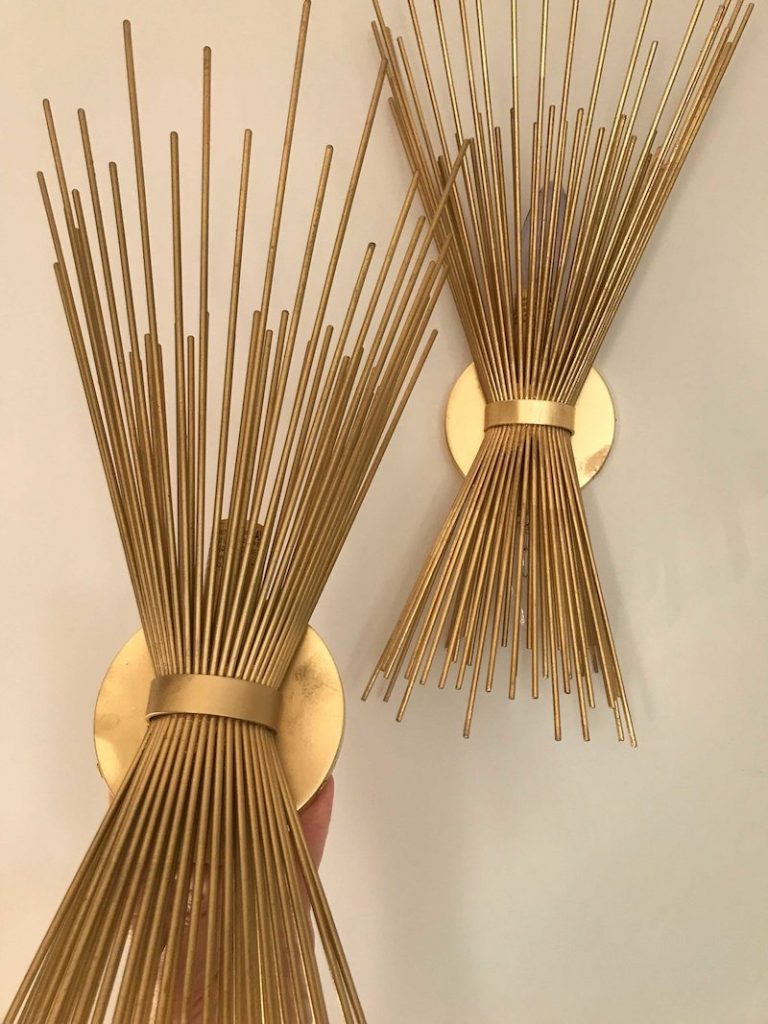 As you can see from this image it's a good thing I did that! The new sconce also has a blemish and what looks like a fingerprint so clearly, it was not my electrician that cause the original sconce blemish. Again I reached out to my rep who is sending a new replacement. As he said "third times a charm" so let's hope he is right!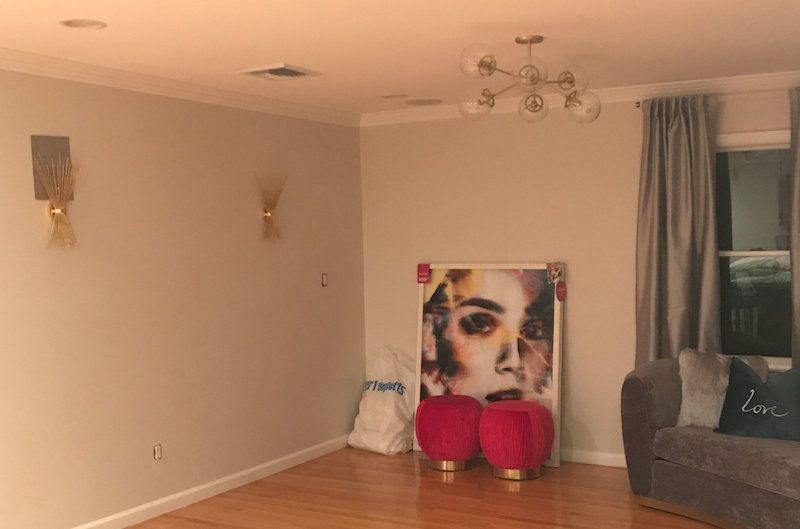 Here is an image of the sconces installed in the room. The one to the left with the wallpaper swatch I am dreaming about is the one with the blemish.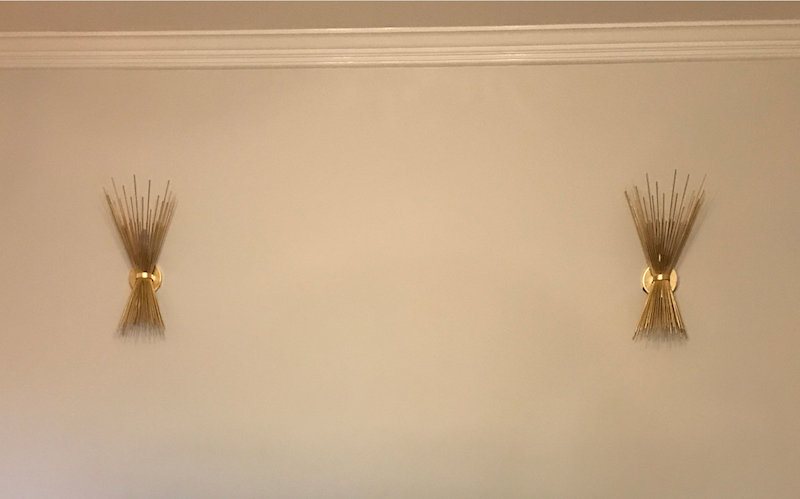 There is also a slight gap at the rim on the sconce to the right. When the wallpaper is installed I will have the installer extend the paper to cover that up.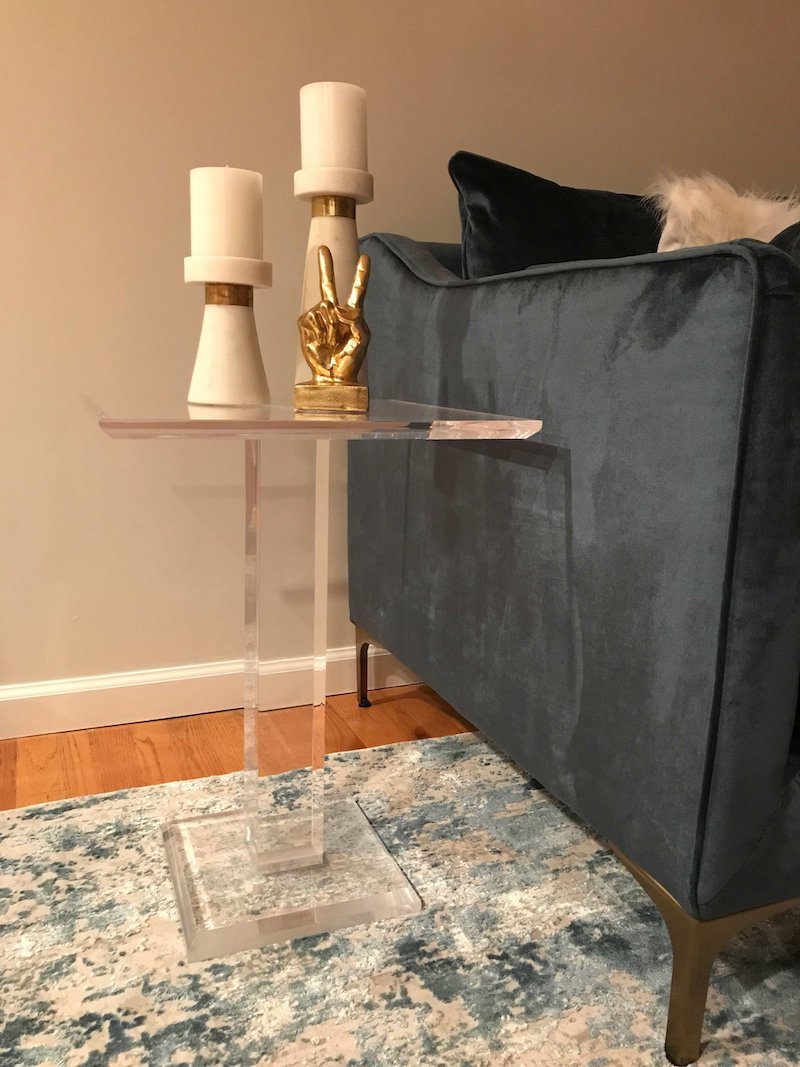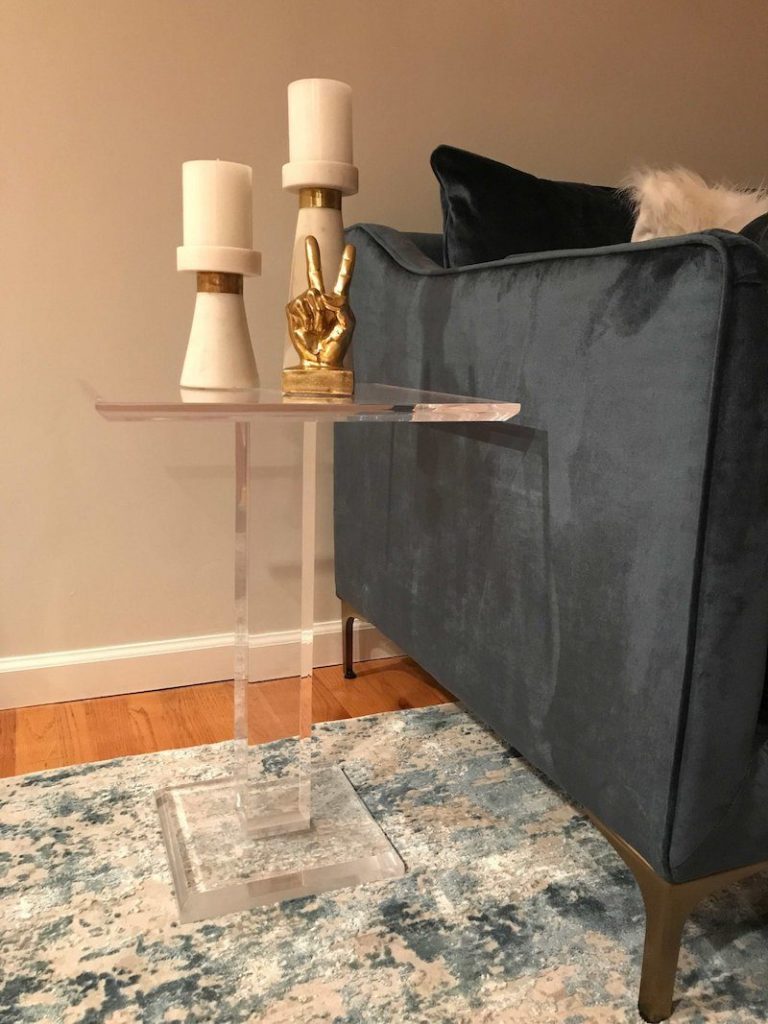 I don't believe I showed an image of the lucite table I purchased from Kravet. I am fortunate to live fifteen minutes from the Bethpage, NY headquarters where it is possible to purchase items from this location. It is usually hit or miss that I find what I'm looking for but this was a winner! The lucite table is the perfect piece that ties back to lucite drapery rods. I was also told not to use glass cleaner on this lucite table. To clean the surface you should instead use hot soapy water with a soft cloth. The ideal cloth is nonabrasive, absorbent, and lint free. To eliminate any chance of scratching the lucite you should use only disposable cloths.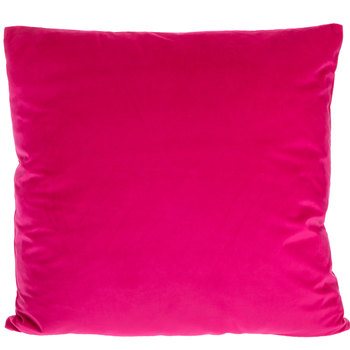 Another find this week was this Pink Fuchsia Velvet pillow from, believe it or not, Hobby Lobby. I had done a google search because as we all know "we are only as smart as how quickly we can google". To my surprise, I found this gem which I had been searching for the past few months. I was trying to find the perfect fuchsia velvet fabric or pillow to work back to the pink velvet ottomans from TOV. When I came across these for $14.99 on sale I figured I'd order them and just return them if they didn't match. Buying fabric or the other pillows I found from Little Design Co would have cost way more. Since I am on a budget and still have to find that bar cabinet I hoped these would work. To my surprise, they matched perfectly!! Score!!!!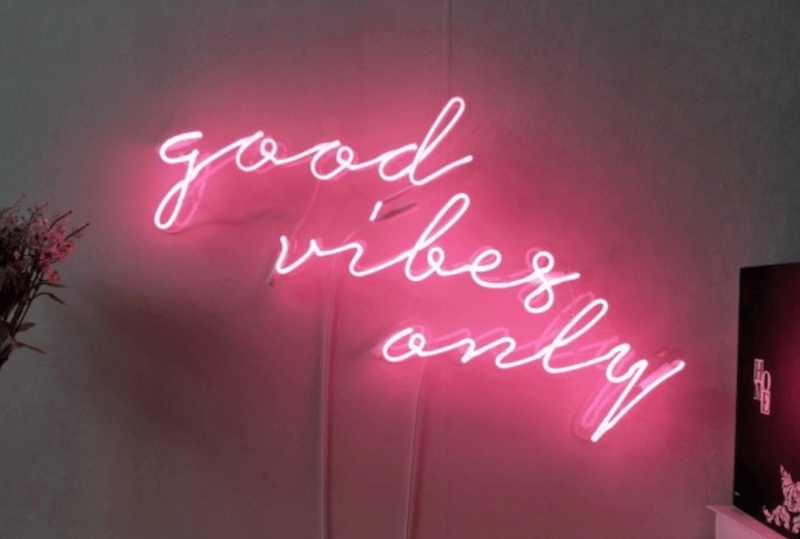 Another slight change to the design is the pink neon sign. I had originally planned to purchase the "It was all a Dream" saying from Olivia Gal but it is still sold out. After searching online I came across this one from AOOS. Since "good vibes only" is a saying I frequently use this change was actually perfect and the sign should arrive by the ORC deadline. Fingers crossed my friends!!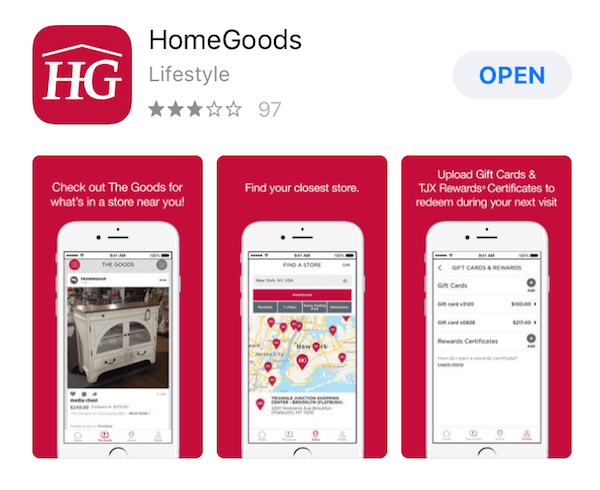 Another discovery I made this week after googling the best days to shop Homegoods is that they have an app! Did you know that?? So how it works is you download the above app.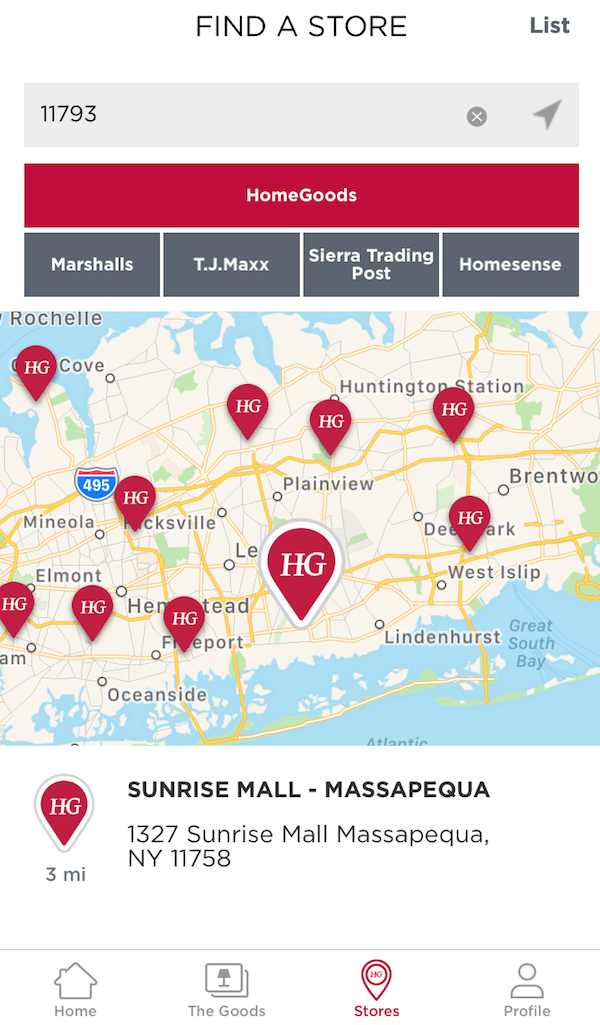 You then put your zip code, town, and/or state in to set your store locations. Since multiple locations can be set and I know the Connecticut stores are larger I have mine set for NY and a few CT locations. Also because I am psycho and will drive that far if I find the perfect bar cabinet.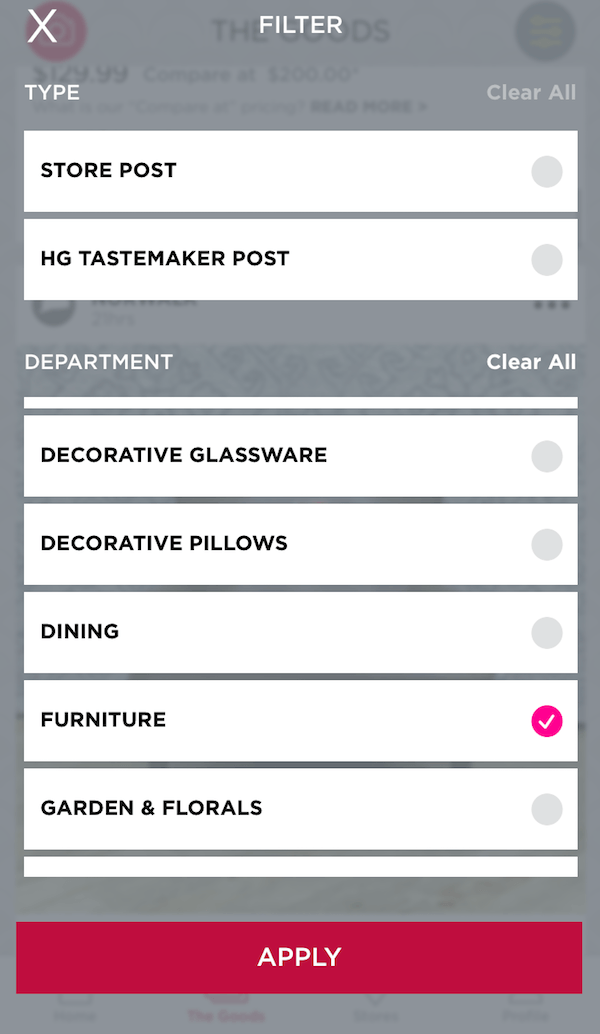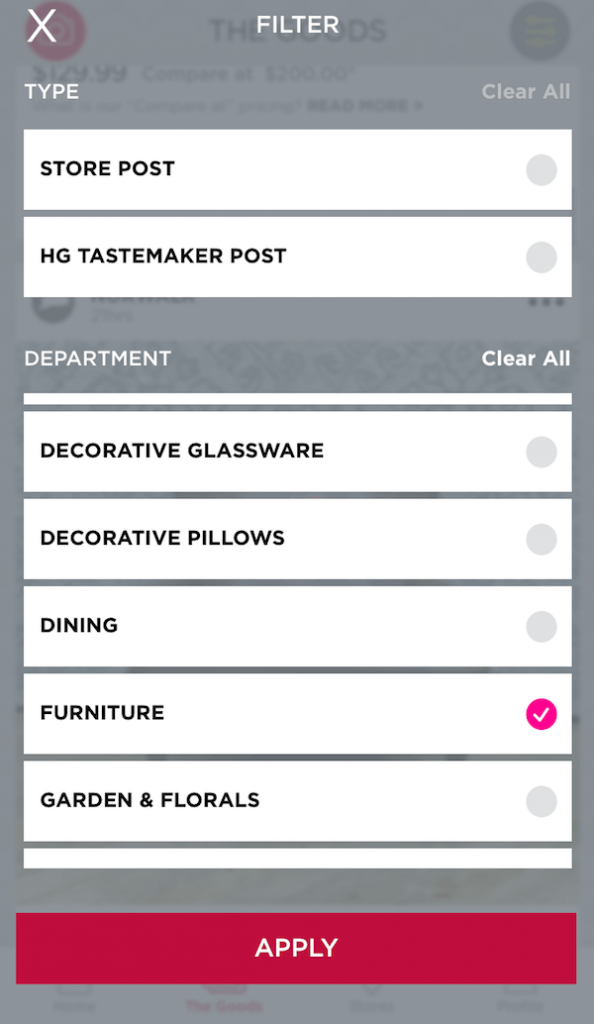 Next, you can select if you want to see store posts and/ or HG Tastemaker posts. You can also set the department you would like to see a product from. This allows you to see what has been posted throughout the day along with the price.
You can also click on the location directly to see images of the posted products as shown below.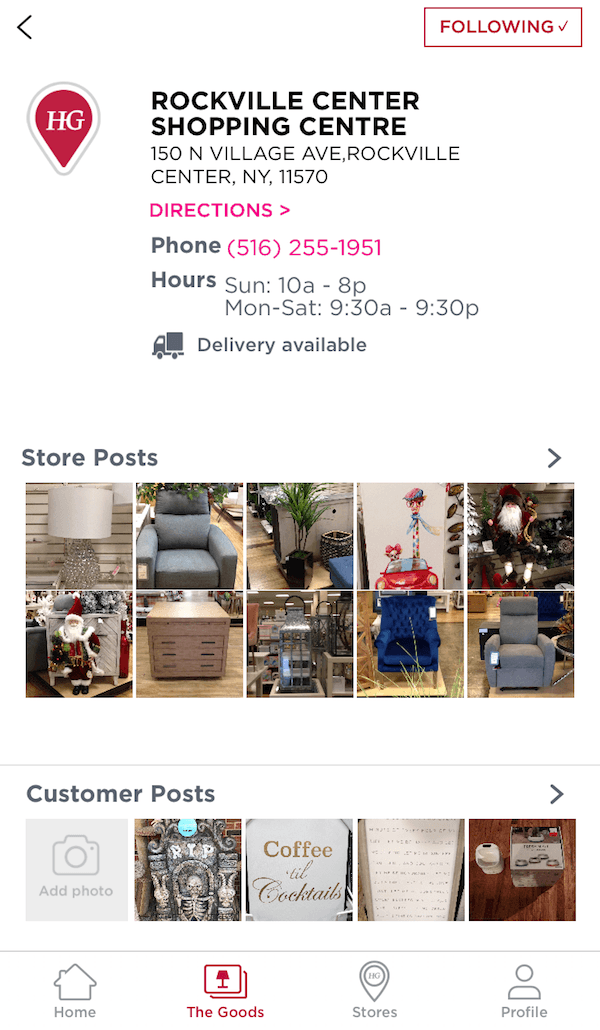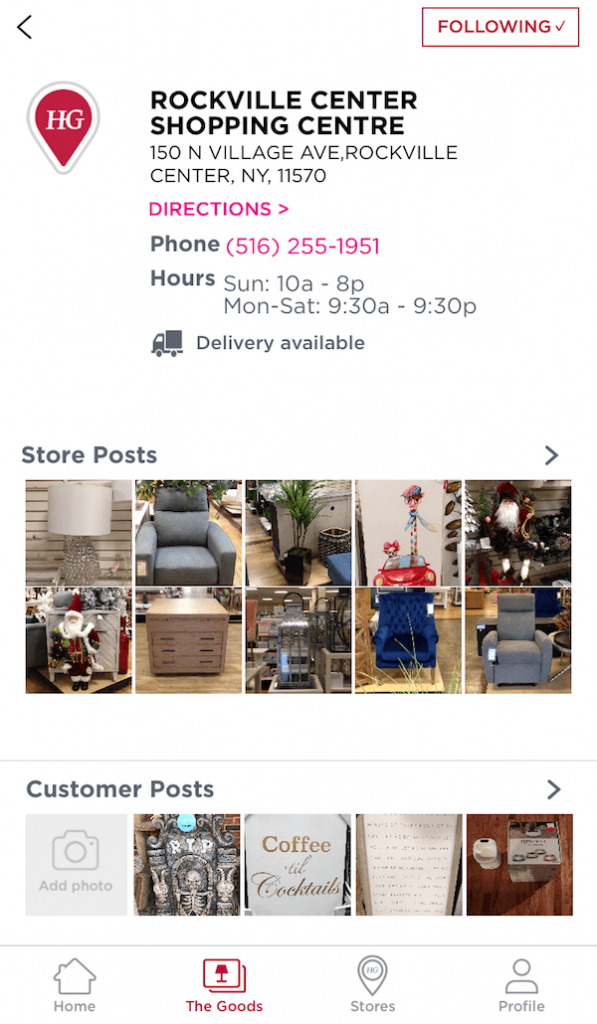 I have actually messaged several people on the app who posted that I'm looking for a bar cabinet so fingers crossed someone spots one. I have also been calling my local store and to my surprise, they will actually check for you if they have a bar cabinet on the floor. Sadly they will not text you a picture, I tried!
So here is the plan for the bar cabinet. I don't want to rush and overpay so I'm going to obsessively search high and dry for one over the next week or so. I will also take a ride out east which in Long Island, NY terms means I will drive to Riverhead, NY (an hour away) to the "Outlets" where there is a West Elm, Restoration Hardware, and Pottery Barn outlet to name a few. There is also a HomeGoods and brand new HomeSence. For those of you unfamiliar with HomeSence it is another sister store in the TJ Maxx family that is now coming to the states from Canada. We now have two on Long Island.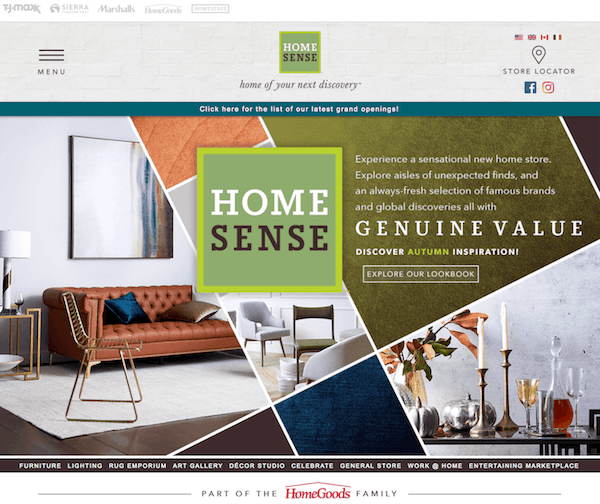 On a side note, Yes! I am fully aware of the fact that I have an obsessive personality. Again because I am redoing several rooms in my style for my website to attract my ideal client I have to be smart with the budget. The struggle is definitely real since I do not have the same budget as my future clients lol.
So that's where we are at. We are nearing the home stretch people!! Please check back next Thursday for more updates on the ORC Sitting Room makeover. Don't forget to also follow my Instagram Stories and daily Facebook Live videos to see the behind the scenes videos.
You can follow the other amazingly talented Featured Designers and guest participants here, as they transform their spaces as well.
xo Nicole
@oneroomchallenge | @betterhomesandgardens |@homelovenetwork