Please Note: This post may contain affiliate links, which means that if you make a purchase, I might make a small commission at no extra charge to you. I only recommend products or services I believe will add value to my readers. Please read my full disclosure for more details.
Hello everyone! It is Week 1 of the Fall 2018 One Room Challenge and I have entered as a guest participant! For those of you not familiar with what it is click this LINK for more details. If you would rather not get lost in the black hole of inspiration (which I promise you will) here is a brief summary from the ORC website…
One Room Challenge™ Mission Statement
The One Room challenge™ will provide participants with a supportive, enthusiastic forum in which to share the process of transforming a room. The ORC is not a competition, but rather a celebration of creativity, inspiration, and original ideas. Welcome!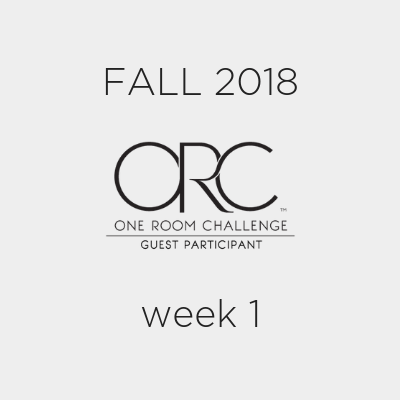 The One Room Challenge™, currently in its fourteenth season, is a widely anticipated biannual event every April and October. Each round, twenty design influencers are selected to take the challenge and transform a space. Every Wednesday, the designers document their process while sharing their sources and professional advice over the six weekly posts.
In addition to following along, everyone with a blog is welcome to join the fun as a Guest Participant by linking their own room transformations up during the six weeks. Each Thursday, the internet and social media are flooded with interior design inspiration, ideas, and encouragement.
To date, more than 2,200 rooms have been transformed through the One Room Challenge™. The event, and many of the spaces, have been recognized and featured.
For me, this challenge is not only helping me to finish a room in my house but it is also getting me back into the habit of blogging weekly which has been an ongoing struggle.
A little about me for those new to my blog. My name is Nicole DelaCruz of IQ Design. For the past 23 years, I have been a Children's Wear designer in NYC. About fourteen years ago I went back to school and acquired a second degree in Interior Design knowing that I would not want to stay in the garment industry forever. Fast forward to today I am in the process of finally making my dream of a career change a reality! To learn more about my story click this blog post.
Back to the room of choice for the ORC. In 2005 we remodeled our 1,000 square foot ranch style home by going back 10 feet and adding an entire second floor. The house was designed in the Tuscan Trend and the furniture consisted of pieces acquired over the years since after the remodel we ran out of money. The previous Living Room became the Dining Room and is the first room when entering the house.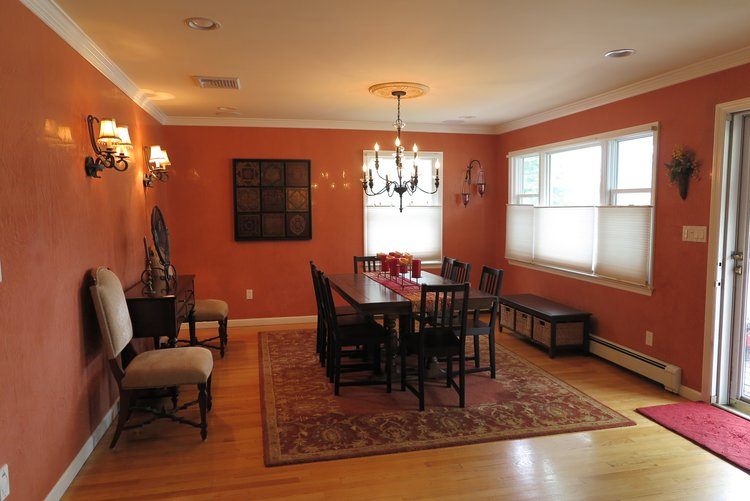 This room has been underused and a catch all since we eat at the kitchen peninsular and entertain buffet style during the holidays.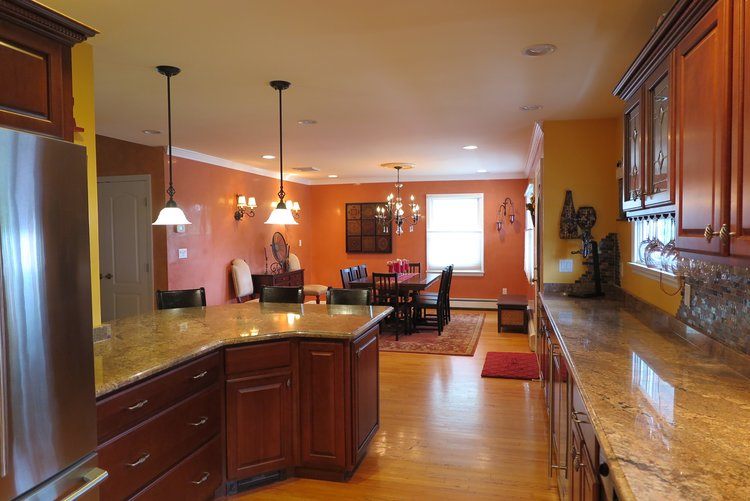 On several occasions I switched the Living and Dining Room and everyone loved sitting in the cozy space.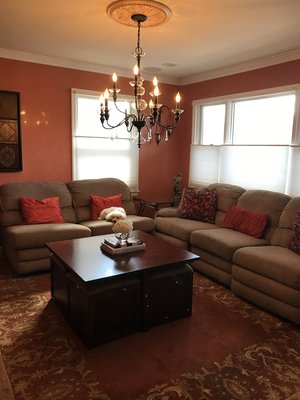 This led to my epiphany to change the Dining Room to a Sitting Room when I decided to redo rooms in my house for my website/ portfolio, in my go-to style, to attract my ideal client!
We started the transformation the week of July 16, 2018, during our "staycation".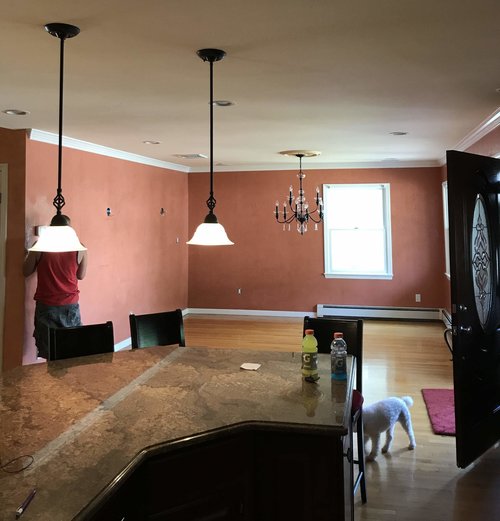 The walls were venetian plaster in a color similar to Sherwin-Williams Color of the Year Cavern Clay.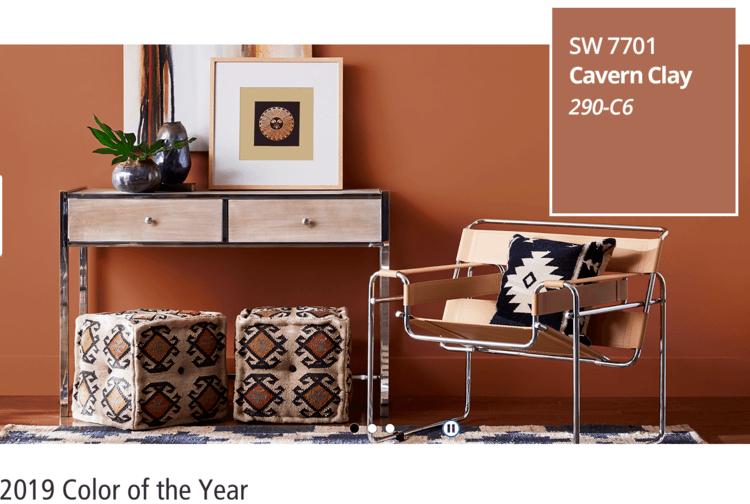 We first sealed off the room and sanded the walls as flat as possible to remove the technique which I had originally applied using a trowel and burnishing the 2 layers. I was very obsessed with paint techniques right after we remodeled. During the sanding process there was orange dust EVERYWHERE!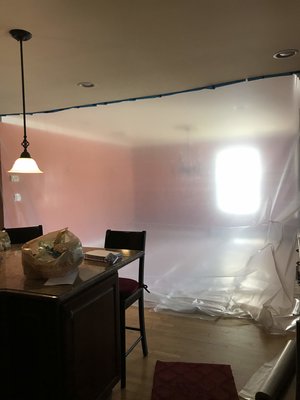 We then had the walls patched up with spackle to get them as smooth as possible. I first tried doing this myself but once my husband realized it was going to take me forever to complete he hired Oscar the handyman/ painter.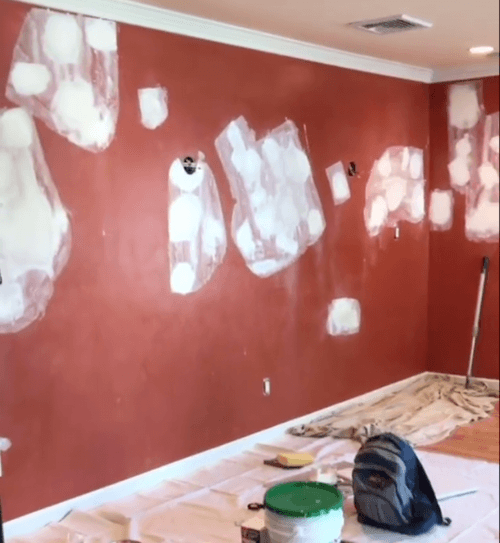 Next, we applied Gardz Problem Surface Sealer and then INSL-X STIX Primer to avoid any issues during the painting stage.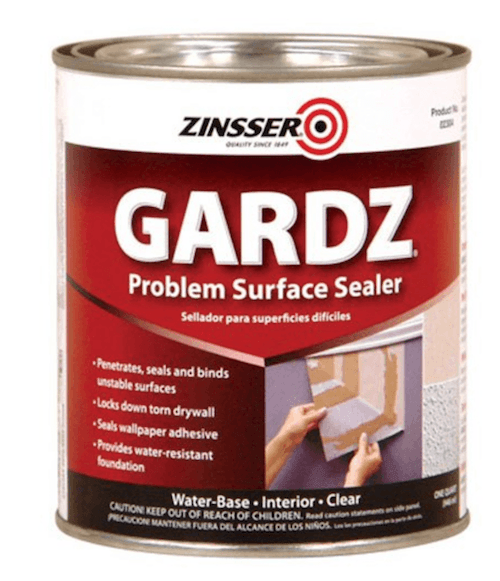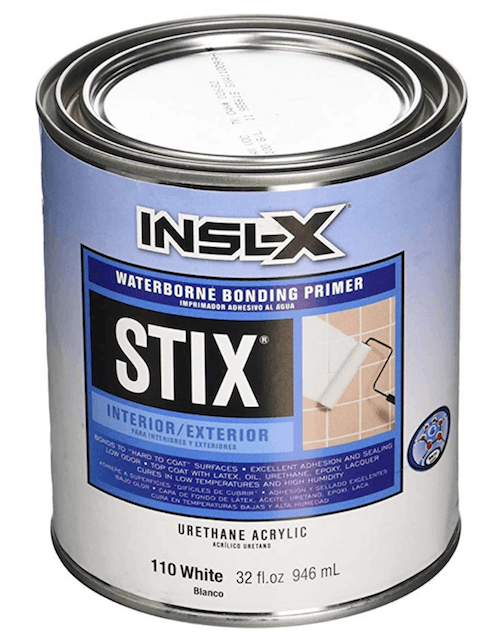 Two coats of Benjamin Moore Classic Gray was then applied. Something new I learned from Oscar is to lightly sand in between coats of paint to eliminate any imperfections.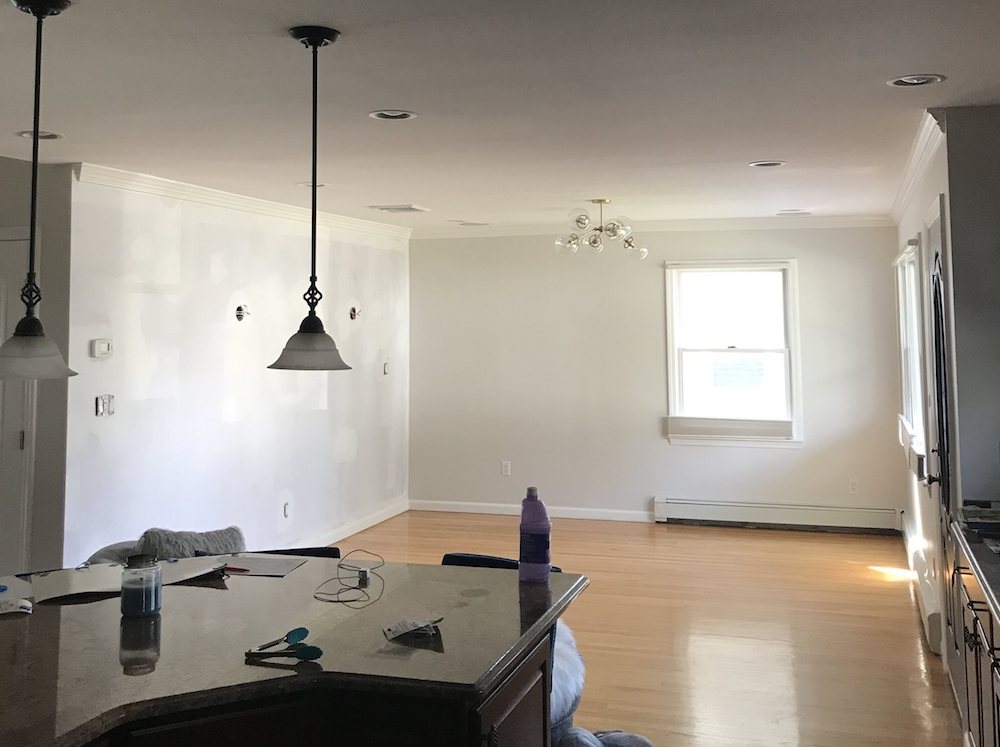 The feature wall which is the first thing you see when entering the house will eventually be wallpapered in Canton Road silver metallic grasscloth.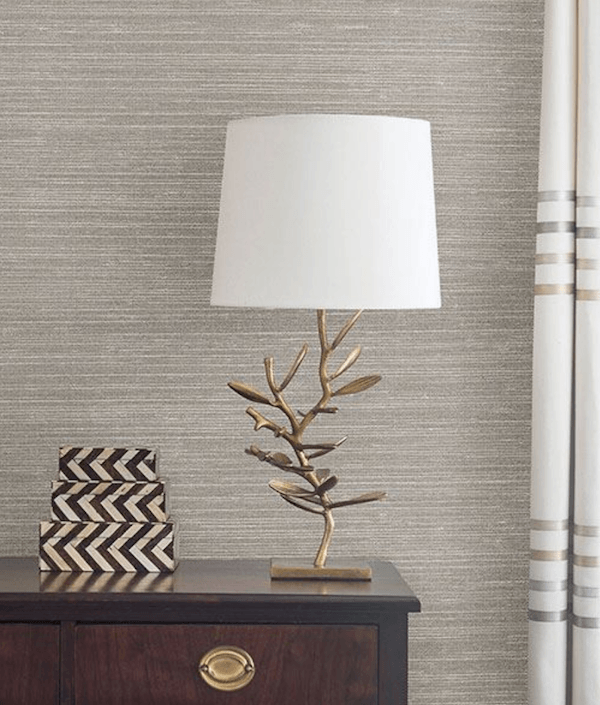 I ordered this about a month ago but it is on backorder and not scheduled to arrive until the end of October. Since the ORC needs to be photographed by Nov 4th and I do not want to stress I decided to paint that wall Classic Gray while I wait for the wallpaper to come in. If it comes in time I will have to prep the walls with RX-35 wallpaper primer.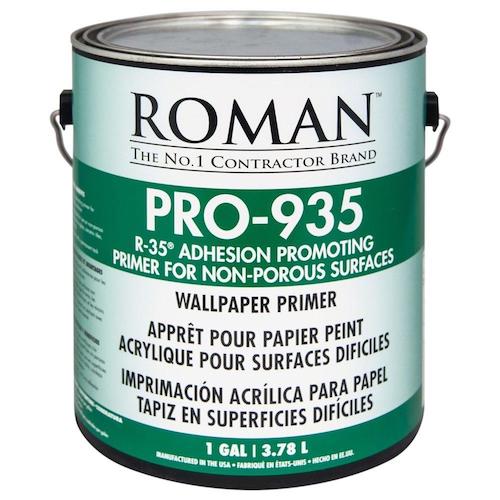 So here is the floor plan for the new room.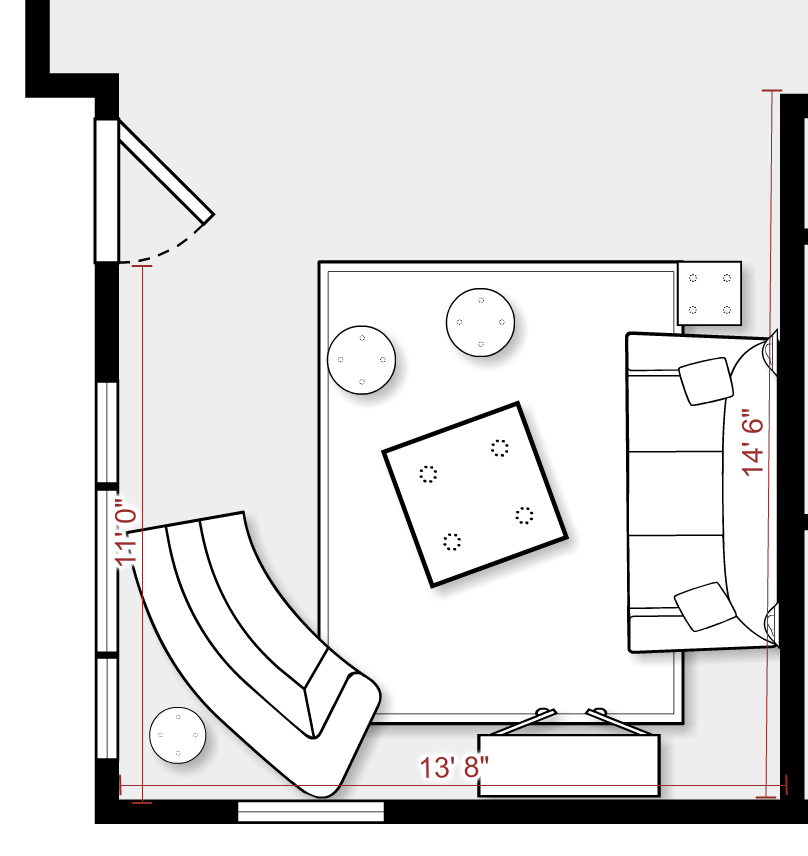 The color palette will be grey, teal, black and white with pops of pink and mixed metals. Most of the pieces have been ordered with the exception of the artwork and bar cabinet. Custom furniture typically takes 8-12 weeks to arrive and since I ordered mid August it should all be here in the next few weeks.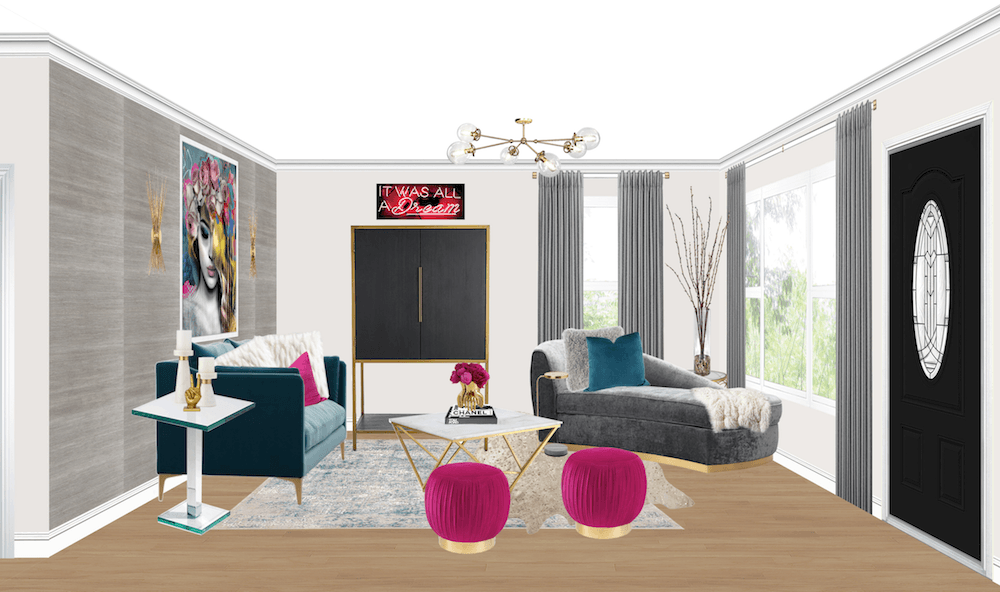 I am super excited to share with you all my design journey as I complete this room! Please check back each Thursday for updates and tips I'll be sharing along the way. To see all my behind the scenes follow along on my Instagram Stories and daily Facebook Live videos.
Also be sure to follow the other amazingly talented Featured Designers and guest participants here, as they transform their spaces.
xo Nicole
Note: My blog periodically contains affiliate links meaning that if you make a purchase, I might make a small commission at no extra charge to you. Purchases made through them are greatly appreciated.