Please Note: This post may contain affiliate links, which means that if you make a purchase, I might make a small commission at no extra charge to you. I only recommend products or services I believe will add value to my readers. Please read my full disclosure for more details.
---
Hello, again my friends!! It is now Week 5 of the ONE ROOM CHALLENGE and I'm beyond excited for this room to be nearing completion!!
It has been quite the process but I am extremely happy with how it is turning out.
If you are new to the ORC or my blog you can get caught up by clicking on the links below:
Week 1 | Week 2 | Week 3 | Week 4
Now back to the room so most of the pieces have already arrived. The Caitlin sofa from Interior Define is just gorgeous in that dark teal velvet with her gold legs.
She's super comfy too!
As you can also see we have the TOV marble coffee table and Hands Vase from Arteriors shown as well.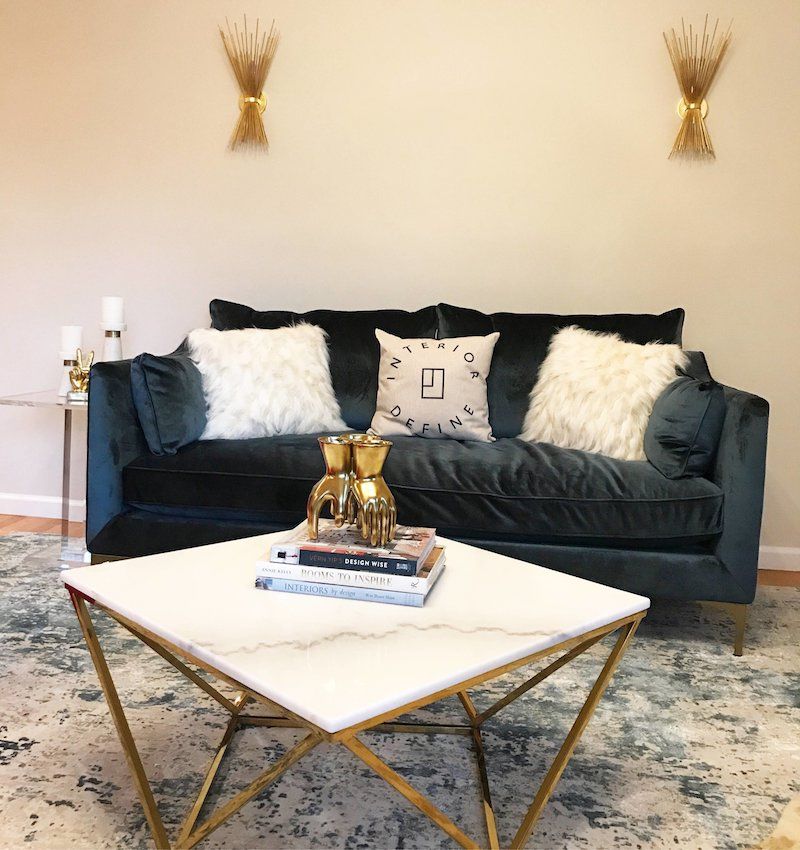 On the opposite side of the room, the TOV Velvet Chaise is chilling out lol. My family is absolutely loving this spot.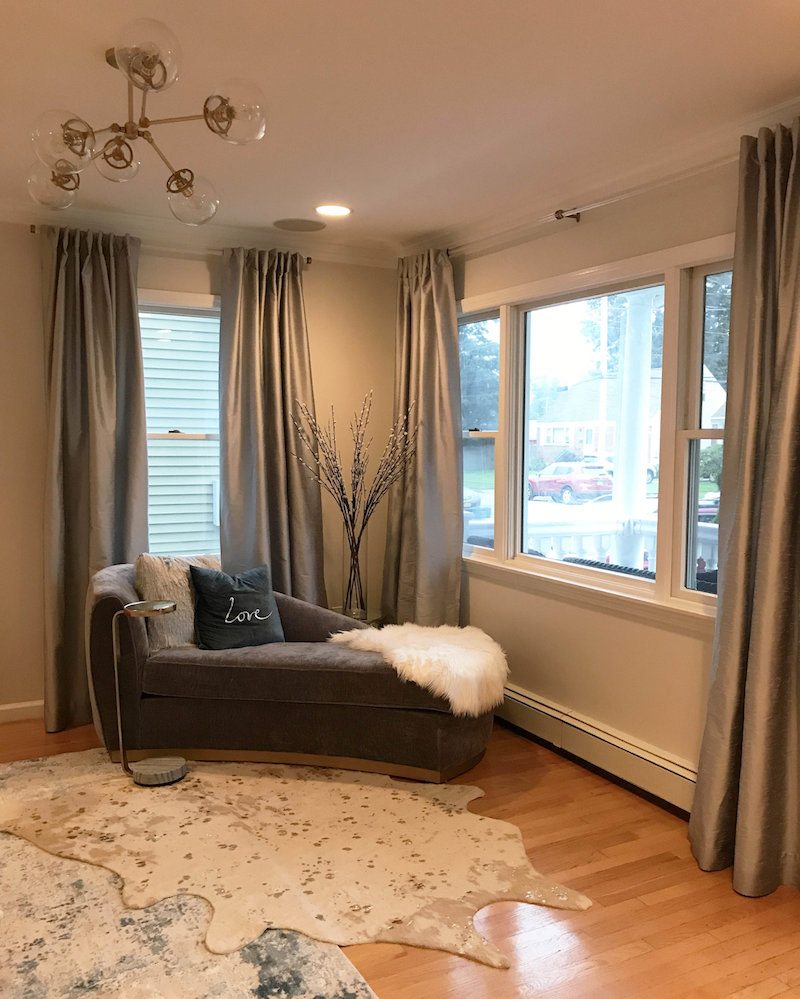 Now I was going to end the blog post here but then the universe came through for me and I received the call that the Canton Road silver metallic grasscloth wallpaper which was on backorder since the end of August was in!!
Now, remember I thought the paper would not come in time so I had painted the wall? Well, now I had to prime the wall with Shieldz Wallcovering Primer since my wallpaper installer said this was better than the RX-35 I previously mentioned. Good thing I was unable to return it!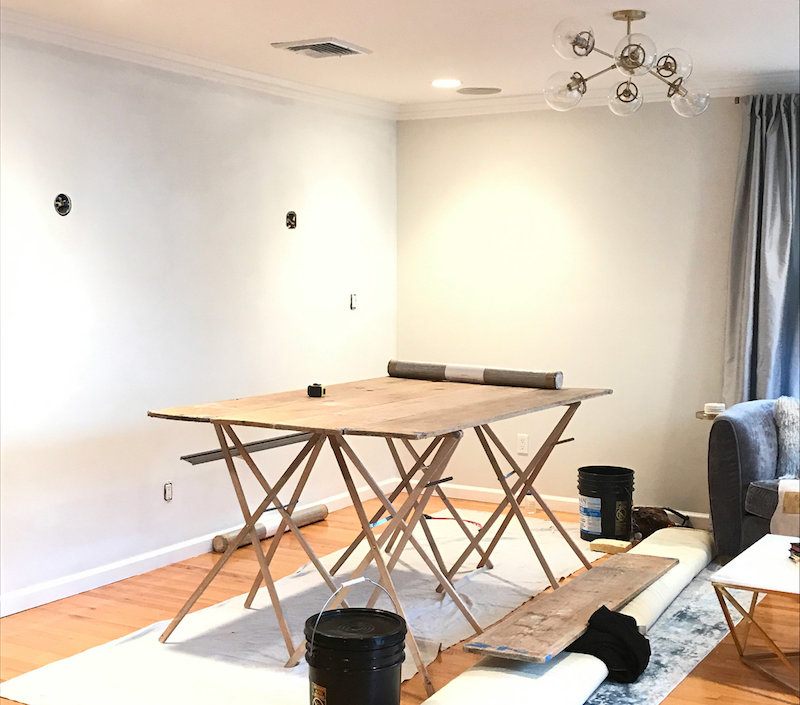 Luckily I have the most amazing wallpaper installer who was able to fit me in on Friday morning when I am off from the day job. This was was amazing! I am so grateful to him and my designer bestie Darlene who recommended him to me.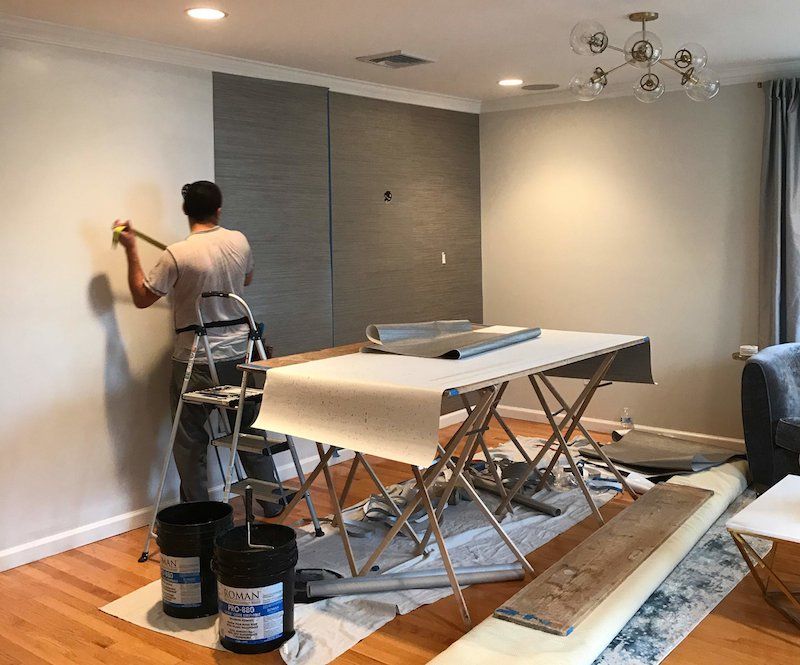 Here is the wallpaper being installed using Roman Pro-880 clear adhesive. The paper was trimmed down so there would be five even pieces instead of having a random thinner piece at one end which would have looked really bad.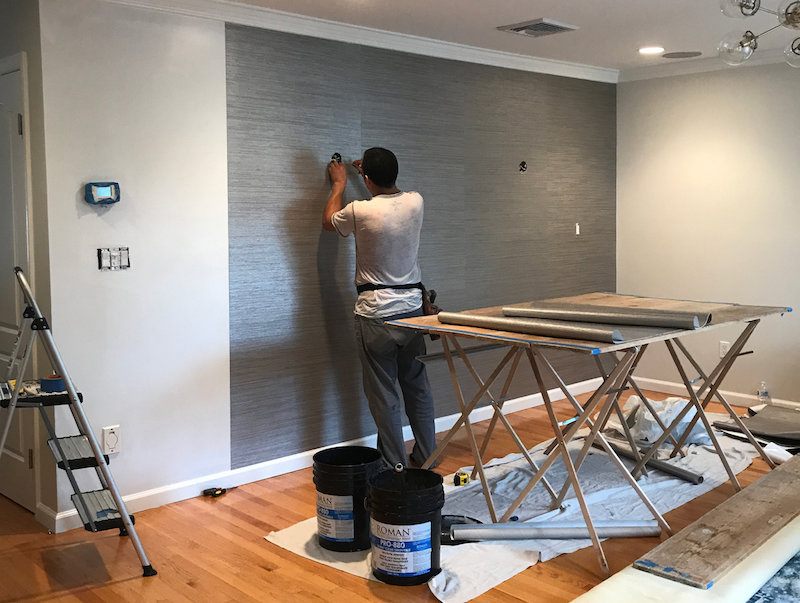 The installer was extra careful to not get any glue or water on the grasscloth as it would have stained the paper.
He also made cutouts as he went along and left extra paper so the sconce on the right side would not have that gap it previously had.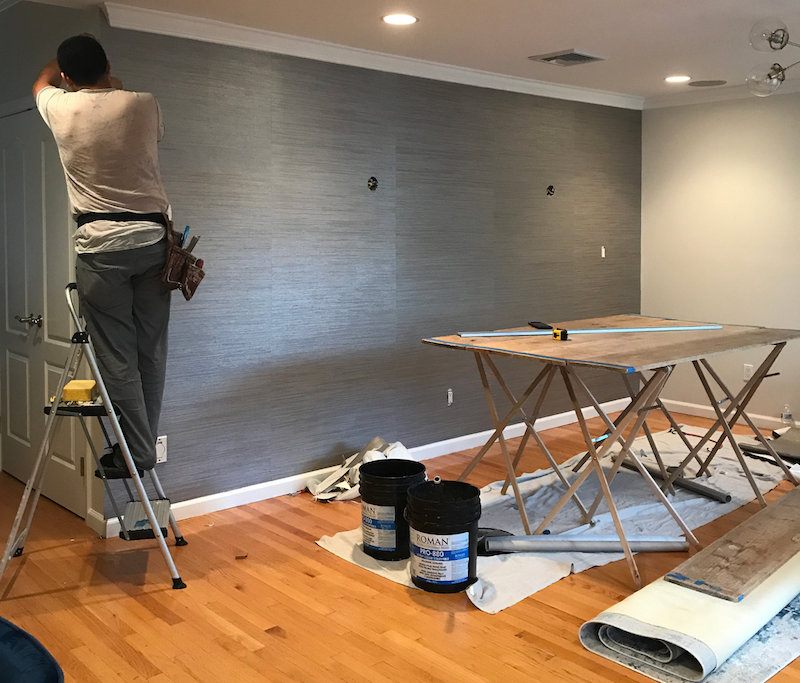 Lastly, he had to trim the wall to the left at the corner. The head installer came by after to see the finished job and he mentioned being careful at this area because if it was brushed against often it would lift from the corner. Fingers crossed we do not have any issues but I do have an extra sheet of paper in case.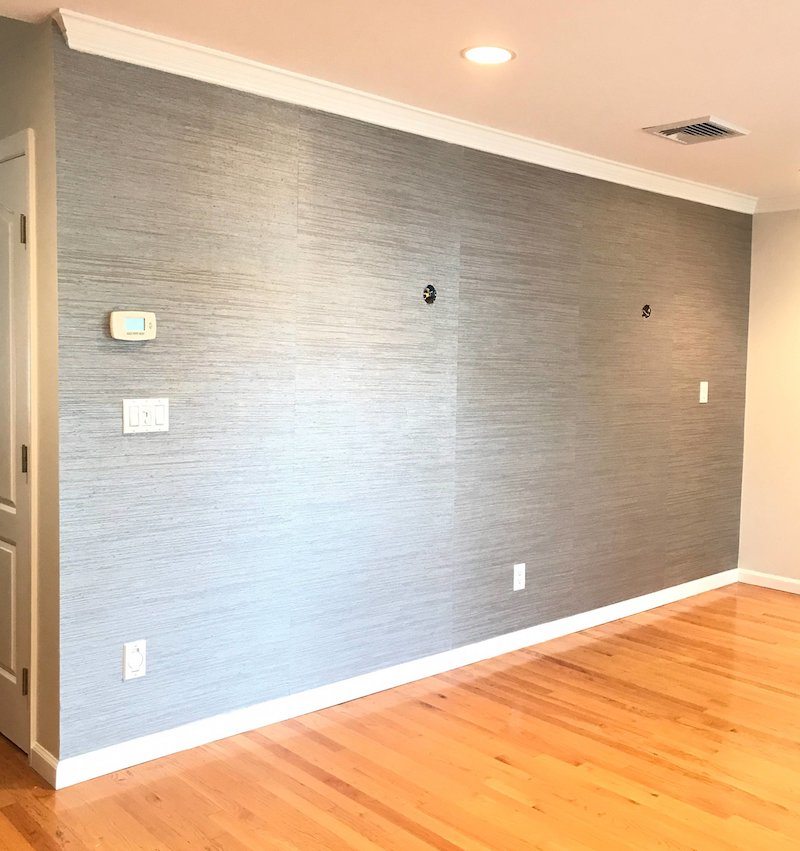 This is the finished wall which I am absolutely in LOVE with and was well worth the wait! I am so glad I have patience and waited for the right paper to come in.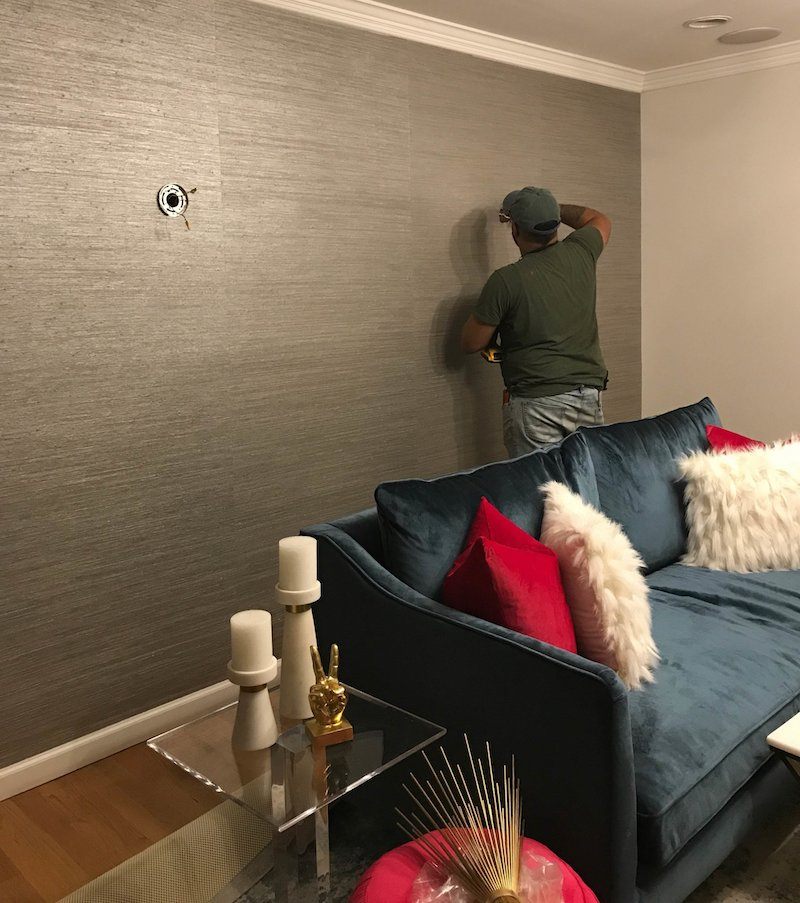 Later that night we had the electrician come back who is my husband's friend and always comes right away!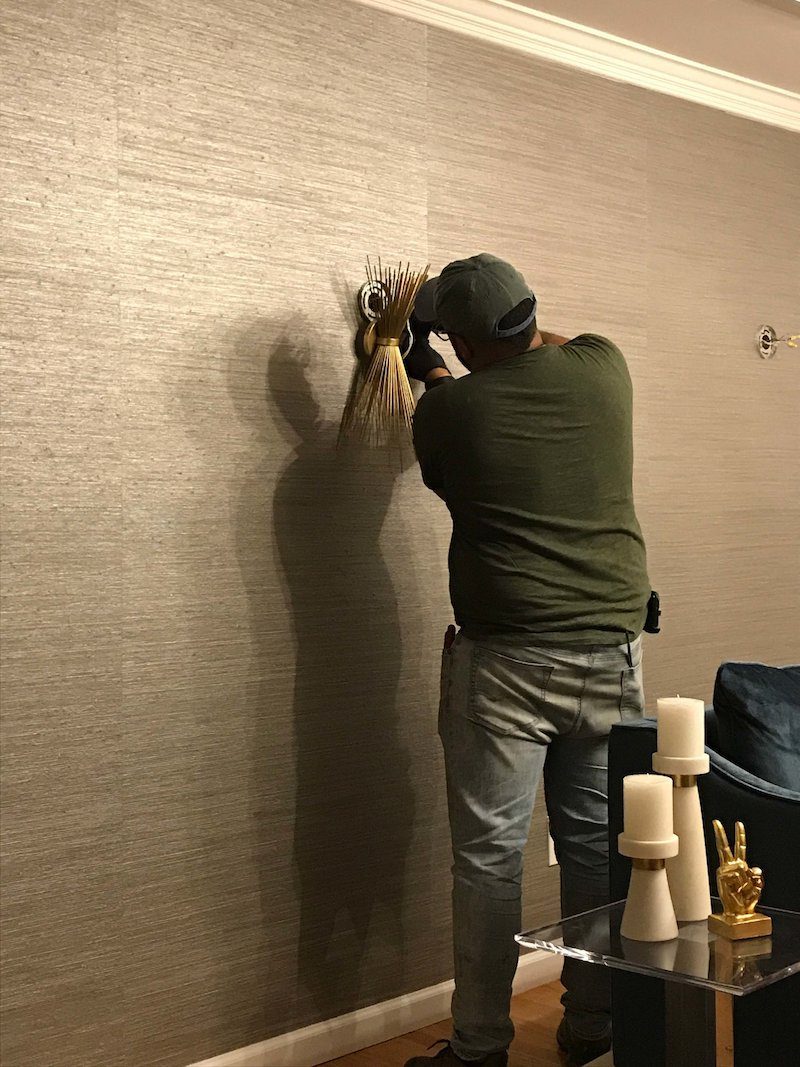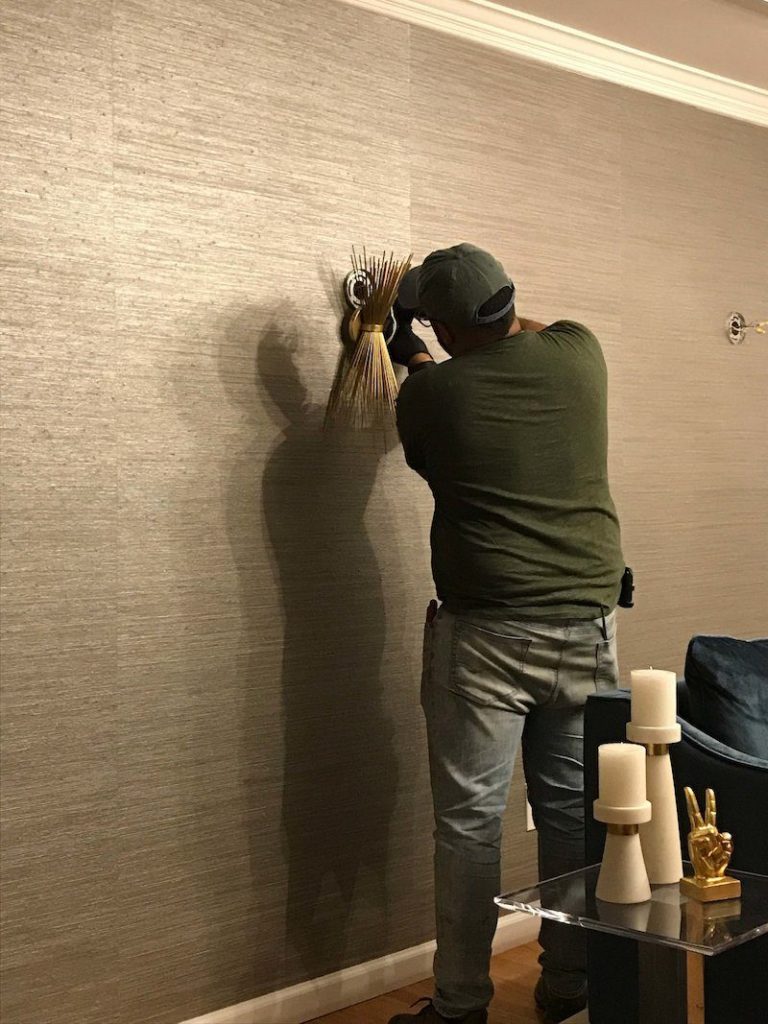 In more great news the replacement Kelly Wearstler Strada Small Sconce from Visual Comfort also came in which was perfect this time!!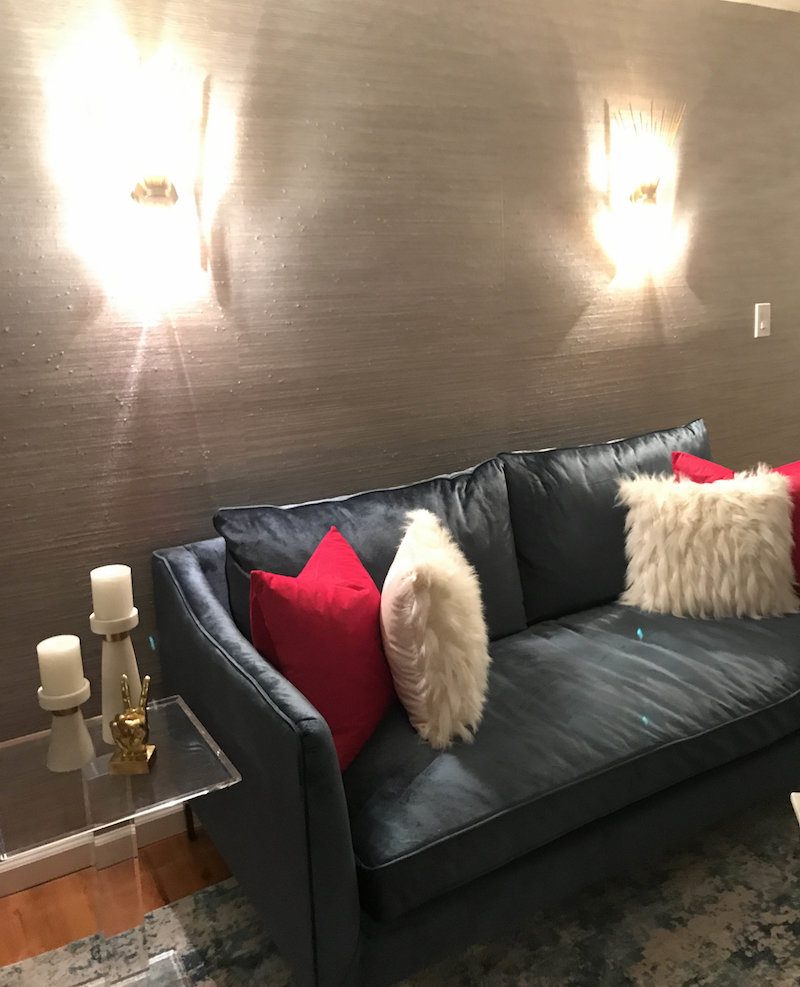 So there you have this week's update. Please check back next week for the final reveal of the ORC Sitting Room makeover. Don't forget to follow my Instagram Stories and daily Facebook Live videos to see the behind the scenes videos.
Lastly please don't forget to follow the other amazingly talented Featured Designers and guest participants here, as they reveal their spaces next week as well.
xo Nicole
Week 1 | Week 2 | Week 3 | Week 4
@oneroomchallenge | @betterhomesandgardens |@homelovenetwork