Please Note: This post may contain affiliate links, which means that if you make a purchase, I might make a small commission at no extra charge to you. I only recommend products or services I believe will add value to my readers. Please read my full disclosure for more details.
We made it to the end of the One Room Challenge!!
After 6 long weeks, I am super excited to share with you the BIG REVEAL!
To see how all the progress of this dramatic transformation click on the links below:
Week 1 | Week 2 | Week 3 | Week 4 | Week 5
Before I remind you of where we started let me first share the final result!
Drum Roll Please!!!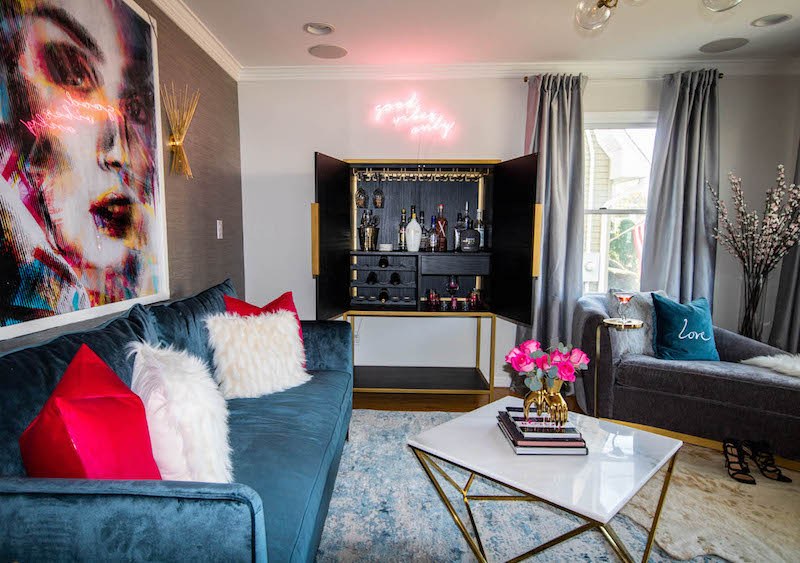 And here is the BEFORE photo of the same space which was previously a Dining Room.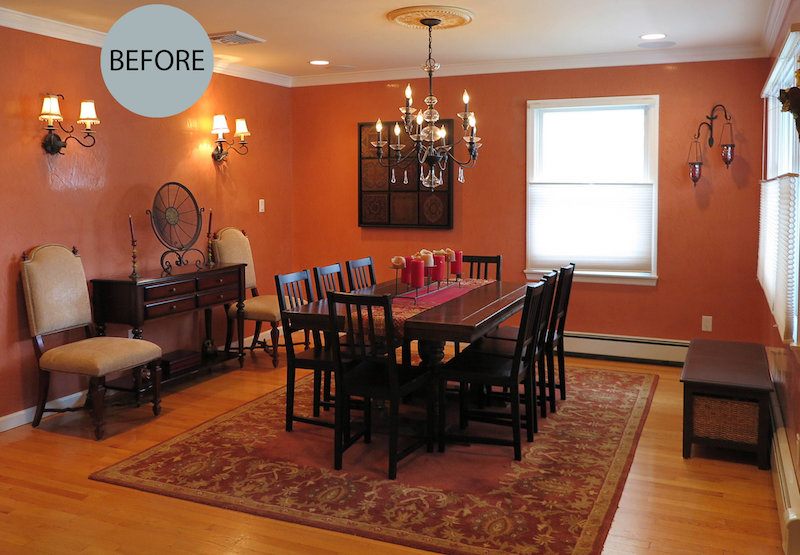 Other than being used a few times during the year for company this room was a catch off for stuff the rest of the time. Since I decided to change the "look and feel" of my tuscan trend home to an updated contemporary, glam, urban vibe it made sense that this room be changed to function for our family. The design plan was to change the room into a lounge sitting area as shown.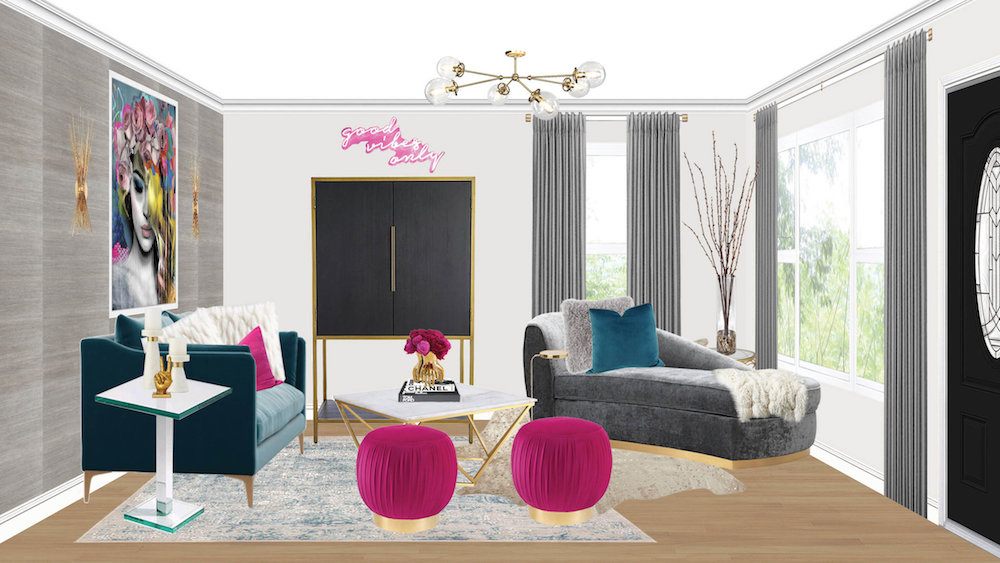 Now before we get into the details of the room design let me ask you this:
DO YOU WANT TO HAVE AN INSPIRING ROOM DESIGNED FOR YOU HOME?
YES! OK GREAT!! NOW LET'S GET INTO THE DETAILS AND SHOW YOU SOME POSSIBILITIES!
One Room Challenge Reveal YouTube Video if you prefer to watch instead of read about it!
For the Willow House makeover, everything came in time for the deadline of the ORC except the Leftbank Art shown in the design rendering above. I knew this so I had the HomeGoods art as a backup which is in a similar style. The new art will be changed out in the next week or so. Stay tuned for the updated image of the room because it will even more beautiful!
THAT SAID NOW FOR THE FUN PART! LET'S TAKE TOUR THE NEW SPACE SHALL WE?!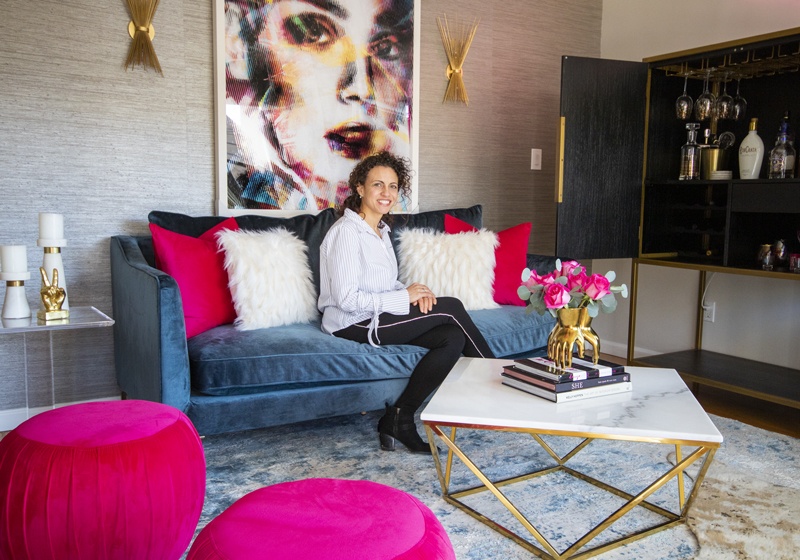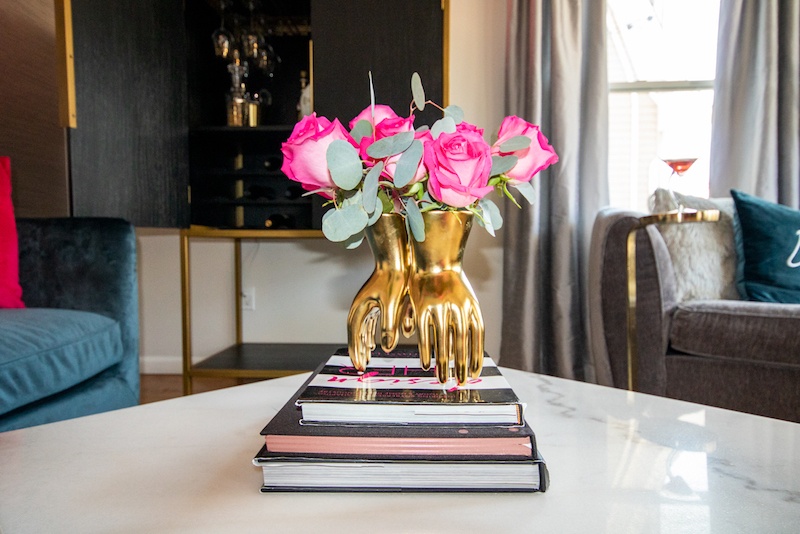 One of the first pieces I knew I wanted in the makeover was that teal velvet sofa from Interior Define which is just so yummy!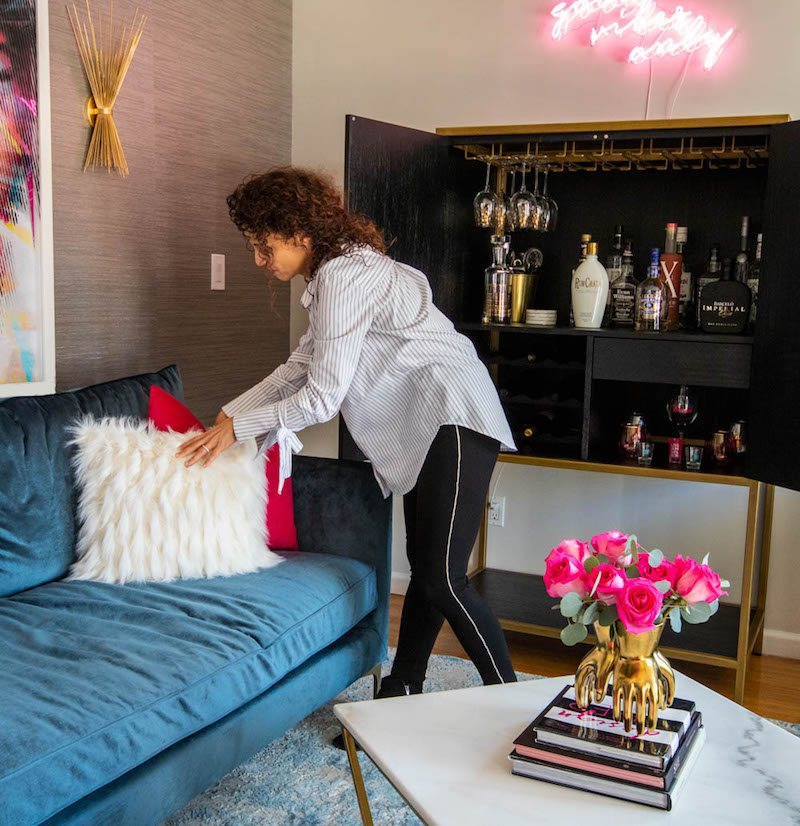 Then there is that Arteriors Hands Vase which I absolutely love and had been obsessed with.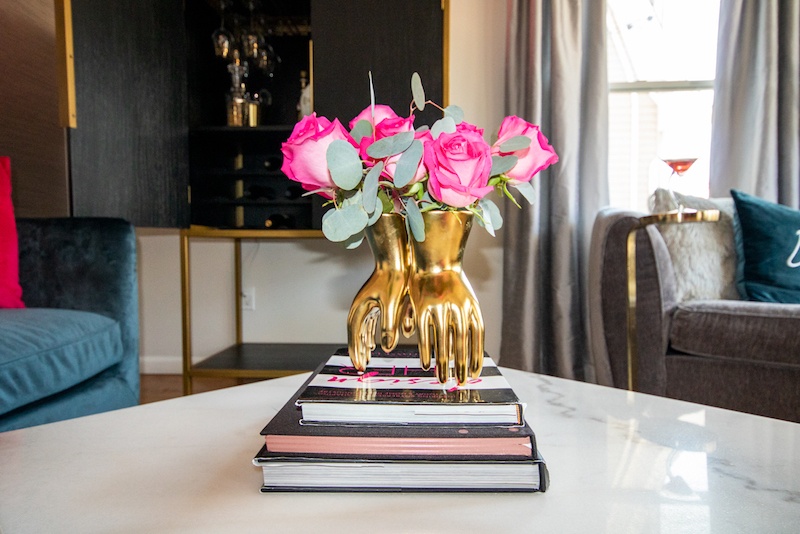 It literally makes me so happy every time I look at it. Seriously!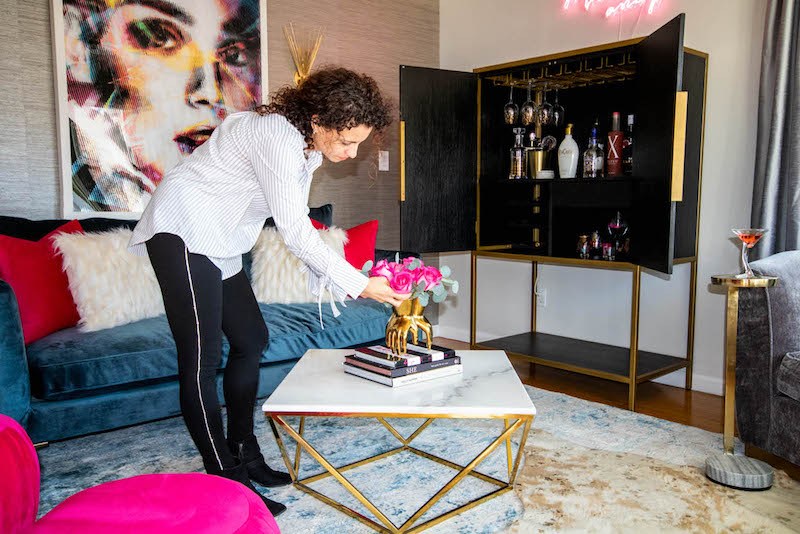 The drapery panels were so much work to hem but they turned out awesome! Well worth the effort. Another thing that was worth the extra time it took was installing the Lucite Rods. My eyes twitch at the thought of ever having to redo those!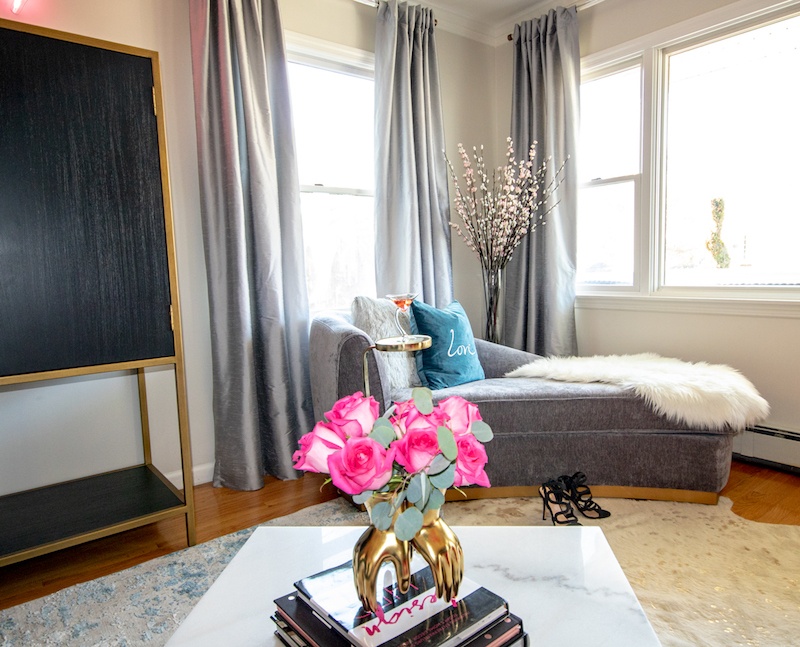 This spot right here is where you will see my daughter laying most days now while she charges her phone and waits for her ride. It is the perfect spot to relax and look out the window.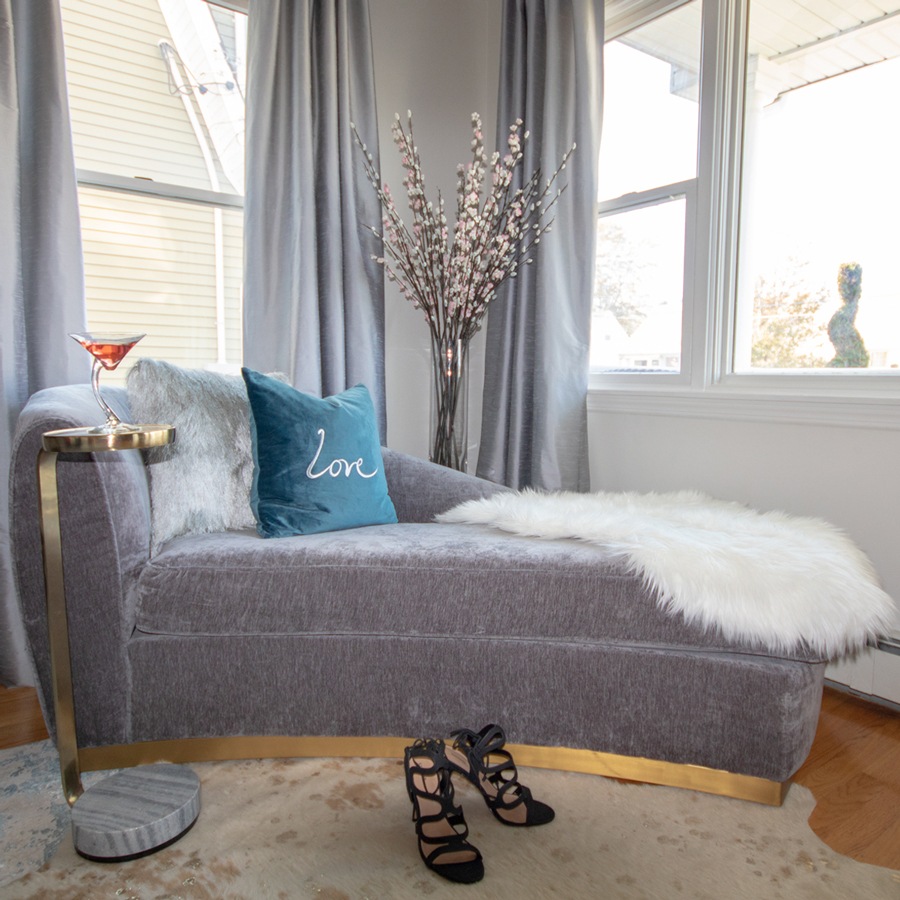 The mix of textures in the chaise and pillows add interest to this area.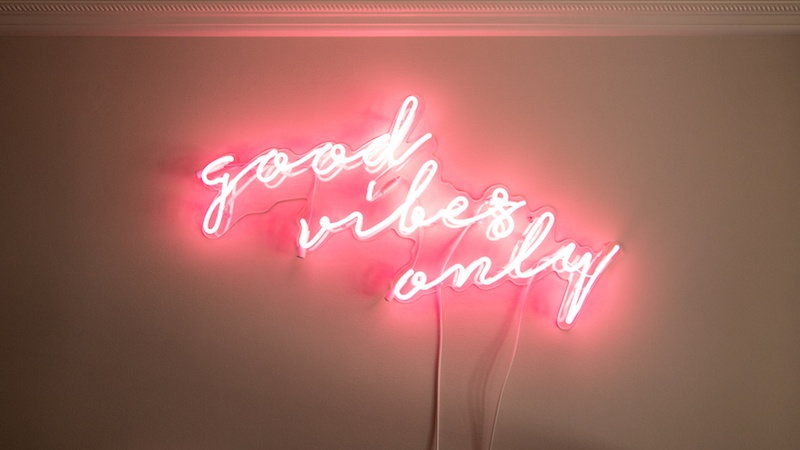 Since I am all about self awareness and positive vibes these days the Neon sign selection was definitely the right choice! I'm so happy we went with the "good vibes only" sign and that pop of pink really ties back to the rest of the room.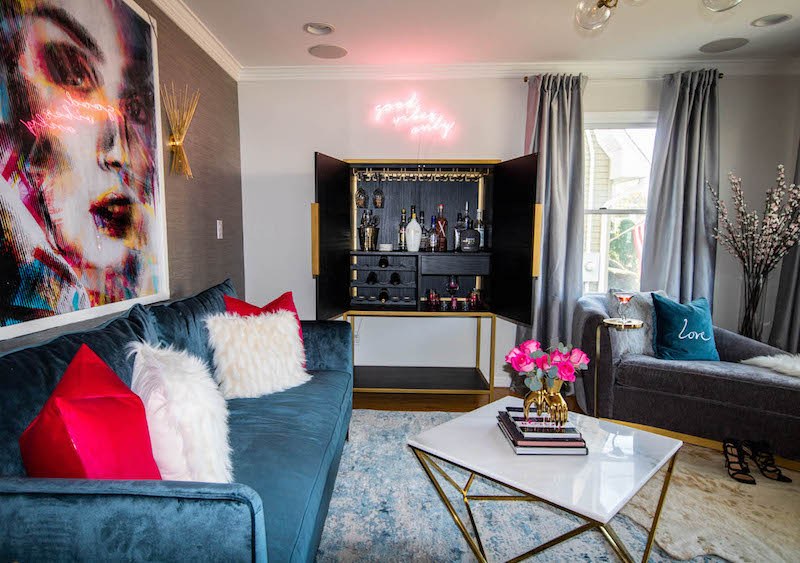 Then there was all that obsessing that I did over the Bar Cabinet before finally just biting the bullet and ordering the Crate and Barrel one which came just in time. You know I'll see another at HomeGoods eventually BUT I am super happy with the one I chose in the end. The black balances back to the black of the front door very nicely. The gold trim adds a glam element and coordinates back to the rest of the metal touches in the room. The with the neon sign up above it looks awesome when turned on from both the inside and outside. There is also plenty of room to store liquor and bar accessories so we don't have to run to the basement bar anymore when we have company over.
Another piece that was the perfect addition was the lucite side table from Kravet. I got really lucky with this find that ties back perfectly to the lucite drapery rods. The Z Gallerie marble and gold accent candle holders coordinate nicely with the TOV coffee table. Then there is that gold peace sign find which I think is super cute and quickly becoming my signature thing!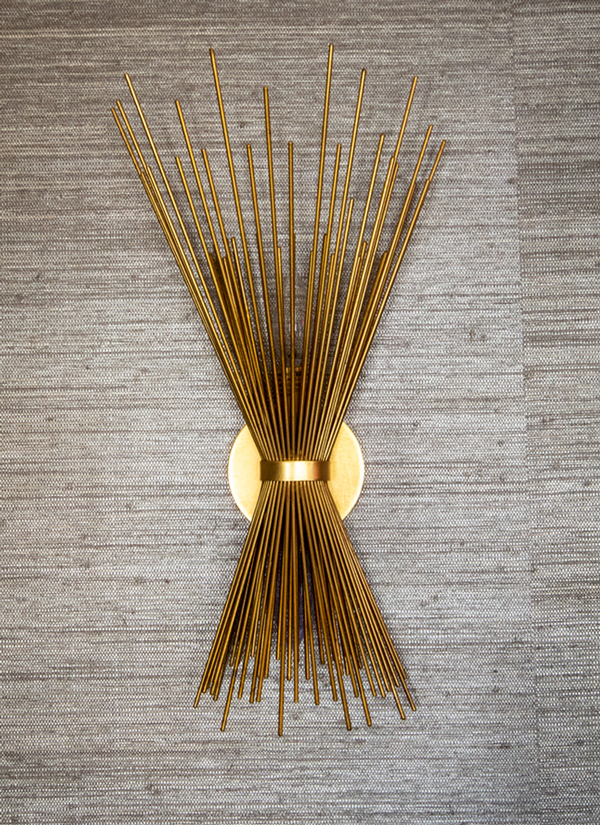 Now we can not forget to talk about the metallic silver wallpaper which I wasn't sure would come in time since it was on backorder. Luckily it did! Wilmer the wallpaper installer was able to fit me in his schedule and get it up. Having that accent wall complete made a huge impact on the overall "look and feel" of the room and I am thrilled with the result! Not to mention the Kelly Wearstler gold sconces look even more amazing now against the silver. Mixed metals are trending right now and this room definitely has a mix of silver and gold. On a side note, it is so funny to me that my family is so unfamiliar with grasscloth wallpaper. They kept asking me about the seams when they went up because they are so used to painted walls. I had to keep reminding them it's wallpaper, that's how it's supposed to look lol!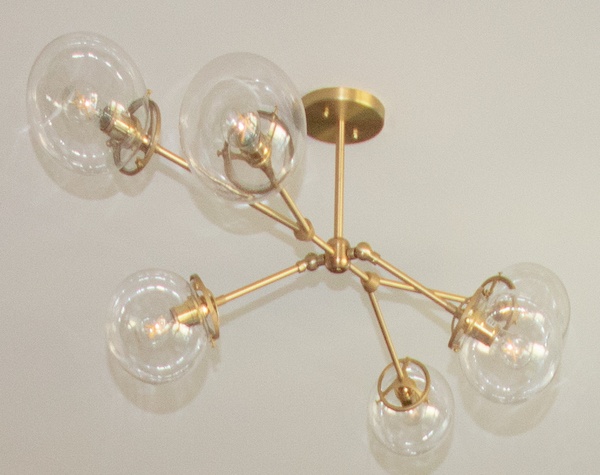 So there we have the final reveal! I really hope you enjoyed following along in my first ever One Room Challenge journey. This has been a great experience and I truly felt like I wasn't alone! Instead, I felt I was a part of a community of designers who were all sharing their process and struggles to get to the beautiful end result! Here is the link to see the final reveal of the other amazingly talented Featured Designers and guest participants who participated! It is really important for everyone to know that what you see on HGTV is not reality but great television. There is so much more time, planning, problem-solving and behind the scenes that result in the beautiful designs you see!
I believe that great design is timeless, livable and most of all inspiring. My mission in this journey is to inspire others so that they know anything is possible so that they dream big! Hopefully I accomplished this mission here as well!!

~Nicole
Please continue to follow my journey through my Instagram Stories and daily Facebook Live videos where I will continue to share behind the scene videos.
Have an inspired week everyone!!
xo Nicole
Week 1 | Week 2 | Week 3 | Week 4 | Week 5
@oneroomchallenge | @betterhomesandgardens |@homelovenetwork
YouTube Video Blooper! Life is too short to take yourself too seriously! Enjoy the laugh on me!